Wooyoung is a South Korean singer and dancer, who became popular being a member of the Korean Pop (K-Pop) group called ATEEZ (A TEEnager Z or teenagers from A to Z).
Just a simple reminder that article is created and owned only by kpopwiki.org. Article cannot be re-published in any other pages or documents. Copyright is protected by DMCA. All found copies will be reported.
Original source: https://kpopwiki.org/wooyoung-ateez-age-height-who-is-jung-wooyoung-wiki/
Early Life and Family
Jung Wooyoung is a Korean born on 26 November 1999, in the town of Ilsan, Goyang, South Korea. His last name, which can also be spelled Jeong, comes first followed by the first name, Wooyoung, which can also be written as Woo Young. He has an older brother and a younger brother which makes him the middle child in the family.
Education
He went to Pungsan Middle School, and subsequently matriculated from Hanlim Arts School. Wooyoung is currently enrolled at Global Cyber University, but whether he is actually studying or not considering his developing career in unknown.
Career
Wooyoung was a former trainee at Big Hit Entertainment, which is the same talent agency of the global phenomenon K-Pop group, BTS. After training for a few years, he transferred to KQ Entertainment, to follow his friend and co-trainee Kang Yeosang. They both promised to do things together, whether they end up failing or succeeding.
First steps
At KQ Entertainment, he became a part of the group, KQ Fellaz, which was being prepared to debut in the K-Pop industry. It consists of eight boys, namely Hyun Joong (leader), Seonghwa, Yunho, Yeosang, San, Mingi, Jongho, as well as Wooyoung.
While training in 2017, Wooyoung along with his other co-trainees learned about YG's reality talent survival show, "MIXNINE." YG went to different talent agencies in South Korea to choose current trainees via auditions.
They competed for a spot in a 9-member K-Pop group that YG Entertainment, one of the three biggest entertainment companies in Korea, would sponsor and debut. He participated in the reality show but unfortunately didn't make the cut.
KQ Entertainment has high ambitions for the group, and instead of just having them train under local entertainment experts, the CEO sent them to Los Angeles, California, USA in 2018 for advanced dance training. They attended classes at two reputable major dance studios, Movement Lifestyle headed by choreographer Shaun Evaristo and Millennium Dance Complex. Both studios are being manned by people who worked with successful pop idols including Bigbang, BTS, Justin Bieber, and Justin Timberlake. Since Wooyoung is the main dancer and created most of the group's choreography, he was extremely happy that during the training, along with Yunho he was chosen to be part of a dance video produced by Millennium Dance Complex.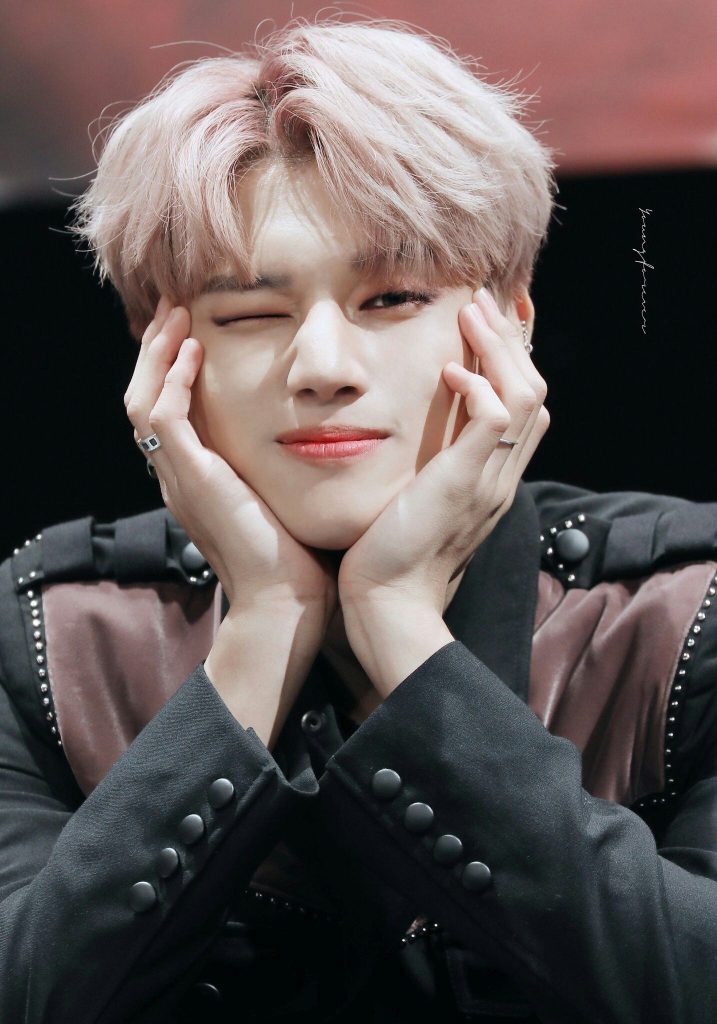 The group's journey was shown in a 12-episode series, "KQ Fellaz American Training," on the agency's official YouTube channel. A new trainee joined them in Los Angeles which would make them a 9-member boy group, but at the end of their training, the management decided that he wouldn't debut with them.
After they returned to South Korea, Wooyoung and his group were notified that the group's name was changed to ATEEZ, a shortened version of A TEENager Z, which means teenagers that can do anything from A to Z. They participated in the reality TV show, "Code Name is ATEEZ," which ran for three months and culminated in the group's debut showcase. On 24 October 2018 they released their first extended play (EP), "Treasure EP 1: All to Zero", and the group made their debut performance the next day, with the lead tracks "Pirate King" and "Treasure," on the popular music show "M Countdown," over on the Mnet cable channel.
The EP peaked at No. 7 on South Korea's Gaon Charts.
Wooyoung was able to perform in various music shows in South Korea, promoting ATEEZ's songs, which would normally last from three weeks to two months, a tough, grueling schedule for K-Pop artists to promote their songs. After going around music shows, they would also perform at university events and music festivals around the country.
Further Success
The group's second EP, "Treasure EP 2: Zero to One," was released on 15 January 2019. Two days later, they performed the lead track, "Say My Name," on Mnet's flagship music show "M Countdown," which peaked at No. 6 on South Korea's Gaon Chart, and also did well on the Billboard's World Album chart by reaching No. 5 position. The EP also generated international buzz when it peaked at No. 7 on the Billboard Heatseekers Album chart.
In Korea, each time they release a new song, EP or Album, they generally refer to it as 'comeback.' The group also released a performance video of another single, "Hala Hala," on February 2019, to continue with their second EP promotions.
The Expedition Tour 2019
Following the positive result of their EP's international sales, RCA Records signed them up. Wooyoung and his group had their first concert tour called "The Expedition Tour", and for the whole month of March 2019, Ateez performed in major cities in the US, including Los Angeles, Chicago, Atlanta and New York. While they were not held in stadiums, those were sold-out concerts in smaller venues.
In April, they were able to perform in 10 key cities in Europe, including London, Milan, Berlin, and Moscow. They ended the tour in August by performing in two major cities in Australia – they had one-day concerts at the Margaret Court Arena in Melbourne, and at the Big Top Park in Sydney.
Everyone was surprised at the success of the group, even music insiders, that a very young group was able to perform to sold‑out concerts in several parts of the world. These all happened just less than a year after their debut, so Woo Young was extremely happy with his decision to follow Yeo-sang to KQ Entertainment.
First Music Show Award
On 10 June 2019, Ateez made a 'comeback' and released their third EP, "Treasure EP3: One to All." The group performed the lead single, "Wave," in several music shows, and they scored their first music show award from Mnet's "M Countdown," and then MBC's "The Show." Getting an award from such music shows is considered a milestone for South Korean artists. Each week a music show will choose the No. 1 song from newly released songs based on sales, streaming, downloading, and fan voting.
ATEEZ(에이티즈) [ZERO : FEVER Part.1] 발매!

더블 타이틀곡 #INCEPTION 과 #THANXX 의 치열한 싸움 끝에 활동곡으로 선정된 #INCEPTION 의 MV 공개!

▶ https://t.co/dVcTudACXG #ATEEZ #에이티즈 #FEVER_Part_1 pic.twitter.com/fTYGqFHalw

— ATEEZ(에이티즈) (@ATEEZofficial) July 29, 2020
This award is not only important to the artists, but also to their fandoms. Wooyoung along with Yunho and Seonghwa cried when it was announced that they won in the show. Not everyone can receive a weekly award especially in Korea where the music industry is highly competitive. The award is an indication that they've achieved certain popularity in Korea, as there are many new groups coming out, and many comebacks each week.
First Studio Album
After three successful EP's, Wooyoung recorded for the group's first studio album, "Treasure EP Fin: All to Action." Most of the songs included in the album were co-written by other Ateez members, including the lead track, "Wonderful." The album not only topped the South Korean album charts, it also reached the No. 7 position on Billboard's World Album Chart, and peaked at the No. 10 on the Billboard's Heatseekers Album Chart.
Due to the success of the group's EPs and studio album, they were invited to perform in the annual Korean concert series held in major cities around the world, such as KCON NY, KCON LA and KCON CHIBA, Japan.
Wooyoung never could have imagined that he and his group would be getting four awards before the year ended, as he expressed in one of his interviews. Soribada Awards gave them the Best Performance Award, Mnet Asian Music Awards (MAMA 2019) gave them the Worldwide Fan Choice Award, Golden Disc Awards the Next Generation Award, and MTV EMA Awards the Best Korean Act for 2019.
2020 Cancelled Concert Tour Dates
The group was supposed to perform in several countries for their 2020 World Tour, "The Fellowship: Map the Treasure Tour." They were already booked until April, but due to Covid19 pandemic travel restrictions, only the two-day concerts held in Seoul Olympic Hall pushed through.
They had sold‑out concerts in 10 countries, including Japan, France, the UK and the US. KQ Entertainment has said that the moment the restrictions are lifted, the group would honor their commitments.
Currently, the group is gearing up for their comeback promotions, which will start after they drop their fifth EP entitled "Zero: Fever Part 1" at the end of July 2020.
Personal Life
There is no information about Wooyoung's personal life, as his talent agency is very protective of their artists. Dating is not allowed for the first three to five years after debut, and this K-Pop rule is included on the contract that he signed with KQ Entertainment.
Wooyoung still lives with other Ateez members in an apartment located in Seoul, provided by his talent agency. He shares a room with his best friend, Yeosang.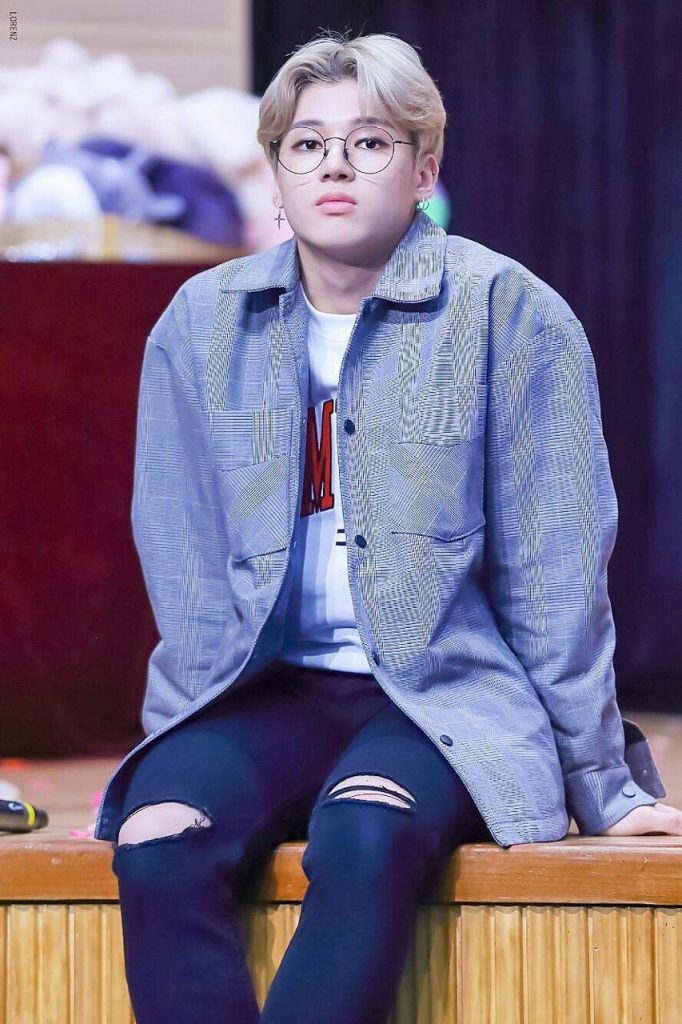 Hobbies, favorite things, and interesting facts
His admires established K-Pop idols such as BTS specifically Park Jimin, and Lee Gikwang of Hightlight (formerly known as Beast).
In K-Pop groups, the members are given positions, and Wooyoung's other position aside from being the main dancer is to provide the "Visuals", which means that he's considered one of the most visually pleasant faces to look at in the group.
During pre-debut days, he auditioned for YG's "MIXNINE" reality survival show, but only ranked 57th in the Dance Showcase segment of the show.
He often exudes a sexy, mysterious aura when performing on stage, but offstage he has a mischievous, playful, and cool personality.
When confronted with a toxic and stressful environment, he would always go back to his favorite mantra in life, "Let's be happy."
Aside from dancing, he is good in Korean traditional sireum or wrestling as seen in the Idol Sports Athletics Championships in 2020. He won a gold medal for the sport, along with other Ateez members Yeosang and Yunho.
Appearance
Wooyoung is 5ft 8in (1.73m) tall, weighs 135lbs (61kgs), and has a lean build now – he used to be chubbier, but recently lost 10 kilograms. He is Asian with black hair and black eyes. Due to his K-Pop group's promotional activities, his hair color and hairstyle have changed several times. As in most K-Pop groups, ATEEZ would adopt a concept or theme each time they perform on TV, or in other live events.
Net Worth
Authoritative sources estimate that Wooyoung's net worth is close to $1 million, as of July 2020.