Bambam is a Thai singer-songwriter, rapper, and dancer, who found fame when he debuted as a member of JYP Entertainment's idol group called GOT7. He is dubbed as the "Prince of Thailand" in his home country, for his immense popularity as a Korean Pop (K-Pop) artist.
Just a simple reminder that article is created and owned only by kpopwiki.org. Article cannot be re-published in any other pages or documents. Copyright is protected by DMCA. All found copies will be reported.
Original source: https://kpopwiki.org/the-untold-truth-of-got7-member-bambam/
Early life and family
BamBam was born Kunpimook Bhuwakul on 2 May 1997, in Bangkok, Thailand. His Thai nickname, BamBam was inspired by Bamm-Bamm Rubble, a character from his grandmother's favorite animation, "The Flintstones." Thai names are long and difficult to remember, so it's natural for them to have nicknames. His older brothers' nicknames are "Beer", based on his father's preference for drinking beer, and "Bank" as his mom wanted it to be related to money. His younger sister is called "Baby." His father passed away when he was three.
The family used to live in a very small house with the roof leaking whenever it rained. BamBam and his siblings would take turns helping out at their restaurant.
His dream as a kid was to become an interior designer, which was inspired by his love for the video game, "The Sims," which allows the player to build and design houses. This changed when his mother took him with her to the 2007 "Rain's Coming" concert of her favorite Korean singer and actor, Rain. He was 10 at that time, and the stage presence and impressive performance of the Korean artist left such an impact on him that he decided to take dance lessons after that.
He'd forgotten his love for gaming which used to take so much of his time, as dancing became his newfound passion, and his mother has been very supportive of this.
She had a hard time finding someone who would teach him, as Korean hip hop dance choreography was something new in their country at that time, and instructors didn't think an 11-year-old boy could handle it. She asked a dance student in secret to teach her son some basic moves, to show the dance trainer BamBam could do it, before he was accepted into the dance class.
BamBam was dubbed "Rain Junior" after winning first place in the Rain Cover Dance Competition. His older brother was supposed to join the contest, but because of a leg injury it was BamBam who went instead.
His three siblings became famous dancers in Bangkok, and he and his mom now own 50 Korean restaurants in Thailand.
Education background
He attended the Saiaksorn Elementary School, and matriculated from Pramoch Wittaya Ramindra High School.
Career
First steps
In 2007, he went to JYP Entertainment's Global Audition held in Thailand, and passed. Nothing came of it as his mother felt he was too young to be away from home, and besides, a Thai agency was also interested in BamBam, and she felt it would be better if he worked in Thailand first. He became part of the dance crew called We Zaa Cool.
In 2010 he won second place in the "LG Entertainer Contest", and a JYPE talent scout who was there remembered him from his previous audition and wanted to cast him again. During his audition, he didn't know how to sing so he just sang his country's national anthem. This time, his mom was willing to send him to Korea even if he was still young, as she felt he could take care of himself as he had been through several dance competitions already.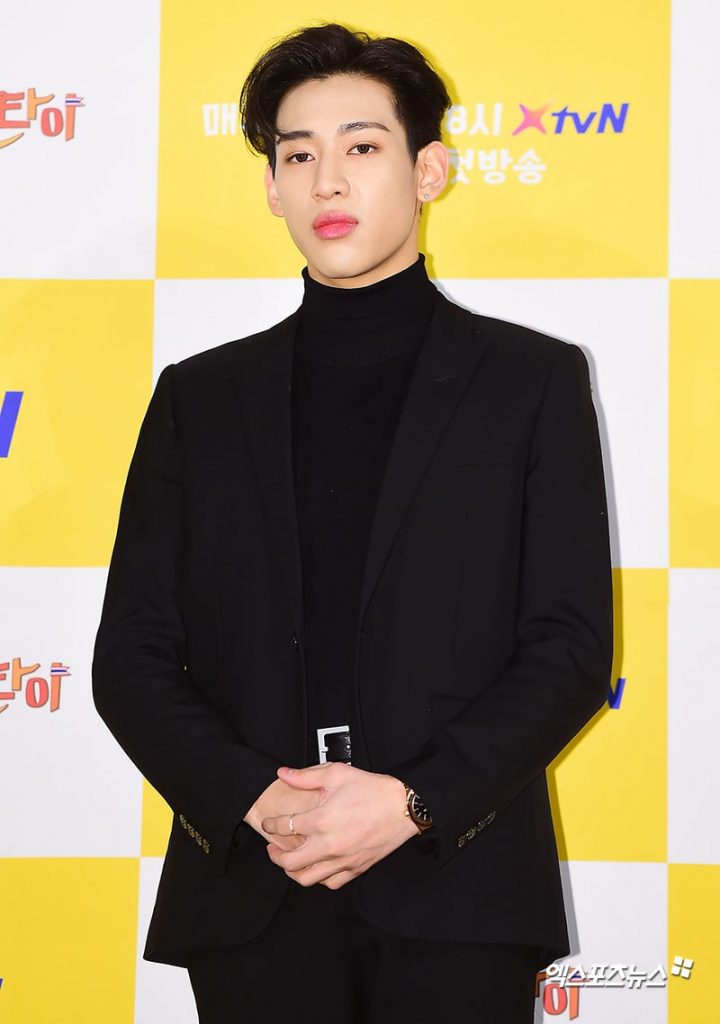 Her only worry was the language barrier, but JYPE assured her that a translator would be provided to help him with his classes for at least three months. BamBam then moved to Korea to begin his training. Since he was still in his seventh grade, he had to fly back and forth to finish his schooling.
Prior to his debut in K-Pop, he appeared in a few commercials in Thailand, and was cast as the son of one of the main leads of the Hong Kong horror-thriller movie, "Fairy Tale Killer" (2012). He also took part in a showdown between trainees of JYP Entertainment and YG Entertainment, which was aired in an episode of Mnet's reality show, "WIN: Who is Next?" (2013).
GOT7 Debut
On 16 January 2014, he debuted along with Jackson, JB, Jinyoung, Mark, Youngjae and Yugyeom as a member of the K-Pop boy band called GOT7.
BamBam was not supposed to be part of this group, but when YG founder, Yang Hyun Suk, praised his dancing skills during the showdown, JYPE founder, Park Jin-young decided to include him. It was said that the debuting group's name was GOT6, then GET7, before it became GOT7.
Their first extended play entitled "Got It?" peaked at No.2 on the South Korean Gaon Album Chart, with over 51,500 copies sold that year, and topped the Billboard World Albums Chart. The lead track, "Girls Girls Girls," which was written and composed by Park Jin-young, reached No.19 on the Gaon Digital Chart, and No.36 on Billboard K-Pop Hot 100. The hip hop group incorporated some b-boying (breakdancing) and tricking (kicks with twists and flips) in their dance choreography.
"Got Love," their second EP released five months later in June 2014, claimed the top spot on the Gaon Chart, with close to 60,000 copies sold that year and on Billboard World Albums Chart. Their first studio album, "Identity" with 11 tracks, was released in November, and it peaked at No.1 on Gaon with over 70,000 copies sold, and No.6 on the Billboard World Albums Chart.
The boys won the Rookie of the Year Award from the 24th Seoul Music Awards and 29th Golden Disc Awards.
Further success
Got7 has been actively promoting for many years now, and has released numerous EPs, studio albums, and singles that performed well on domestic and international music charts. Most notable releases include their fourth EP, "Mad," with the lead track "If You Do," which gave them their first television music show win through SBS MTV's "The Show," on 6 October 2015.
มาให้กำลังใจแบมแบมและข้ามปีไปด้วยกัน ที่งาน #AIS5GVirtualCountdown งานเคาท์ดาวน์เสมือนจริงสุดล้ำครั้งแรกในไทย ได้เลยนะครับ!

มาเจอกันเยอะๆนะครับ!!!#AIS5GVirtualCountdown #AISFamily pic.twitter.com/Onf1f9XAWu

— BamBam (@BamBam1A) December 31, 2020
The 10-track EP topped the weekly album chart on Gaon with more than 90,000 copies sold that year.
BamBam and the boys have numerous releases that topped the Gaon Album Chart, and so far, five of them were awarded Platinum certifications by the KMCA for exceeding 250,000 copies sold such as "Eyes on You," "Present: You," "Spinning Top," and "Call My Name." The 11th EP entitled "Dye" released in April 2020 became their best-selling album to date, as it's sold around 450,000 copies.
On the Billboard World Albums Chart, 13 out of 17 releases that entered the chart made it to the top 10, with four of them claiming the No.1 position such as their first two EPs, "Flight Log: Turbulence" and "Flight Log: Arrival." Sixteen out of 30 songs on the Billboard Digital Song Sales Chart made it to the top 10 with three of them charting at No.2, namely "Fly," "Hard Carry," and "Lullaby."
Got7 has received many nominations from various award-giving bodies, and won some of them including the "Best Worldwide Act" at the 2016 MTV Europe Music Awards, "Worldwide Fans' Choice Top 10" at the 2019 Mnet Asian Music Awards, and "Album Bonsang" (Main Prize) at the 2020 Golden Disc Awards.
Japan Promotions
BamBam and the boys signed with Sony Music Entertainment Japan (SMEJ) in 2014 for their Japanese promotions. They held the "Got7 Showcase 1st Impact in Japan" in Ryogoku Sumo Hall in April 2014, with 9,000 fans in attendance, and the "Got7 1st Japan Tour," which started in October, even before their official debut in the country. They released their first Japanese single, "Around the World," on 22 October, and it peaked at No.2 on the Weekly Singles Chart on Oricon, with over 43,000 units sold.
The Japanese albums and EPs that charted well on Oricon include "Turn Up" (2017) at No.3 with 55,500 copies sold, "I Won't Let You Go" (2019) at No.1 with 60,000 copies sold, and "Love Loop" (2019) at No.2 with almost 50,000 copies sold.
Concert Tours
Got7 held their first world "Fly Tour" from April to August 2016.  It started with a two-day concert in Seoul, and then to key cities in China, Japan, Thailand and the US as they performed to more than 100,000 fans. More than 175,000 people flocked to their 2018 world tour entitled "Eyes On You", and they also held their 2019 world tour, "Spinning Top," to meet their fans in Asia, North America, Australia and Europe.
Songwriting credits
BamBam has been contributing to the songwriting process of their albums and EPs since 2015.
He has about 22 song credits to his name, including "Something Good" (2016), "Remember You" (2017), "King" (2018), and "Cold" (2019). In some of the tracks he wrote, he performed solo or with co-members.
Other Activities
He has also been busy appearing in many variety shows, such as "BanMin TV" (2015) with label mate Park Ji-min, which aired on the V Live app for 12 episodes; MBC's "Real Men" (2016) with Jackson Wang, as they experienced life in the military; JTBC's "Where is My Friend's Home" (2016); and Mnet's "I Can See Your Voice" (2017) with Yugyeom, Mark, and Youngjae.
BamBam became one of the regular hosts of Mnet's weekly music show, "M Countdown," from 2015 to 2016. He's also co-hosted a few episodes of KBS World's "Battle Likes" (2016) and "K-Rush" (2017).
He is dubbed as the "Prince of Thailand" or "Gem of Thailand", as he has countless endorsement deals, and well-attended solo fan meetings due to his popularity as a K‑Pop star.
Charity
He launched an apparel line in December 2017, and the proceeds go to a non-profit organization called Water.org, that would provide safe and clean water. He worked with UNICEF Thailand to promote the national child abuse helpline, and to raise funds for disadvantaged children.
Personal life
BamBam is 23 years old and single. Although the no-dating ban for three years after his debut imposed by the agency has passed, he isn't dating anyone. When he appeared on the KBS2 variety show, "Hello Counselor," he mentioned that he cannot date because of his work as an idol.
In March 2017, rumors of him dating Mina, a member of Twice started circulating, due to a "leaked" photo that was posted online of him and label mate Mina side by side and lying prone on the bed. Although some Korean netizens (online users) said the photo might be edited, JYPE released a statement that it was real but the two were just friends who took a 'simple selfie.'
The agency also said they would take legal action against those who continue to put malice on the relationship of their artists, and damage their reputation.
An old video clip of him on a TV show resurfaced, as he talked about learning how to speak a little Japanese because he used to have a Japanese girlfriend before he debuted. He further added, 'I feel like Japanese girls don't play hard to get, but rather take the lead in a relationship.' Some fans wondered if the girl he was referring to then was Mina, as she is Japanese.
This was not the first time he was rumored to be dating a K-Pop artist. Back in May 2015, his Instagram profile description of a cake emoji which changed to the letters "IR", then to heart, eyes, and ring emojis, caused some fans to think he's dating Irene of Red Velvet. He denied the rumor, and said he didn't like Irene in that way.
BamBam was exempted from military service in Thailand as the number of recruits needed was already filled before he could even pick a card from the 2018 lottery, that would select those who had to enlist in the military.
Have a good Christmas Eve🎄💚🐥 pic.twitter.com/ms8hkwhmMo

— BamBam (@BamBam1A) December 24, 2020
Favorites, hobbies, rumors, and interesting facts
One of his nicknames is "skinny legend", due to his slender legs.
Favorites: blue (color), Tom Yum Kung (Thai spicy and sour shrimp soup) and cheeseburger (food), G-Dragon of Bigbang (artist)
He enjoys shooting and editing videos during his free time, and a couple of them were uploaded on Got7's YouTube channel, such as the "Feel It, See It" video that he made on cities he visited during his group's world tour.
BamBam used to talk about moose in past interviews, so a Got7 fan decided to adopt a moose on his behalf from the World Wildlife Fund in January 2020, as a gift for him.
He apologized for using the word "nigga" back in 2016. However, he was accused once again of using the racial slur during a V Live session with his co-members in 2019. He addressed the issue by saying, 'if u don't understand 100% then stop acting like u know things, okay?' He also asked for some respect and to let him breathe. Apparently, what he said was "neulguhsseo," which is the Korean for "has aged" or "old."
Appearance
He is 5ft 7ins (1.73m) tall, weighs 120lbs (55kgs), and has a lean build. His natural hair color is black, and his eyes are dark brown; he has a mole under his left eye.
Net worth
According to sources, Bam-Bam has an estimated net worth of $500,000, as of November 2020.