Son Chaeyoung is the main rapper and sub-vocalist of the phenomenal Korean Pop (K-Pop) girl group called Twice under JYP Entertainment, that debuted in 2015 and became one of the most successful idol groups in South Korea. She is also credited for co-writing numerous tracks from their chart-topping albums.
Just a simple reminder that article is created and owned only by kpopwiki.org. Article cannot be re-published in any other pages or documents. Copyright is protected by DMCA. All found copies will be reported.
Original source: https://kpopwiki.org/son-chaeyoung-twice-tattoo-height-age-boyfriend-braces/
Early life and family
Son Chaeyoung was born on 23 April 1999, in Gangdong District, Seoul, South Korea – her English name is Katarina. She and her younger brother, Jeong Hun, were raised as Catholics; he's very supportive of her and has been seen attending her concerts. She enjoys hanging out with her mother, such as going to an art exhibit and eating out. The siblings were with their mother as they celebrated her birthday in December 2019.
Her preference for eating healthy food is due to her grandmother's influence, as she grew up with her – she likes vegetables except for beans, and she doesn't like sweets.
She liked strawberries so much when she was young that she was given the nickname "Strawberry Princess" by family and friends.
Education background
She matriculated from Hanlim Multi Arts School in 2019.
Career
First steps
Chaeyoung took an acting class at a young age, and was cast as a model for a children's magazine. When she was in sixth grade, she took dance lessons to prepare herself for a career in the K‑Pop industry, including ballet for a short while, not long enough to develop the skills for it.
During that time she auditioned at Pledis Entertainment, but that didn't work out. Her career as an idol must have been tied to JYP Entertainment (JYPE), as she passed the audition on 6 June 2012. On that day, she made sure to take home with her the company's paper cup as a souvenir to give her mother, a long-time fan of the singer-songwriter, J.Y Park, who's also the company founder and owner.
She worked on improving her vocals at first, but after a while she tried rapping, and felt that it suited her better, so she also received training for it. As a trainee, she appeared in the music videos of JYPE's K-Pop group Got7's "Stop Stop It" (2014) and Miss A's "Only You" (2015). When JYPE held a reality television survival series called "Sixteen," she joined the competition with three years of training under her belt. There were 16 trainees who competed for a chance to win a spot in the girl group that the company was planning to launch. She might not have been as popular as some other trainees, but her stable singing voice, rapping skills, dancing skills and personality got her into seventh place, and so included in the final lineup. The series ran for 10 episodes on the Mnet Cable Network from May to July 2015.
The winners in the series debuted as members of the girl group called Twice, so named because they wanted to move people's hearts 'once through the ears and once through the eyes.' The group posted on Instagram the official fandom name as "Once", and said 'If you love us even once, we will repay your love with twice of our love.'
There are nine members of Twice, and although they can all sing and dance, each one has a role in the group that was designated by the company: Chaeyoung (main rapper and sub vocalist), Jihyo (leader and main vocalist), Jeongyeon and Sana (vocalists), Mina and Momo (main dancers), Dahyun (lead rapper), Nayeon (center), and Tsuyu (visual of the group).
Chaeyoung and the girls released their first extended play (EP) entitled "The Story Begins" on 20 October 2015 – it entered the South Korean Gaon Album Chart at No.4 and peaked at No.3 in its second week, and on Billboard's World Album Chart it reached No.15.
It contains six tracks including "Going Crazy," "Do It Again," and the lead single, "Like Ooh-Aah," which peaked at No.10 on the Gaon Digital Chart and No.6 on Billboard's World Digital Song Sales Chart.
After six months they released their second EP, "Page Two," and it performed even better on the charts, as it peaked at No.2 on Gaon and No.6 on Billboard World Albums Chart. Chaeyoung designed the cover of the limited edition album with only 30,000 copies released, and which quickly sold out. She also wrote the rap verse of the second track entitled "Precious Love." The lead single, "Cheer Up," claimed the top spot on the Gaon Weekly Digital Chart, and reached No.3 on the Billboard's World Digital Song Sales Chart. It gave them 11 music show wins, the first through Mnet's "M Countdown" six and a half months after debut.
They won the Song of the Year Award from various award-giving bodies such as the 18th Mnet Asian Music, 31st Golden Disc, and 8th Melon Music Awards.
Further success
The group's popularity continued to rise with the release of their third EP entitled "Twicecoaster: Lane 1" on 24 October 2016. It charted at No.3 on Billboard World Albums and No.1 on Gaon, with over 165,000 units sold in its first week, and more than double that number by the end of the year at over 350,000 copies, making it the best-selling album by a girl group that year. The lead track, "TT," which refers to the emoticon used for crying, has become very popular because of its dance choreography and catchy tune. It topped the Gaon chart for four weeks, and reached No.2 on Billboard's World Albums Chart.
JYP launched the Melody Project in 2016, in which each member was given a chance to release a solo music video. Chaeyoung did a cover of "Alone" by the South Korean band, Cheeze, but only two more members released solo tracks at that time, as the project was shelved because of the group's busy schedule.
Chaeyoung and the girls held their first concert tour in January 2017, entitled "Twice 1st Tour: Twiceland – The Opening," which started with a three-day concert in Seoul followed by key cities in Asia. That same year, they also released the repackaged album called "Twicecoaster: Lane 2," their fourth EP entitled "Signal" in which she co-wrote the lyrics of "Eye Eye Eyes," and the first studio album "Twicetagram", with the lyrics of two tracks, namely "Missing You" and "Don't Give Up" co-written by Chaeyoung. All their releases were commercially successful as they topped the Gaon Album Charts and performed well on Billboard's World Album Charts.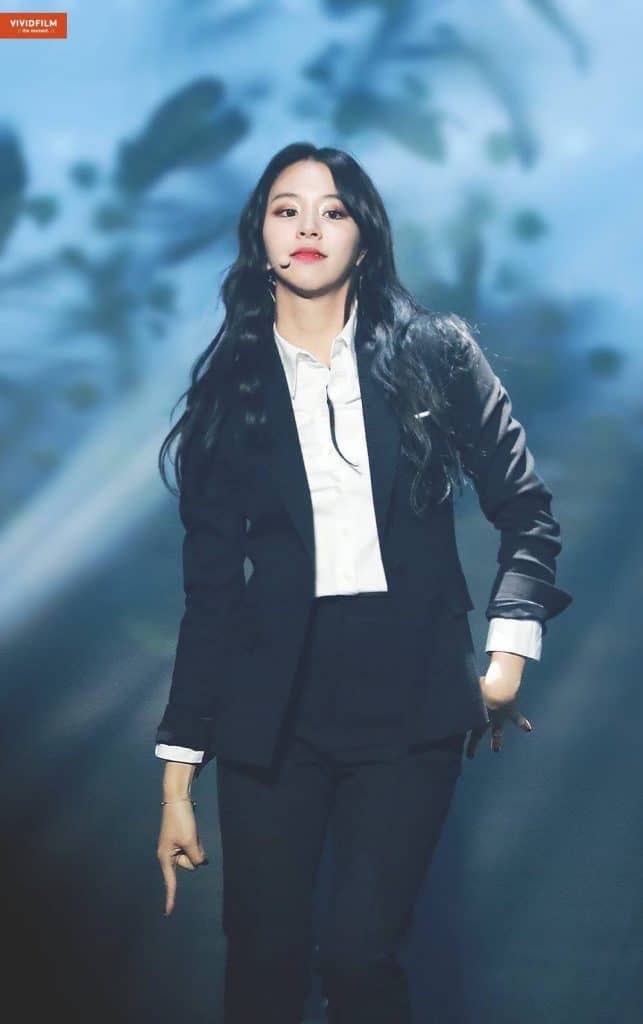 Forbes Korea ranked the group in third place on their list of Top 40 Power Celebrities of 2017, with the actors Song Joong Ki (Descendants of the Sun) in second place and Park Bogum (Moonlight Drawn by Clouds) in first place.
The group's fifth EP entitled "What is Love" released in January 2018, sold over 300,000 units in its first month, which earned them Platinum certification given by the Korea Music Content Association (KMCA) for surpassing 250,000 copies of albums sold. This made them the first Korean girl group to achieve this feat since it was established in 2008. Chaeyoung was credited for co-writing the lyrics of its second track, "Sweet Talker," as well as the fourth track, "Young & Wild" of the sixth EP, "Yes or Yes," released in November 2018.
Twice continued to dominate the music charts with the release of "Feel Special" and "Fancy You" in 2019, with Chaeyoung co-writing the lyrics of the sixth track, "Strawberry," of the seventh EP, and "21:29" of the eighth EP.
In June 2020, they received double-platinum certification from KMCA for their ninth EP, "More & More," making it one of their best-selling albums, and it also made it to the Billboard 200 at No.200 – it has seven tracks with the sixth one, "Sweet Summer Day," co-written by Chaeyoung. With their second studio album, "Eyes Wide Open," released in October 2020, she wrote the 10th track, "Handle It." It charted at No.2 on the Gaon Album Chart, and the lead single, "I Can't Stop Me," ranked 35th on Billboard Global 200, and No.1 on the Billboard's World Digital Song Sales Chart.
Chaeyoung and the girls have also acquired a huge following outside South Korea, particularly in Japan, as most of their records were certified either platinum or double platinum by Recording Industry Association of Japan (RIAJ) for surpassing 250,000 or 500,000 copies sold.
I WILL CRY 😭😭😭#CHAEYOUNG #채영@JYPETWICE pic.twitter.com/ksWZm5Pwol

— cool kid chaeyoung ❀ (@Chaengvelygram) December 3, 2020
She contributed to the songwriting process of the ninth track, "How U Doin," of the Japanese studio album entitled "&Twice", that topped the Oricon Album Chart.
Twice were the first K-Pop girl group to go on a Japanese Dome Tour in 2019, with tickets reputedly sold out within one minute after they were made available, and they performed to a total of 220,000 fans. They also held a successful world tour in 2019-2020, with stops in Bangkok, Los Angeles, Mexico City and Kuala Lumpur, but the last leg of the tour wasn't completed due to restrictions brought on by the COVID-19 pandemic.
Personal life
Chaeyoung is 21 and currently single, although rumors started circulating in November 2020 that she is dating a tattoo artist, based on a photo of a couple in a grocery mart uploaded on an online community. Fans believed that the girl wearing a hat is Chaeyoung as the idol wore the same hat on a talk show and said it was her favorite.
The guy is said to be the tattoo artist named Jung Sung Hyun – aka Chimhwasa – who's in his 30's and his photo was posted online.
Netizens (online users) continue to investigate photos previously posted on Instagram to look for "evidence." Chimhwasa posted a drawing of a woman fans suspected to be Chaeyoung due to the mole on the left side of the chin, and both were seen wearing similar rings on separate photos. Chaeyoung's brother is said to be following the Instagram account of Chimhwasa. Shortly after the rumors began, the guy closed his account.
JYP Entertainment said they have no comment regarding their artist's personal life.
Chaeyoung lives in the dormitory provided by the company, and shares a room with the "maknae" line (youngest in the group) that includes Tzuyu and Dahyun.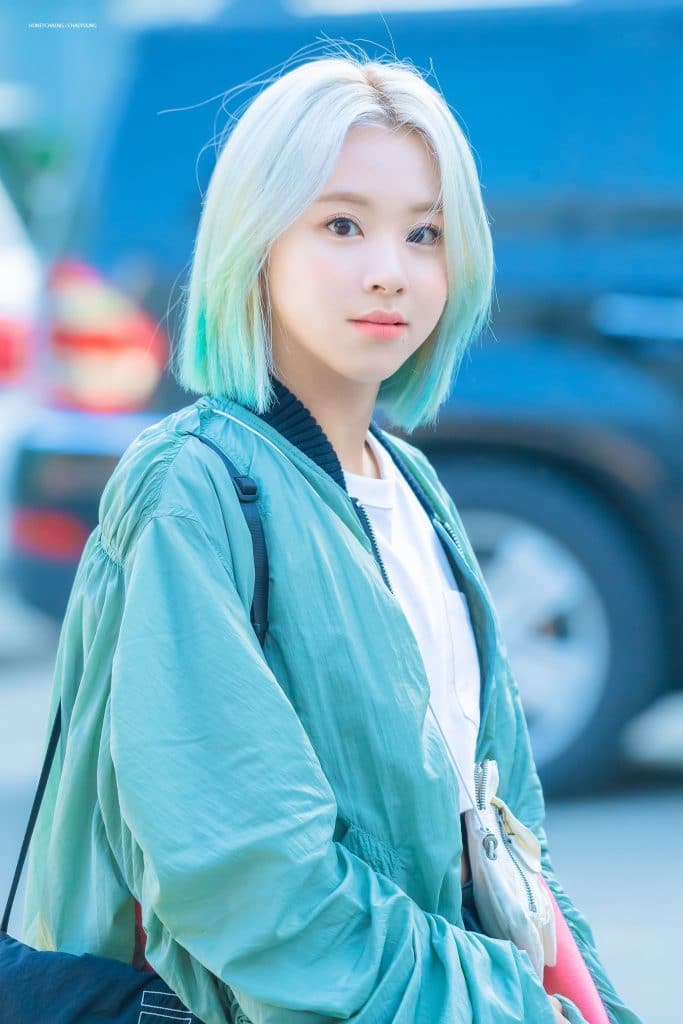 Hobbies, favorites, rumors, and interesting facts
As an artist who draws and paints, Chaeyoung likes the most famous post-impressionist painter, Vincent van Gogh, and wants to visit the Van Gogh Museum in Amsterdam someday. She would have pursued art if being a K-Pop idol didn't work out for her.
It was said that Disney Korea invited Chaeyoung for the premiere of "Lion King", as she resembles the character, Simba.
She is good at mimicking the quacking sound of a wild duck, and the window-wiping sound.
Listening to music, studying the dictionary, and using her 'phone are some of the ways she uses to make herself fall asleep.
Favorites: black and purple (colors), basketball (sport), Justin Bieber (singer), the number 29 (2 is for Twice; 9 is for the number of members in her group)
In January 2020, her private number was posted online by co-member Nayeon's infamous stalker known as "Josh," and as a result, she was bombarded with unwanted calls and text messages. Chaeyoung addressed the stalker on her Instagram account to let him know that what he did was wrong. Josh played the victim card and said he received a lot of hate because of the message she wrote, portraying him as the bad guy.
Photos of flowers posted on what was assumed to be her private blog by fans became controversial, due to the captions that seemed to indicate the flowers received by a fan were meaningless while the flowers she received were lovely. It was later revealed that it was an anti-fan who insinuated the negative meaning behind the posts.
Based on Chaeyoung's post on her blog, some K-netizens (Korean online users) believed that she watched the R-rated film, "Carol," when she was underage, and that it was suspected to be downloaded illegally. Although JYPE didn't address the issue, the blog has not been active since then.
A photo of Chaeyoung while she was on vacation in 2019 was posted online. She was bothered by it and said it's pretty scary to have a photo she didn't share circulated online. Her fans supported her request to respect her privacy and advised other so-called fans to refrain from posting these kinds of photos.
Appearance
Chaeyoung is 5ft 3ins (1.59m) tall, weighs around 100lbs (46gs), and has a slim build. Her natural hair color is black and her eyes are dark brown in color. She has several tattoos such as four carrots on her left forearm, strawberry lips on her left wrist, two tomatoes on her left upper arm, and an arrow shot through the heart behind her right ear. Her biggest is a tattoo sleeve on her right forearm, which was noticed by fans when she was wearing see-through sleeves during one of their performances. Artists are not allowed to show their tattoos on broadcasts, so they're usually hidden by make-up or skin-colored tape.
Net worth
Son Chaeyoung has an estimated net worth of close to $1 million as of November 2020, according to sources.