Jung Hoseok, best known as J-Hope, is a South Korean dancer, rapper, singer-songwriter, and record producer of the biggest boyband in the world, "BTS" under Big Hit Entertainment that shot to worldwide fame through the hit singles, "DNA" and "Mic Drop" from their fifth extended play, "Love Yourself: Her."
Just a simple reminder that article is created and owned only by kpopwiki.org. Article cannot be re-published in any other pages or documents. Copyright is protected by DMCA. All found copies will be reported.
Original source: https://kpopwiki.org/jung-hoseok-j-hope-bts-age-sister-height-net-worth/
Early life and family
J-Hope was born Jung Hoseok on 18 February 1994, in Gwangju, South Korea. He has an older sister named Jung Jiwoo, who is a businesswoman, designer, and model.
His early memories of his father, who is a literature professor, include watching a lot of DVDs with him. There was also a time when he cooked seaweed soup five days a week, which caused Hoseok to instantly recognize the smell and texture of it. He remembers his mother gently patting him to lull him to sleep when he was young.
Education background
He matriculated from Gwangju Global High School, and attended Global Cyber University.
(© 레인보우홉)#Jhope #제이홉 #정호석 #hoseok #BTS ⁠ #방탄소년단 pic.twitter.com/cDmpnfCigF

— hoseok pics (@hopeonpics) September 10, 2020
Career
First steps
Hoseok's passion is dancing, and he became part of a street dance crew called "Neuron." He was famous in the Gwangju underground dance scene, and he even won dance battles including a national dance competition in 2008. To further hone his skills, he enrolled at Seungri's Academy in Gwangju.
He wasn't accepted when he auditioned for JYP Entertainment, so he tried Big Hit Entertainment, which was a small and unknown company at that time, and became a trainee in 2010 at fifteen – he was the third one among members who would become part of the debuting group. It was said that the company was at first preparing to debut as a hip-hop group, similar to that of YG Entertainment's 1TYM, so that's why the first two trainees were underground rappers, namely RM and Suga. However, their CEO, Bang Si-hyuk, changed the concept to a traditional idol group, and four more trainees joined them.
As the group was training and preparing for their debut, Hoseok left the company for a short while for unknown reasons, and fans could only speculate. RM was instrumental in keeping him in the group, as he convinced management that they wouldn't make it without Hoseok in the team; Hoseok said he came back because he trusted the members. It was said that he was supposed to be a vocalist aside from being the lead dancer, but he ended up as part of the rap line-up; he had to learn how to rap, and RM and Suga helped him a lot. There was a time when he and Suga stayed up late doing freestyle rapping. By 2012, he had become the featured rapper in Jo Kwon's "Animal."
He debuted as a member of BTS in 2013, with the stage name J-Hope from which his nickname, "Hobi" came. His co-members said that he was almost always a little down and not hopeful, but it all changed when he got this name.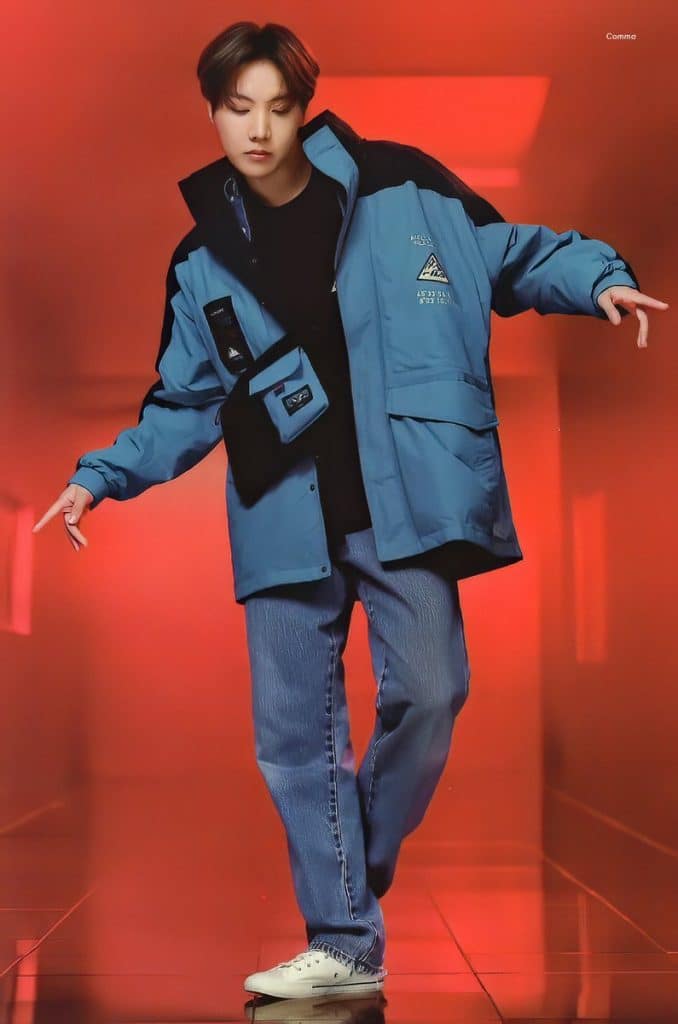 BTS is an acronym for Bangtan Sonyeondan, which roughly translates to Bulletproof Boy Scouts. In 2017, their name would stand for "Beyond The Scene." The seven-member group is comprised of the RM (leader), Suga, J‑Hope, Jimin, Jin, V, and Jungkook. They released their first single album, "2 Cool 4 Skool," on 12 June 2013 as part of the "school trilogy series" with the lead single, "No More Dream," and follow-up single, "We Are Bulletproof Pt.2." J-Hope co-wrote the lyrics for the lead single, and three other tracks – "I Like It," "Outro: Circle Room Cypher" and "Path."
The second installment in the school series trilogy called "O!Rul8,2?", was released almost three months after their debut album. This is their first extended play, and it has ten tracks with the lead single "N.O" (No Offense). More than half of their EP is co-written by J-Hope, including their follow-up single "Attack On Bangtan."
All their releases had little commercial success, but they were off to a good start with good reviews, and with each release they gained new fans. They received the coveted "New Artist of the Year" award from the 23rd Seoul Music Awards, 5th Melon Music Awards, 3rd Gaon Chart Music Awards, and 28th Golden Disc Awards.
Further success
Completing the school series trilogy is the "Skool Love Affair" released on 12 February 2014, and was the first album that made it to Billboard's World Albums Chart, placing at No.3. The lead single, "Boy In Luv" charted at No.9, and "Just One Day" at No.25 on the World Digital Songs. In March, BTS held their first fan meeting in Seoul with 3,000 attendees. With only 48 hours' notice, they held a concert for 200 fans in West Hollywood in July.
Hoseok and the boys released their studio album, "Dark and Wild," with the lead single, "Danger," and follow-up single, "War of Hormone," in August 2014. They went on a concert tour called "2014 BTS Live Trilogy Episode II: The Red Bullet", that started in Seoul followed by six cities in Asia.
The lead single, "I Need You," from their third EP entitled "The Most Beautiful Moment In Life Part 1", gave them their first music show win through SBS MTV's "The Show." It entered the Gaon Weekly Digital Chart at No.5, and the EP topped the Gaon Album Chart on the second week of its release. It charted at No.2 on the Billboard World Albums and No.6 on the Billboard Heatseekers Albums.
Their fourth EP entitled "The Most Beautiful Moment In Life Part 2" was released on 30 November 2015, and it marked a new era for J‑Hope and the boys as it debuted on the Billboard 200 at No.171. Five months later, they released a compilation album called "The Most Beautiful Moment in Life: Young Forever", and it debuted at No.107 on the Billboard 200.
The lead single, "Fire," topped Billboard's World Digital Song Chart, then BTS won their first major award, "Album of the Year," at the 8th Melon Music Awards.
BTS released their second studio album, "Wings," in October 2016, and it reached No.26 on the Billboard 200. It has 15 tracks including the lead single, "Blood, Sweat and Tears," and solo tracks for each member. J-Hope's solo is entitled "Mama," which conveyed his feelings for his mother who supported him from the start in pursuing a career in dancing, then as an idol despite the objections of his father. With this album, the group topped Billboard Social 50 for the first time. They released a repackaged album, "You Never Walk Alone," in February 2017  around 1.8 million copies of the two physical albums combined were sold, which gave them the title of "million-seller."
They went on a world tour entitled "2017 BTS Live Trilogy Episode III: The Wings Tour", during which they visited 12 countries for 40 shows from February to December, performing to about 550,000 fans.
There is no stopping BTS from dominating the music charts, and breaking records with the release of their "Love Yourself" series. They promoted it not just in South Korea but also in the US. Their fifth EP, "Love Yourself: Her," which had more than a million pre-orders, was released on 18 September 2018, and entered the Gaon Album Chart at No.1 and the Billboard 200 at No.7, the first Korean album to make it to the top ten. The EP has nine tracks including the lead single "DNA," which made it to No.2 on the Gaon Digital Chart and No.67 on Billboard Hot 100. It was certified gold by the RIAA (Recording Industry Association of America). They performed it at the 2017 American Music Awards, marking their television debut in the US.
A Steve Aoki remix of the seventh track, "Mic Drop," was later released, and debuted on the Billboard Hot 100 at No.28. It was certified gold by RIAA in February 2018, then certified platinum in November 2018 for having sold a million units.
"Love Yourself: Tear" that was released in May 2018 debuted on the Billboard 200 at No.1, and its lead single, "Fake Love," at No.10 on the Billboard Hot 100.  In August 2018, J-Hope and the boys released the last of the "Love Yourself" series, "Love Yourself: Answer". It has 24 tracks that include previously released songs and seven new ones, including J-Hope's solo "Trivia: Dance," as well as "Her" and "Tear" that were performed by him, RM and Suga. The lead single, "Idol," that was released featuring Nicki Minaj, made it to No.11 on the Billboard Hot 100.
With "Map of the Soul: Persona" debuting at No.1 on the Billboard 200, they became the third group to have three albums that topped the Billboard 200 in less than a year, the other two being the British group, The Beatles, and the American group, The Monkeys.
Its lead single, "Boy with Luv" featuring Halsey, peaked at No.8 on the Billboard Hot 100. The "Map of the Soul: 7" became their fourth album to top the Billboard 200.
They continued to make their mark in the music scene, with the release of the single "Dynamite," which debuted on the Billboard Hot 100 at No.1, and is their first song recorded fully in English. The members didn't participate in the production and song-writing.
Solo Activities
J-Hope released his solo mixtape entitled "Hope World" on 2 March 2018, and it peaked at No.38 on the Billboard 200, making him the highest-charting Korean solo artist, also charting in more than 10 countries. The mixtape contains seven tracks, including "Daydream" that topped the World Digital Songs Chart. Five other tracks also charted well, including "Airplane" at No.5, with both "Hope World" and "Base Line" at No.6.
he's so beautiful pic.twitter.com/pHVNMqOH0f

— hoseok pics ☻ (@gwangjupics) October 17, 2020
Due to his successful solo debut, he made it to Billboard's Emerging Artist Chart at No.3, and the Artist 100 Chart at No.91.
He released a single entitled "Chicken Noodle Soup" (CNS) featuring Becky G, and it entered the Billboard Hot 100 at No.81. J-Hope said that the original song by DJ Webstar and Young B. was what he danced to when he was still learning how to dance, so he wanted to release his version.
Personal life
Hoseok is 26 years old and single. There has been no news of him dating anyone since his debut; he used to have a girlfriend back in high school, but apparently she left him for another boy.
His ideal type is someone who is considerate and who cooks well. His ideal date would be holding hands with his girlfriend as they walked along the beach.
He lives with his members in Hannam-dong, Seoul, and shares a room with Jimin.
Rumors and interesting facts
He has a pet dog named Mickey.
Being scared of needles, he is said to be the only BTS member who doesn't have any piercings.
During the early days of BTS, J-Hope received much hate and bashing from some fans who wanted him out of the group for being ugly, and bringing down the group's image. The hashtag #kickoutjhopebts trended on Twitter. To counter this, army (official fandom of BTS) used the hashtag #WeLoveYouJhope to show their support.
He ranked 88th on TC Candler's list of "The 100 Most Handsome Faces of 2018."
His sister gained one million subscribers in 10 days when she opened her YouTube channel, "Mejiwoo," and was bashed by some for benefiting from J-Hope's popularity.
It was rumored that J-Hope had a nose job, but it was proven false when his high school photo showed nothing had changed.
His co-members prepared a surprise for his 20th birthday (21st in Korean as a baby is considered one year old at birth). They recorded their birthday messages for him and also included a video message from his family. As soon as he heard his father's voice saying that he is grateful for having a son like him and wishing him well in his career, he started crying.
J-Hope was criticized for cultural appropriation by some fans, for sporting what seemed to be dreadlocks (some said it's "gel twists") in his music video for CNS.
He fainted during the filming of "Boy In Luv" MV and was taken to hospital for an IV. As soon as he recovered, he went back to the site and resumed filming.
It was said that in 2016 he purchased a luxury apartment in Korea valued at $.1.6 million.
In February 2019, he donated to Child Fund Korea the amount of $89,000, to support students attending his alma mater in Gwangju.
He holds the record for being the most followed Korean artist on Spotify, surpassing Bigbang's G‑Dragon, who happens to be one of his role models.
He has his personal recording studio called Hope World.
Appearance
He is 5ft 10ins (1.77m) tall, weighs 145lbs (65kg), and has a lean build. He has black hair and black eyes.
Net worth
With the release of his mixtape, contribution to the lyrics in most of the tracks in their albums, and world concert tours, Hoseok has an estimated net worth of $12 million as of October 2020, according to sources.