Onew is a South Korean singer, dancer, and actor, who rose to prominence when he became the leader of the popular Korean (K-Pop) boyband Shinee in 2008.  His group earned the title "Princes of K-Pop," as their music and fashion style became popular with students. In their 13 years in the business, they released some of the most popular K-Pop songs, such as "Ring Ding Dong," "Lucifer," "Sherlock," and "View." They had eight No.1 studio albums and two No.1 extended plays (EP). Onew was part of the massively successful 2016 drama series "Descendants of the Sun," in the supporting role of a medical resident. He later debuted as a solo artist with the album "Voice," which peaked at No.2 on the chart a month before he started his mandatory military service in 2018. He was discharged in 2020; his group released their top-charting seventh Korean studio album, "Don't Call Me," in February 2021.
Just a simple reminder that article is created and owned only by kpopwiki.org. Article cannot be re-published in any other pages or documents. Copyright is protected by DMCA. All found copies will be reported.
Original source: https://kpopwiki.org/the-untold-truth-about-onew-from-shinee-military-condition/
Early Life and Family
Onew was born Lee Jin Ki on 14 December 1989, in Suwon, Gyeonggi, South Korea. His parents raised him in a middle-class household with a butcher's shop as their family business. He grew up writing letters to his parents as they arrived home quite late in the evening, and Onew was mostly asleep by that time. He was such an active boy, always playing around, but was bullied by a young kid in their neighborhood.
When Onew reached middle school, he helped his mother in the shop instead of playing with his friends. His childhood dream kept changing as he grew older; he started with wanting to become a scientist then an architect and later a Lego game designer. He wasn't afraid of hard work, as he saw how his parents ran their business, so when he was in high school he did part-time jobs, while maintaining his honor roll status; he had the highest SAT scores in his school.
Educational Background
Onew went to Gwangmyeong Yeonseo Elementary School, Haan Middle School, and matriculated from Gwangmyeong Information Industry High School in Gyeonggi Province. He graduated from Chungwoon University with a bachelor's degree in Broadcasting in 2014, and later achieved his Master's degree in Practical Music in the same university.
Career
Onew auditioned for SM Entertainment in 2006 singing Gummy's "Do It," which impressed the founder of the label, Lee Soo Man. He was subsequently professionally trained in singing, dancing, hosting and acting for two years.
First Steps – Debut Year as Shinee (2008)
After his training, Onew debuted as the leader of the boyband Shinee, along with Minho, Taemin, Key and Jonghyun on 22 May 2008. They released their debut extended play (EP) "Replay," which peaked at No.8 with close to 20,000 units sold.
The title track was downloaded over 21,000 times, and the official music video gained more than 29 million views. The boyband's TV debut showcase was on the popular music show, SBS' "Inkigayo", and their fashion style became highly emulated by many students, as colorful skinny jeans and tops along with high-top sneakers became the trend at that time.
Their first studio album, "The Shinee World," was released on 28 August 2008, with 12 tracks including the title track "Love Like Oxygen", which gave Onew and the boys their first music show trophy, courtesy of Mnet's "M Countdown." The album peaked at No.3 on the charts, with around 90,000 units sold in South Korea.
Shinee attracted positive feedback from music insiders, and in their debut year received New Artist of the Year awards from the Mnet Asian Music, Seoul Music, and Asia Song Festival, along with the Best Style Icon award from Style Icon Awards.
#ONEW black hair 😭 pic.twitter.com/AqkKDMKqN2

— ً (@LJKLOOKS) March 20, 2021
Commercial Success with songs "Juliette," "Ring Ding Dong," and "Lucifer" (2009 – 2010)
For the next two years, the group released songs that helped them become one of the most popular boybands in South Korea. Their second EP, "Romeo" came out on 25 May 2009 with the lead track "Juliet," which gave them their first music show trophy for being the Top Song of the Week from KBS' "Music Bank", on their 5 June TV performance.
In October 2009, Onew's group released their third EP, "2009, Year of Us," which gave birth to one of the most iconic songs of the boyband – "Ring Ding Dong." It became so popular that it was banned during the college entrance examination period at that time in South Korea, due to its addictive tunes, and was reported to cause a major distraction among the students, as instead of preparing for the exams, they kept on singing the song. It won eight music show trophies from major music shows, such as Mnet's "M Countdown," SBS' "Inkigayo," and KBS' "Music Bank", selling more than 40,000 units in South Korea.
In July 2010, Shinee's second studio album, "Lucifer," was the year's sixth best-selling album in the K-Pop music scene according to Gaon. It charted at No.1 with close to 265,000 units sold in South Korea, and 30,000 in Taiwan, charting at No.7 on the G-Music Album Chart. The album spawned one of Shinee's most popular songs, as "Lucifer" was downloaded around 1.5 million times and peaked at No.2 on the Gaon Digital Chart. The song reached No.3 on Billboard's World Digital Song Sales chart with 67,000 units sold in the US. Due to the massive success of the album, it was re-packaged as "Hello" in October 2010, with three additional songs, and later in 2018, "Lucifer" was even used as background music in one of the episodes in the American TV series with the same name.
For the first time, Onew showed his songwriting skills, as he contributed to the lyrics of one of the songs entitled "My Name" along with bandmate Mino.
Japanese Debut, Forbes Korea Power Celebrity List, Concert Tour (2011-2016)
In January 2011, Onew's group held their first solo concert, "Shinee World," in Seoul at the Olympic Gymnastics Arena. They were also included in their label's concert tour, "SM Town Live '10 World Tour," and performed around the world with other SM artists, including in Paris, Tokyo, and New York.
"Sherlock," their fourth EP, was released in May 2012, and became the fifth best-selling album that year with over 200,000 units sold. The lead track, "Sherlock (Clue + Note)," ruled the charts and won eight music show trophies. Onew received 340 shares of SM Entertainment as a reward, and became one of the stockholders of the company along with his bandmates.
In 2013, they won Artist of the Year from Melon Music Awards, based on the successful sales of their third full-length studio album, "The Misconceptions of Us," which dominated the charts and sold around 320,000 units.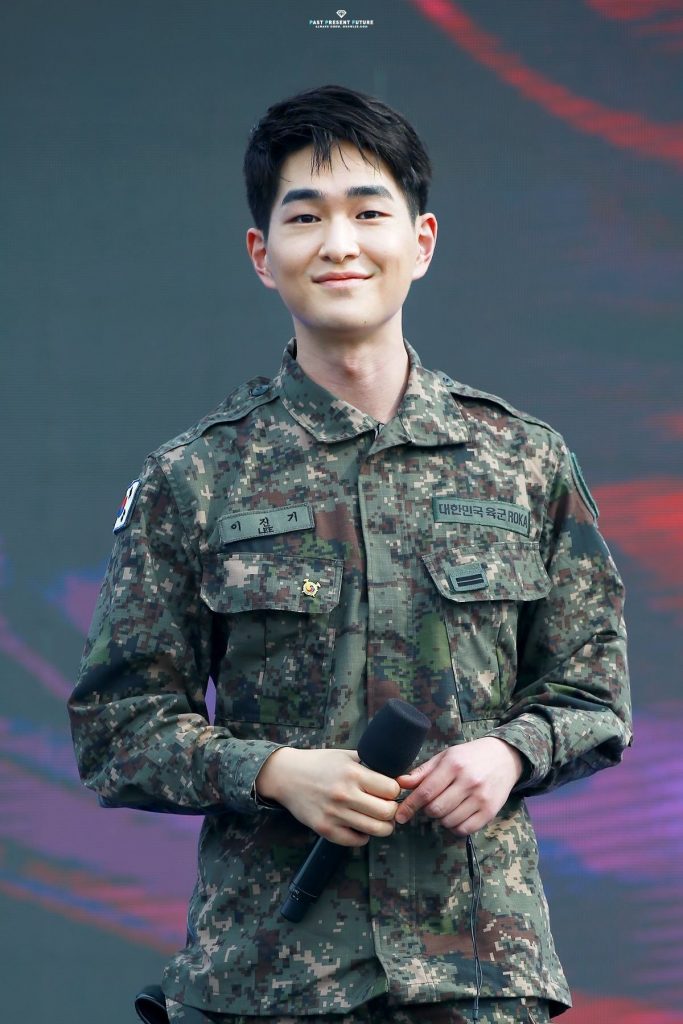 In 2014, they released commercially successful albums in both South Korea and Japan, and had another successful world tour; they even held concerts in Latin America. By the end of the year, Forbes Magazine included them on the Korea Power Celebrity list, ranked at No.8.
Shinee released two studio albums that both peaked at No.1 on the charts. "Odd," their fourth studio album released in 2015, had over 280,000 units sold, and spawned another No.1 song entitled "View", with 730,000 downloads, winning nine music show trophies. The group's fifth studio album, "1 of 1," released in 2016 sold over 250,000 units, with four music show trophies.
Shinee's success in South Korea continued on in Japan, as they debuted there in June 2011 with the release of the Japanese version of their debut single, "Replay." It was certified Gold by the Recording Industry Association of Japan (RIAJ) for selling more than 100,000 units.
More Japanese songs were released through the years, and most of them were certified Gold by the RIAJ, including "Dazzling Girl (2012)," "Boys Meet You (2013)," "Your Number" (2015), and "Winter Wonderland (2016)." They became so huge in Japan that Shinee won the Artist of the Year award there in 2011, and they've held successful Japanese concert tours every year since 2011. In 2016, Onew's group and Bigbang were the only non-Japanese artists ttoo made it on the top 10 list of having the biggest concert audience. They were ranked No.6 with over 510,000 attendees from 28 concerts.
Solo Activities, Scandal, Jonghyun's Death (2010-2017)
In 2010, Onew debuted as a musical actor in "Brothers were Brave." He also took the role of the male lead in the Korean version of the popular musical, "Rock of Ages." After gaining confidence in theater, he started to accept roles in TV dramas too, such as cameo roles in "Dr. Champ" and "Athena: Goddess of War," which both aired in 2010.
Due to his busy schedule with his group activities, he couldn't accept bigger roles, but would still make guest appearances in drama series such as "Oh My God" (2012) and "Pure Love" (2013). He had a bigger role in the TV sitcom "Welcome to Royal Villa," basically portraying himself. His most serious role was in the 2016 globally successful TV drama series called "Descendants of the Sun", with Song Joong Ki and Song Kye Hyo, playing a supporting role as a junior medical resident. He was criticized for his acting in one particular scene in which he was performing CPR, but his hands were seen not putting pressure on the chest. In Onew's defense, he just followed the director's instructions that the scene would only feature his upper body and that his hands wouldn't be seen.
Onew was involved in a sexual harassment scandal in August 2017. He went to a club with his non-celebrity friends and had too many drinks.
His table was near a ledge on top of which people were dancing, and when he struggled to stand up, he somehow touched a girl's leg. His friends immediately apologized but it happened twice so the girl thought it wasn't accidental. The girl reported it to the police and an investigation ensued. Witnesses claimed that Onew was so drunk that he wouldn't know what he did that night. The charges were dropped, but investigations by the State continued, until he was acquitted of all charges after eight months. However, due to the controversy, all his scheduled TV appearances were canceled, and he didn't participate in any of Shinee's concerts during this time; he was on a temporary hiatus for four months.
In December 2017, a report shocked Onew and the rest of the K-Pop world, when Jonghyun, one of his bandmates, took his own life.
Jonghyun couldn't anymore hold on even after receiving treatment as depression took control of his life. It was the darkest day in Onew's life, and the group halted all their activities until February 2018 when they held a series of concerts in Japan.
Solo Album Released and Military Enlistment (2018 – present)
On 5 December 2018, five days before Onew would start his mandatory military service, his debut album "Voice" was released, consisting of seven tracks with "Blue" as its lead track. He was credited as the lyricist of two songs on the album entitled "Illusion" and "Shine on You." The EP peaked at No.2 on the Gaon Album Chart, and No.24 on the Oricon Album Chart.
In the military, he took part in their musical, "Shinheung Military Academy" in July 2019. It was about South Korean youth who were part of the fight for independence from the Japanese occupation. It was followed by another musical – "Return: The Promise of that Day" – with other K-Pop artists enlisted in the army.
Onew was discharged from the military on 8 July 2020, two weeks earlier than scheduled, as part of South Korea's response to the Covid-19 pandemic.
Shinee released its seventh Korean studio album, "Don't Call Me," on 22 February 2021 with nine tracks. It peaked at No.1 in South Korea, and No.7 on the US Billboard World Albums Chart. It had close to 200,000 units sold in South Korea, and the title track earned six music show trophies.
SM Entertainment announced that Onew would be headlining the musical "The Sun's Song," after he finishes with his group's activities.
Personal Life
Onew is officially single, as there has been no news of him being involved with anyone. However, back in 2013 he was rumored to be dating another K-Pop star, Jungah of After School, for a year. The South Korean news agency Kuki News, published photos of the two in a restaurant and in a car. As expected, both labels denied it, saying that they were only friends.
#온유 #ONEW #オニュ @SHINee pic.twitter.com/514t4l9Qz8

— hourly jinki (@hourlyjinki) March 24, 2021
In 2017, he was rumored to be dating actress Park Hwan Hee, whom he met in the drama series "Descendants of the Sun." They were seen together in many places, but mostly with friends, so fans believed they just became close because of the drama series. Neither agency addressed the issue, and the dating rumor died a natural death.
Hobbies, favorites, rumors, and interesting facts
Onew has earned many nicknames throughout his career, including Dubu, Ontokki, Tofu, and Leader Onew.
His favorites: two (number), horror (movie genre), any dish with chicken (food), fedora hats (accessory), the smell of trees (scent), t-shirt and shorts (sleeping attire), giraffe (animal), blue (color).
Onew commits the most mistakes among the Shinee members during practice.
He had surgery in 2015 to remove vocal polyps.
Appearance
Onew is 5ft 10ins (1.78m) tall and weighs 135lbs (61kgs); his shoe size is 8.5 US (265mm). He has black hair and dark brown eyes.
Net Worth
According to authoritative sources, Onew has an estimated net worth of close to  $5 million as of March 2021.