Jaehyun is the main vocalist, lead dancer, sub-rapper, and visual, of the Korean Pop (K-Pop) boyband NCT 127, a sub-unit of Neo Culture Technology under SM Entertainment. He was introduced to the public through the sub-unit NCT U (United), comprised of rotational members, then rose to fame with the release of platinum-certified albums and extended plays (EPs) as well as signature songs such as "Cherry Bomb," "Regular," "Simon Says," and "Punch." NCT 127 became million-sellers with "Neo Zone" and its repackaged album "The Final Round." NCT as a whole group reached the million mark with "NCT 2020: Resonance Pt.1." He will debut as an actor in KBS2's "Dear. M" on 26 February 2021.
Just a simple reminder that article is created and owned only by kpopwiki.org. Article cannot be re-published in any other pages or documents. Copyright is protected by DMCA. All found copies will be reported.
Original source: https://kpopwiki.org/the-untold-truth-about-nct-member-jaehyun/
Early life and family
Jeong Jaehyun was born on 14 February 1997, in Seocho, Seoul South Korea.
He was in middle school when he legally changed his name to Jung Yoonoh, which was chosen by his grandmother, because his birth name was reportedly chosen by his parents without much thought.
His parents were said to be college professors, who met when his mom was still a trainee teacher at Shindong Middle School. Jaehyun is an only child, and was raised in a comfortable home. He has memories of spending his childhood with his half-English cousin in Busan, his grandmother's hometown. When he was five, his family moved to Connecticut and lived there until he was ten. He used the name Jay while attending school there, as his teachers were said to have difficulty pronouncing Jaehyun.
He was in elementary school when he first started learning to play the piano from his mom, who also learned to play it when she was young. His grandmother, who has a background in Korean modern dance, made it a point to watch his performances on television, and advised him on its technical aspect.
Educational background
He attended Shindong Middle School, then went to Apgujeong High School and matriculated from Seoul School of Performing Arts in February 2016, with a major in Broadcasting.
Career
First steps
Even in high school, he would stand out among his classmates as he was voted Most Handsome, Most Charming, and Best Dressed Person. Jaehyun was approached by talent scouts from SM Entertainment as he was leaving his school in 2012, and was invited to audition. He passed after singing boyband Exo's "Mama", and officially became a trainee. He used Jaehyun as his stage name since a popular idol singer from his label has the name U-know Yunho (DBSK), which sounded similar to his legal name.
On 9 December 2013, he was introduced as part of the company's pre-debut training team called SM Rookies, which enabled their trainees to experience performing on stage during "Rookie Station" and "SM Rookies Show."
Some of his activities prior to his debut included appearing in Mnet's reality show "Exo90: 2014," and co-hosting MBC M's music program "Show Champion" for the first half of 2015.
Jaehyun along with Doyoung, Mark, Taeil, Taeyong and Ten, officially debuted on 9 April 2016 as a member of NCT U. It was the first sub-unit of NCT launched in which there were no fixed members, as it was dependent upon the concept of the album or song. "7th Sense" was the group's first digital single, which charted at No.111 on South Korea's Gaon Digital Chart with over 48,000 downloads, and No.2 on Billboard's World Digital Song Sales Chart. "Without You" was the follow-up single released the following day, with Korean and Chinese versions. The Korean version charted at No.123 on Gaon with more than 28,500 downloads, and No.3 on Billboard's World Digital Song Sales Chart.
Aside from promoting their singles, the members also appeared in four seasons of the reality show "NCT Life", as they engaged in various activities in Bangkok, Seoul, and Paju as well as participated in the Korean Food King challenge.
In July 2016, the second sub-unit, NCT 127 was launched (127 refers to the longitude co-ordinate of Seoul), comprised of Seoul-based members. Jaehyun along with three members from NCT U joined Haechan, Winwin, and Yuta to form this sub-unit, and released their first EP "#NCT127."
It was commercially successful with over 80,000 copies sold by the end of the year, topping the Gaon Album Chart, and made it onto Billboard's World Albums Chart at No.2, and Heatseekers Albums at No.3. It consisted of seven tracks, with the lead single, "Firetruck" co-written by Jaehyun, and peaked at No.103 on the Gaon Digital Chart with 30,000 downloads, and No.2 on Billboard's World Digital Song Sales Chart. Its official music video attracted 36.5 million views.
NCT 127 went on to win the New Artist of the Year Award from the Mnet Asian Music Awards, Seoul Music Awards, and Golden Disc Awards.
Further success
Two members were added, Johnny and Doyoung making NCT 127 a nine-member boyband. They released "Limitless" in January 2017, which had over 120,000 copies sold by the end of the year, topping both the Gaon Album Chart and Billboard's World Albums Chart. Its title track peaked at No.4 on Billboard's World Digital Song Sales Chart, and Dazed Digital ranked it at No.5 on "The 20 Best K-Pop Songs of 2017."
"Cherry Bomb" was the third EP they released – it sold almost 130,000 copies by the year's end, and peaked at No.2 both on the Gaon Album Chart and Billboard's World Albums Chart. Jaehyun and his sub-unit reached a new milestone in their career on 22 June 2017, as they won the No.1 Song of the Week trophy for the title track courtesy of Mnet's "M Countdown."
LOVEHOLIC #재현 #JAEHYUN #NCT pic.twitter.com/X150qQ0csd

— 제이미 (@JAYME0214) February 19, 2021
It became one of their signature songs as it reached No.47 on the domestic chart with over 70,000 downloads, and was No.3 on Billboard's World Digital Song Sales Chart, spending six weeks on the chart – Billboard ranked it at No.18 on its list of "20 Best K-Pop Songs of 2017." However, they were banned from performing the song on KBS' "Music Bank", as the network deemed it inappropriate for broadcast due to the depiction of violence in the lyrics. The music video (MV) garnered more than 120 million views.
For the SM Station digital music project, Jaehyun collaborated with various artists, and released "Try Again," "Dear My Family," and "Timeless."
Three new members joined the NCT group for the March 2018 release of their first studio album, "NCT 2018 Empathy". The 14-track album contained previously released songs by NCT U, NCT 127 and NCT Dream (with teen members), with Jaehyun providing either main or background vocals for seven tracks.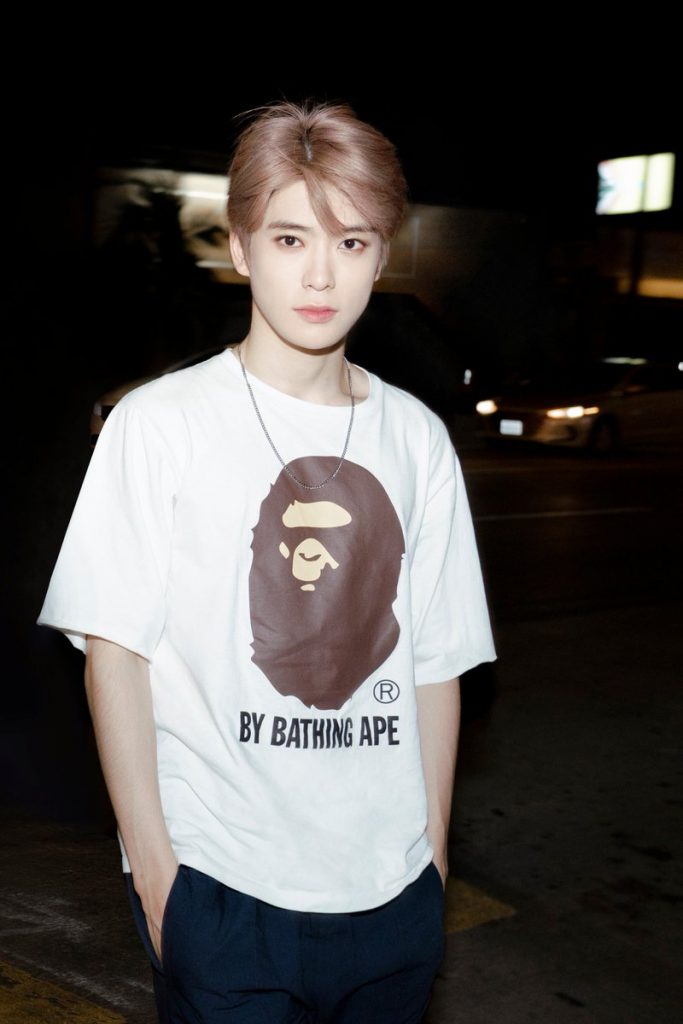 "Black on Black" was the only track that featured all members, with five of them providing the main vocals and the rest background vocals.
It performed well on the local and international music charts, including the Gaon Album Chart at No.2, and received platinum certification from the Korea Music Content Association (KMCA) for surpassing 250,000 units sold, actually over 330,000 copies by year's end. It also charted on Billboard World Albums and Top Heatseekers Albums, at No.5 and No.9 respectively.
NCT was the first K-Pop act to top Billboard's Emerging Artists Chart in May 2018. NCT 127 became the first sub-unit to have fixed members in September.
"Regular-Irregular" was NCT 127's first studio album released in October, entering Billboard 200 at No.86, and peaking at No.2 on Billboard's World Albums Chart. It topped the Gaon Album Chart, and was certified platinum by the KMCA with almost 300,000 copies sold by the end of 2018.
It was No.15 on Billboard Critics' list of "The 20 Best K-Pop Albums of 2018." Its lead single, "Regular," peaked at No.92 on the Gaon Digital Chart, and No.2 on Billboard's World Digital Song Sales Chart.
Jaehyun and the boys began their US promotions when they held a mini-concert for "Jimmy Kimmel Live!", followed by a performance in "Mickey's 90th Spectacular" television Special" on ABC, and appeared in the American Music Awards red carpet event. They made it to Apple Music's "Up Next" Artist of October, and released the digital EP "Up Next" exclusive for Apple Music, which contained "Regular" and "Firetruck" remixes, and the English version of "Cherry Bomb."
The studio album was re-issued as "Regulate", and it sold around 158,000 copies, peaking at No.1 on the Gaon Album Chart. Its lead single, "Simon Says," became their first Billboard's World Digital Song Sales chart-topper.
Jaehyun and the boys held their first concert tour called "NEO City: The Origin," starting in January 2019 with a two-day concert in Seoul, followed by seven cities in Japan. They signed with Caroline Distribution and Capitol Music Group in April 2019 for worldwide marketing and promotion, and appeared in "Strahan and Sara" and "Good Morning America", then continued with the North American leg of their tour. Before they went to Canada for their concerts, they appeared in "The Late Late Show with James Corden."
On these American TV programs, they performed the lead single, "Superhuman" from their fourth EP "We Are Superhuman," which was released on 24 May 2019. The six-track EP topped Billboard's World Albums Chart and Billboard Heatseekers Albums, and became their second entry on Billboard 200 at No.11, with 27,000 album-equivalent units. It also topped the Gaon Album Chart with 265,000 copies sold, thus earning platinum certification from the KMCA.
The lead single peaked at No.117 on the Gaon Digital Chart, and No.3 on Billboard's World Digital Song Sales Chart.
Jaehyun and his sub-unit went to key cities in Latin America, Europe, and Asia as part of their concert tour from May to July, and then from December 2019 to February 2020. They also performed at the MTV Europe Music Awards in Spain, Macy's Thanksgiving Day Parade in New York, and in the "Today" show before 2019 ended.
After their tour and US promotions, they returned to Korea, and released their second studio album, "Neo Zone," on 6 March 2020. So far, it was their highest entry on Billboard 200 at No.5, and topped Billboard's World Albums Chart with close to 200,000 copies sold in the US. The 13-track album claimed the No.1 spot on the Gaon Album Chart with more than 835,000 copies sold, which earned them 3x platinum certification from the KMCA.
It also topped the iTunes Albums Chart in 33 countries. Its lead single, "Kick It," reached No.3 on Billboard's World Digital Song Sales Chart and No.21 on the Gaon Digital Chart.
It was repackaged as "Neo Zone: The Final Round," and topped the Gaon Album Chart with over 600,000 copies sold, so receiving 2x platinum certification from the KMCA. The lead single, "Punch" was No.5 on both Billboard's World Digital Song Sales Chart and Gaon Digital Chart. The combined sales of the original and repackaged albums made Jaehyun and the boys million-sellers, as it surpassed 1.2 million copies sold.
The NCT boyband released "Resonance Pt.1" in October 2020 topping both Billboard's World Albums Chart and Gaon Album Chart, as it sold over 40,000 copies in the US and 1.4 million in South Korea; they were certified Million by KMCA. Jarhyun co-wrote the lyrics of the fifth track, "Dancing in the Rain." The album was reissued as "Resonance Pt.2", and sold over 900,000 copies in Korea.
Other activities
Jaehyun and Johnny co-hosted "NCT's Night Night," a radio show on SBS Power FM from March 2017 until January 2019. He resumed hosting in October 2019 up to the present in the KBS' music program, "Inkigayo."
He's been cast as one of the main leads for his debut as an actor in the KBS2 romantic drama series, "Dear. M," which will start airing on 26 February 2021.
Personal life
Jaehyun is known to be single, although he's been involved in dating rumors with a non-celebrity girlfriend, an American actress, and (G)i-dle's Shuhua, but none were confirmed. Some of his fans loved to speculate on his love life as there's been no dating news about him.
When asked about his ideal type, he said he is interested in dating someone kind, dependable, and whocan communicate well with him.
He lives with his co-members and group managers in the dorm provided by the agency.
i'm so into you. #JAEHYUN #재현 pic.twitter.com/pQyMl1vT9S

— 𝒆. 𝒚𝒐𝒐𝒏𝒐𝒉 (@empathyoonoh) February 20, 2021
Hobbies, favorites, rumors, and interesting facts
Favorites: white (color), dog (animal), spring (season), lavender (scent), basketball (sport), green tea (ice cream flavor), peach (fruit), spicy pork (food), IU (Korean artist), Leonardo DiCaprio (Hollywood actor), Agatha Christie (author)
He has a black belt in taekwondo.
He posted a series of photos on Twitter in May 2019, and in one of them, a mysterious hand was seen grabbing his ankle as he posed by the edge of the water. Some are wondering if it's photoshopped or a prank by one of the members. However, he included a caption also wondering what it was.
Jaehyun and his celebrity friends, namely BTS' Jungook, Seventeen's Mingyu, and Astro's Cha Eunwoo were involved in a controversy when they didn't observe the social distancing guidelines set by the government when they hung out in Itaewon bars and restaurant on the eve of 25 April until dawn. Fortunately, he tested negative despite the resurgence of COVID-19 in the area. His agency issued an apology on the 18th of May, and he posted his apology on his Instagram account the following day.
Appearance
He is 5ft 9ins (1.8m) tall and weighs around 140lbs (64kg) with a lean build. He has black hair and dark brown eyes; his shoe size is 9.5 (US).
Net worth
Jaehyun has an estimated net worth of $500,000 as of February 2021, according to sources.