Song Yuqi is a Chinese singer, rapper and dancer, who debuted as the face of the six-member Korean Pop (K-Pop) girl-group called (G)I-DLE, that was dubbed as a monster rookie for their hit singles "Latata" and "Hann (Alone)."
Just a simple reminder that article is created and owned only by kpopwiki.org. Article cannot be re-published in any other pages or documents. Copyright is protected by DMCA. All found copies will be reported.
Original source: https://kpopwiki.org/song-yuqi-gi-dle-age-height-plastic-surgery-dating-wiki/
Early life and family
Song Yuqi was born on 23 September 1999, in Beijing, China. She is an only child.
She was in sixth grade when she began learning how to play the guzheng or Chinese zither, and continued to receive lessons for seven years. She also learned the Chinese Folk Dance called Dai, and was the president of a street dance club.
Her desire to learn the Korean language was because of the actor Kim Soohyun, whom she became enamored of after watching his megahit romantic fantasy series "My Love from the Star" with her mother.
Educational background
She attended Shangdi Experimental Primary School in Beijing and Beijing 101 Middle School, regarded as one of the best middle schools in China. The classes were arranged by rank, and Yuqi was assigned to Class 1, as one of the best and brightest students in school.
Career
First steps
With the rising popularity of not just Korean dramas but also K-Pop music in 2000s across Asia, most young people aspired to become a K-Pop singer, and Yuqi was no exception. She has been a huge fan of SM entertainment's Super Junior, which achieved international stardom with their highly addictive song "Sorry Sorry" in 2009, and attended their concert in China when she was young. She was also exposed to other K-Pop groups, and would watch their dance videos online to learn their choreographies, as she loved dancing. K-Pop became such a big part of her life that she soon started to dream of becoming an idol. After seeing Hyuna (4Minute) perform on stage, she wanted to become 'a cute and sexy singer like her.'
When South Korea's Cube Entertainment held their Star World Audition in Beijing in 2015, she auditioned singing G.E.M's "Bubble" and CLC's "High Heels". and passed; she was 16 at that time. Her parents were initially against her going to Korea to pursue her dream, no matter how much she begged and cried every day. They eventually relented, so she went to Korea for a final audition, and was introduced as an official trainee of Cube Tree, Cube's Artist Development Team, in August 2017. She and her parents resolved their disagreement after she became a singer – she hasn't asked for money from her parents since moving to Korea, becoming financially independent.
Living in Korea as a trainee was difficult, as she couldn't speak Korean at first and had to adjust to the cultural differences – she would oftentimes use hand signals such as when indicating time, however, Chinese and Koreans have different ways of counting using fingers.
— yuqi pics (@yuqipictures) February 1, 2021
When she said she wanted to meet with the other members at eight in the morning, nobody was there as they thought it was seven. Using honorifics also took some getting used to, as Koreans have different ones for addressing someone older, depending on the age difference and gender.
She was only sure of her dancing skills when she auditioned, but after receiving voice lessons, she became more confident in her singing. She was surprised at being complimented for having a wonderful voice which is a bit husky and deep.
(G)I-DLE Debut
Yuqi, Soyeon (leader), Miyeon, Minnie, Soojin, and Shuhua were introduced as members of the girl group (G)I-DLE, through Dingo Music's dance busking event held at Hongdae, known as the hub for indie music culture, urban arts, and student nightlife in Seoul.
They danced to K-Pop hits such as CL's "Hello Bitches," 4Minute's "Crazy," and BTS' "Mic Drop" to a crowd that started to gather in the area. It was uploaded onto YouTube, and has garnered more than 4.5 million views and hundreds of thousands of likes.
The meaning behind their group's name remains a mystery even to its members, as their agency explained that they wanted something weird and not boring. The name was a wordplay on "idle," which sounds like "ai-deul" the Korean word for "children," and "idol." The letter "G" stands for "Girl", but they had no idea why it's in parenthesis unless it's because it's a silent "G" as the name is pronounced as "idle" and not "Gee-idle" as most international fans call them. Sometimes they are called yoja (female) aideul.
(G)I-DLE officially debuted on 2 May 2018 with the digital release of their first extended play, "I Am," and the physical release was the following day.
It peaked at No.6 on South Korea's Gaon Album Chart with cumulative sales that exceeded 46,000, and No.5 on Billboard's World Albums Chart with 34,000 equivalent album units sold. It was Billboard's 11th Best K-Pop Album of 2018, and the group's best-selling album in the US.
The lead single, "Latata," which they performed on their television debut stage on Mnet's "M Countdown," reached No.12 on the Gaon Digital Chart, No.12 on Billboard's K-Pop Hot 100, and No.4 on Billboard's World Digital Song Sales Chart with 3,000 download sales. It gave them their first music show win as the No.1 Song of the Week on SBS MTV's "The Show" twenty days after their debut. The title was inspired by the catchphrase "arata rata rata" of comedian Song Joongeun from KBS2's "Gag Concert."
An English version was released on 15 May 2020, after signing with the American record label, Republic Records for their US promotions.
The group entered the Billboard Social 50 at No.36 in June, and by August they were doing a flash-mob event at the Washington Square Park at night, and Times Square during the day, as they danced to "Latata," BTS' "Fake Love," and The Carters' "APESXXT."
They released the digital single, "Hann (Alone)" on 14 August 2018; it peaked at No.8 on the Gaon Digital Chart, No.12 on Billboard's K-Pop Hot 100, and No.2 on Billboard's World Digital Song Sales Chart with over 1,000 copies sold in the US. It was included on the list of the Best K-Pop Songs of 2018 of Bugs and Dazed at No.77 and No.3, respectively.
With the commercial success and critical acclaim of their debut EP, (G)I-DLE won the New Artist of the Year Award from the Golden Disc Awards (Digital), Melon Music Awards, and Genie Music Awards. They also topped the "Girl Group Brand Power Ranking" in June and September of 2018.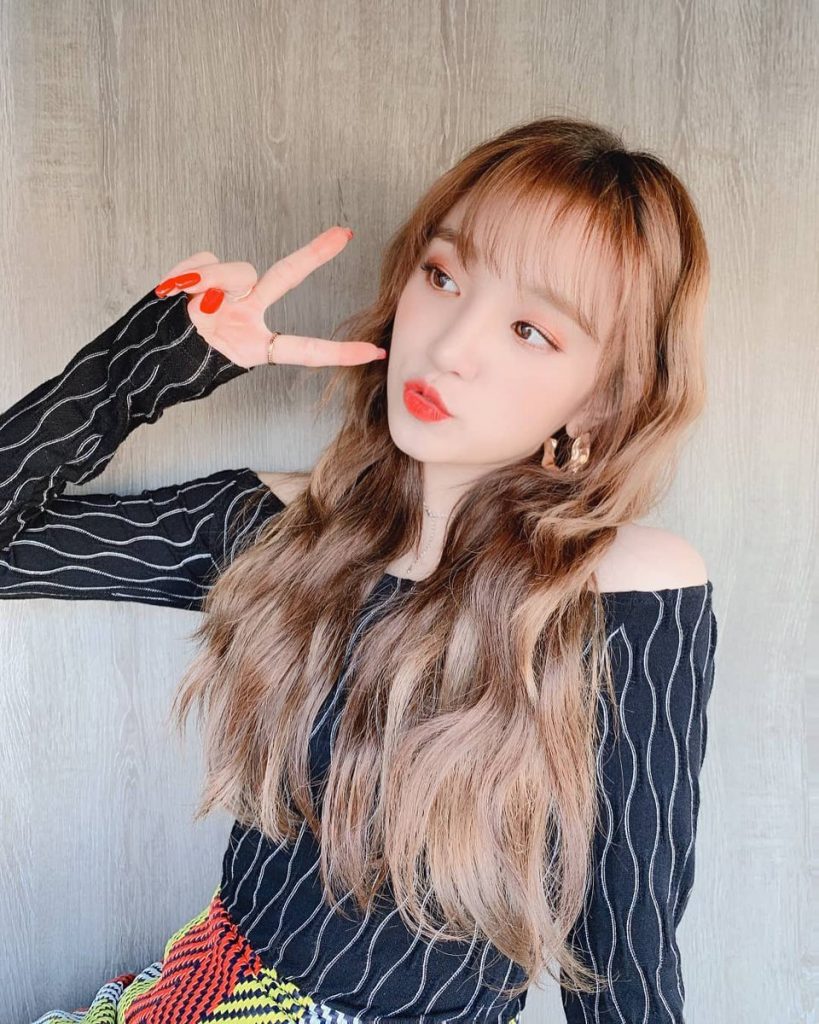 Further success
The year 2019 was a busy one for Yuqi and the girls, with the release and promotion of their second Korean EP entitled "I Made", and its lead single "Senorita," followed by their Japanese debut album, "Latata."
In the reality TV show "Queendom," which aired on Mnet for 10 episodes from August to October 2019, they joined popular girl groups Mamamoo, Oh My Girl, AOA, Lovelyz, and solo artist Park Bom (2NE1), for a battle on who's No.1 among them after releasing singles at the same time. (G)I-DLE performed their signature hit song for the preliminary performance, and placed first, continuing to show impressive performances in the succeeding rounds.
The EP, "Queendom Final Comeback," was released on 25 October, and Yuqi and the girls performed the fifth track, "Lion," on the 31st for the show's finale. Unfortunately, it didn't enter the domestic chart upon release, and they ended up ranking third after all the points per round were tallied, with Mamamoo winning the competition.
However, after their final performance on the show, the song reached No.19 on the Gaon Digital Chart and No.5 on both Billboard K-Pop Hot 100 and Billboard's World Digital Song Sales Chart. Billboard ranked it at No.9 on the critics' pick for "The 25 Best K-Pop Songs of 2019." It was No.11 on BuzzFeed's "30 Songs That Helped Define 2019" and No.53 on Apple Music's "Top Songs of 2020: Korea." (G)I-DLE again claimed the No.1 spot on "Girl Group Brand Power Ranking" in October and November of 2019, after their stint on the reality show.
Despite the COVID-19 pandemic in 2020, Yuqi and the girls had a good year in terms of album sales and chart ranking. Their third EP, "I Trust," released in April 2020 topped the Gaon Album Chart with over 150,000 copies sold, charted at No.4 on Billboard's World Albums, and sold a thousand copies in the US within the week of its release. It also topped the iTunes Albums Chart in over 60 countries.
Its lead single, "Oh My God" made it onto the Gaon Digital Chart and peaked at No.15, Billboard K-Pop Hot 100 at No.15, and Billboard's World Digital Song Sales Chart at No.3.
Unable to meet their fans in 32 cities during their first world tour that was scheduled for 2020, due to the pandemic restrictions, the group held their first online solo concert called "I Land: Who Am I" in July 2020. The girls performed their lead tracks, and had solo and unit stages. Yuqi did a cover of Pink's "What About Us" and sang Rihanna's "Kiss It Better" with Miyeon and Minnie. The live concert exceeded 11,000 real-time viewers, with admission priced at $33.
"Dumdi Dumdi," their first studio album, was released in August 2020 – its name was based on the sound of a heart beating. According to Hanteo Chart, which keeps track of real-time album sales, it sold close to 95,000 copies within the first week of release.
It was No.2 on the Gaon Album Chart, and the title track reached No.8 on the Gaon Digital Chart and No.13 on Billboard's World Album Chart. The song topped the iTunes Songs Chart in over 40 regions. Yuqi participated in the songwriting process of the second track, "I'm The Trend."
Yuqi and the girls welcomed 2021 with the release of their fourth EP, "I Burn," in Fire, Winter, and Flower versions. It consisted of six tracks including the lead single, "Hwaa,' and the R&B track "Lost," which credited Yuqi as one of the lyricists and composers.
Solo activities
As the face of the group, she's often invited to appear as a guest in variety shows. She was included as a cast member of the Chinese variety show "Keep Running" (2019-present), formerly known as "Running Man China," which is a franchise of SBS' "Running Man."  She was part of the scene-stealer group on the survival show called "Law of the Jungle", in which they went to a remote location in Myeik, Myanmar in 2019 'to experience living in the wild.'
Yuqi participated in the "King of Mask Singer" in 2020, as a contestant disguised as a pineapple pizza. She has been the host of Kakao TV's "Learn Way" since it started airing in September 2020 – each episode featured a mentor who gave lessons on their field of expertise, including veteran trot singer and composer Park Hyunwoo, WBA super-featherweight champion Choi Hyunmi, 12th Master Chef Korea Jo Woohyun, and 2014 Asian Games all-around rhythmic gymnastics champion Son Yeonjae. She was also cast as a tour guide for KBS' "Play Seoul", and MBC's "Seoul Connects U" in 2020.
Personal life
Yuqi is 21 and known to be single. Idol group members are usually banned from dating for the first three to five years after their debut, to avoid any distraction from work, and scandals that would affect not just the artist involved but also the other members.
When asked who among the Korean celebrities fit her ideal type, she chose Ryewook of Super Junior, as she loves his voice, and the actor Kim Soohyun.
© yuqi weibo • 201220
: #우기 #여자아이들 ♡ pic.twitter.com/IwllcSuznY

— yuqi pics (@yuqipictures) January 31, 2021
Hobbies, favorites, rumors, and interesting facts
She loves Korean food particularly pickled radish and kimchi (fermented vegetables) because she prefers sour food.
She can do 60 sit-ups in one minute.
Motto: "Let's live a good life." "Be nice."
Favorites: Dua Lipa (singer), giraffe (animal), red (color)
Her Korean proficiency level was at 5 out of 6 in the Test of Proficiency in Korean (TOPIK) in 2020.
Yuqi was criticized in November 2019 for making a "colorist" statement when she responded to Shuhua's claim of wanting to become a policewoman after watching the drama "Signal", as she allegedly said, 'If you want to be a police, your face needs to be darker. When you catch criminals at night, your face will stand out.' However, a fan apologized as it's her summary and translation of what Yuqi said on Vlive that caused the misunderstanding. Yuqi also apologized to those who were hurt by what she said, and that she would be more careful with her words in the future.
She received a lot of hate from Chinese netizens (online users), and she issued an apology in 2021 through her Weibo account (Chinese version of Twitter) for not explaining every misunderstanding and that she would do her best to take into consideration everyone's opinions.
When her pre-debut photos were revealed, her fans were quick to point out that her beauty was not the result of plastic surgery. They said she just lost some weight, and her features were enhanced only by make-up.
Appearance
She is 5ft 3ins (1.62m) tall, weighs 94lbs (4kg), and has a slim build. She has black hair and black eyes.
For the group's latest comeback in "I Burn," she was seen sporting a bob cut with bangs that she said was inspired by the Haku character from the Japanese animation, "Spirited Away."
Net worth
She has an estimated net worth of over $200,000 as of January 2021, according to sources.