Seungmin is the South Korean main vocalist of the K-Pop boyband "Stray Kids," who rose to prominence by sweeping the New Artist of the Year Award from eight major music award-giving bodies in South Korea in 2018, with the release of their debut EP, "I Am Not."
Just a simple reminder that article is created and owned only by kpopwiki.org. Article cannot be re-published in any other pages or documents. Copyright is protected by DMCA. All found copies will be reported.
Original source: https://kpopwiki.org/seungmin-stray-kids-net-worth-family-height-dating-bio/
Early Life and Family
Kim Seungmin was born on 22 September 2000, in Seoul, South Korea; he was raised in a comfortable household by his parents. As a kid, he dreamt of becoming a professional baseball player inspired by his grandfather's playing days as a successful pitcher in high school. However, for some unknown reason, their financial situation took a bad turn and it changed his perspective in life including his dreams. Seungmin had a difficult time studying, and turned to music to make it easier.
Educational Background
Seungmin first went to a local school in Seoul for the early part of his primary education, but during fourth grade his family went to Los Angeles and he studied there for a brief time. He graduated from Cheongdam High School in Gangnam-gu, Seoul.
Career
During the 13th JYP Open Auditions in 2017 for new trainees, Seungmin participated with the encouragement of Lee Da Hwi, a school friend who was a JYP trainee during that time. He passed the audition, finishing in second place among all the participants. When he started training at JYP, Da Hwi already left and moved to another company.
First Steps – Reality TV Survival Series, Pre-released EP
JYP Entertainment, just like most entertainment companies in South Korea, would produce a reality TV survival series to choose the best among their current trainees, and eliminate those who aren't ready yet for the big stage.
When it was announced that they would undergo a survival series that would be aired at the Mnet cable network, Seungmin couldn't help but feel nervous at that time, as he was one of those with the shortest training period among the trainees.
For three months, from October to December in 2017, the trainees needed to prove to JYP that they had what it takes to debut as a group in the reality TV series entitled "Stray Kids." The trainees didn't compete with each other, as the missions given for each episode were more like JYP VS Trainees. Each episode tested the trainees' diligence, patience, and tenacity in proving their vocal, dancing, rapping and songwriting capabilities. In the end, Seungmin worked hard and was included in the nine-member boy band called Stray Kids, along with Changbin, Han, Woojin, Lee Know, Felix, I.N., Hyunjin, and Bang Chan (leader).
On 8 January 2018, the group released "Mixtape," a pre-debut extended play, with seven tracks mostly written by the members themselves. The lead track, "Hellevator," was co-written by Changbin, Han, and Chan, a Stray Kids sub-unit known as 3racha. Seungmin was credited for the seventh track entitled "4419", which peaked at No. 2 on both the South Korean Gaon and Billboard's World Album Charts, with a little over 60,000 units sold at that time.
Debut Year – "I Am Not," "I Am Who," "I Am You"
A couple of months later, JYP decided to give Seungmin and the boys a proper debut showcase on 25 March 2018, held at Janchung Arena and entitled "Stray Kids Unveil (Op. 01: I Am Not)." On the same day, they released the debut EP "I Am Not," with seven tracks and a bonus track, all co-written and co-composed by the boys, particularly 3racha, including the lead track entitled "District 9."
Almost 55,000 units were quickly sold, and a total of close to 90,000 by the end of the year, making Seungmin and the rest of the Stray Kids' members quite happy. The EP peaked at No. 4 on Gaon Chart and No. 5 on Billboard's World Album Chart, and has sold almost 130,000 copies to date.
With the overwhelming success of the previous EP, JYP Entertainment wanted to push the envelope even further, and took a calculated risk by releasing a third EP in their debut year. On 6 August 2018, the group released the EP entitled "I Am Who", with the lead track, "My Pace." Just like the previous releases, most of the songs in the EP were co-written by 3racha along with Woojin and Felix – this time Seungmin didn't have a hand in the creative process of any of the songs. They held a live grand showcase, "Stray Kids Unveil (Op. 02: I Am Who)," at the Grand Peace Plaza in Kyung Hee's University.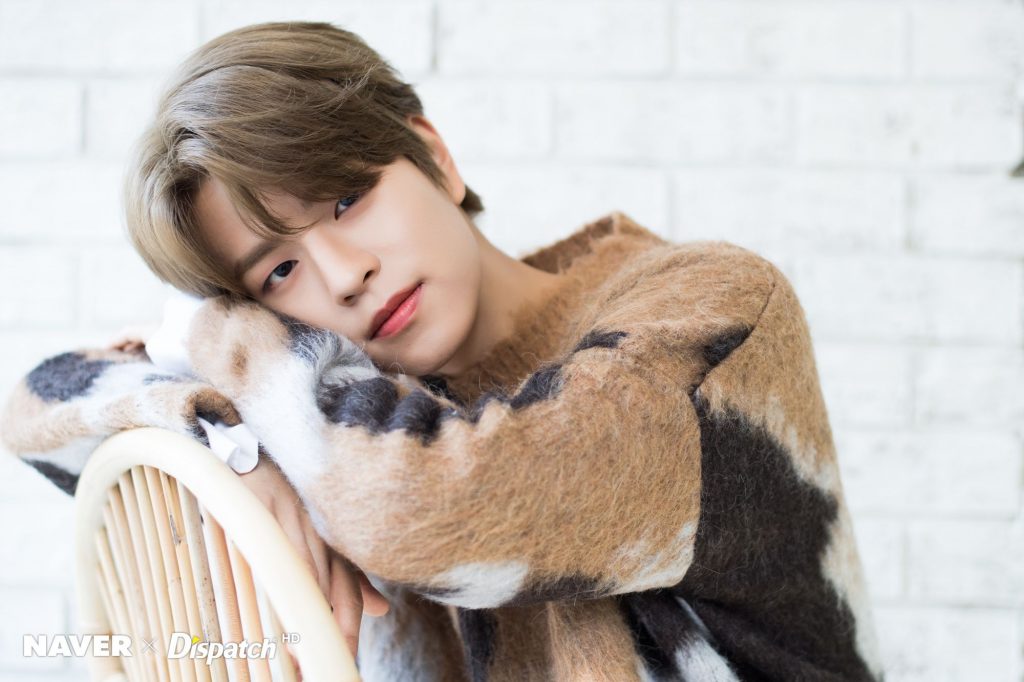 Within a month of release, around 80,000 units were sold, and a total of 92,000 by the end of the year. A little over 155,000 units sold to date in South Korea, and around 1,500 in Japan.
Confident with Stray Kids' abilities, the boys prepared another live showcase dubbed "Stray Kids Unveil (Op. 03: I Am You), held at the Olympic Hall on 21 October 2018 to celebrate the release of the last part of the EP trilogy, "I Am You." Upon release, over 75,000 copies were sold and a total of about 155,000 to date, excluding the 6,000 in Japan.
Swept Major Music Awards for New Artist of the Year
It wasn't surprising for Seungmin and the boys to receive New Artist of the Year trophies from eight major music award-giving bodies at the end of the year, as no other rookies for that year could match their accomplishments.
Further Success – First World Tour (2019)
JYP Entertainment kept Stray Kids quite busy in 2019. The group's first world tour entitled "UNVEIL TOUR: I am…" kicked off in Asia in early January, making stops in Bangkok, Manila, and Jakarta. Then they held a couple of shows in Melbourne and Sydney in February, and the month of May was allotted for fans in cities in North America, such as Newark, Houston, and Pasadena. In July, they continued with the tour, performing in four key cities in Europe, namely Paris, Moscow, London and Berlin, before Seungmin and the boys made their last stop in Japan for a show in Yokohama, to end the tour.
Seungmin's Temporary Hiatus
In February of 2019, JYP Entertainment announced that Seungmin would go on a temporary hiatus from the group's activities,due to the back injury he suffered while filming. His back was bruised and his doctors advised him to let his body rest for it to recover, so Seungmin wasn't allowed to move for a few days to ensure a speedy recovery.
Meantime, he missed out on some of the concert dates in the early part of the world tour.
Clé EP Trilogy
Due to the success of the first EP series, Stray Kids also released an EP trilogy in 2019, the first entitled "Clé 1: Miroh" on 25 March 2019 to celebrate the group's first anniversary in the business. To show their gratitude to their fans as well as to promote their new EP, the boys went to major cities in South Korea for a meet and greet event, called "Hi-Stay Tour in Korea." The special event culminated with a live showcase in Seoul, a week after they made a comeback performance in Mnet's "M Countdown" on 28 March 2019. The EP peaked at No. 1 on Gaon Chart and No. 3 on Billboard's World Album Chart. They had an accumulated total of 195,000 units sold in South Korea and finally took home their first music show win for the song, "Miroh," which is considered a milestone for K-Pop artists.
Every time an idol group makes a comeback, their success and popularity are measured not just with their rankings in music charts but also with music show wins.
On 19 June 2019, the second EP of the year was released, entitled "Clé 2: Yellow Wood." This was just after their North American tour, and they went back to Seoul to promote the EP, with the lead track "Side Effects." The sales slightly dipped as they only totaled 170,000 units, excluding the 3,300 in Japan. It peaked at No. 2 locally and No. 9 on Billboard's World Album Chart, and also charted in other countries including France, Spain and Poland.
The third EP, "Clé: Levanter," proved to be the most successful of all their releases; it was made available on 9 December 2019, and it topped the Gaon Album Chart. The EP has a total accumulated sale of 216,000 units to date, excluding the 9,000 units sold in Japan.
Woojin, one of the members, left the group making Stray Kids officially an 8-member boy band – JYP announced that it was for personal reasons. He was no longer part of the third EP promotions.
Second World Tour (2020)
The world tour entitled "District 9: Unlock" kicked off in Seoul for two nights in November of 2019, at the Olympic Hall. They performed in key cities in North America, including Chicago, Miami, New York and Los Angeles, until the Covid19 global pandemic travel restrictions were announced by the South Korean government. The European and Asian shows were canceled until further notice.
Online Presence – Reality Shows, Vlogging, YouTube, and V Live
Brand marketing and promotional strategies in the K-Pop industry have changed in recent years.
Most talent agencies use social media apps – particularly video-sharing sites such as YouTube and V Live – to reach both local and international markets, and Stray Kids have made numerous reality TV series appearances since their debut days; most can be found on their official YouTube and V Live channels. Other series such as "Stray Kids," "Stray Directors," and "Finding SKZ" can be watched on Mnet and SBS online channels.
Seungmin's beautiful cover of popular songs including "Start" (Itaewon Class OST) by Gaho, "You Were Beautiful," and "Congratulations" originally sung by DAY6 can be viewed online, found under Stray Kids: SKZ-RECORD playlist on the group's official YouTube channel.
Personal Life
Seungmin is a 20-year old boy, and in normal circumstances, he would be dating a girl he likes.
#Seungmin #StrayKids #FactsSeungmin @Stray_Kids

Thank you so much for 300 followers! I promise to work even harder to support as well as spread love to our beautiful angel Kim Seungmin! Thank you everyone! pic.twitter.com/BO65Q1dDHY

— Seungmin Facts (@FactsSeungmin) October 18, 2019
However, he's a K-Pop artist with a contract that most likely would include a no-dating policy clause, and that would mean he's currently single. K-Pop artists are mostly banned from dating for three to five years after debut. If they do get to date anyone, no one would know outside his clique, as it is taboo to talk about it publicly. Expect some half-crazed fans harassing the girl when a relationship goes public.
While he no longer lives with his family, he doesn't live on his own and is currently being housed with his bandmates in a dormitory provided by JYP Entertainment. He used to share an apartment with Felix and Han, but when they transferred to another apartment, he ended up sharing it with Chan, Hyunjin, and Lee Know.
Hobbies, favorites, rumors, and interesting facts
In the past few years, he has been given a few nicknames such as Snail from his bandmates, and Sunshine from his fans.
Seungmin can read and speak in English.
His favorites: autumn (season), eggs (food), purple (color), strawberries and oranges (fruits), Shawn Mendes and Taeyeon of Girls Generation (Artist), baseball and basketball (Sport), Sandeul of B1A4, and Kim Dong Ryul of DAY6 (Role Model).
Seungmin and Chan were schoolmates, with Chan being a year older than him.
He loves to write down on training logs every single day.
Three things Seungmin loves to do during free time: eating, listening to his favorite music, and writing in his diary.
He is acknowledged as the cleanest member among his bandmates.
Seungmin is quite sentimental – he still has the jacket he used during his audition for JYP.
If he hadn't pursued a career in music, he would have been a baseball player, a prosecutor, or a photographer.
He has a Peter Pan personality, and dreaded the day he became an adult, wanting to stay longer as a kid.
Seungmin has a weird way of eating fish bread, as he would start eating it from the tail.
Lee Daehwi of Wanna One is a close friend way back in high school.
He can pass off as a doppelganger of several celebrities, including Wonpil of Day6 and also actors Park Bogum and Lee Jangwoo.
Back in 2013, a chopper fell onto his apartment building in Gangnam while he was in the bathroom.
Each of the Stray Kids members has a household chore to perform each day, and Seungmin was in charge of waking up early and cooking eggs for the group.
Appearance
He is 5ft 10ins (1.78m) tall, weighs 130lbs (59kgs), and his shoe size is 9.5ins (265mm). He has black hair and dark brown eyes.
Net Worth
According to authoritative sources, Seungmin has an estimated net worth of $1 million as of October 2020.