Along with the glamour and popularity that most Korean pop (K-Pop) stars enjoy, there is often an uncomfortable political undertone amongst some of the members. While groups usually portray themselves as a united front, there are often dynamics that the public isn't aware of. Kim Chanmi is a member of the vastly popular girls' K-Pop group, Ace of Angels (AOA). Kim has been entrenched in the dancing and performance culture from a young age, and has starred in multiple South Korean dramas, but she has recently come under fire for her tense relationship with the group's ex-member Mina.
Just a simple reminder that article is created and owned only by kpopwiki.org. Article cannot be re-published in any other pages or documents. Copyright is protected by DMCA. All found copies will be reported.
Original source: https://kpopwiki.org/kim-chanmi-aoa-age-height-husband-parents-biography/
https://www.instagram.com/p/CFARhfRFAMa/
Early Life and Family
Kim Chanmi was born on 19 July 1996, in Gumi, South Korea, the middle of three sisters, her older sister being KungMi and her younger Hyemi. Although Kim Chanmi was born in Gumi, she was predominantly raised in Daegu, South Korea by her mother, after her parents divorced while she was in elementary school. Kim's mother owned a hair salon, the profits of which she needed to support herself and three children, so when Chani received an opportunity to become an idol, she was eager to do so in hopes of helping her mother.
Despite the financial strain the family was under, Chanmi's mother has an incredibly generous person, and would often take care of runaway children, providing them with food and shelter. This took a toll on Chanmi, who had developed a sensitivity to the financial situation, trying not to ask for anything. Although she spent most of her life feeling resentful to these runaways, when they arrived at her graduation, smartly dressed and excited to show their support, she realized what a profound kindness her mother had done, and had a new respect for her.
Education
Kim was an extremely energetic child, and her mother thought the best solution was to channel this energy by enrolling her into a dance school when she was very young – Kim used to perform on the streets of Gumi until the family moved. In addition to attending dance school, Chanmi attended Hwangsang Elementary school, then Dangsanseo and Indong Middle Schools, and finally Youngdeungpo High School from where she matriculated on 6 February 2015.
Kim's ability was already apparent at a young age. During her second year of middle school, Kim Chanmi was playing a basketball game when she was scouted by an FNC Entertainment agent.
Kim Chanmi became a trainee, and continued to train with the agency until her eventual debut several years before her high school graduation.
Career
Ace of Angels (AOA)
AOA started promotions with a photographic campaign that ran from 16 to 23 July 2012, introducing each of the eight members individually by releasing exclusive photographs. Kim Chanmi was debuted fourth on 20 July 2012 under the angel name Chanmi T. T, although she is better known simply as Chanmi. The group planned to debut with a unique pitch, promoting separately as a dance troupe and a band. Of the eight members, only seven were considered full angels, Chanmi among them.
The eighth member was considered a half-angel as she would only participate in the band aspect of the group.
The K-Pop group released their first single and music video, "Elvis", on 30 July 2012, and their stage debut took place on 9 August 2012 on "M Countdown". Unfortunately, they accrued only a small following and not much success. They made a comeback with their single album "Wanna Be" on 10 October that same year, the campaign depicting the members as a different fictional character – Chanmi, the maknae (youngest member) of the group, was chosen to dress as a character from the Harry Potter franchise.
Although the group continued to release singles, it was not until 2014 that the group made a real breakthrough. AOA released their fifth single album "Miniskirt". The song became their first major hit, reaching number 11 on the Gaon Weekly Chart and four on Billboard K-pop Hot 100.
The success they had later that year when they released their first mini-album in June surpassed even that of "Miniskirt", topping the "M Countdown" chart and reaching four on the Gaon Weekly. By the time they released "Like a Cat" on 11 November, which remained at the top of the Gaon Social Chart for six consecutive weeks, they had fully made up for their disappointing beginning.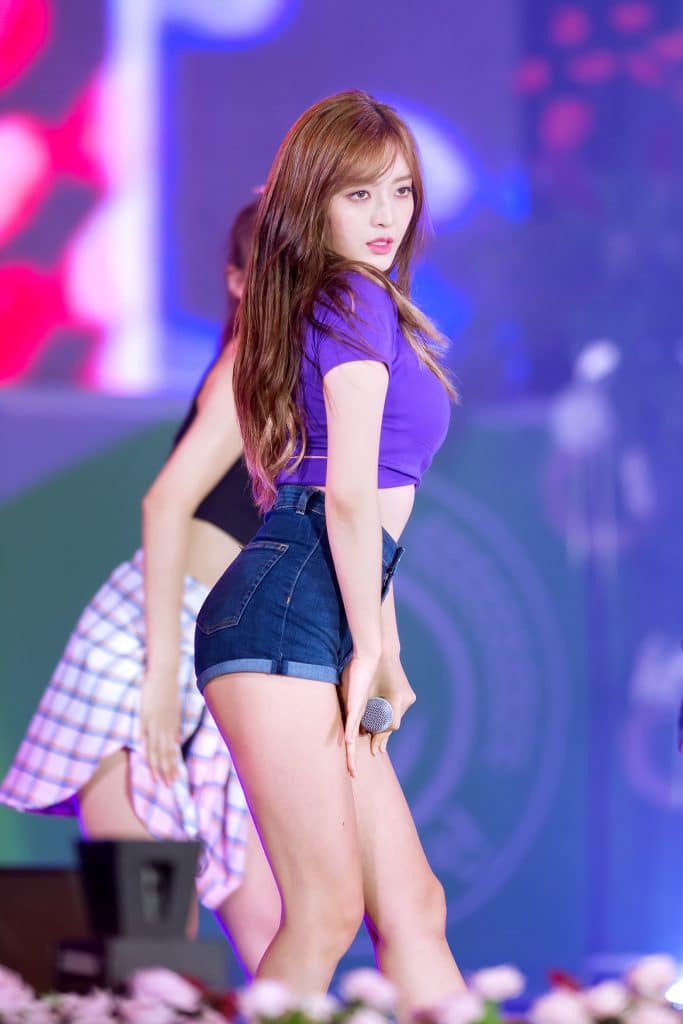 On 31 January 2016, Chanmi and two other members of the group were selected to form an elite sub-group that was dubbed AOA Cream; the group debuted with the song "I'm Jelly Baby" on 12 February that year. After this, the group began to experience changes. as members decided to leave in 2016 and 2017.
When the time came to renew their contacts, only Chanmi and four other girls remained. Another member, Mina, decided to leave and AOA released a statement that they would be continuing as a five-member band. However, in January of 2020, Mina released a series of statements about her departure from the group, painting a darker picture of the group dynamics.
Mina revealed that she had been viciously bullied by member Jimin to the extent that she resorted to self-harm, and attempted suicide at one point. Jimin was removed from the group, leaving only four members.
Dramas and Reality Shows
Chanmi's dancing acumen was put to the test when she competed in a televised dance competition in 2014; she was able to make it to the final round of "Idol Dance Battle D-Style".
Chanmi has also appeared in the usual slew of South Korean reality shows, including "A Song for You" (2014) and "Hidden Singer: Season 3" both in 2014, "Idol Room" (2018), and "Road to Kingdom" in 2020.
She has also built a significant career for herself as an actress, and has an assortment of titles under her belt. She made her drama debut in a minor role in "Click Your Heart" in 2016, and has gone on to play main roles in multiple shows, including "What's Up with these Kids?!" (2016), "Al, Her" (2020), and "Today Office, Tomorrow Romance" (2020).
Personal Life
Chanmi still maintains a close relationship with her mother and sisters, even asking her mother to style her hair for her iconic appearance on the cover of "New Moon". Chanmi has expressed some concern about her future, especially in the light of the minimal longevity of a career as an idol.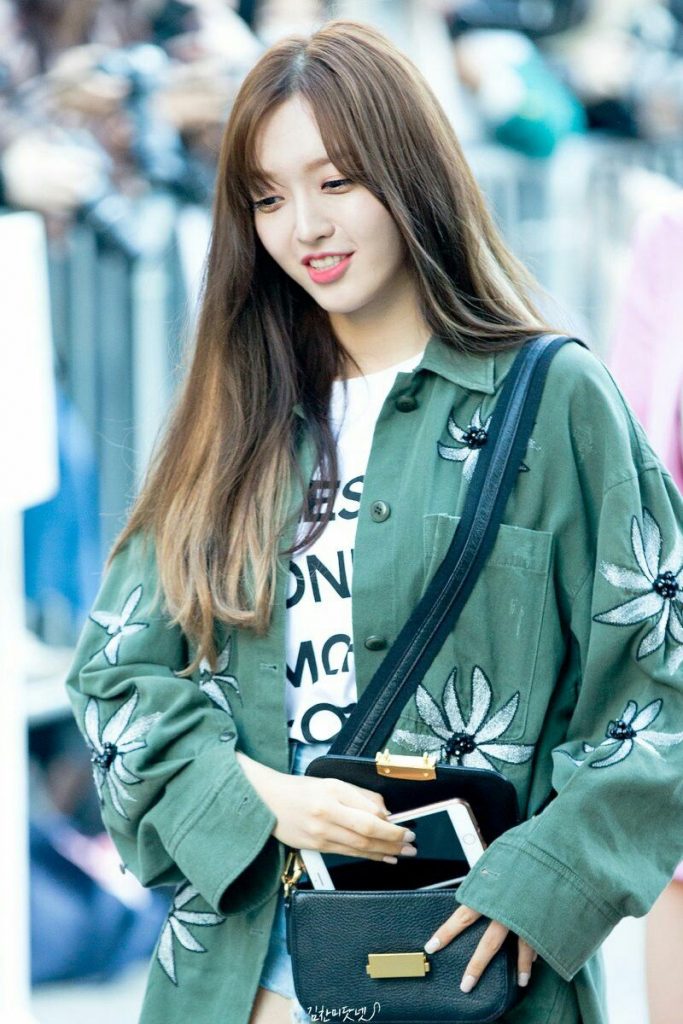 She told "Sad Adult Life" that "I'm worried about growing old as an idol. I don't know when to start preparing for the future. As an idol, there was a brief time where I wasn't earning any money, but I had a lot of expenses. That made me wonder if in the future, when there is a longer period where I'm not earning money, what am I going to do? Shouldn't I be prepared for it? I thought a lot about that."
Chanmi was also one of the members of AOA thrown into the spotlight by Mina's posts – the latter claimed that Chanmi was fickle and would be friendly with Mina's aggressor behind her back, but speak badly about her to Mina. Mina unfollowed the star, but also said that she didn't blame Chanmi, because of her young age.
https://www.instagram.com/p/BWFSlCghRDd/
Chanmi also has her fair share of eccentricities. She explained that she always purchases three sizes of every item of clothing, to disguise her oscillating weight between promotions, saying that she can lose and gain about 11 to 13lbs (5 to 6kgs). She is also a very active sleeper, talking and sleep-walking regularly.
Appearance
Chanmi has the slender and fit figure indicative of life in the K-Pop industry. However, she does not completely conform to these stereotypes, and is far less adventurous in some areas of her appearance. One of these areas is her hair, which she prefers in the red, brown, and black range, keeping well away from the paler palette.
Como vocês já sabem, a Chanmi falou que está passando por momentos difíceis… Portanto peço que passem no instagram dela e enviem uma mensagem de conforto ou apenas um coração por DM para ela perceber que não está sozinha.

IG: https://t.co/sXzm3rzoBc#Chanmi #AOA pic.twitter.com/xSC4udLI09

— AOA info BR (@aoainfobr) October 7, 2020
Chanmi is also recognizable for her pale brown eyes, an unusual variety in the industry. She is 5ft 5ins (1.66m) tall and usually weighs around 100 lbs (47kgs).
Net Worth and Salary
Chanmi has shared her concerns about how well her financial situation will fare once she is finished with her career as an idol. This likely stems from the financial strain her mother experienced, and the deep debt her father fell into. For now, she appears to be well off with a foot in multiple aspects of the entertainment industry – K-pop, drama, and variety shows. Her net worth is estimated to be in the $4 million range.