Samuel Kim is an American born singer and dancer based in South Korea, who back in 2015 was part of the defunct hip-hop duo called 1Punch, with rapper One. His claim to fame was his participation in the second season of the popular reality television survival series, "Produce 101," in 2017. He initially became one of the frontrunners of the competition, but eventually finished at No.18.  He later debuted as a solo artist under the management of Brave Entertainment, and released his first extended play, "Sixteen." His career has been put on hold as he filed a lawsuit against his agency in 2019.
Just a simple reminder that article is created and owned only by kpopwiki.org. Article cannot be re-published in any other pages or documents. Copyright is protected by DMCA. All found copies will be reported.
Original source: https://kpopwiki.org/samuel-kim-arredondo-kpop-age-parents-height-family/
Early Life and Family
Samuel Kim Arredondo was born on 17 January 2002, in Los Angeles, California. He has mixed ethnicity, having a Mexican father, Jose Arrendondo, and a South Korean mother, Kim Kyung Ju.
He and his younger sister, Susie, were raised in a comfortable home as his father was a self-made man. Jose was born poor but his luck changed when he immigrated to the US and started selling cars. Samuel's father became an astute businessman who had a knack for buying and developing rundown businesses and real estate properties. Over the years, Jose became the owner of the car dealership chain store of Family Motors in Southern California, as well as some prime properties and a golf course. Samuel started appearing on TV at an early age, as he was included in his father's TV advertisements.
Growing up, he dreamed of becoming a singer after listening to Justin Bieber's signature song, "Baby" when he was in fifth grade, and also after watching a video of a live performance of Chris Brown.
He discovered K-Pop music through his mom, and convinced her to let him audition, which he passed, and was allowed to move to Seoul to start his training with Pledis Entertainment at the age of 11. When the agency wanted to debut him after two years of training as part of the boyband, Seventeen, his mother hesitated, feeling that Samuel was too young to become a professional K-Pop singer, and so brought him back to the US in 2013.
Educational Background
He attended an elementary school in Southern California, and matriculated from Hanlim Art High School in Seoul.
Career
In 2015, Samuel moved from Los Angeles to Seoul to try once again to become a K-Pop artist. This time, instead of going back to his former agency, Pledis Entertainment, he decided to try his luck with Brave Entertainment.
First Steps – Debut with 1Punch (2015)
He debuted on 23 January 2015 as part of the hip-hop duo, 1Punch, with rapper, One – Samuel's stage name at that time was Punch, hence the duo's name. They released the extended play entitled "The Anthem," with four songs including "Ice Ice," "Nightmare," and the lead track, "Turn Me Back," along with its instrumental version. The album peaked at No.17 on the Gaon Album Chart, but unfortunately it wasn't commercially successful, and when his partner, One, was recruited by YG Entertainment, the hip-hop duo disbanded in 2016, just eight months after their debut.
Samuel, still using his moniker, Punch, continued releasing music under Brave Entertainment and collaborated with American rapper, Silento, known for his hit song, "Watch Me." He and Silento released the digital single, "Spotlight," and won the Global Collaboration Award from the 26th Seoul Music Awards, then they went on a concert tour to the US.
Produce 101 Season 2 and Solo Debut (2017)
In 2017, Samuel joined the second season of the reality TV survival show "Produce 101," and this time he dropped his stage name and started to use his given name. He was one of the early favorites as he has been consistently in the Top 10, and even ranked No.2 on the first voting round. However, he didn't make the final cut for the 11-member team finishing at No.18 in the final round which surprised many viewers. Several theories came out when news of his loss went viral on Twitter, as his fans vented on social media. Some fans believed it was because of his mixed ethnicity, and other fans thought that the majority of the viewers might have been turned off with the kind of narrative that the producers of the series had shown about Samuel in the later episodes of the show.
After his stint in the reality TV show, he debuted as a solo artist on 2 August 2017 with the release of his first extended play, "Sixteen."
It had six tracks including "I Got It" featuring Maboos, "With U" featuring Kim Chung Ha, "I'm Ready," and the title track featuring rapper, Changmo. The other four songs were recorded long before he joined "Produce 101", but the title track was only made after the reality show was finished. The mini-album peaked at No.4 on the Gaon Album Chart with close to 35,000 units sold in South Korea. The title track only managed to peak at No.88 on the Gaon Digital Chart, with just 23,000 downloads.
During his first live performance of the song "Sixteen," he accidentally hit a female fan while dancing, but it turned out well as the fan was quite happy when she was comforted with a hug from Samuel.
In November 2017, his first full-length studio album entitled "Eye Candy" was released.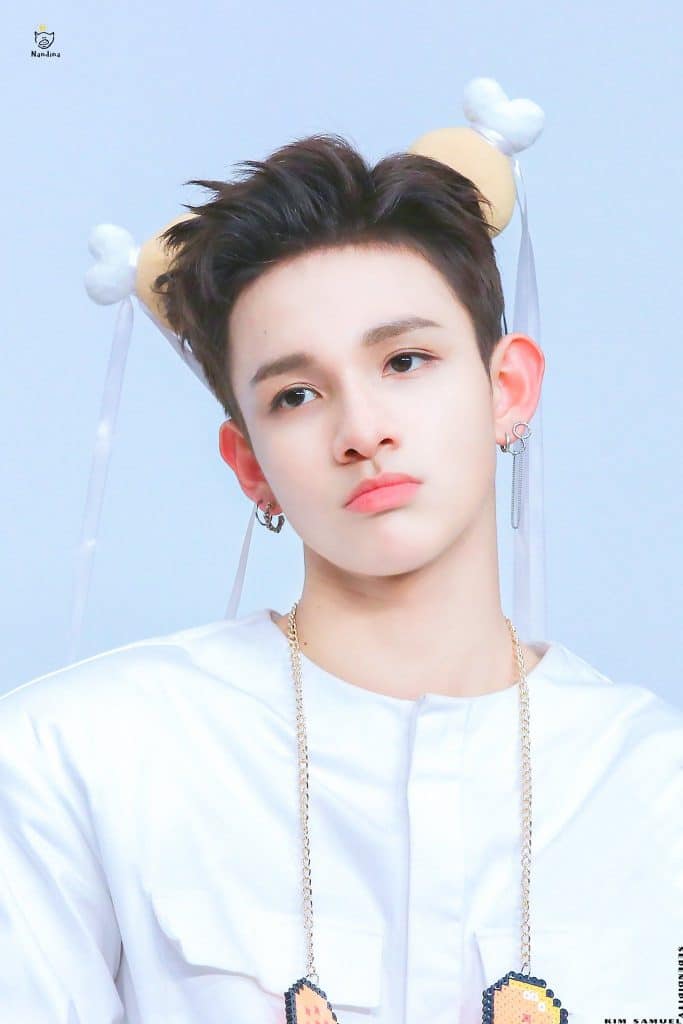 It consisted of 10 tracks including "Never Let U Down," "Crush On You," "Love Love Love," and the lead track, "Candy." It peaked at No.5 on the Gaon Album Chart, with more than 25,000 units sold.
Before the year ended, he signed up with Pony Canyon, an entertainment company based in Japan to handle his future Japanese promotions. Samuel also released "Pink Pink," a duet song with Kriesha Chu, on 27 December 2017 as part of the official soundtrack of the webtoon series entitled "Romance Webtoon."
Japanese Promotions, Variety Shows, Acting Career (2018)
Samuel was actively seen in many variety shows. He was included as a regular cast member of "Leaving The Nest: Season 2" along with Ahn Seo Hyun, Park Hae Mi, and Ki Dae Myung.  It was about celebrities who left their homes for the first time, traveled together to Greece and Poland, and survived living there briefly without the assistance of their parents.
It premiered on 5 December 2017 and ended on 30 January 2018 on the tvN cable channel.
Samuel was also part of the 12-episode reality TV-travel show entitled "Photo People", with JYJ's Kim Jaejoong, Jung Hye Sung, Lee Joon Hyuk, and Jo Seho. They traveled to France after receiving photography lessons from professional photographer Katie Kim, and used their cameras to carry out missions during their eight-day stay in a foreign country. It was aired on Naver TV Cast, premiering in December 2017 and finishing in March 2018.
He also lent his voice to the official soundtrack album of the medical drama thriller, "Cross," starring Jeon Somin and Go Kyungpo. The song, "Thousand Times" was released on 13 February 2018.
On the 28th March Samuel released his second EP, "One," with six tracks including "Princess," "I Can't Sleep, "Clap Your Hands," and the title track.
The album peaked at No.8 on the Gaon Album Chart with close to 17,000 units sold – the title track featured BtoB's Jung Il Hoon. A repackaged version was released on 30 May 2018 entitled "Teenager", with eight tracks including four new songs "Just A While," "SOS," "Kka Kka," and the title track which featured Lee Ho Ran.
2018 was also the year Samuel started trying to penetrate the Japanese market, by releasing two songs which were both title tracks of his previously released albums. The song "Sixteen" peaked at No.19 on the Japanese Oricon Digital Chart with over 3,000 units sold, and the song "Candy" reached No.30 selling more than 1,500 units.
Samuel has always been fascinated with acting, and said during the early part of his career that he would go into it if given the chance. From 13 August  to 9 October 2018, he played the role of Seo Robin, one of the lead cast for 16 episodes in the drama series "Sweet Revenge 2.
" It was a coming of age TV series with Ahn Seo Hyun and Ji Min Hyuk. He also collaborated with Feeldog of Big Star for the official soundtrack album with the song "Time to Shine".
KCON Japan and Korean-Chinese Reality TV Survival Series
Due to his rising popularity, Samuel was included in the line-up of performers for the 2018 Korean Convention music festival in Japan, popularly known as KCON Japan, held on 15 April 2018 at Makuhari Messe in Chiba City, Japan. He performed songs including "One" and "Sixteen", and also shared the stage with Kim Chungha, who was featured in his debut EP, for a dance performance.
In July 2018, he was seen participating as a contestant in the second season of the Chinese-Korean reality TV survival show entitled "The Collaboration." Samuel, Eric, Yanan (Pentagon), Xu Minghao, and Wen Junhui (Seventeen) represented South Korea, as they collaborated with other Chinese artists to win the competition.
Eren vs Jaw Titan Nutcracker Theme OST Cover!!!
This scene was extremely emotional and my favorite music score of the episode.

Full Video: https://t.co/FNwQrxoBLD@AoTWiki #AttackOnTitan #Eren #ShingekiNoKyojin #nutcracker #attackontitanseason4 pic.twitter.com/LJnaX9dsq3

— Samuel Kim Music (@samuelkimmusic) January 25, 2021
After several rounds of performances, Samuel with Chinese singer Zhou Zhennan prevailed in the end, and won the competition.
Legal Dispute with Brave Entertainment (2019 – present)
In 2019, Samuel released the digital single "Archive People," as he collaborated with Brave Hongcha and the Japanese version of his song "One," which peaked at No.52 on the Oricon Digital Chart.
On 20 May 2019, Samuel's mother filed a lawsuit against Brave Entertainment as he was still a minor, alleging misrepresentation and failure to disclose income statement. The details were only revealed in June, as Samuel's lawyer explained that the CEO of Brave Entertainment used Samuel to promote the CEO's cryptocurrency business, which isn't included in his contract. It was also said that the agency presented a fake contract to justify their actions. His mother asked for Samuel's income statement, but the agency ignored the request.
However, Brave entertainment denied all the allegations, saying that Samuel performed at the event 'to provide more exposure to Samuel in an industry combining music with the latest technology as Brave Entertainment's rising K-pop star.' They also said they delivered income statements to his parents with a detailed explanation, but there was a difference of opinion regarding the payment account.
Samuel flew back to his Los Angeles home to continue his training, and announced that he would continue as an independent artist with a one-man agency. It was refuted by his former agency, claiming that he still has a contract with them. To continue with his plans of career independence, he also applied for a trademark for his name.
Personal Life
Samuel is officially single , and there is no news of him dating anyone in the past or at present.
If he would go on a date, it would be someone similar to Jisoo of Blackpink, as he revealed that he has a huge crush on her.
Samuel lost his father on 16 July 2019, as Jose was reportedly murdered. The father received several stab wounds on his back and was found on the floor beaten to death in his Cabo San Lucas home in Mexico. At first, it was said to be a home invasion, but after further investigation, it was found out that he was allegedly killed by a long-time friend, however, the police believed that there were other accomplices. Samuel was devastated, and regretted that he didn't spend enough time with his father since he was quite busy with his K-Pop career.
He is currently in the US with his mother and younger sister, while his lawyer continues to represent him in his legal battle with his former agency in South Korea.
Hobbies, favorites, rumors, and interesting facts
Samuel can converse in three languages – Korean, English and Chinese.
He has taught himself how to play the drums.
Samuel likes sports, and plays basketball, bowling, and golf. He considers himself good at playing golf ,as his father thought him at a very young age at their own golf course in California.
His favorites: His mom's budae jjigae or Korean stew (food), Spongebob Squarepants (cartoon), "Fight for My Way" (Korean drama), white (color), "Avengers" (movie), dragon ring (accessory), Kobe Bryant and Michael Jordan (basketball players)
His other talents are rapping, beatboxing, and mimicking anime character voices.
Samuel doesn't have a particular favorite music genre to listen to, as he would just check out the Top 10 songs on the Billboard charts whenever he wanted to listen to other artists' music.
Whenever he would visit the Karaoke bar with friends and family, he would choose Justin Bieber's "What Do You Mean" and Chris Brown's "With You."
One of Samuel's dream collaborations is with popular rapper Dean.
His unforgettable moment in "Produce 101" was the "Pick Me" stage performance with the other 100 contestants in the show.
When asked about his favorite girl groups, he said he likes Pristin, Gugudan, Twice, and Blackpink but Girls Generation tops the list.
Appearance
Samuel is 5ft 10ins (1.78m) tall and weighs 115lbs (52kg), with a lean frame. He has black hair and dark brown eyes.
Net Worth
According to authoritative sources, Samuel has an estimated net worth of $2.5 million, as of January 2021.