Who is Joker Xue?
Joker Xue was born in Shanghai, China, on 17 July 1983 – his zodiac sign is Cancer and he holds Chinese nationality. He is a singer, actor and a record producer, who came into the spotlight thanks to his charisma on stage, and his songs about love.
Just a simple reminder that article is created and owned only by kpopwiki.org. Article cannot be re-published in any other pages or documents. Copyright is protected by DMCA. All found copies will be reported.
Original source: https://kpopwiki.org/who-is-joker-xue-wife-net-worth-family-age-height-wiki/
Childhood, family and education
Joker was raised an only child in Shanghai, by his father who is a businessman and his mother who was a housewife, but who died when Joker was four – although Joker believes his father to be a very good man, he has stated that the two weren't that close after Joker's mother died.
He grew up being interested in drawing and painting, and enrolled at a school of the performing arts to practice painting and dancing which he was also interested in.
However, he soon decided he wanted to try something new, thus enrolling at Glion Institute of Higher Education located in Switzerland where he studied hotel management – his father had to sell his house to pay for Joker's tuition. Joker spent a year there before dropping out so that he could focus on his career as a singer – his father wasn't proud of his decision, but supported his son nevertheless.
Joker's career as a singer
He gained recognition in 2005 at the age of 18, when he competed in the musical talent "My Show", and although he didn't win it, he signed a seven-year contract with his first agency, Shangteng Entertainment. The first few songs and later albums he released were all hits, and each one found its way onto a chart, however, his career suffered after Shangteng Entertainment ran into problems with money, and so Joker opened a hot pot restaurant to support himself.
His debut self-titled full-length studio album came out in 2006, and won him a 6th Global Chinese Music Award for Most Popular New Artist – several of the songs from the album became hits in China, such as "Yellow Maple" and "Serious Snow". His second album, "How Are You", came out in 2007 and helped Joker become nominated seven times at the Beijing Pop Music Awards. In 2008 he released his third studio album – "Loved You Deeply" – and the song from the album entitled "Legend" impressed many people, including Shinji Tanimura who invited Joker to perform at the Asia Music Festival, which is organized every year in Osaka, Japan. Joker was also a torchbearer at the 2008 Summer Olympics torch relay on 25 July.
His compilation album "Uncompleted Songs" came out in 2009, comprising some of the songs he had released earlier, plus three new songs. After three years without a new album because of the problems with Shangteng, Joker released "Several of Xue Zhiqian" in 2012, marking the end of his contract with the agency. His sixth album followed in 2013 entitled "An Unexpected Journey", released under the agency Ocean Butterflies. Several songs from the album became hits, such as "Ugly" and "What Else Do You Want Me To Do". His seventh studio album came out in 2016 entitled "Beginner" with the lead single "Actor", and his eighth album followed a year later called "The Crossing", with the songs "Noble" and "Animal World" featured on it becoming hits in China.
Joker's most recent album, "Skyscraper" was released in 2018, with songs such as "Reckless", "The Best" as well as "Skyscraper", and in the same year he started his first tour called "Skyscraper World Tour", performing at popular locations such as the Wembley Arena in London, England, and the Sydney Super Dome in Sydney, Australia.
Career as an actor
Joker launched his acting career in 2003 when he was cast to portray Ma Xiaoneng in the series "Life Concern" ,followed by roles in two romantic series – "Romantic Crystal Love" and "The 100th Bride", in 2004 and 2005 respectively. In 2005 as well, he made his debut film appearance in "A Bright Moon", then appeared in "Perhaps Love", and portrayed Luo Dazhuang in the series "Loving You is Really Not Easy".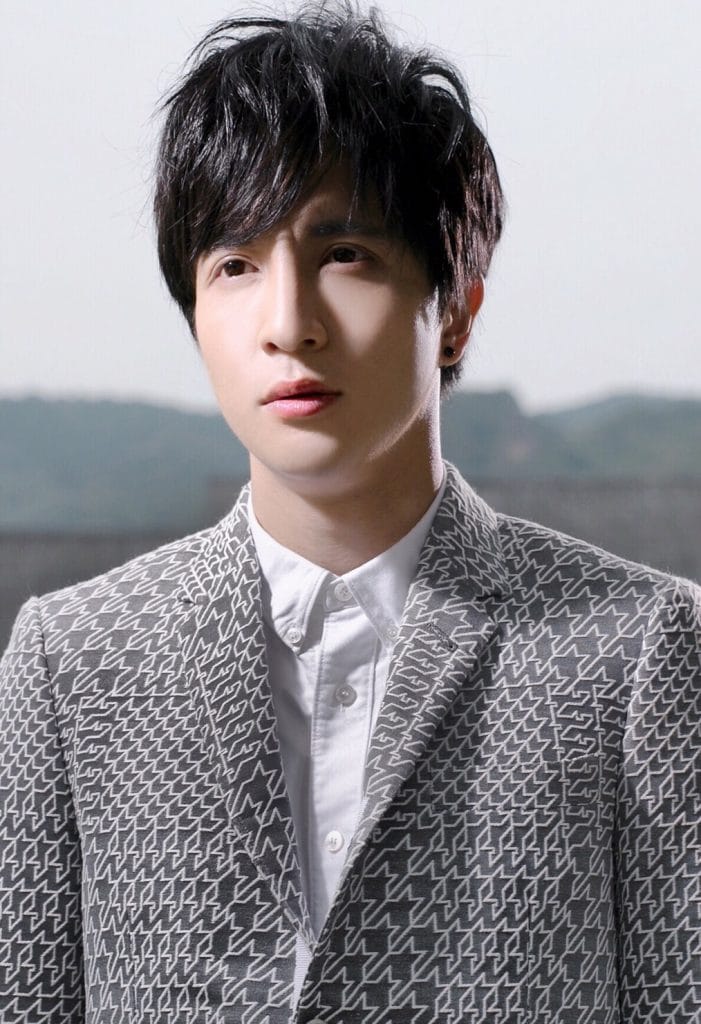 The year 2006 saw him win his first major role in the series "Ma La Jiao Shi" portraying Lennon, and he went on to play the lead character, Han Liu in the series "Lao Niang Jiu", and the supporting character Ren Ruocheng in the series "The Prince of Tennis". His following roles were mostly in movies, appearing in "The University Days of a Dog" in 2010, and "Music Arena and "East Meets West" in 2011. Some of his latest roles in TV series have been in "The Queen of SOP" in 2012, "Mother Like Flowers" in 2015 and "Boyhood" in 2017, while he has recently been cast to portray Gao Yi in the upcoming series "Men, Friends", and to play Wang Xiaocong in the film "A-Test: The Love Adventure".
Love life and wife
In 2010, Joker began dating Crystal Gao, who was working at a lawyer's office and they were together for two years before marrying in a private ceremony attended only by their closest friends and family. Rumors began circulating the internet in 2014 that Joker was secretly seeing the model Li Yutong, and after he and Crystal divorced in 2015, he started a relationship with Li. However, in 2017 Joker reconciled with Crystal and she gave birth to their child, with Joker uploading a picture of the baby onto his Instagram account with the caption 'The three of us will depend on each other from now on, no matter how life treats us', he hasn't specified whether he has become the father of a boy or a girl.
It appears that Joker has been faithful to his wife since the birth of their baby, and there are no rumors nor controversies surrounding his and Crystal's marriage.
Charity work
Joker is a philanthropist, and on 20 January 2008 opened the charity event Wings of Happiness. In March of the same year, he donated a manuscript fee for a writer, and sold 10 of his photos at an auction with all the money gathered being donated to people who were damaged by heavy snow in several places in China. Joker was seen attending the charity events Drought Relief and Disaster Relief We Are in Action in April 2010, and on 16 September 2011 he performed at Ecological Action to Help China.
He was seen helping an elderly lady in July 2012, and it was later revealed that she makes money for living by collecting trash – Joker took her to her home and then, providing her address, asked everybody with a kind heart to help the woman when they have free time.
Joker was then seen attending Beauty Skin Sunshine Program in March 2016, and in July of the same year he helped start the project Han Hong Caring and Aid of 100 People, as well as donated money to it and appeared at the opening ceremony. In the same year, Joker became the 'dream officer' of the Love Flying Village Education Project, and was then also part of the Love Flying Rural Education Project.
Hobbies and other interests
Joker is interested in photography, and many of the pictures taken by him can be found uploaded onto his Instagram account – he has stated that he would have become a photographer if he hadn't been a singer.
He in love with colors which is why autumn is his favorite season but he also likes summer as he is an avid swimmer, and also likes to jump from cliffs into the ocean.
Joker is very stylish and often goes shopping for clothes, and he also often buys shoes so has many pairs.
He likes to travel, and has been all around the world for both fun and work – two of his dream travel destinations are London in England and Barcelona in Spain.
He likes to watch Hollywood movies in his spare time, and his favorite actor and actress are the late Robin Williams and Angelina Jolie, while some of his favorite movies are "Patch Adams", "Good Will Hunting" and "Lara Croft: Tomb Raider – The Cradle of Life".
Net worth, age and height
Joker's age is 37. He has short brown hair and his eyes are brown as well. His height is 5ft 8ins (1.72m) and he weighs around 135lbs (61kgs).
As of August 2020, his net worth is estimated at over $600,000.