Miyawaki Sakura is Japanese singer, model, dancer and actress, born on 19 March 1998 in Japan. She's known for being an idol member of groups HKT48 and Iz*One in South Korea.
Just a simple reminder that article is created and owned only by kpopwiki.org. Article cannot be re-published in any other pages or documents. Copyright is protected by DMCA. All found copies will be reported.
Original source: https://kpopwiki.org/miyawaki-sakura-izone-hkt48-age-plastic-surgery-bio/
Early Life
Not much is known about Miyawaki's family, education and formative years, except that she developed a deep interest in music in her childhood, due to her mother's influence.
Career in Japan
Debut
Miyawaki Sakura started her career very early in life, when in July 2011 she joined the auditions for HKT48, a subsidiary idol group of AKB48, based in Fukuoka. However it wasn't until October that she was publicly introduced as one of the trainees of the group, during the release of the song "Flying Get". A month later she debuted as an actress as well, when she participated in the play "Te wo Tsunaginagara"
On 4 March 2012, Miyawaki Sakura who was 13 years old at the time, was officially announced as a member of HKT48. Her talent and hard work also led her to become the first member of the newly formed group to enter the general idol election for AKB48, landing participation in the singles "Uza" and "Sayonara Crawl" as a result.
AKB48
Although in 2013 she could be heard in HKB48's first single "Suki! Suki" Skip", she wasn't named as an official member of AKB48 until January 2014.
Miyawaki received more than 45,000 votes in her favor in the group's election, which led her to participate in the single "Kokoro no Placard", and to take the center position along with fellow member Mayu Watanabe, for the single "Kiboteki Refrain".
On 9 March 2016 Miyawaki released her first solo in AKB48's single "Kimi wa Melody". Excited and grateful for the opportunity, she declared: 'I have never been picked to be the center of a single until now so I can't believe it. There is pressure to be in a position between Atsuko Maeda and Yuko Oshima but, with this sort of "dream team" representing the 10th anniversary single for AKB48, I want to approach it with an attitude of enjoying it.'
Actress
Besides her singing career, Miyawaki Sakura has a successful career as an actress. She made her TV debut in 2012 when she appeared in the film "Ano Hito no Ano Hi", and the next year landed the role of Mari in "Himitsu".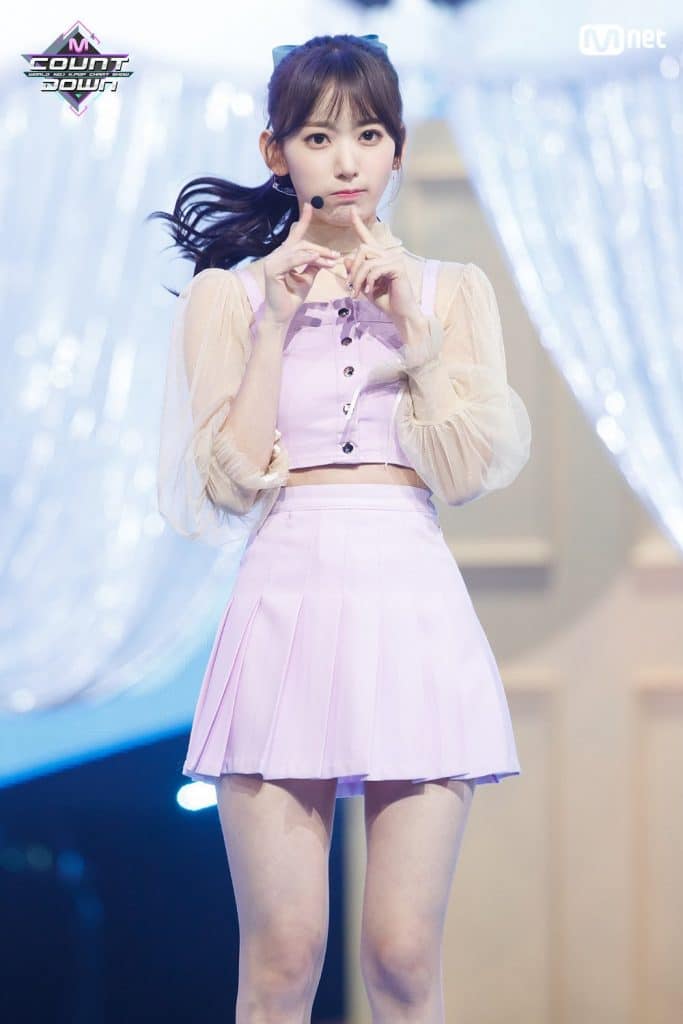 In 2015 she was cast in the lead role in the drama "Majisuka Gakuen" and its spin-offs. She also appeared in the fifth episode of "AKB Horror Night: Adrenaline's Night", broadcast on TV Asahi.
In 2016 she expanded her activities, and appeared in the Hulu series "Crow's Blood" in the main role of Maki Togawa, and appeared in the web-drama "Doctor-Y: Surgeon Hideki Kaji".
Career in South Korea
Produce 48
In 2018 Miyawaki took a temporary hiatus from AKB48 to participate in "Produce 48", a South Korean survival TV show produced by Mnet, in which 96 girls competed to become a member of a newly formed K-pop group.
Miyawaki topped the popularity poll in the first episode of the program, although she was dropped from that position when she was placed fourth in the second episode. During the third episode, Sakura was given the center position to perform in "M Countdown" with the song "Nekkoya", and was voted third in the popularity poll.
Her talent landed her good positions in the ranks for the rest of the series. During the twelfth and last episode of "Produce 48", Miyawaki attracted the second highest number of votes, and officially became a member of Iz*One, along other 11 girls.
However, her stay with the K-pop group may be limited, as her contract is due to expire in April 2021. This will mark her return to Japan, where she's going to continue her activities with AKB48.
Iz*One
Iz*One released their first extended play (EP) in October 2018, entitled "Color*Iz", marking their debut in South Korea with a sold-out concert in Seoul's Olympic Hall. Subsequently, the group performed for the first time in "M Countdown".
"Color*Iz" reached second position in Gaon's list, with more than 200,000 sold copies. This ultimately led the girl-group to win the New Artist category in various awards events, becoming one of the most successful debuts by a K-pop girl group of that year. In December 2018, Iz*One was officially signed by the major label, Universal Music Japan.
Iz*One officially debuted in Japan with the single "Suki to Iwasetai", and held a concert in the legendary Tokyo Dome in January 2019. The single reached the number two position on Oricon's chart and Billboard's Japan, ultimately receiving Platinum certification for selling more than 250,000 copies.
The second EP by the group entitled "Heart*Iz" was released in April that year, topping the most important Japanese and South Korean music lists, and becoming their second Platinum certified work.
The EP's lead single, "Violeta" peaked at number eight in Billboard's worldwide list. In June that year, Iz*One's tour "Eyes on Me" started with a sold-out date in Seoul, and ended in New York with a massive show in Madison Square Garden.
"Buenos Aires" became Iz*One's third platinum certified work, and topped the local lists. It was followed by the highly successful Japanese single "Vampire".
#190713 IZ*ONE 1ST CONCERT [EYES ON ME] IN HONG KONG
–#izone #izonehk #아이즈원 #izone演唱會 #izonesakura #miyawakisakura #宮脇咲良 #みやわきさくら #さくら #izone港場 pic.twitter.com/9VuqXNlnSf

— luvlzpinkwiz1.tms (@Thomaschan729) July 14, 2019
First Studio Album
Although the release of Iz*One's first studio album "Bloom*Iz" was initially due in November 2019, the date was postponed as a result of the controversy caused by the allegations of vote manipulation committed by producers of "Produce 48". A long investigation revealed that members of Iz*One were selected before the final episode of the show, which resulted in the group's activities being postponed indefinitely.
After a three months long hiatus, Iz*One resumed its activities in January 2020, and subsequently released "Bloom*Iz" in February. Overwhelmed by the positive response, during an episode of her radio program "Konya, Sakura no Kinoshita de", Miyawaki thanked the fans for their continued support
In June 2020, Iz*One made their summer comeback with a new EP entitled "Oneiric Diary", which contained the Japanese version of the song "Secrety Story of the Swan", with lyrics written by Miyawaki.
Personal Life
Romantic Life
There's no information about Miyawaki Sakura's romantic life, as she has decided to keep her personal life out of the spotlight, as directed by management, to avoid any controvery.
Plastic Surgery
As an entertainer and public personality, Miyawaki Sakura has faced a variety of rumors during her career. Specifically, the small bags under her eyes have awakened controversy regarding whether or not she underwent plastic surgery to obtain said trendy look –which is popular among young Japanese girls.
Although her fans have debunked said rumors claiming she has achieved her eyes "pouches" with makeup, Sakura hasn't addressed said allegations.
Net Worth
Miyawaki Sakura has an estimated net worth of close to $300,000, which is a result of her career as an actress and as a member of successful girl groups HKB48, AKB48 and Iz*One.
Physical Appearance
Miyawaki Sakura is a woman with gorgeous features and slender physical appearance. She is 5fts 3ins (1.63m) tall and weighs approximately 100lbs (46kgs).
Interesting Facts
Miyawaki is an avid video game fan, and has her own gaming channel on YouTube.
She hosted her own radio show since 2017.
However, due to the investigation against Mnet and the temporary gap in Iz*One's activities, Miyawaki had to leave the show for months until the issue was solved. Her AKB48 fellow members hosted the program during her break.
In 2015, a fan posted a heartfelt letter addressed to Miyawaki Sakura in an official fan forum. Surprisingly, she answered: 'I'm definitely a normal 17 year old. With only my dreams in sight, I came running. From now on, that's what I want to do. (…) But I believe my dreams will come true, and that's why I want to continue. At the moment, I haven't been able to do anything, but I want to continue onward with all of you'.
Of the other eleven members of Iz*One, she confessed that the only one she would marry is Yena.
Her zodiac sign is Pisces.