Han Hyun Min is a South Korean-Nigerian model, actor, and TV presenter, who rose to prominence as the first bi-racial Korean model of African descent to ever be part of any catwalk of a Korean fashion show, via the Heich Es Heich Fall 2016 Collection in Seoul. Subsequently Time Magazine included him on their annual list of the 30 Most Influential Teens of 2017. He later debuted as an actor in 2018 with a guest role in "Mama Fairy and the Woodcutter", and became the main male lead of the drama series, "Hip Hop King: Nassna Street" in 2019.
Just a simple reminder that article is created and owned only by kpopwiki.org. Article cannot be re-published in any other pages or documents. Copyright is protected by DMCA. All found copies will be reported.
Original source: https://kpopwiki.org/all-about-korean-model-han-hyun-min-age-height-parents/
Early Life and Family
Han Hyun Min was born on 19 May 2001, in Seoul, South Korea. His father named Awetairus is Nigerian and was an export trader then later became an English teacher, and his mother named Han Hyejin is South Korean, from the Han family in Chungju. He's the oldest of five siblings, with two brothers and two sisters – when he was nine years old, he repeatedly asked his mother for a younger sibling, and his wish was certainly granted.
Growing up as a bi-racial made his childhood difficult, particularly because he inherited his father's dark skin and curly hair. Hyun Min first experienced discrimination when he was in preschool, and struggled with how to cope with hearing racist remarks from both adults and kids his age. His friends' mothers did not allow their kids to play with him. It even came to a point that he was accused of stealing in a store when it was his friend who committed the crime. He would stand out in a crowd, and he especially hated it when going on field trips because of the teasing him. He said that he would rather be in a rat hole, and asked himself if he was some sort of mutation.
Due to these incidents, he became so defensive that he fought a lot in school, and his teachers would often call his mom at work because he was deemed the troublemaker. There was even a time when a teacher suggested in front of the school body that she transfer him to another school.
It was humiliating for Hyun Min and he was treated for depression at a very young age, telling her that a spider was crawling inside him. People generally regarded him as a foreigner, and as a young kid, he didn't understand the reason why.
Everything became easier when Hyun Min met his third-grade teacher, Lee Young Hee, whom he considered his lifesaver.  He was able to adjust well, and the dreaded 'phone calls from the school stopped. By sixth grade he was the class president, and became popular in school, all because his teacher took time to get to know him and communicated better with him. He said that Ms. Lee never discriminated because of his color and he received much understanding from her. He realized as he got older that being different shouldn't bother him, as his outside appearance led to assumptions that he wasn't Korean. He also held on to his mother's words of encouragement, 'You are special. One day, something great will happen to you.'
— 🌼 (@HYUNMINPlCS) December 1, 2018
South Korea might be a first-world country economically, but the people were largely traditional and homogenous. He might have had a difficult childhood due to racism but he also realized that growing up in Itaewon, a neighborhood district with a lot of multi-cultural families meant that he had it easier compared to those kids like him living outside of Seoul or Itaewon. His mother failed to register dual citizenship for him, so he was registered as a full Korean in South Korea.
Educational Background
He attended the Seoul Bogwang Elementary School and Osan Middle School, then matriculated from Hankwang High School, although in 170th place form 172 students in his graduating class.
Career
Hyun Min's interest in clothes led him to entertain the idea of becoming a model, given his height. In high school, he simply dreamed of having $300 to buy clothes from Uniqlo but his mother told him to stop being superficial.
He took on odd jobs including distributing flyers to earn shopping money. Due to lack of funds, he knew he couldn't attend a modeling school, so he taught himself how to walk by watching numerous YouTube videos of fashion shows. Since he didn't have an agency, he was scammed by unscrupulous people to model for an online shopping mall.  He also went on photoshoots, but didn't receive any positive results.
Being active in social media was the easiest way to get noticed, and the lucky break he was waiting for all his life came. Hyun Min was discovered through his Instagram account at the age of 15, when modeling agency, SF Models contacted him and requested a face-to-face meeting. In a coffee shop in Itaewon, he met the agency's representative, Youn Bum, and was asked to walk. The next thing he knew, he was asked to become a model for their agency. It was surreal for Hyun Min, because he felt that he was still lacking, as he was never trained professionally or entered any modeling program.
First Steps – From First Catwalk to Time Magazine's Annual List (2016 – 2017)
Hyun Min's YouTube fashion show video-watching bore fruit, as he developed his own stride that was perfect for catwalks. In March 2016, he became the first Korean of African descent to walk in any fashion show in South Korea, through the Heich Es Heich Seoul Fall 2016 collection by designer Sanghyuk Han. He opened the show wearing a green velvet suit with pink-reddish hair, and his life was never the same again. He immediately fell in love with his work as a model; his imagination would run wild with every outfit that he was tasked to wear.
He would balance his time between school and work, but he never enjoyed studying as he sheepishly admitted in one interview, and felt that school was just a place to meet friends. His busy schedule was comprised of photoshoots, casting calls, commercial shoots, and school. There were times when his school time was sacrificed to accommodate his workload.
By 2017, he'd had 30 catwalks, which was unusually high for a new model, but there was a demand for him from various designers.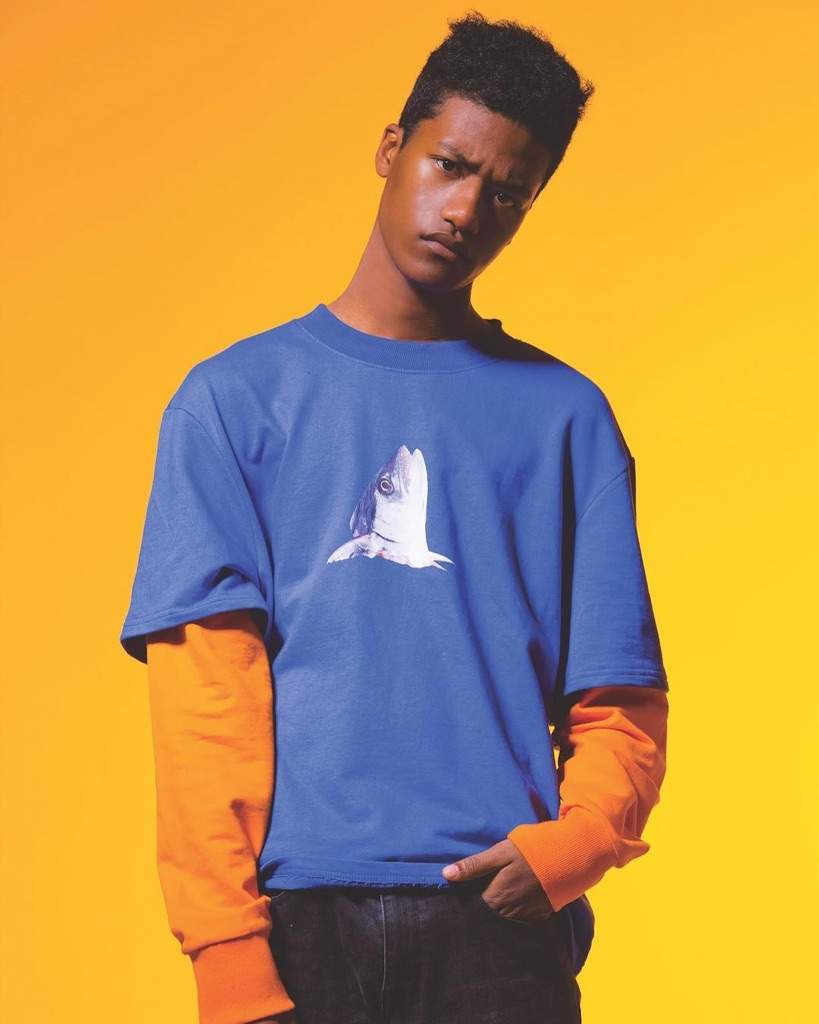 Generally, he was accepted in the South Korean modeling industry, but there were still some designers who weren't willing to put a black guy in their line-up, so he would be rejected the moment they saw him. Television and the music industry were more welcoming, as he appeared in official music videos, the first with BoA in 2017 in the song "Camo," and the second with Kim Bum Soo in the song "I Love You."
In November 2017, he made it to the annual list of Time Magazine's Most Influential Teens. It was created by accessing the individual's widespread impact via different social media apps and their ability to generate headlines. Hyun Min became the first black Korean model and he hoped that his existence and experience would have a positive influence on South Korea's beauty standards, and make the industry more inclusive.
Debut as an Actor, TV Presenter, Bi-racial Setbacks (2018 – 2019)
The more Hyun Min became comfortable in his own skin, the more he was given opportunities not only on the catwalk but also on television.
In between fashion shows and brand endorsements, he made several guest appearances on popular variety and talk shows, including "Knowing Brothers" and "Boss in the Mirror" (2018), "Happy Together" (2019), and "Law of the Jungle" (2020). However, it was his appearance in "King of Masked Singer" that made him more famous; he sang Sung Si Kyung's "You Impressed Me" in Episode 143 and 144 in 2018, and while his competitor bested him on the battle round, people were amazed that he had such a good singing voice.
During these guest appearances, TV producers discovered that he had a knack for variety/talk/music shows, and that he could be a TV presenter. In 2018, he worked alongside Yoo Jae Suk, Korea's most beloved MC, in the JTBC's variety show, "Cool Kids." In April 2019, Hyun Min became a fixed host of the popular music show from Mnet, "M Countdown," along with Lee Dawhi of AB6IX, hostingd the show for two years with his final episode in February 2021.
He also found his way into Korean drama series, when it was discovered that he could act after he made a cameo appearance in Episode 16 of TVN's "Mama Fairy and the Woodcutter" in 2018. Hyun Min officially debuted as an actor when he took one of the lead male roles in "Hip Hop King Nassna Street," which also starred Hoya, Shin Won Ho, and Lee Na Eun. The series consisted of six episodes, which aired from August to September 2019. He was quite grateful to Hoya for generously sharing with him acting tips, so that his experience became pleasantly memorable even if they were filming in the cold of winter.
As there was quite a huge interest in his life, he and his family were featured in JTBC's lifestyle/documentary TV show, "Stranger," aired in February 2018, depicting their daily life and the struggles they encountered as a bi-racial family living in South Korea.
With Hyun Min's bright personality, he gained many fans and he was continuously in demand. However, there was one roadblock in his modeling career that he can't get past, and that was not being fluent in the English language.
Apparently, Hyun Min never learned the language since his mother would just translate everything for him if he needed to talk to his father. In 2018, he was chosen to star in a car commercial, as his looks and poise were perfect for the brand's concept, but when he was asked to utter the English word "Swag," he couldn't get it right. Even after he practiced it for a couple of hours, he would still pronounce it the Korean way, so another model replaced him. He then started learning the language, having a hard time at first until he traveled to English-speaking countries. He's gained the confidence to speak the language when he goes overseas, and from then on his goal was to master the language.
Traveling overseas was a huge comfort to him especially to countries where he didn't stand out. Hyun Min loved visiting London, as he felt that no one looked at him differently there and was treated just like everybody else.
However, going home and passing immigration was another story. He was detained for two hours in the airport as the immigration officials did not believe him to be a Korean national even if he held a Korean passport. They were expecting him to speak in English just like any black guy. It was only after his mother called the airport that he was released and allowed to go home.
Further Success (2020 – present)
After the pandemic set in, most public activities were halted and large crowds weren't allowed, just like other artists, Hyun Min was able to take some rest. However, when the South Korean entertainment industry learned how to adjust to the new regulations, filming started again. He was included as one of the main leads in Netflix's TV sitcom "So Not Worth It," also known as "I Wish The World Would Be Destroyed Tomorrow."
It was about students from different parts of the world who share a dormitory located in Seoul. He played one of the Korean students, but was regarded as stateless and wasn't allowed in the dorm. The sitcom also starred Park Se Wan, Choi Young Jae of GOT7, Shin Hyun Seung, and Minnie of (G)I-DLE, and is scheduled to be aired in 2021.
Personal Life
Hyun Min admitted in an interview that he had a dating experience in the past, but he's not in any relationship at the moment. His focus is on his work to achieve his goals, and one of them is to give more support to his family especially his younger siblings. His ideal girl is someone with a fun personality and with whom he can easily converse, as he believes that for a relationship to work, their personalities should match.
Since he feels that he is earning way too much, he lets his parents manage his money. He lives alone in Mangwon, which is in Mapo District in Seoul.
Some points have been made pic.twitter.com/ESCbzGJ6qR

— 🌼 (@HYUNMINPlCS) November 10, 2018
Hobbies, favorites, rumors, and interesting facts
Hyun Min's favorite snack is sundae or blood sausage, and he prefers jajangmyeon (black bean noodles) over jampoong (spicy seafood noodles).
He plays soccer and watches movies during his free time, but his favorite was to play computer games. When he was asked what would be the first thing he would do after becoming an adult, he said to play in an internet shop for 24 hours. Apparently, in South Korea, minors aren't allowed to stay that long in the shop.
Fans say that his facial features remind them of Lucas from NCT.
Hyun Min doesn't want to use an English name, and whenever overseas he prefers people to call him Han if they have trouble pronouncing Hyun Min.
Appearance
He is 6ft 2ins (1.90m) tall and weighs 185lbs (85kgs) with a lean body. He has dark skin, black hair, and dark brown eyes.
Net Worth
According to authoritative sources, Hyun Min has an estimated net worth of $500,000 as of February 2021.