Jimin is a South Korean singer-songwriter, rapper, and dancer, who became famous for being the leader and main rapper of the Korean girl group, "AOA," which means Ace of Angels.
Just a simple reminder that article is created and owned only by kpopwiki.org. Article cannot be re-published in any other pages or documents. Copyright is protected by DMCA. All found copies will be reported.
Original source: https://kpopwiki.org/why-did-jimin-leave-aoa-plastic-surgery-height-weight/
Early life and family
Shin Ji Min was born on 8 January 1991, in Seongnam, Gyeonggi, South Korea, and grew up with an older sister.  Her parents have long seen Jimin's interest in music, and she took lessons in learning how to play several instruments including piano, guitar and harmonica. To further enhance her musical skills and Chinese language fluency, she went to China during middle school.
Education
Little else is known about Jimin's educational background, except that she studied in South Korea from her primary schooling up until her first year in middle school.
She moved to China to study in a language school for two years, also attending a practical music school there.
Career
When Jimin returned to South Korea, she auditioned to become a trainee for FNC Entertainment, a talent agency and record label in South Korea, which is home to many popular Korean artists including CNBLUE, F. T. Island, Lee Dong Gun, and Yoo Jae Suk.
First steps – Debut AOA Black and AOA Cream
She spent four years in training to become a singer, dancer and rapper, and her hard work paid off as she debuted as part of the 8-member girl group named AOA, Ace of Angels. Jimin and the seven other girls – Chanmi, Choa, Hyejeong, Mina, Seolhyun, Youkyung and Yuna released their first single entitled "Elvis" on 30 July 2012.
They made their debut performance on 9 August 2012 in the popular cable music show, Mnet's "M Countdown," and the following day appeared on the popular mainstream channel music show, KBS' "Music Bank."
Fans were confused as to the group's concept, when five of the girls were first shown playing their debut song as a band, then later on came out as a dance group with one member missing but three more girls added. Apparently, FNC thought of promoting them as 7+1 which translates to Youkyoung joining the band sub-unit called AOA Black with Jimin, Yuna, and Mina. The other three girls Seolhyun, Chanmi, and Hyejeong formed another sub-unit called AOA White, who will only participate during the dance group promotions.
Unfortunately, the debut was quite weak, but Jimin and her group made a comeback after two months with the song "Get Out" – this time only the sub-unit AOA Black came out to promote the song on their first two appearances in music shows.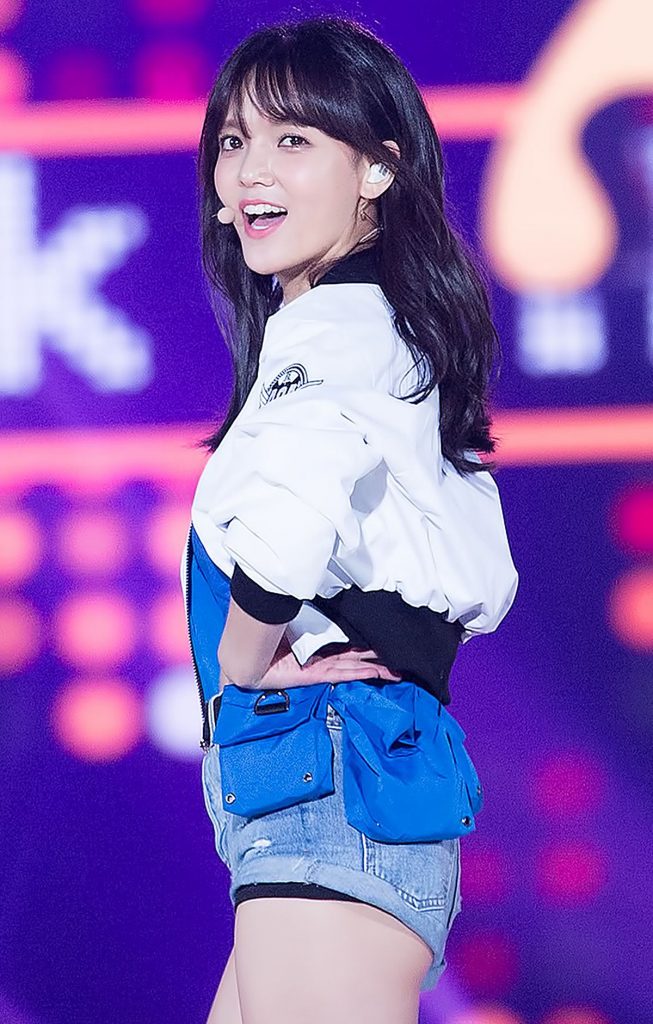 South Koreans use the term 'comeback' whenever they release a new song and it does not matter how short or long the temporary hiatus was. The rest of the promotions were by seven members performing the song as a dance group.
They continued to release new songs the next year, and promote the group's songs by making guest appearances in other variety shows too, but they couldn't break into the top 10 music charts. Jimin became part of the songwriting process of their songs, contributing her rap lines in the song "Moya." Before 2012 ended, FNC produced a reality TV series about them entitled "Cheongdam-dong 111," about the daily activities of FNC, including their handling of various artists such as AOA.
Further Success – Breaking into the Top 10-20 Charts
In 2014, Jimin and her group worked hard on new singles and EPs.
They released a single album entitled "Miniskirt", with all the songs written and produced by Kang Dong Chul, also known as Brave Brothers, who was responsible for some major hits in the K-Pop industry. In South Korea, a "single album" is the term used for a physical release of one to three songs which competes with other full-length albums in the charts. However, in digital charts, they are considered "singles."
The lead track, "Miniskirt," was regarded as AOA's first hit single, and was able to break into the top 10-20 in the South Korean Gaon Charts. It peaked in the No. 9 position in Gaon Album chart, No. 1 on Gaon Social chart, No. 22 on Gaon Digital chart, and even charted at No. 8 on the Billboard K-Pop 100 chart. The success of the single resulted in AOA's first win at a weekly music show in South Korea, which is considered a milestone for K-Pop artists, as it means that it's the number one song for the week in the country.
After the success of the single album, FNC Entertainment decided to release a follow-up extended play (EP) entitled "Short Hair," written and produced again by Brave Brothers. The title track was an instant hit, and the EP charted well, peaking at No. 4 on the weekly charts and No. 11 on the monthly charts. The music video also made waves, and was the most-watched K-Pop video in June that year. The record label also released a DVD and photobook, as the demand for AOA merchandise kept increasing.
Before the year ended, they released another EP, entitled "Like a Cat," which was mainly written and produced again by Brave Brothers. It was another success for the girls, peaking at No. 3 on Gaon Weekly charts and No.7 on Gaon Monthly charts. The title track even did well on the Billboard World Digital Songs, reaching the No. 7 position. The accumulated digital sale for the EP was over a million downloads.
Japanese Debut and Reality TV Series
In 2015, an increase in AOA's popularity was seen in Japan, and the girls released Japanese versions of their single album "Miniskirt," and EP "Like a Cat," both o which did well on the Japanese Oricon Chart.
FNC Entertainment produced a reality TV series for AOA entitled "AOA One Fine Day", with 10 episodes that were filmed in Hainan, China.
"Heart Attack," AOA's Biggest Hit and KCON (2015-2016) Guest Line Up
The popularity of Jimin and AOA kept soaring, particularly when they released the group's third EP entitled "Heart Attack," inevitably written and produced by Brave Brothers. The lead track won on the weekly music shows when they promoted the song. It's considered AOA's biggest hit, as it reached the No. 2 position on the Gaon Digital Chart with over a million downloads on the yearend chart, and was one of the longest-charting songs on the Melon Top 100 Chart.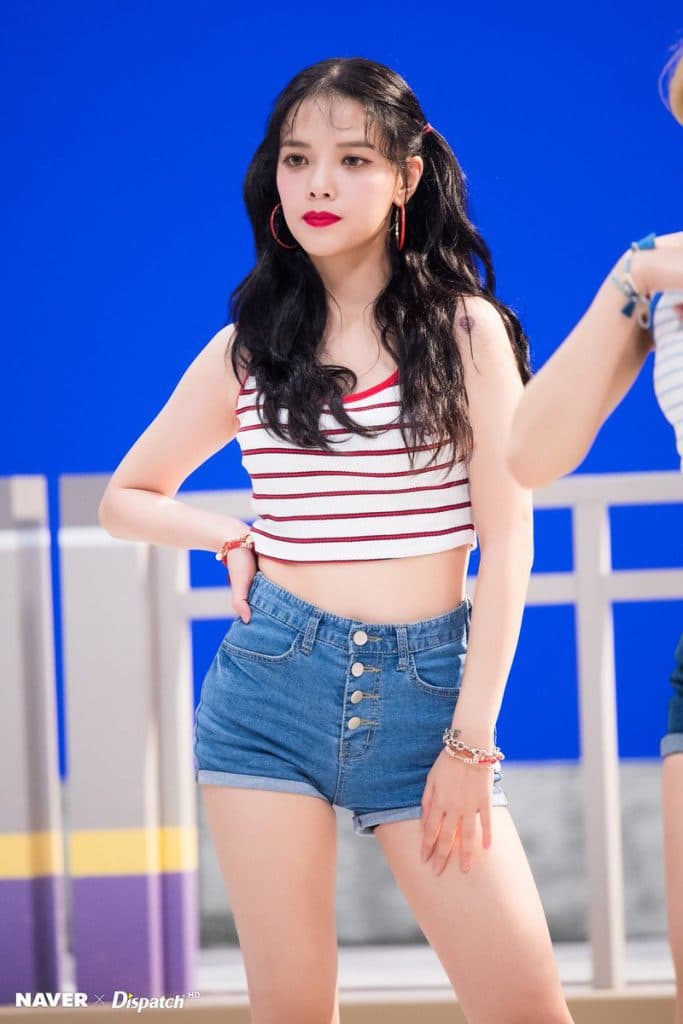 Because of the group's success, Jimin and the girls were chosen for inclusion on the list of performers for the Korean Concert (KCON) shows in Los Angeles, New York and Japan.
Full-Length Album, Some Members Leaving the Group
Jimin's popularity and success kept growing, and she continued to write the rap part of songs. The group's full-length album, "Angel's Knock," was released in 2017, and reached the No. 2 on the Gaon Album Chart, and No. 5 on Billboard World Album Chart. Despite the success of the group, it was interesting to note that two members voluntarily terminated their contracts, YouKyung in October of 2016, and then Choa in June of 2017, Choa saying that she has mental health issues and wanted to leave the celebrity life.
New EPs, Queendom, Mina's Departure, 5-Member Group
In May of 2018, the remaining AOA members released the group's fifth EP, "Bingle Bangle," and it was successful in reaching the No. 3 position on Gaon Album Chart, and peaking at No. 10 on the Billboard World Album Chart. This was the only EP released with six members involved in the recording, as another member left the group before they recorded another one.
In April of 2019 it was reported that AOA members' contracts were up for renewal, and another member, Kwon Mina, chose not to renew her contract, FNC announcing that she would pursue a solo career.
Even with just five remaining members, AOA decided to participate in Mnet's reality survival series, "Queendom," in which six female K-Pop artists would compete for the top spot with live performances.
It was proven to be the right decision, as the show was well-received by viewers. While they did not end up in first place, the exposure was great for the group as they remained relevant despite the increasing number of new girl groups in the industry. From the six competing artists, AOA finished in fourth place.
Jimin Announced Her Retirement
A year after the reality show, in July of 2020 Jimin announced her retirement from the music industry.
Why did Jimin leave AOA and the industry for good?
Jimin left AOA and retired from the entertainment agency for good because of pressure brought about by the bullying allegations made by one of the former AOA members, Mina. On 3 July 2020, Mina started to post on Instagram alleged bullying she experienced from an "Unnie," (Korean word for older sister) for 10 years in AOA, saying that the only reason she survived the ordeal was that she needed to take care of her mother.
During this time her father was quite sick with cancer, she couldn't help but cry, but the older sister dragged her to the closet of a waiting room and told her to stop crying as it is ruining everyone's mood. It was a long post detailing her depression and her suicide attempt. She didn't mention the girl's name, but Mina gave a clue when she mentioned that the bully had recently lost her father as well.
Soon after, Jimin posted the word, 'Fiction/Novel," on her IG account story but deleted it almost immediately. The fans and netizens concluded that it was Jimin who Mina was referring to as the bully in her post.
On 4 July 2020, after seeing Jimin's deleted post, Mina directly responded to it on her IG account by posting pictures of self-inflicted scars on her wrist, and continued with her revelations.
i love it hallelujah🎶🎵#RTJ #Hallelujah #AOAjimin pic.twitter.com/TrRCVrpFgf

— 🍒크리스【クゥー】🔫 (@AOE_KoohMin1016) October 26, 2017
Jimin again posted on her IG account that she went to Mina's house to apologize to her, saying that she apologized and cried, but realized that Mina's anger couldn't be easily appeased, and regretted that she didn't understand what Mina was going through when they were together.
When Mina saw the IG post she went ballistic and mocked her insincere apology, and was aghast with Jimin's reasons as to why she acted that way in the past – apparently, Jimin told her it was to set Mina on the right path. Mina then revealed Jimin's unchecked behavior in the past of bringing men to the dorm, and was angry at Jimin's gall to discipline her.  In the end, she said that Jimin was so lucky to have everyone on her side and that she lost. More IG posts of Mina revealed her depression and the unfair treatment she got from FNC entertainment; during this period, the agency didn't release any official statement about the situation.
FNC Entertainment later announced that Jimin had quit the group and the entertainment industry.
However, there were reports that she will return after the issue died down. A month after Mina's first post revealing bullying, she was rushed to hospital after an apparent suicide attempt, and this time FNC Entertainment's CEO was there to talk to her and assured her of their support. Mina is now under the care of her mother, and continues to receive mental health treatment.
Personal life
There is no information about Jimin's personal life, as most K-Pop artists live quite a private life as dictated by their managing agency. Unless they are careless in their dating activities, no one would know until they announced that they were marrying.
Jimin is single, but ever since her former agency announced her retirement from the entertainment industry, nothing has been heard from her. The content of her YouTube channel was removed, and the last post on her IG account was her apology to Mina and everyone who was affected by her alleged bullying behavior in the past.
Hobbies, favorites, rumors, and interesting facts
Jimin underwent surgery when she was a teen to treat her Carpal Tunnel Syndrome condition.
She admires K-Pop Rapper and AOMG record label CEO, Jay Park, and one of K-Pop Queens, Lee Hyori.
Her guitar is named Banana, because of its yellow color.
Jimin went to study in a music school without telling her parents.
She is fluent in Mandarin, and can converse in Japanese.
Jimin likes to sleep-talk as revealed by other AOA members.
Appearance
Jimin is 5ft 3ins (1.61m) tall and weighs around 90lbs (40kgs), with a slim, petite build. She has dark brown hair and black eyes. During her K-Pop promotions, her hair color and eye color would change as K-Pop artists are known to alter their appearance depending on their concept or theme.
Net worth
According to sources, Jimin has an estimated net worth of over $1million, as of August 2020.