Lee Know is a South Korean dancer, rapper and singer, who first became known to the public through JYP Entertainment's reality television show "Stray Kids," as one of the aspiring Korean Pop (K-Pop) idols. He was first eliminated, then later included in the final line-up for the debuting boyband called Stray Kids. His group released the platinum-certified studio album "Go Live," and its repackaged album "In Life" in 2020. He was once a back-up dancer of BTS, but has come a long way since then.
Just a simple reminder that article is created and owned only by kpopwiki.org. Article cannot be re-published in any other pages or documents. Copyright is protected by DMCA. All found copies will be reported.
Original source: https://kpopwiki.org/all-you-need-to-know-about-lee-know-from-stray-kids/
Early life and family
Lee Know was born Lee Minho on 25 October 1998, in Gimpo, South Korea. He's an only child, and not much is known about his parents, except that his father works in the furniture industry. He underwent surgery on his tummy when he was a kid.
Educational background
He attended Daegot Elementary School where he dreamed of becoming a policeman, and then at Daegot Middle School an architect. He matriculated from Gimpo Jeil Technical High School.
Career
First steps
Dancing has been his interest since he was in middle school, and it eventually became his profession. He had been dancing for four to five years, and worked as a back-up dancer for BTS during the boyband's promotions for "Fire" in 2016 until "Spring Day" in 2017, appearing in their music video of "Not Today." During the 2017 BTS Live Trilogy Episode III (Final Chapter): The Wings Tour, particularly the Japanese leg of the tour, he performed with the group in some of their dance stages.
It was the thrill of performing on stage that made him realize even more how much he wanted to be the star on stage, instead of one of the back-up dancers. He dreamt of becoming an idol in the past, and was even briefly featured as one of the hopefuls in a documentary about K-Pop done by National Geographic. However, nothing came out of his auditions for entertainment companies such as Cube Entertainment and JYP Entertainment (JYPE), at that time.
During a dance competition, he was scouted by a casting agent from JYPE – which launched K-Pop groups such as 2PM, Miss A, Got7, and Twice that became successful – and was invited to audition. He sang "Thought of You" by John Park, but thought that he'd failed as he didn't hear from them for a long time, so he continued his career as a dancer. He eventually got a call from them and officially became a trainee.
The training program of the company involved end of the month evaluations to assess the skills of their trainees, after receiving lessons on vocals, dance, rap, and other aspects of performing, all in front of the camera. The company held an annual showcase for trainees to check their star qualities, as they performed on stage in front of an audience.
Homecoming trainee showcase and Stray Kids reality show
In 2017, JYP held their trainee showcase called "Homecoming" – some of their trainees performed solo, while other performed as a group. A male  team called the male project team competed against a female trainees' team that day for a chance to debut. The male team, of which Lee Know was a member, was chosen based on their teamwork, as the next K-Pop group that the company would launch.
However, debuting was not that simple as the male project team was not formed by the company but by Bang Chan, who had been a JYP trainee for seven years, and JYPE founder Park Jinyoung wanted to further evaluate them as a whole group.
*faints* 😳#LEEKNOW pic.twitter.com/N7Ldka3NED

— 🃏 (@babystayslove) February 19, 2021
He decided to document the debut process through the reality TV survival series called "Stray Kids", also warning them of the possibility that not all nine members would debut. The concept for the show was JYP vs trainees.
Lee Know moved into the dorm provided by the agency, as the group started preparing for their first mission, which was to write their own song, and create a cool stage. "Hellevator" was the result, which they performed on 4 Octoberion the second episode. It was released as a digital single on 1 November, and the music video on 7 October, which has garnered almost 76 million views to date. They received praise from Park Jinyoung, but Lee Know failed to impress him, and was eliminated after episode four, for not getting the lyrics right in another performance. His skills were still lacking as his training period was less than a year, much shorter than the others, so he continued to train and practice hard at the studio.
Park Jinyoung met with Lee Know and another eliminated member, Felix, and gave them another chance, saying he'd like to see again the chemistry of having nine members in the group that he saw during the showcase. The last mission was aired live on 19 December 2017 on Mnet, and fortunately 96% of the viewers voted in favor of the group having nine members as opposed to seven. The final lineup included Lee Know, Bang Chan (leader), Changbin, Felix, Han, Hyunjin, I.N, Seungmin, and Woojin.
The group released the pre-debut (EP) entitled "Mixtape" in January 2018, which consisted of songs they performed on the reality TV series. It peaked at No.2 on the Gaon Album Chart with over 60,000 copies sold in South Korea that year. The EP also made it on three US Billboard Charts – the World Albums at No.2, Independent Albums at No.22, and Top Heatseekers Albums at No.6. Lee Minho was credited as one of the lyricists for the fifth track, "Glow."
Stray Kids debut
During the show, he still used his real name, but when he debuted he decided to use the stage name Lee Know, because he shared the name with a famous actor, Lee Minho, known for high-rating dramas such as "Boys Over Flowers" and "The King: Eternal Monarch." There are also idols named Minho, such as Choi Minho from Shinee and Song Minho from Winner.
They held their debut showcase called "Stray Kids Unveil (Op.01: I Am Not)" on 25 March 2018, before officially debuting the next day, releasing their first EP entitled "I Am Not." It peaked at No.4 on the Gaon Album Chart with more than 86,000 copies sold that year, and No.5 on Billboard's World Albums Chart. The lead single, "District 9," didn't enter the domestic chart but reached No.10 on Billboard's World Digital Song Sales Chart. Its MV attracted over 51 million views.
At the Korean Convention music festival known as KCON held in Japan in April 2018, Stray Kids was included in the line-up of performers.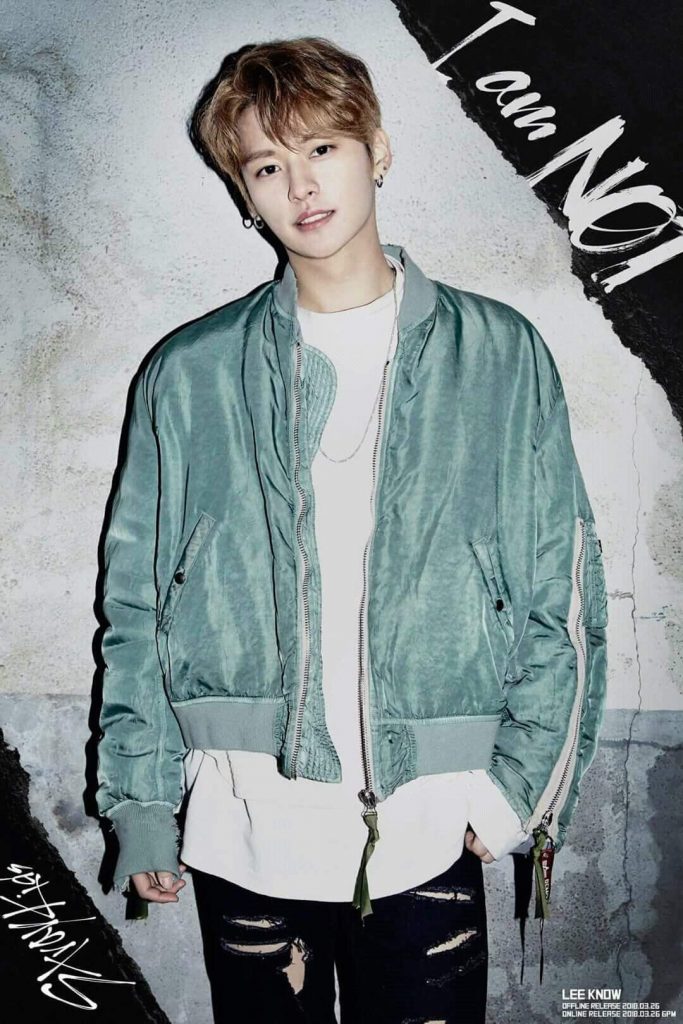 It felt surreal for Lee Know to be performing there on stage as an idol, as he was only a back-up dancer for BTS the last time he performed in Japan.
Lee Know and the boys released two more EPs that year – "I Am Who" and "I Am You," which sold over 91,000 and around 110,000 respectively. Both performed well on the Gaon Album Chart and Billboard's World Albums Chart. The "I Am" series included a bonus track for the physical editions, and all members took part in the songwriting process.
The group won the Rookie of the Year Award from Seoul Music, Mnet Asian Music, Golden Disc, and Korea First Brand Awards.
Further success
Stray Kids embarked on a concert tour called "Unveil Tour: I…Am," which kicked off in Bangkok with 4,000 fans in attendance on 19 January 2019, followed by the rest of Asia with stops in the US and the UK. The tour culminated in Yokohama, Japan on 27 September 2019.
They also released the Clé series that year – "Clé 1: Miroh," released on 25 March topped the Gaon Weekly Album Chart, and was at No.31 on the year-end chart; more than 170,000 copies were sold that year. It peaked at No.3 on Billboard's World Albums Chart as it sold 1,000 copies in the US in the week of its release, No.20 on Individual Albums Chart, and No.13 on Top Heatseekers Albums Chart. It also entered the weekly music charts in France, Hungary, Japan and the UK.
Its lead single, "Miroh" gave Lee Know and the boys their first music show win as the No.1 Song of the Week on 4 April 2019 courtesy of Mnet's "M Countdown." Reaching this milestone was an indication of their growing popularity in South Korea. The official MV had 110 million views, and BuzzFeed ranked it at No.5 on the "Best K-Pop Videos of 2019." The EP's sixth track, "Chronosaurus," was No.8 on MTV's "The Best K-Pop B-sides of 2019."
Less than three months after that, they released their special album entitled "Clé 2: Yellow Wood," which comprised of four previously released "Mixtape" songs included in the physical CDs of their four Eps, and three new tracks including "Road Not Taken," "TMT," and the lead single, "Side Effects." The EP peaked at No.2 on the Gaon Weekly Album Chart, and No.38 on the year-end chart with 155,000 copies sold. It also did well on various international music charts, including the Billboard's World Albums Chart at No.9 and Japan's Oricon Chart at No.17. The lead single reached No.16 on Billboard's World Digital Song Sales Chart, and Dazed ranked it at No.1 on "The 20 Best K-Pop Songs of 2019."
Stray Kids became an eight-member group when Woojin's contract with JYP Entertainment was terminated in October 2019 for personal reasons.
As a result, Lee Know and the remaining members had to re-record the tracks for their fifth EP, "Clé: Levanter," and its release was pushed back to the 9th of December instead of 25th of November as initially announced.
The digital EP had seven songs including the pre-released single, "Double Knot," and lead track, "Levanter" while the physical EP had a bonus track called "Mixtape#5." The EP topped the Gaon Chart and sold over 180,000 copies, making it the second best-selling album for the month of December.
They held a two-day concert in Seoul on the 23rd and 24th of November 2019 to kick off their world tour called "District 9: Unlock", followed by eight concert dates from January to February 2020 in the US, which started in New York and ended in Los Angeles. The rest of their tour was canceled due to the COVID-19 pandemic that restricted travel and mass gathering.
Lee Know and his group released their first studio album, "Go Live" in June 2020, and it was certified platinum by the Korea Music Content Association (KMCA) for exceeding 250,000 copies sold, more than 360,000 copies by the end of the year. It claimed the top spot on the Gaon Album Chart, and reached No.4 on Billboard's World Albums Chart. According to Billboard, it was the 10th Best K-Pop Album of 2020. The lead single, "God's Menu," was in BuzzFeed's list of the "35 Songs That Helped Define K-Pop in 2020" at No.15; its MV had 184 million views.
The album was reissued as "In Life" in September 2020, and topped the Gaon Album Chart with over 440,000 copies sold that year, which earned them a platinum certification from the KMCA.
It peaked at No.4 on Billboard's World Albums Chart, and "Time Magazine included it on their list of "Albums That Defined K-Pop's Monumental Year in 2020." The lead single, "Back Door" was No.10 on Billboard's "The 20 Best K-Pop Songs of 2020: Critics' Picks." Lee Know co-wrote the 7th track, "Wow," and recorded it with Hyunjin and Felix.
They won the Best Korean Act at the 2020 MTV Europe Music Awards. Stray Kids will be participating in Mnet's reality TV competition show, "Kingdom," scheduled to air on 1 April 2021.
Personal life
Lee Know is 22 and known to be single. There is no news of him dating anyone at the moment, as he is still bound by the "no dating" policy imposed by his agency for the first three to five years after debut. His ideal type is someone he can comfortably talk with.
He shares a room with Seungmin, Bang Chan and Hyunjin in the dorm provided by the company.
he looked extremely good😻😻 #LEEKNOW pic.twitter.com/XTy9Ko1yWb

— 🃏 (@babystayslove) February 20, 2021
Hobbies, favorites, rumors, and interesting facts
He has fear of heights.
His hobbies include watching movies, reading and hiking.
Favorites: mint (color), autumn (season), strawberry (ice cream flavor), hip hop (dance genre), Wonder Girls and 2PM (K-Pop groups), Keigo Higashino (author)
His role model is 2PM's Taecyeon.
He likes referring to himself in the third person.
He can speak basic English and Japanese.
Motto: "Let's eat well and live well."
He has this habit of cracking his fingers.
During the group's guest appearance in "Weekly Idol" in October 2019, Han offered to be Lee Know's boyfriend, held his hand, and professed his love just so Lee Know would pick him to be part of his team.
He twisted his ankle during rehearsal for the KBS' "Music Bank's 20th Anniversary Special" in June 2018. He again suffered a minor ankle injury during the 2019 Asian Artist Awards rehearsal.
Appearance
He is 5ft 6ins (1.72m) tall and weighs 145lbs (65kgs) with a lean build. He has black hair and black eyes. His shoe size is 7.5 (US).
Net worth
Lee Know has an estimated net worth of close to $500,000 million as of February 2021, according to sources.