Lia is a South Korean singer and dancer, who became famous for being the main vocalist of the Korean girl group, "Itzy," with their hit debut single, "Dalla Dalla."
Just a simple reminder that article is created and owned only by kpopwiki.org. Article cannot be re-published in any other pages or documents. Copyright is protected by DMCA. All found copies will be reported.
Original source: https://kpopwiki.org/lia-itzy-age-weight-loss-real-name-boyfriend-net-worth/
Early life and family
Lia was born Choi Jisu on 21 July 2000, in Bucheon, Gyeonggi, South Korea. A Korean name starts with the family name followed by the first name. Not much is known about her family and childhood, except that she has a younger brother and they were raised in a relatively wealthy household in Incheon. She considers her mother as her role model. The family lived in Toronto, Canada when she was little.
Education
She attended North London Collegiate School Jeju, a British international school that is considered one of the most expensive schools in the country, and SOPA (School of Performing Arts) Department of Practical Music, which is an arts high school in Seoul. She also trained at the Dream Vocal Academy. When last asked about her college plans, she said she has no clue on what to take up, and undecided on going to the states or UK for it.
Career
First steps
When she was in middle school in Canada, she auditioned for SM Entertainment and was accepted.
She was able to convince her parents to let her become a trainee only for a short while, and eventually had to leave without signing up with the company; this was when she was still young so she said it wasn't a big deal. She ended up signing with JYP Entertainment, which is one of the biggest South Korean entertainment companies. Its founder and co-CEO, Park Jin‑young, is commonly referred to as J.Y. Park or JYP, which are his stage names.
Her first day as a trainee at JYP Entertainment was at a dance lesson class, and she remembered being very nervous as she knew no one, then she later cried because she couldn't do anything; her co‑trainees helped her out, and she was grateful for that.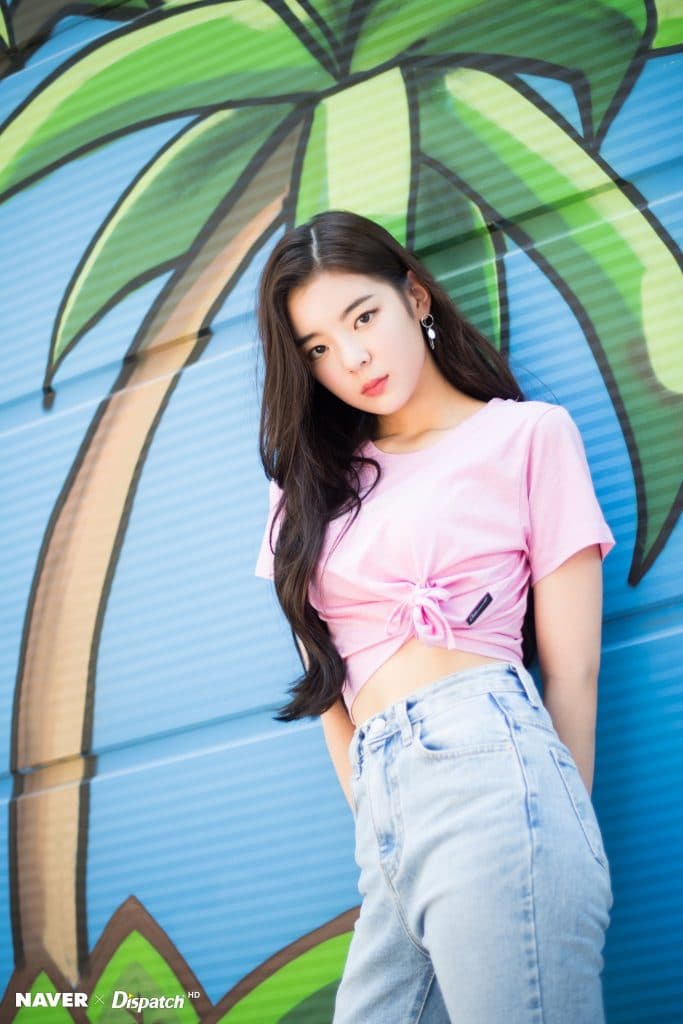 She wondered on the way home how she would be able to continue, but everything worked out in the end. Fast forward to two years later, when she debuted with four other girls as members of Itzy.
Lia is the main vocalist and sub-rapper; Yeji is the leader and main dancer; Ryujin is the main rapper, lead dancer, and center; Chaeryeong is the main dancer and sub-vocalist; and Yuna is the lead rapper, lead dancer, and the visual of the group. They introduced themselves with the phrase, "All in us! Hello, we are Itzy!" Their group name is a Korean word which literally means "to have," which is basically saying that they have everything that everyone wants in a girl group.
"Dalla Dalla" and "Icy"
Itzy released their debut single album, "It'z Different," on 12 February 2019, with the lead single "Dalla Dalla" (Dalla is the Korean word for Different) debuting on South Korea's Gaon Digital Chart at No.5, and peaking at No.2  With more than 100 million streams, they received their first Platinum certification given by the Korea Music Content Association (KCMA). It was also a commercial success outside Korea, as it peaked at No.2 on the US Billboard World Digital Song Sales chart, No. 3 in Singapore, No. 31 in Japan, and No. 20 in New Zealand.
Itzy is said to be the fastest K-Pop girl group to win first place on a music show after their debut, as it only took them nine days to do that.
They received their first triple crown from SBS' "Inkigayo," which means they won three times on that show, and were no longer eligible to win another one. They took home a total of nine wins from four major music shows. The song's official music video (MV) currently has over 200 million views, and even the group's dance practice video reached 44 million views. With the high number of album and digital sales as well as online voting, they received one of the 10 "Digital Bonsang" (main prize) given to artists from the 34th Golden Disc Awards.
After five months, they released their first extended play (EP), "It'z Icy," which peaked at No.19 on Billboard Heatseekers Album, No.11 on US Billboard World Albums chart, and No.3 on Gaon music chart.
It also entered the Oricon Albums Chart at No.12. The lead single, "Icy," composed by J.Y. Park and Penomeco, made it onto the Gaon Digital Chart at No.10 and on the Billboard Hot 100 at No.1. The official MV garnered more than 160 million views, while the group's dance practice video has over 30 million views. The group performed on various live television music shows for several weeks to promote their single, and successfully took home a dozen wins for "Icy."
Itzy is dubbed as a "Monster Rookie" because they have achieved so much during their first year in the music industry. They received several nominations from various award-giving bodies, and some of the major awards that they won include Rookie of the Year from the 4th Asian Artist Awards and 34th Golden Disc Awards, as well as Best New Female Artist from the 21st Mnet Asian Music Awards (MAMA), and 11th Melon Music Awards.
Further steps
Lia and the other members have starred in their own reality shows including "I See Itzy," "Itzy in Paris," "Itzy It'z Tourbook," and "Itzy? Itzy!", all aired in 2019, which allowed their fans to get to know them better.
They went to several major cities for their showcase tour, entitled "Itzy? Itzy!", starting in Jakarta followed by the rest of Asia in 2019, as well as in the US in 2020. They also performed in the morning show, "Good Day New York," aired on WNYW Fox 5 to promote their group.
After a successful tour, they released their second EP entitled "It'z Me" on 9 March 2020 with seven tracks, which debuted at No.5 on Billboard's World Albums Chart, and No.1 on Gaon Album Chart.
The lead single, "Wannabe" topped the weekly charts in Singapore and Malaysia; it also peaked at No.2 on KPop Hot 100 in South Korea, and No.23 on Japan Hot 100. They received eight wins from the weekly music shows for this single.
JYPE has announced that Itzy would be releasing the album, "Not Shy," on 17 August 2020, with a western movie concept.
Personal life
Lia is 20 years old and single. As expected of a member of a girl group who recently debuted in 2019, she would not be dating or seeing anybody during at this time. The dating ban is usually in effect for the first three years of an idol group member in JYPE so they can give their 100% to their group promotions.
She lives in a dorm provided by the agency, and shares a room with Yuna.
Hobbies, favorites, rumors, and interesting facts
Her stage name, Lia, was taken from "Julia," which is the English name that one of her aunts gave her.
Her nicknames include Cinnamon Lia, Honey Lia, and Ariana Grande.
Listening to music and shopping are her hobbies.
Motto: "Live happily and meaningfully."
She was voted upon by members of Itzy as the funniest among them.
Lia was criticized for being lazy in dancing, such as in the relay dance that happened at the 2019 KCON (Korean Wave Convention) Thailand, and a dance practice video. Fans noticed that she lacked energy or was out of sync with other members. Some of the reasons netizens (internet users or international fans online) came up with include Lia being a bad dancer, she has an attitude problem, or her drastic weight loss made her lose stamina. Those who have watched J.Y. Park in reality idol group survival shows know that out of the three, the last one is the most plausible. because he wouldn't include someone who is a poor dancer or who has a bad character in any group that he debuted.
She is often caught taking a nap.
She didn't like to eat vegetables especially cucumber when she was young, but has said that she eats salad now.
When Itzy is being interviewed for an international audience such as in "BuzzFeed Celeb," "Young Hollywood," and "MTV News" YouTube channels, Lia always takes the lead as she is the most fluent in English among the members.
Lia and the other members received voice lessons from J.Y. Park before and after debut. He monitors their progress by having their dance practices filmed so he can take screenshots that would show if all the members danced in sync. He then posted photos of their mistakes on the group chat to help them improve. His attention to detail is evident as he visited the girls in the practice room when he appeared as a guest in the South Korean variety show, "Master in the House," aired on SBS.
Not even a month had passed after her debut when a deleted old photo of her with her supposed boyfriend was posted on a Korean website. She was said to be in middle school when the photo was taken. Her fans defended her by saying it's not a big deal even if it's true, since it happened before her debut.
The official name of Itzy's fandom is "Midzy," which was taken from the Korean word "Mid-eo" (to believe or to trust), and the name Itzy.
Appearance
She is 5ft 4ins (1.64m) tall and weighs 103lbs (47kg). She has dark brown hair and dark brown eyes.
Net worth
According to sources, Lia of Itzy has an estimated net worth of over $60,000, as of August 2020.