Yunhway is a South Korean-American singer-songwriter, rapper, and record producer, who became popular when she joined the survival shows, "Show Me The Money 8," and "Good Girl."
Just a simple reminder that article is created and owned only by kpopwiki.org. Article cannot be re-published in any other pages or documents. Copyright is protected by DMCA. All found copies will be reported.
Original source: https://kpopwiki.org/who-is-yunhway-age-height-boyfriend-net-worth-wiki/
Early life and family
Yunhway was born Yang Yoon-hwa on 6 April 1995, in South Korea. Her family moved to Vanuatu in the southwestern Pacific Ocean when she was just seven or eight years old. Her father was a CEO for an advertising agency with big corporations as clients. However, despite having a good life in Korea, he decided to leave it all behind because it came to a point at which he got fed up with the capitalistic culture.
He wanted to go to a free and peaceful place, and believed it to be in Vanuatu.
It was his dream to live on an island because of the American musical movie, "South Pacific" (1958), that he watched when he was young, and was filmed in Vanuatu. He actually checked the place out when he went there for a vacation and found it perfect. He was adamant about going to live and settle there even if his wife would not go with him, so there they went.
They stayed there for about four years before they decided to move to Portland, Oregon in 2007 – Yunhway was eleven at that time and in seventh grade. They already have relatives living in Oregon such as aunts and her grandfather on her father's side, so that's why they chose that place. His father wanted to stay in Vanuatu for good, but Yunhway and her older brother were growing to the point when they needed to go to a university. He wanted better opportunities for his children, so the best option was to go to the US.
She was bullied in school for being Asian and for speaking English with an Australian accent, which she got for having Aussie teachers in Vanuatu. Interestingly, her parents still don't converse in English, but Korean, and her mom actually speaks better Spanish than English, because the people she works with speak Spanish.
Her parents now own a teriyaki restaurant. Yunhway is a green cardholder, and her English name is Yuna.
Education background
Yunhway graduated from Portland State University with a Bachelor's degree in Political Science, studied because she wanted to be in politics.
Career
First steps
She has been back in Korea for about a year and a half when her friend encouraged her to do a cover of songs and post them online, because she has a good voice.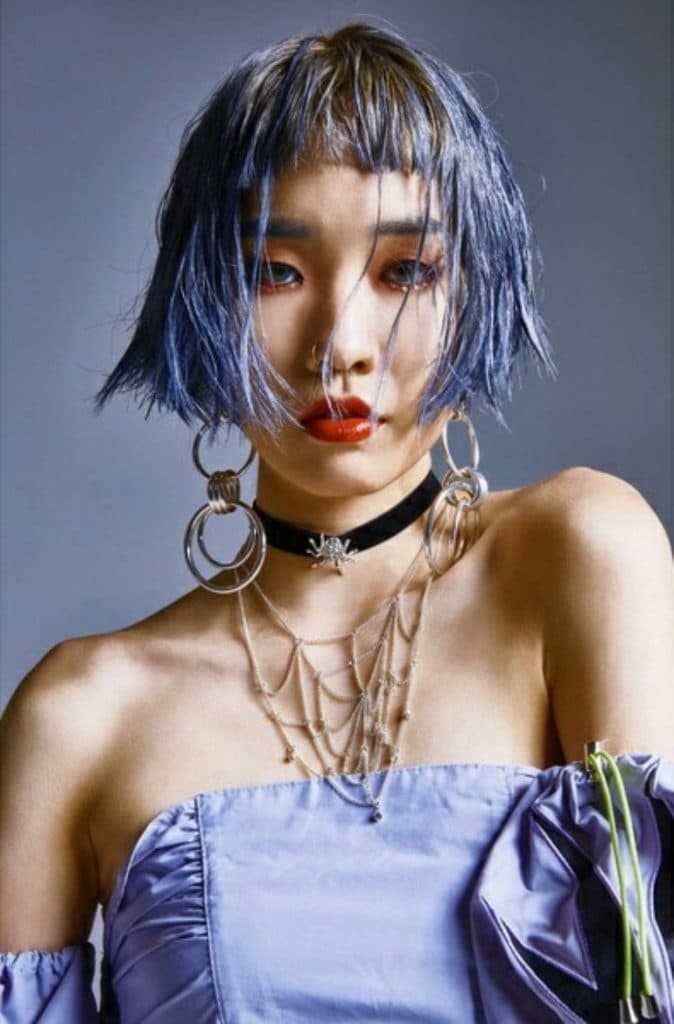 At that time, she didn't think, much less plan, of going into music, but gave it a try. She recorded her version of "When I Was Your Man" by Bruno Mars, and her friend produced it then uploaded it onto SoundCloud. It was her friend who took care of everything, because Yunhway didn't know how to record or use SoundCloud.
The following day, someone contacted her and wanted to release her cover on a music platform, and make a song with her, and as she didn't have any other concrete plans, she agreed.  She released the song "Fatal Love" on 25 November 2015 for her debut, although she didn't think of it that way – she wasn't managed by any agency at that time, so there was no promotion for her. However, people in the music industry took notice, and this made her start wondering about having a career in Korea.
In March 2016 she returned to the US to finish her studies. Although her interest was in politics, she felt that it would take her a long time to get to where she wanted to be. Music, on the other hand, is something she could do right away, considering she'd already recorded and released a song without having to undergo formal training.
At first her parents didn't think she was serious when she told them about wanting to do music, until she said that she would move back to Korea to make an album. Her father said she could do whatever she wanted, but they would not support her financially. Despite this, she still pushed through with her plans, and supported herself first by teaching English to children of her mom's friends, and then by working in retail, and restaurants serving as a waitress and doing dishes.
Forming a unit with the record producer, sAewoo, called sAewoo in Yunhway, they released a collaborative album in December 2016 entitled "2226," comprised of 13 tracks mostly of PBR&B or Alternative R&B genre, including "Drown Out," "New World," and "Bambada." She released the song "Liquor" in April 2018, but it was the singles, "A Long Long Time" and "Find A New Lover" released in July that year which were well-liked by some fans, including the latter's music video.
She received a lot of negative feedback for her music – although there are people who liked it, there are more who didn't or weren't interested because they said it was too raw and different from what they were used to.
It affected her so much that she decided to change her music into something more mainstream, but still retaining some of her colors.
"Yunhway vs Lil Cherry" is a collaborative mini-album that they released in August 2018. All four tracks were written and composed by these two, with three of them produced by sAewoo, namely "Lucky 777," "Rubber Duck," and "Super Galaxy XXX."
In October 2018, Yunhway officially signed with Wedaplugg Records, an independent label in which the artists composed and produced their own music. She was one of 51 artists who participated in "119 Remix," a remix of SMTM 777's "119," that Gray produced under the record label AOMG, with the proceeds donated to firefighters.
yunwhay ; #YUNHWAY pic.twitter.com/oBReXTQVzX

— khhrnb girls' daily acc ✨ (@khhrnbgirls) May 23, 2020
"Show Me The Money" (Season 8)
Yunhway joined the survival program "Show Me The Money" (SMTM), for its eighth season that aired on Mnet from July to September 2019. She didn't really plan on joining the rap competition, but most music-related shows at the time were the survival competition type, and she knew that it was the best and fastest way to become popular or be recognized, especially if you don't have a big company to back you up. She described her experience on the show as nerve-wracking and hard, but also fun. She met lots of people who she wouldn't otherwise have met if it wasn't for this show. Although she didn't win, she made history for being one of two females to ever reach the Top 12 since the show started airing. She also gained popularity through this show, especially fans of rap and hip-hop.
"Good Girl"
"Good Girl" is another competition survival show that she participated in, aired on Mnet from May to July 2020.
Female hip-hop and R&B singers competed as a team against other guest artists, although members of each team would vary for each mission. They have to make their own music for the competition, and perform it; Yunhway tried to do something new for each of the four stages that she did, writing the lyrics and composing the music for all the stages that she was part of. She performed "Colors" with "K-Pop Star" Season One winner, Park Jimin aka Jamie, and the rapper, Sleeq. "One More Night" was the song she performed solo, her favorite as she's the one who planned the whole production and even directed it, and only given 11 days to prepare everything for the actual show. For the next stage she sang "That's My Girl" with the rapper, Lee Young-ji, and for the final round, she performed "Grenade" with the popular singer Ailee – unfortunately, they lost to Lee Young-ji and Hyoyeon of Girls Generation.
The creative process of writing music that Yunhway goes through involves asking a producer to have a beat made, but she would be involved in deciding what beat to use. After that, she would create the melody, then write the lyrics. Arranging the song and mixing would then follow. She had a difficult time with the lyrics because she was formally taught English but not Korean. She finds her lyrics lacking in depth because what usually happens is that she would write in English then have it translated into Korean, or she would write in Korean but not what native Koreans would normally use. She said that the way she writes is "very English."
Yunhway dropped her mini-album entitled "Instant" in October 2019, and it has seven tracks including "What Do You Know About Me" and "Adolescent" produced by Giriboy, as well as "Polaroid" and "Bichu" produced by sAewoo. The lyrics of all the tracks were written by her, and she had a hand in the music composition.
She has featured in several singles released by rappers and hip-hop artists including Swings, Kid Milli, Giriboy, and Dbo.
As a model
Her experience as a model in Portland helped with her modeling stint with Topshot and the Adidas x Hypebeast Campaign.
Personal life
She is 25 years old, and has been in a relationship for five years. Her boyfriend's name is Saewoo, who is a producer. In an interview for the podcast, "Not So Classy with Esna," she was asked if she ever watched porn with her boyfriend while having sex. She said that after watching a documentary about sex and relationships on Netflix, they decided to try what was discussed in the show, and watched adult content material before having sex.
Hobbies, favorites, rumors, and interesting facts
The meaning of her Korean name, Yoon-hwa: "yoon" means to believe and "hwa" means to shine.
Things that she likes to do include playing video games and watching streams of players on Twitch, which is a great site for video game live streaming. She considers playing the online game, "Teamfight Tactics," as a stress-reliever.
Her hobbies include researching for things that she's interested in, so she enjoys watching documentaries on Netflix. She likes coffee, tea, and alcoholic drinks, so she does research on them. She said that this is a testament to her staying true to Portland culture, as the place is known for coffee, beer, and wine.
She knew that comments could be brutal during competition shows, so she doesn't read them. However, there was a time when she finds hate comments hilarious, and even dared her bashers to keep them coming.
A controversy arose between Yunhway and the rapper Lovolf during "SMTM 8", in which Lovolf lost to her in their rap battle. He had a beef with her after that and had lots to say in his Instagram posts about what happened when they were preparing for their stage, and later claimed to be a victim of Mnet's "evil edits." However, Yunhway called him out on his false claims and told her version of the story.
Her iconic line in "SMTM 8" is 'drippin in ma teriyaki sauce,' and this earned her the nickname "Miss Teriyaki."
Yunhway prefers clothes that look cool and flashy.
She doesn't consider herself a rapper, because she holds such a profession to a higher standard. She calls herself an artist, or someone who creates music.
Her charms include her sense of style, as well as knowing and sharing random facts.
She was asked a hypothetical question in an interview if she would change her major from politics to something music‑related, given that she chose to have a career in music. She said she would perhaps take music classes, but she would still major in politics as she is still very passionate about social issues, the economy, and humanitarian work.
If given the chance, she would want to do a collaboration with Jiwoo of Kard, as she didn't get the opportunity to work and share the stage with her in "Good Girl."
After participating in two survival shows, she said she would never join another show like those because it's too hard, and never wants to feel that way again.
She didn't watch any episode of "Good Girl" because during "Show Me The Money," she watched every single episode, and was literally shaking from too much anxiety. She just checks out some clips of performances of "Good Girl" but not an entire episode.
Her family have never visited her in South Korea, but she goes to Portland at least twice a year.
In her dictionary, her definition of being a good vocalist and rapper is Beyonce and Jay-Z, respectively.
She's a little shy, and would want to hide whenever she hears her song being played while walking down the street.
She said she has no secrets from her parents.
Appearance
She has a slim build and has black hair and black eyes. She's always trying a new look, so expect to see her sporting a different hair color or style for her stage performances.
Net worth
Yunhway has an estimated net worth of over $400,000 as of October 2020, according to sources.