Yeonjun is a South Korean rapper, singer-songwriter, and dancer of the Korean Pop (K-Pop) boyband called TXT (Tomorrow X Together) managed by Big Hit Entertainment, home to K-Pop global superstars, BTS. He enjoyed instant celebrity status when his group released its debut extended play, "The Dream Chapter: Star," which entered the Billboard 200 at No. 140, and was given Platinum certification by the Korea Music Content Association (KMCA).
Just a simple reminder that article is created and owned only by kpopwiki.org. Article cannot be re-published in any other pages or documents. Copyright is protected by DMCA. All found copies will be reported.
Original source: https://kpopwiki.org/the-untold-truth-of-txt-member-yeonjun/
Early Life and Family
Choi Yeonjun was born on 13 September 1999, in Bundang-gu, Seongnam City, Gyeonggi-do, South Korea. He was nine years old when his parents moved to San Jose, California USA, and lived there for two years. He used Daniel as his English name, and learned to speak the language fluently before returning to South Korea.
It was in high school when he found his passion for the art of dance – he was part of a dance team performing in several events at school, and his parents weren't surprised at all when he decided to seriously pursue his K-Pop dreams.
Educational Background
He went to Seoul Jeondeok Elementary School, and then to Hongik University Middle School and Gumi Middle School. He attended Bulgok High School, and matriculated from the Korea Art School. He is currently enrolled at the Global Cyber University.
Career
Yeonjun found himself going to several open auditions in Seoul, conducted by several entertainment agencies in South Korea. He became a Cube Entertainment trainee, but he only lasted for three months there. He couldn't find the right agency until he auditioned for Big Hit Entertainment, home to the most popular K-Pop boyband in the world, BTS, and performed one of BTS' biggest hits, "Boys in Luv."
The management was impressed with his talent, and immediately had him enter their five years training program.
His training was a difficult and lonely experience for him, but no one could tell as he would perform at the highest level during evaluations, and received top scores, which earned him the nickname of Big Hit's "legendary trainee." Among all the trainees, he was the most skilled in rapping and dancing, so the label chose him to be the main rapper and dancer in his group.
First Steps – EP debuted at No.1 and Broke Multiple Chart Records as a Rookie Group (2019)
Not every K-Pop trainee can claim instant popularity, but it happened to Yeonjun due to the clout of having BTS as a label mate. When he was first revealed as a member of the newest boyband called TXT (Tomorrow X Together) from Big Hit Entertainment, his name trended worldwide in the number one spot on the popular social media app Twitter, ten minutes after the announcement.
His introductory video posted on YouTube garnered a total of over a million views in 24 hours, and pre-orders for the group's extended play (EP) went up to over 100,000 units within three days in February 2020. It was one of the most highly-anticipated debuts in the K-Pop industry, as they were touted as the new BTS. Big Hit Entertainment founder, Bang Si Hyuk, was hands-on in the selection process of the five-member group.
Yeonjun along with the other trainees – namely Beomgyu, HueningKai, Taehyun, and Soobin – debuted on 4 March 2019 with the release of their first EP entitled "The Dream Chapter: Star." It consisted of five tracks including "Cat & Dog," "Nap of a Star," "Blue Orangeade," and the lead track "Crown"; both physical and digital versions of the EP were available. They performed three of the tracks during their debut appearance on Mnet's "M Countdown."
Happy new year 2021 MOA 🥺❤️ Thank you so much for staying here with us. We're really thankful and happy to bring you the best Yeonjun content along with other accounts. 🤞🏻❤️

-yeonjunHD pic.twitter.com/ioFbho5RZs

— yeonjun pics (@yeonjunHD) January 1, 2021
To boost its promotions, three music videos were released, and the lead track's official music video has a total of 126 million views to date.
The hype was worth it, as the debut EP went immediately to the No. 1 position upon release, on both the South Korean Album Chart and Billboard's World Album Chart. Most importantly, the EP entered the Billboard 200 chart, and peaked at No. 140. They broke multiple chart records in their first year in the business, and have the highest-ranking debut album in K-Pop history by far. TXT fully benefited from the popularity of having BTS as their label mate.
The EP's lead track entitled "The Crown" managed to top the Billboard World Digital Song Sales Chart, and won three trophies as the No. 1 Song of the Week from popular music shows in South Korea  – "The Show," "M Countdown" and "Show Champion."
By June of 2019, the song had over 20,000,000 digital points on the Gaon Digital Chart, and was the highest among all the new artists at that time. The EP was certified Platinum by the Korea Music Content Association (KMCA) after accumulating 250,000 units in November of 2020, and also had great sales results in Japan with 38,000, and the US with over 4,000.
While Yeonjun and some of the TXT boys have written songs, they were not yet allowed to participate in the creative process of their albums, to make sure that they would focus more on their performances. Bang Si Hyuk, more popularly known as "Hitman" Bang, personally helped in writing and producing some of the songs.
First U.S. Concert Tour, KCON NY 2019, and Japan Fashion Show Performances
Yeonjun was overwhelmed with all that was happening to his career, after waiting and training diligently for five years.
He was quite shocked that just a couple of months after the group's debut, TXT embarked on a concert tour of the US, entitled "Star in US." They performed in front of international fans in six major cities including Atlanta, Chicago, Orlando and Los Angeles for a couple of weeks in May of 2019. They also had the opportunity to treat their fans with performances when they were invited to perform at the iHeart WangoTango music festival in Los Angeles.
The TXT members fulfilled their dream of being included in the line-up of performers for the annual Korean Convention concert, most popularly known as KCON. That year, they were tapped to perform in July at the Madison Square Garden in New York City for the KCON NY festival, along with other popular K-Pop artists.
Yeonjun and the boys also performed in two Japanese fashion shows, for the Autumn/Winter 2019 collection for the fashion houses of Kansai and Tokyo Girls in Japan.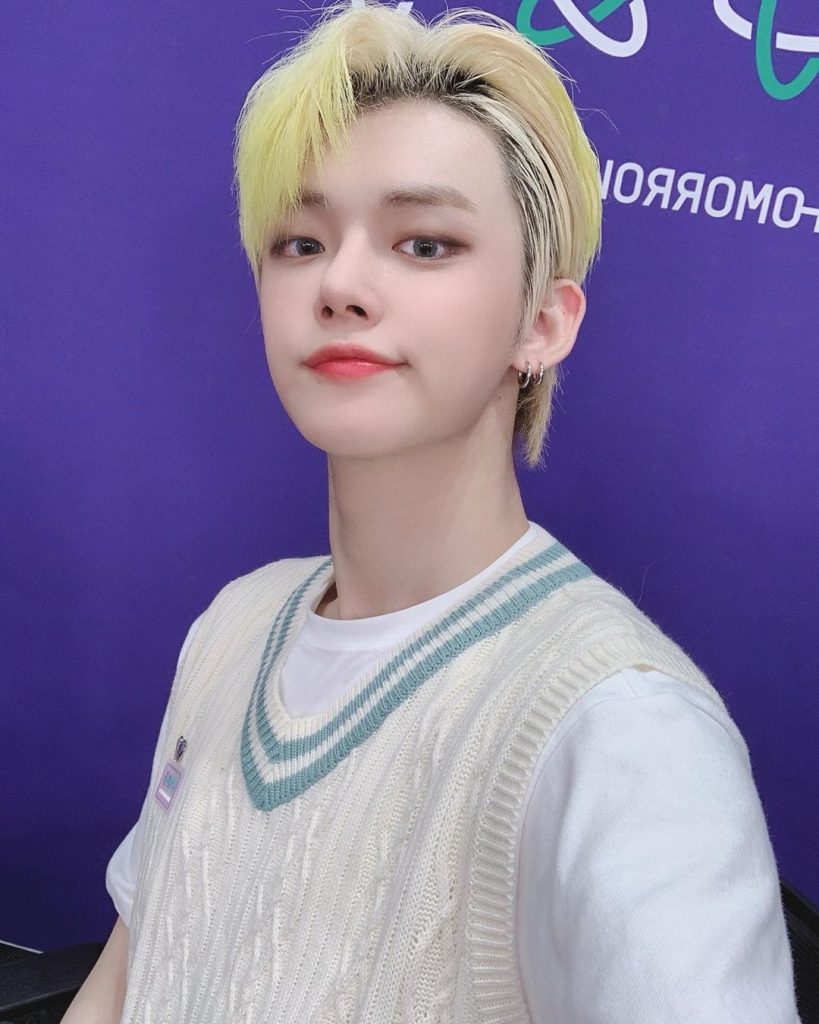 Certified-Platinum First Studio Album
His group's first studio album was supposed to be released in August 2019, but due to Yeonjun's back pain along with infectious conjunctivitis that a co-member contracted, their agency decided to let the group take a break for at least a month. However, the other members caught the infection as well, so the break was extended for two more months.
It was only on 21 October 2019 that they released their first studio album, "The Dream Chapter: Magic."  The album served as the second part of the Dream trilogy series, and consisted of eight tracks including "Roller Coaster," "New Rules," "Angel to Devil," and the lead track, "9 and Three Quarters (Run Away)." Bang Si Hyuk was hands-on again in writing and producing most of the songs.
It peaked at No. 1 on the Gaon Album Chart, 11th on Japan's Oricon Album Chart, and 3rd on Billboard's World Album Chart, and the album unexpectedly charted in France, Australia and Belgium.
This album earned Yeonjun and the boys their third platinum certification from KMCA, for having accumulated 250,000 units sold in September 2020.
The lead track was awarded Gold certification by the Recording Industry Association of Japan (RIAJ) for having sold more than 100,000 units. Back in Seoul, it also won a trophy for being the No. 1 song for the week from SBS MTV's "The Show" during its TV promotions.
New Artist of the Year at Year-End Awards and More Accolades for 2019
Due to the chart-topping album releases of the group, no one was surprised that they scored a rookie grand slam for being chosen as the New Artist of the Year for 2019 by major music award-giving bodies, including Mnet Asian Music, Melon Music, Golden Disc, and Gaon Chart Music Awards.
TXT's songs were not only commercially successful, but also critically acclaimed. Their debut single, "Crown," topped Refinery29 list of "Best K-Pop Songs of 2019," landed a spot on the British GQ's "Best K-Pop Songs of the Decade," and was included on PopCrush's "Best Songs of 2019."  The song "9 and Three Quarters (Run Away)" made it to No. 4 on Billboard's "25 Best K-Pop Songs of 2019", and No.2 on Dazed "20 Best K-Pop Songs of 2019."
Certified-Platinum EP and Japanese Gold-Certified Single Albums (2020)
Yeonjun and the boys' popularity continues to soar high in 2020. There is no stopping them and they truly deserved being called heir-apparent of their label mates, BTS. They focused on promoting in Japan by releasing the Japanese single album entitled "Magic Hour" on the 15th of January.
It consisted of three singles which are all Japanese versions of their Korean hit songs, including the "Crown," "9 and Three Quarters (Run Away)," and "Angel or Devil."  It topped the Oricon Daily Chart but it slipped to No.2 on the weekly chart, and the single album was certified Gold by the RIAJ for having at least 100,000 units sold. As a treat to their fans, they also released a Japanese version of the music video of "9 and Three Quarters (Run Away)," and flew to Tokyo and held their debut live showcase on the popular Japanese music show, "Music Station," aired on TV Asahi network.
Back in Seoul, Yeonjun prepared hard for the release of their second EP entitled "The Dream Chapter: Eternity." Being the oldest in the group, he was apprehensive as he felt the need to surpass their previous sales records. However, the fans didn't disappoint as the EP debuted at No. 2 on the Gaon Album Chart, and 4th on Billboard's World Album Chart when it was released on 18 May 2020.
After two months, the KMCA awarded them the Platinum Certification for having sold over 250,000 units, officially regarded as their first platinum-certified album, as the other previous albums were certified at a later date in 2020 after meeting the requirements set by KMCA.
With a successful debut on the Japanese market, they released another single album entitled "Drama," which consisted of the Japanese versions of two of their Korean songs, "Can't You See Me" and "Drama." Also included was an original Japanese song entitled "Everlasting Shine," which was used as one of the opening theme songs of a new anime series adapted from the popular manga "Black Clover." The single album has six versions, and was awarded a Gold Certification by RIAJ after having sold at least 100,000 units.
Best-Selling album to date (2020)
From the moment Big Hit Entertainment announced that TXT would soon release their third EP entitled "Minisode1: Blue Hour," around 400,000 pre-orders were received, breaking their own previous record of 300,000.
When it was released on 26 October 2020, it debuted at No. 3 on the Gaon Album Chart and No. 25 on the Billboard 200, and peaked at No. 1 on Billboard's World Album Chart and the Oricon Album Chart. It has over 415,000 units sold in South Korea, and more than 42,000 sold in Japan.
The EP has five songs including "Ghosting," "We Lost The Summer," and the lead track "Blue Hour." This time Bang Si Hyuk gave the green light and let the boys participate in the creative process of writing the lyrics of the songs. Yeonjun was credited as one of the lyricists for two songs – "Way Home" and "Wishlist."
Personal Life
Yeonjun is currently single, and not allowed to date due to the no-dating clause in his management contract. The dating ban will be in effect for three to five years after his debut. He lives in a dormitory provided by his label and previously shared a room with the group's leader, Soobin, but he now has his own room.
— yeonjun pics (@yeonjunHD) December 30, 2020
Hobbies, favorites, rumors, and interesting facts
His favorites: Doraemon (anime character), apples and bananas (fruits), mint (chocolate flavor), "The Intern" (movie), purple and blue (colors), Panda and Welsh Corgi dogs (animals).
Yeonjun is close with other K-Pop artists including Changbin of Stray Kids and Yeosang and Woosang from ATEEZ.
He likes mixing soju with beer when drinking with friends, but his alcohol limit is two and a half bottles only.
Yeonjun admires Jimin of BTS and considers him as one of his role models.
He was the one who created the TXT hand sign.
 Appearance
Yeonjun is 5ft 11ins (1.81m) tall and weighs 135lbs (62kg), with a lean body. His shoe size is 10 US (280mm). He has black hair, and has dark brown eyes that are monolid.
Net Worth
According to authoritative sources, Yeonjun has an estimated net worth of over $100,000 as of November 2020.