Kim Hyoyeon is a South Korean idol singer, rapper, dancer, and DJ, who rose to prominence as part of the nine-member girl group called SNSD, also known as Girls' Generation. Korean media dubbed them as The Nation's Girl Group, and in 2017 Billboard ranked them as No.1 on their critic's picks of the 10 Best K-Pop Girl Groups of the Past Decade, with their iconic hits including "Gee," "Run Devil Run," "Hoot," and "The Boys." They were the only Korean female act to win Album of the Year with "Oh" at the Golden Disc Awards. Their debut Japanese album was certified Million by the Recording Industry Association of Japan (RIAJ). Kim has hosted her reality show called "Hyoyeon's One Million Likes", and in 2015 published a book about fashion and beauty entitled "Hyo Style", then in 2016 released her first solo single, "Mystery," for an SM Station project, and began her career as a DJ in 2018.
Just a simple reminder that article is created and owned only by kpopwiki.org. Article cannot be re-published in any other pages or documents. Copyright is protected by DMCA. All found copies will be reported.
Original source: https://kpopwiki.org/all-about-kim-hyoyeon-from-snsd-girls-generation-profile/
Early life and family
Kim Hyoyeon was born on 22 September 1989, in Incheon, South Korea. She has a younger brother named Kim Min-Gu.
Educational background
She attended Guwol Seo Elementary School and Sangincheon Girls Middle School, but dropped out then went to Chungbuk Middle School.
Career
First steps
Hyoyeon enrolled into a local dance class to learn jazz and Latin dance, then received training in hip-hop dance styles including locking and popping when she attended the Winners Dance School in 1999. She later formed a duo called "Little Winners" with Min (Miss A) whom she met at the school, and they performed in several showcases.
Her mother was hoping to see her favorite K-Pop group, H.O.T, when she brought 11-year-old Hyoyeon to SM Entertainment for the open audition.
With her dancing skills, the company signed her up in May 2000, and she joined their training system. She and fellow trainee, Siwon (Super Junior), were sent to Beijing in 2004 to learn Chinese. Hyoyeon received dance lessons from well-known choreographers both in Korea and overseas to hone her skills.
Hyoyeon danced in silhouette during K-Pop superstar BoA's special stage at the 2005 M.net KM Music Festival, apparently having worked with the American singer, Janet Jackson.
After training for about seven years, Hyoyeon debuted as the main dancer, main rapper, and sub-vocalist of the girl group SNSD. or So Nyeo Si Dae, which means "Generation of Girls" in August 2007, with the release of their debut single, "Into the New World." They performed the title track first on Mnet's "School of Rock" in July, and then in "The Music Trend" (now "Inkigayo") on the 5th of August as their official debut.
It sold 10,800 copies that month, as it peaked at No.5 on the Music Industry Association of Korea (MIAK). It gave them their first music show win on 11 October 2007 through "M Countdown."
"Girls Generation" was their debut studio album released on 1 November 2007, and it became the highest-selling album that month with almost 50,000 copies sold. As it exceeded album sales of 100,000 copies in March 2008, Hyoyeon's group became the first girl group to have done so in six years after S.E.S.
However, it was in January 2009 when they had their breakthrough success with the release of their first extended play (EP) "Gee," which sold over 100,000 copies. The title track dominated various music charts for several weeks, and won for nine consecutive weeks in KBS' "Music Bank" until Psy's "Gangnam Style" beat their record in 2012.
It won the Song of the Year award from the Seoul Music Awards and Golden Disc Awards, and became the group's signature song and a K-Pop classic. Minho of Shinee appeared in the music video, (MV) which garnered close to 270 million views.
"Genie" (June 2009) sold around 200,000 copies – the title track had a military concept for their performance, as they wore tight uniforms. Its choreography became popular with the "leg-beauty dance" or "jegi-kicking dance," which was similar to the game of kicking a "jegi" up in the air to keep it from falling to the ground.
Further success
Girls' Generation established themselves as the ultimate girl group in the K-Pop scene. "Oh!" (January 2010) topped the Gaon Album Chart as it sold 198,000 copies that year. The title track, which had a cheerleader concept, was No.1 on the Gaon Digital Chart with over 3.3 million downloads and its MV had over 130 million views.
The album was re-packaged as "Run Devil Run", and was also a chart-topper with over 180,000 copies sold. Its title track had close to 2.2 million downloads, and the MV garnered 110 million views. Kim Yuna, the Olympic gold medalist figure skater, performed the song on the ice during the "2010 Festa on Ice", with around 10,000 people in attendance.
"Hoot" (October 2010) claimed the top spot on Gaon with over 190,000 copies sold in South Korea, and the title track reached No.1 on the Gaon Digital Chart, with 2.1 million downloads.
"The Boys" (October 2011) charted at No.1 on Gaon with 460,000 copies sold in South Korea, and No.2 on Billboard's World Albums Chart with 1,000 downloads in the US. The title track topped both the Gaon Digital Chart and Billboard K-Pop Hot 100; it had 3.6 million downloads in Korea, which made it their best-selling single so far.
HYO 4th Single ['DESSERT (Feat. Loopy, 소연 ((여자)아이들))']

🎧2020.07.22. 6PM (KST)
👉🏻https://t.co/vhnrBD5KDP#DESSERT #디저트 #루피 #소연 #HYO pic.twitter.com/oPJPobQo29

— Hyoyeon (@Hyoyeon_djhyo) July 19, 2020
Interscope Records and the Universal Music Group released an English version in the US in December, and it sold 21,000 copies as it reached No.5 on Billboard's Dance Singles Sales, and No.15 on Billboard's Hot Singles Sales. Hyoyeon and the girls performed it on "The Late Show with David Letterman" for their US television debut in February 2012. The Korean album was re-issued as "Mr. Taxi" in December 2011, and the title track charted at No.9 on Gaon with 1.5 million download sales.
"I Got a Boy" (January 2013) sold over 308,000 copies as it topped the Gaon Album Chart. It also sold 3,000 copies in the US, and made it onto three Billboard charts – World Albums at No.1, Heatseekers Albums at No.2, and Independent Albums at No.23. It consisted of 10 tracks including Gaon chart-topping singles such as "Dancing Queen" and the title track with over a million and 1.3 million downloads, respectively.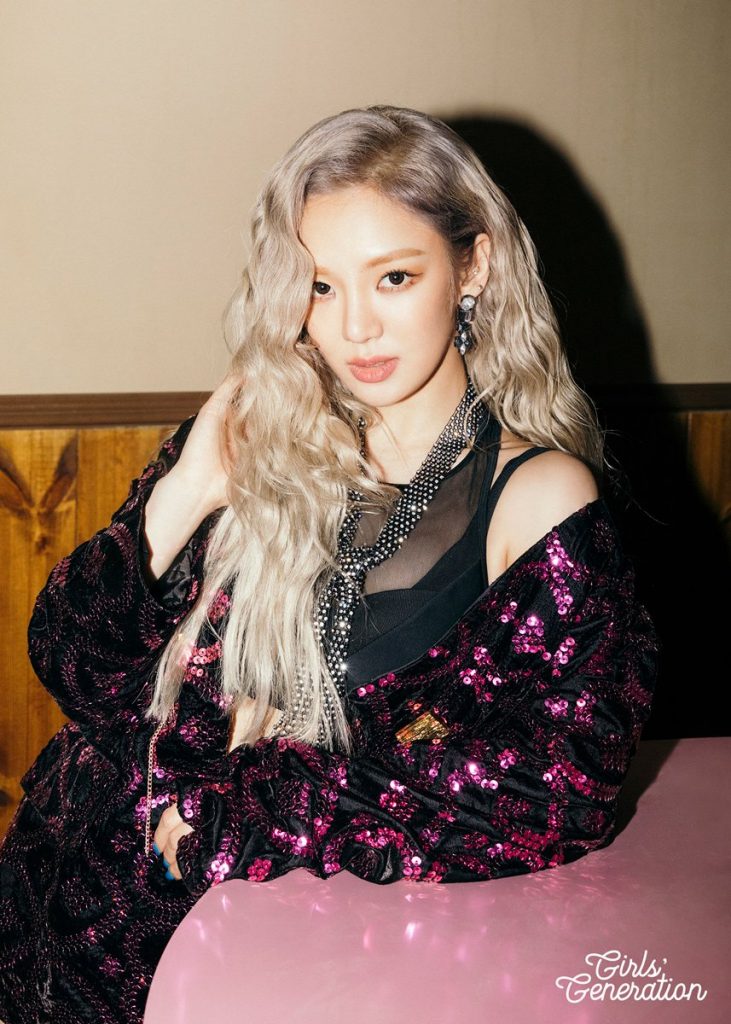 At the 1st YouTube Music Awards (YTMA) held in New York City in November 2013, "I Got a Boy" MV, which had over 240 million views, won Video of the Year, beating One Direction's "Best Song Ever" among others.
"Mr.Mr." was Hyoreon and the girls' first entry on Billboard 200 at No.110, with over 3,000 copies sold in the US. It also charted at No.23 on Billboard's Independent Albums, and No.3 on World Albums. It was 2014's best-selling album by a girl group in Korea with 163,000 copies sold, and No.5 on the year-end album chart on Gaon. The title track, which had over 900,000 downloads, was No.4 on Billboard's World Digital Song Sales chart, and No.18 on Billboard's list of The 20 Best K-Pop Songs of 2014.
"Lion Heart" (August 2015) was their first release as an eight-member group, since Jessica was asked to leave Girls' Generation in September 2014 due to conflict of schedules between her solo and the group's activities.
It charted at No.1 on both the Gaon Album Chart and Billboard's World Albums Chart, as 155,000 copies were sold in Korea and 1,000 in the US. The 12-track album included the pre-release single "Party" with 840,000 downloads, and the title track, which had a retro-style sound, had 910,000 downloads, and won 14 times as the No.1 Song of the Week on six music shows.
To celebrate the Girls' Generation's 10th anniversary, which was a rare feat in the K-Pop scene, they released "Holiday Night" (August 2017). It charted at No.2 on Gaon with 160,000 copies sold in Korea by September, and No.1 on Billboard's World Albums Chart with 2,000 copies sold in the US. The 10-track album had double singles such as "Holiday" with 385,000 downloads in Korea, and "All Night" with 150,000.
Japan promotions
In 2010 Girls' Generation, better known as Shoujo Jidai in Japan, signed with Nayutawave Records (now known as EMI Records Japan) to penetrate the Japanese market, and they were very successful.
The combined sales of their self-titled Japanese debut album (June 2011), which topped Japan's Oricon Chart, and the re-packaged album "The Boys" (December 2011), exceeded one million copies, and was certified Million by the Recording Industry Association of Japan (RIAK).
They also released "Girls & Peace" (2012), which was certified platinum by RIAJ with over 200,000 copies sold, and "Love & Peace" (2013) which received gold certification from RIAJ as more than 170,000 copies were sold. The compilation album, "The Best" (2014), sold 180,000 copies and was also certified gold. The singles they released through the years were mostly certified gold or platinum for their outstanding sales on various platforms. Their concert tours in Japan were also well-attended, as their fans filled big venues to see them perform.
Contract renewal
Hyoyeon renewed her contract with SM Entertainment in October 2017, along with four other members, namely Taeyeon, Yoona, Yuri, and Sunny. Although three members (Tiffany, Sooyoung, and Seohyun) left the agency to pursue their solo careers, it was said that Girls' Generation didn't disband, and that they were only on hiatus from 2017. Those who remained with the company formed the unit Oh!GG, and made their debut in September 2018 with the release of the single, "Lil' Touch."
Kim again renewed her contract in September 2020.
Solo activities
She made cameo appearances in romantic comedy series such as "Unstoppable Marriage" (2008) as part of the Seven Princesses Gang of Bulgwang-dong, and "Oh My Lady" (2010) as herself.
Hyoyeon joined seven other K-Pop female idols in KBS' "Invincible Youth 2" (2011-2012) as they experienced life in the fishing village on Daebu Island in Ansan, Gyeongi Province. She participated in MBC TV's "Dancing with the Stars: Season 2" (2012), in which she won second place along with her partner, Kim Hyungsuk, and was nominated at the MBC Entertainment Awards in the Female Newcomer Show Variety category.
She hosted On Style's reality TV show, "Hyoyeon's One Million Likes" (2015) and "Hyoyeon's Ten Million Likes (2016-present), with the mission of getting a million likes, then later 10 million likes on an Instagram account created specifically for the show. Mnet's "Hit the Stage" (2016) was a dance survival competition in which K-Pop idols teamed up with professional dance teams – Hyoyeon performed with the Khan&Korean Lockers in the finale, and placed second.
In 2015, Hyoyeon published a 142-page book, "HyoStyle", which was about her lifestyle, fashion, and beauty.
She released her first solo song, "Mystery," in December 2016 for an SM Station project. Other singles she's released include "Wannabe" (2017) featuring San E, and "Dessert" (2020) featuring Soyeon and Loopy.
She competed against other idols including Mir (MBLAQ) and Hyejeong (AOA) in DJ-ing in SBS MTV's "Mash Up" (2015). Hyoyeon has actively promoted as DJ Hyo since 2018 at EDM festivals and in club tours. DJ Hyo released "Sober," "Punk Right Now" featuring the American DJ 3LAU, and "Badster," which she co-wrote and co-produced.
Personal life
Hyoyeon is 31 and known to be single. She once dated Kim Junhyung, a global brand marketing CEO, who was 10 years older than her. They met at a New Year's Eve gathering in 2012, and hit it off as they were both Christians and shared common interests.
The two broke up after a year and a half of dating, but remained friends although some fans wondered if the reason for the break-up was the April Fool's Day incident in 2014. That day, her boyfriend called for police assistance causing a misunderstanding as there were reports of assault, as she accidentally hit him or she tried to commit suicide as her co-members were bullying her. What really happened, according to Junhyung, was that they were goofing around and he was afraid Hyoyeon would lose her footing and fall as the house was on top of a hill, so he called the police.
Junghyun added that Hyoyeon was a great person with loving parents and a younger sibling, and that she's close to her fellow members. He said he agreed to an interview to clarify matters.
SM Entertainment issued a statement that 'it was simply a misunderstanding that happened while playing around.'
#DESSERT #디저트 pic.twitter.com/FAtGP2ocf1

— Hyoyeon (@Hyoyeon_djhyo) July 23, 2020
Hobbies, favorites, rumors, and interesting facts
Nicknames: Dancing Queen and Princess Fiona
Hyoyeon was dragged into the Burning Sun club controversy, as the whistleblower, Kim Sangkyo, alleged that the idol was a DJ at the club the night he was assaulted, and she knew who did that to him. He also said she knew the top actress who had taken drugs. SM Entertainment said Hyoyeon had 'no relation to the allegations.' She said she shared a few drinks and ate pork belly with friends and staff, who were there to congratulate her for her performance, then she went home.
In February 2020, she appeared on JTBC's "Yurang Market" in which the cast of the show went to her place as they checked the used items she wanted to sell online. When she put up her penthouse in Seongdo for sale in March for over $3 million, she was criticized by some netizens (online users) that she appeared on the show 'to advertise the property for the purpose of future sale.' However, many people also defended her, saying that she could do whatever she wanted with her property, and nothing's wrong with that.
Appearance
She is 5ft 2ins (1.6m) tall, and weighs 98lbs (44kg). She has black hair and brown eyes.
Net worth
Hyoyeon has an estimated net worth of $5 million as of March 2021, according to sources.