Gray – Biography
Lee 'Gray' Sung Hwa was born in South Korea, on 8 December 1986 – his zodiac sign is Sagittarius and he holds South Korean nationality. He is a rapper, singer and a record producer, who gained recognition in 2012 after he debuted with his single "Blink".
Just a simple reminder that article is created and owned only by kpopwiki.org. Article cannot be re-published in any other pages or documents. Copyright is protected by DMCA. All found copies will be reported.
Original source: https://kpopwiki.org/gray-k-pop-rapper-under-aomg-age-height-hair-biography/
Early life and education
Gray was raised an only child in South Korea by his father who is a businessman, and his mother who is a music teacher. Thanks to his mother, Gray became interested in music at a very early age and with her support learned how to play both the piano and the guitar. While attending elementary school, he started listening to South Korean rappers, eventually becoming a rapper himself.
He attended a high school for the performing arts, at which he practiced singing and dancing as well as acting, but rapping has always been his primary focus. Upon matriculation in 2004, he enrolled at Hongik University from which he graduated with a Bachelor of Arts degree in 2008.
Career as a rapper and TV personality
After graduation, Gray worked several jobs for four years, and eventually became the head producer at AOMG producing company while he has also founded his own studio GrayGround.
Gray released his one and only extended play (EP) "Call Me Gray" under AOMG on 25 October 2013, but it failed to make its way onto any chart.
He released two singles in the same year entitled "Blink (Remix)", and "Dangerous" which peaked at #67 on the Gaon Digital Chart. In 2015, his song "Just Do It" was released in collaboration with Loco, and it peaked at #12 on the chart. His next two songs released in 2016 entitled "Good" and "Comfortable", both topped the Gaon Digital Chart, and in the same year, Gray collaborated with Hoody for the song "Summer Night (Remix)" which reached #17 on the chart. "I'm Fine" peaked at #15 in 2017 and he released three singles in 2018: "El Tornado", "Upside Down" which reached #89 on the Gaon Digital Chart, and "Late Night" which peaked at #76. Gray's latest single "TMI" came out in the second half of 2019.
Gray has featured in numerous songs of other popular artists with the first having been Mainstream's "Drinks Up" in 2011. He went on to collaborate with Swings on a number of songs, including "Let's Get It On", "A Real Lady" and "Victorious 2" among others. In 2014, he was featured in three of Jay Park's songs – "Evolution", "Metronome" and "Success Crazed", which were later included in his album "Evolution"; Gray also worked with him on his songs "My Last" and "Don't Try Me" for his 2015 album "Worldwide".
He collaborated with various artists in 2016, such as Elo on "DAY N NIGHT", Swings on "On My Way" and G2 on "1999" among many others.
Most recently, Gray has been featured in DPR Live's "Action!", Lee Jin-ah's "RUN" and Ally's "How To Love".
Gray has appeared in a variety of shows, making his debut appearance in "Show Me the Money 5" in 2016, serving as a judge. The following years saw him compete in "Hyena on the Keyboard" (2017), "A Battle of One Voice: 300" and "The Call (South Korean TV Series)" both in 2018. Some of his latest appearances have been in "Hyena on the Keyboard" late in 2018, "Eat in Style" and "Guest My Next Move" both in 2019.
Career as a producer
Gray has produced over 100 songs of famous and less famous artists, debuting in 2012 when he produced KittiB's "I'm Her".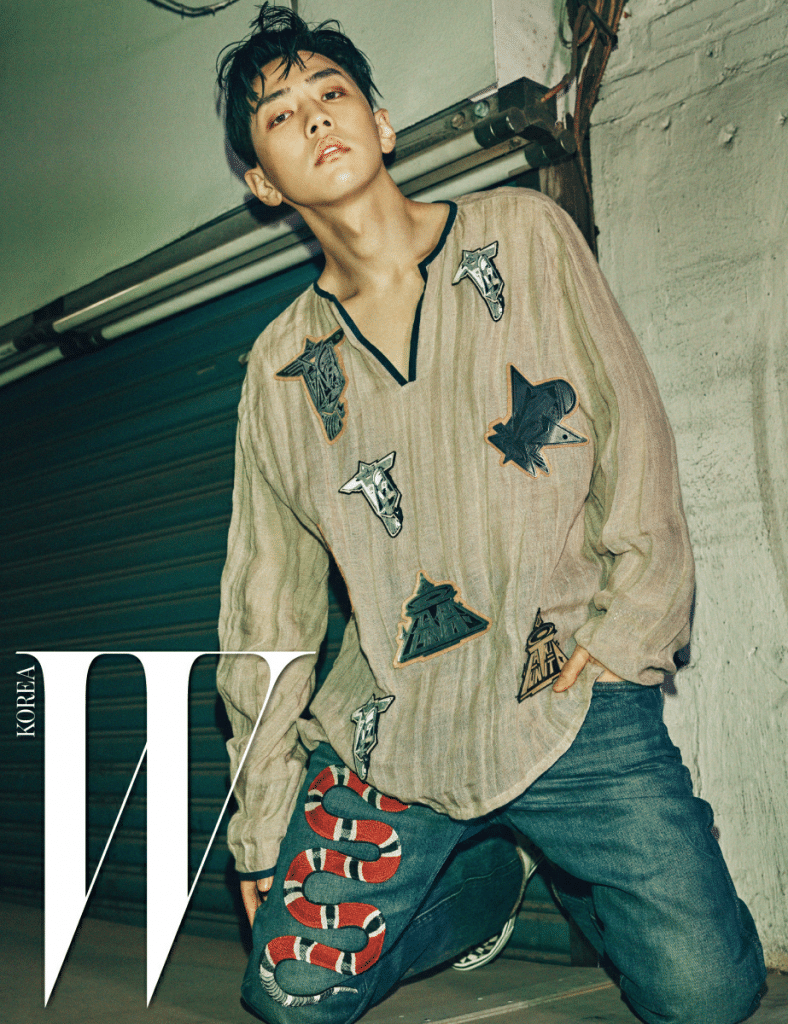 He worked on three of Stello's singles in 2012 as well, entitled "Hogdae Blues", "Plastic Girl" and "The Way Home".
In 2013, Gray produced Swings' "Are You Listening" and "Invincible", and he also worked on Zion. T's "Two Melodies" and "Click Me". He collaborated with Dok2 on his songs "Good Vibes Only" and "No More (G-Mix)", and some of the other songs which he produced in 2013 included Double K's "Wish U Well", Yoon Dae-jang's "If I Were You" and Loco's "See The Light".
The year 2014 saw him work with performers such as Swings, Jay Park and Crush, while some of the most popular songs of 2014 on which he worked include Wutan's "Lucid Dream", Loco's "Hand's Up" and Jung In's "As You Are Living Your Life".
In 2015, Gray produced five of Jay Park's songs, all found on his album "Worldwide", and he also worked with Loco, Dynamic Duo and Swings. In 2016, he helped Elo with his songs "ROSE", "The End" and "Parachute [Cool Summer Remix]" which were then featured on his album "8 Femmes". The year 2017 saw Gray involved with only a small number of songs compared to other years, with Loco, BewhY and Wanna One.
Some of Gray's most recent productions have been on Bang Jae-min's "Me In" in 2018, BIGONE's "Too Much" in 2019 and OnlyOneOf's "Angel" in 2020.
Love life and girlfriend
Gray doesn't openly talk about his love life, but it's known that he has been dating Tiffany for five years now.
Tiffany is a member of the girl group Girls' Generation, and back in 2015 she contacted Cha Cha Melone who worked at AOMG and asked him for a song. She was then advised to talk to Gray, and the two got close to one another very quickly – they began dating in less than a month, but kept the relationship a secret because of how it might affect their careers. Tiffany is signed under SM Entertainment, which is one of the agencies that do not allow their rookie artists to date – after rumors began circulating the internet about her and Gray's relationship in 2016, SM Entertainment stated how the two were only close friends.
As of August 2020, Gray is dating Tiffany from Girls' Generation, but has never married and doesn't have children.
Hobbies and other interests
Gray likes to travel, and has been all around the world for both work and pleasure, while his dream travel destination is Miami in Florida.
He is a lover of animals and has a pet dog, while his favorite animals are lions.
He is keen on playing video games in his spare time, with his favorite being "Fortnite" while he played "League of Legends" when he was younger.
Gray is a bit of a shopaholic, especially for clothes and shoes at least twice a week.
He is physically very active, as he has three to four training sessions at the gym each week, and also plays a variety of sports such as soccer, basketball and tennis.
He prefers to listen to American rappers rather than Asian, and his two favorites are Kanye West and Eminem.
Gray is keen on watching Hollywood films late at night, and his favorite actors are Robert De Niro, Al Pacino and Morgan Freeman, while his favorite movies include the trilogy "The Godfather", "The Scarface" and "Shawshank Redemption".
Age, height and hair
Gray's age is 33. He has brown hair and brown eyes, his height is 5ft 6ins (1.68m) and he weighs around 128lbs (58kgs). Gray is a fan of tattoos and has one inked just above his left elbow.
As of August 2020, his net worth has been estimated at over $3 million.