Who is Kim Wooseok (UP10TION, X1)?
Kim 'Wooshin' Wooseok was born in Daejeon, South Korea, on 27 October 1996 – his zodiac sign is Scorpio and he holds South Korean nationality. He is a singer, perhaps best known for being a member of the boy group UP10TION, while he was also part of the group X1.
Just a simple reminder that article is created and owned only by kpopwiki.org. Article cannot be re-published in any other pages or documents. Copyright is protected by DMCA. All found copies will be reported.
Original source: https://kpopwiki.org/kim-wooseok-up10tion-x1-age-height-dating-net-worth/
Early life and education
Wooseok was raised an only child in Daejeon by his father who is a lawyer, and his mother who is working as a secretary at a local insurance company.
Wooseok became interested in singing at the age of seven, and two years later began attending a music school at which he worked on his vocal skills, and also learned to play the guitar and the piano.
He was physically active at high school, as he played a variety of sports including soccer and tennis – he matriculated in 2014 and then took a two-year break from studying before enrolling at Dong-ah Institute of Media and Arts on 28 February 2016. He soon switched to Global Cyber University, from which he graduated with a Bachelor of Arts degree in entertainment and media in February 2020.
Singing career and the group UP10TION
The members of the group UP10TION were introduced in July 2015 by competing in the music show "King of Masked Rookie UP10TION" – the first member announced was Wooseok, followed by Jinhoo and Hwanhee.  The next members announced were Bi-to, Kogyeol and Kuhn, and they were followed by Sunyoul, Wei and Gyujin – the tenth and final member to be announced was Xiao.
The boys performed for the first time at Seoul's AX Concert Hall on 9 September 2015, and two days later released their debut song "So, Dangerous" as the lead track of their first mini-album, "Top Secret" – the album reached #7 on the Gaon Albums Chart, and to promote it, UP10TION sang in the music show "M! Countdown", while they also performed at a showcase in Beijing, China on 22 September. The music video for "So, Dangerous" peaked at #9 on the Billboard Most Viewed K-pop Videos in America Chart. UP10TION's new mini-album "Bravo!" came out on 26 November with its lead single "Catch Me!" and reached #5 on the Gaon Albums Chart.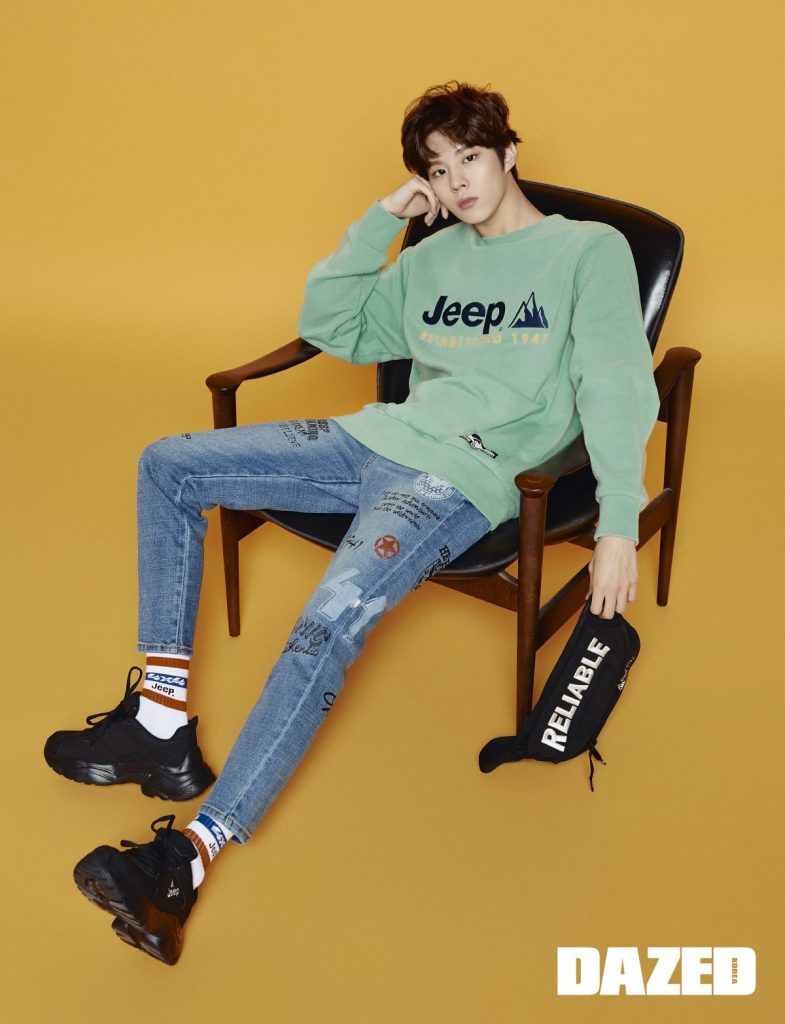 Their third mini-album was released on 18 April 2016 entitled "Spotlight", the song "Attention" serving as its lead single. On 4 June, the boys sang for the first time in Tokyo, Japan, and on the following day they sang at the Osaka River Forum. Their fourth mini-album came out on 5 August entitled "Summer Go!" with the song "Tonight" as the lead single, and UP10TION's fifth mini-album "Burst" and its lead song "White Night" were released on 21 November.
On 27 February 2017, the boys released their debut Japanese song "ID", after which Wooseok took a break from performing with the group, due to anxiety and stress issues caused by the rumors of him touching Jeon So-mi, co-host of the program "The Show", inappropriately during the show – the rumors were quickly denied by both Jeon and Wooseok's agencies, but this didn't stop them from circulating around the internet.
UP10TION continued as a nine-boy group, and on 29 June released their new mini-album "Stardom", made up of six songs including its lead track "Runner". The group's seventh mini-album "2017 Special Photo Edition" came out on 12 October, of only two songs including the lead track "Going Crazy".
After several months without any new content, the boys released their next single "Candyland" on 15 March 2018, followed by their debut full-length album "Invitation" – Wooseok participated in the album's promotion, as he had returned from his hiatus. To mark the end of the year 2018, the boys released their new mini-album "Laberinto" on 6 December, made up of seven songs, including the lead track "Blue Rose".
In February 2019, Wooseok, Wei, and Lee Jinhyuk were announced as contestants in the show "Produce X 101", and on 19 July, Wooseok was chosen to join the new boy group X1, after ranking second in the show with around 1.3 million votes. He signed a five-year contract with X1, but due to a voting manipulation scandal, the group soon disbanded.
Most recently, on 25 May 2020 Wooseok launched his solo career with the release of his debut mini-album "1st Desire: Greed", and its lead single "Red Moon".
Love life and dating
Wooseok hasn't talked about the girls he might have dated since the launch of his career, and it's known that his agency doesn't allow him or his friends in UP10TION to have girlfriends – breaking this rule would most likely mean one's departure from the group. However, he has talked about his ideal type of a girl, saying that she would have to have long hair and be no taller than him – the girl should also call him 'oppa' which means 'older brother', but also has a wider meaning.
Wooseok has many girl fans, and has been asked out by many on the internet, however, it appears that he has been single since the launch of his career, and it's widely believed that he is yet to be in a long-term relationship.
As of August 2020, Wooseok is single, hasn't married and doesn't have children.
Hobbies and other interests
Wooseok is planning to learn more languages – he currently speaks Korean, basic Chinese and a bit of English.
He prefers to listen to Asian singers rather than American (or any other), and his favorite group is BTS.
Wooseok spends most of his spare time playing video games on PS4 or drawing comics in his sketchbook.
He is keen on travelling and has been to several European countries as well as several US states for both work and pleasure.
He is a lover of animals and has volunteered at an animal shelter in Seoul on multiple occasions, and although he would like to have a pet dog, his roommates disagree.
Wooseok is keen on watching Hollywood movies, and his favorite actor and actress are Jim Carrey and Kate Winslet, while some of his favorite movies are "The Eternal Sunshine of the Spotless Mind", "Ace Ventura: Pet Detective – When Nature Calls" and "The Number 23".
Age and height
Wooseok's age is 23. He has short brown hair and brown eyes, is 5ft 8ins (1.73m) tall and weighs around 127lbs (58kgs).
As of August 2020, his net worth has been estimated at over $200,000.