Just a simple reminder that article is created and owned only by kpopwiki.org. Article cannot be re-published in any other pages or documents. Copyright is protected by DMCA. All found copies will be reported.
Original source: https://kpopwiki.org/i-m-changkyun-monsta-x-age-height-tattoo-hair-girlfriend/
Who is I.M Changkyun (MONSTA X)?
M Chang-kyun was born in Gwangju, South Korea on 26 January 1996 – his zodiac sign is Aquarius and he holds South Korean nationality. He is a singer and a rapper, perhaps best known for being a member of the boy band MONSTA X.
Childhood and education
Changkyun was raised alongside his older brother in Gwangju by their father who is a scientist, and their mother who is a housewife. Their father had to travel all around the world because of his job, and so the family often moved, which is how and why Changkyun spent three years living in Boston, Massachusetts USA, and four years in Israel where he once got lost.
📝🐺[ 16.08.20 #ARTIGO ]
ㅡ Artigo sobre I.M, deixe reação e recomende 💜
🖇https://t.co/vgRnpaUrj8#아이엠 #IM #창균 #CHANGKYUN #몬스타엑스 #MONSTA_X@OfficialMonstaX pic.twitter.com/YJUrT9vTCu

— ◶ Im Changkyun Br (@ImChangkyunBr) August 16, 2020
He grew up dreaming about becoming a scientist such as his father, but eventually turned to singing after his teacher at high school encouraged him to use his singing talent. He was eventually signed to Starship Entertainment, and after working on his singing skills with them, he was invited to join the show "No.Mercy", created to choose the boys who would become the members of the boy band MONSTA X.
Career as a singer and the band MONSTA X
In December 2014, the South Korean pay TV music channel Mnet, together with Starship Entertainment, launched the survival show "No.Mercy" which consisted of 12 boys competing for their spot in the band – the show counted 10 episodes, and Changkyun joined only in the eighth.
Many music stars were featured in it, such as San E, Genius Nochang and Rhymer, and the main judges were Soyou, K. Will and Hyolyn. The final seven members of MONSTA X were announced in the show's final episode, and these were Changkyun, Showny, Minhyuk, Wonho, Hyungwon, Kihyun and Jooheon. The spin-off show "Deokspatch" aired alongside "No.Mercy" to give the fans a bit of an insight into the private lives of the contestants.
The band released their debut extended play (EP) "Trespass" on 14 May 2015 made up of seven songs, while Jooheon did the most work on these songs, including composing the music and writing the lyrics. Their second EP followed on 1 September entitled "Rush", containing six songs produced mostly by Rhymer while Changkyun helped write the rap parts for four songs.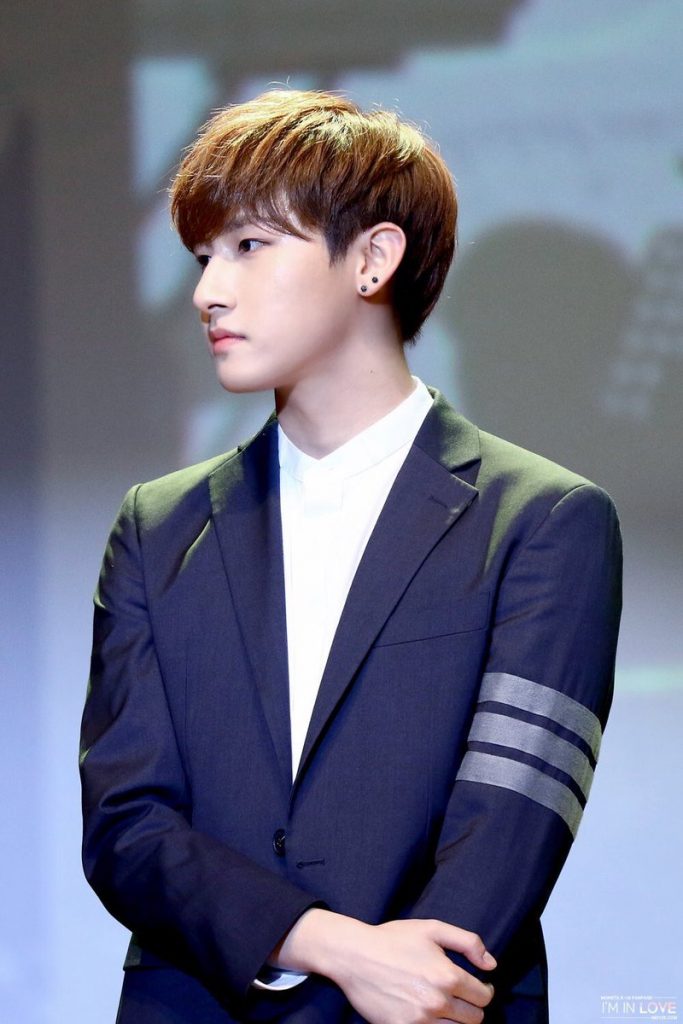 The boys were then invited to sing at the KCON 2015 held in Los Angeles, California USA, and were then awarded the Next Generation Artist Award and the IK Performance Award at Mnet Asian Music Awards and Melon Music Awards respectively. They entered a new TV show – "MONSTA X Right Now!" – at the beginning of 2016, and were in April 2017 invited to take part in the Chinese survival show "Heroes of Remix" – the boys also appeared in the Chinese series "Good Evening, Teacher".
Their third EP came out on 18 May entitled "The Clan Pt. 1 Lost" – directed by the award-winning moviemaker Shin Dong-keul,  the EP was a big success reaching #5 on Billboard World Albums Chart, and it held its position for two weeks.
They held their debut solo concert "The First Live 'X-Clan Origins'" in July 2016, and all tickets were sold out in only five minutes. On 4 October, their fourth EP "The Clan Pt. 2 Guilty" was released, consisting of six songs with "Fighter" being the album's lead track. MONSTA X then attended the Mnet Asian Music Awards in 2016, at which they won a Best of Male Artists Award.
In January 2017, they launched their own show "MONSTA X-Ray", while their debut full-length album "The Clan Pt. 2.5: The Final Chapter" came out in March, marking the end of their series "The Clan". It became a success worldwide, reaching #1 on Billboard World Albums Chart, and on 17 May, the boys performed in Japan for the first time, including with their debut Japanese song "Hero", which topped the Tower Records Chart and came #2 on the Oricon Weekly Single Chart, and Billboard Japan Weekly Chart.
In June, they went on their "The First World Tour 'Beautiful'". Their second Japanese song "Beautiful" came out on 23 August, while their fifth EP "The Code" followed on 7 November, and on 18 December the boys surprised their fans with their song "Lonely Christmas", created nearly solely by Jooheon.
In January 2018, MONSTA X was honored to be invited to bear the torch at the Pyeongchang Winter Olympics, and on 31 January the boys released their third Japanese single "Spotlight". Their sixth EP came out on 26 March entitled "The Connect: Dejavu", made up of seven songs, while their debut full-length Japanese album was released on 25 April entitled "Piece", which topped the Tower Records Chart All Store, as well as reaching #3 on Billboard Japan Weekly Chart.
On 22 October, MONSTA X's second South Korean full-length album was released called "Take.1 Are You There?", and was followed by their third album – "Take.2 We Are Here" – which came out on 20 January 2019.
On 28 May 2019, the band signed a contract with Epic Records to record English songs, with their first "Who Do U Love" released as a duo with French Montana on 14 June, while their second song "Love U" followed on 20 September. Their third song "Someone's Someone" came out on 4 October, after which they concentrated on their new EP "Follow: Find You" of eight songs, released on 28 October. On 31 October 2019, after drug allegations Wonho was let go from the band, but after the charges were cleared in March 2020, he started working on his solo career.
On 4 December 2019, the boys were invited to sing at the Mnet Asian Music Awards in the Nagoya Dome, Japan, but haven't been active in 2020 since the outbreak of the COVID-19 virus.
Love life and girlfriend
The members of MONSTA X aren't allowed to have girlfriends because they would perhaps lose many of their fans which is why, even though some sources on the internet might claim that Changkyun is currently seeing someone, he is single and hasn't been in a relationship since the launch of his singing career. However, Changkyun has talked about what he is looking for in a girl and has stated that he 'looks at the person's personality'. He has also talked about how, if he was a girl, he would date his band leader Shownu which started the rumors on the internet about Changkyun being gay but these appear to be false as the rest of the MONSTA X members were asked the same question and everyone gave their answer.
As of July 2020, Changkyun is single, appears to be straight, hasn't married, and doesn't have children.
Hobbies and interests
Changkyun is very keen on exercising, and has four to five training sessions at the gym each week, while he occasionally films himself while working out and then uploads these videos onto the internet. Travelling is his main hobby, and he has been to the US on several occasions as well as to many European countries, for both singing and vacationing, but his favorite place has always been Osaka in Japan. He is taking good care of his looks, and admits that he spends a lot of time in front of his mirror.
He likes to spend his free time outdoors rather than to be stuck between four walls, and is keen on playing a variety of sports, including soccer and table tennis.
Changkyun is highly religious, and 10 percent of all his checks are divided between his church and his parents. He is left-handed, but often uses his right hand when playing sports.
Age, height, hair and tattoo
Changkyun's age is 24. His hair and eye color is brown; his height is 5ft 9ins (1.75m); he has a tattoo on his back which consists of a quote and a big red rose with green leaves. MONSTA X's net worth is estimated at around $1 million, which would make Changkyun's share around $166,000, as the band currently counts six members.