Hoody is a South Korean R&B underground singer, songwriter, and record producer, who became known when she joined the hip hop South Korean record label AOMG, founded and managed by popular singer-rapper and record producer, Jay Park.
Just a simple reminder that article is created and owned only by kpopwiki.org. Article cannot be re-published in any other pages or documents. Copyright is protected by DMCA. All found copies will be reported.
Original source: https://kpopwiki.org/hoody-kpop-biography-age-height-relationships-family/
Early life and family
Hoody was born Kim Hyun-jung on 10 February 1990, in Seoul, South Korea. There is no other information about her family.
Education background
There is no specific information about her educational background, but she mentioned in a video that she was doing her music while studying in college.
Career
First Steps
As a member of Amourette
Not all those who dream of a music career in South Korea go through K-Pop idol training. Some of them like Hoody started making a name via the hip hop underground music scene, and debuted as a member of the hip hop girl crew called Amourette (AMRT) along with KittiB, SERI, and Nieah in 2013. She was seen performing with her crew in several hip hop gigs, showing much potential for a mainstream career.
Debut as a Solo Artist
After a while, her crew parted ways and launched their individual careers. As a solo artist, she released her debut single "My Ride" in 2013, followed by "Baby Oh Baby" in 2014 and "Let Em Know" in 2015.
When an American underground R&B artist, Kelela, had an event in Seoul, Hoody opened the show for her; Kelela and her crew were impressed even though they didn't understand a word of Korean.
AOMG Princess
Jay Park of AOMG invited her to sign with his record label and management agency before 2015 ended. Hoody was promised creative freedom to write and produce her songs, as well as support when needed.  For several years, she was the only female artist under the powerhouse hip hop label AOMG, until popular singer Lee Hi joined in 2020. She was labeled as the AOMG Princess as she had several collaborations with label mates including Jay Park, Gray, Crush, and Loco.
Before she released her solo music under the record label, Hoody was featured in many popular Jay Park songs, such as "All I Wanna Do," "Solo," and "Me Like Yuh." All these songs charted well in both South Korean Gaon Charts and Billboard World Digital Song Sales Chart, and helped in introducing her to the mainstream audience. Jay included her in his promotional activities, by sharing the stage with her in gigs and television music shows.
First EP, "On and On"
On 6 December 2016, she released an extended play (EP) with nine tracks in collaboration with artists including Jay, Dok2, Elo, and Jinbo.
She filmed music videos for three songs including the title track entitled "Your Eyes" featuring Jay Park, which drew over two million views, quite decent considering it was her first foray into the mainstream music scene. She also helped in writing and producing the EP along with Gray, PJ, and Cha Cha Malone, which peaked at No. 54 on the South Korean Gaon Chart.
Follow The Movement Tour – AOMG 2016
Her record label made sure that she was given exposure on the international stage by letting her perform in the AOMG concert series entitled "Follow The Movement Tour" in 2016.  It started in South Korea, where they performed in Seoul, Busan, and Daegu for the first two months.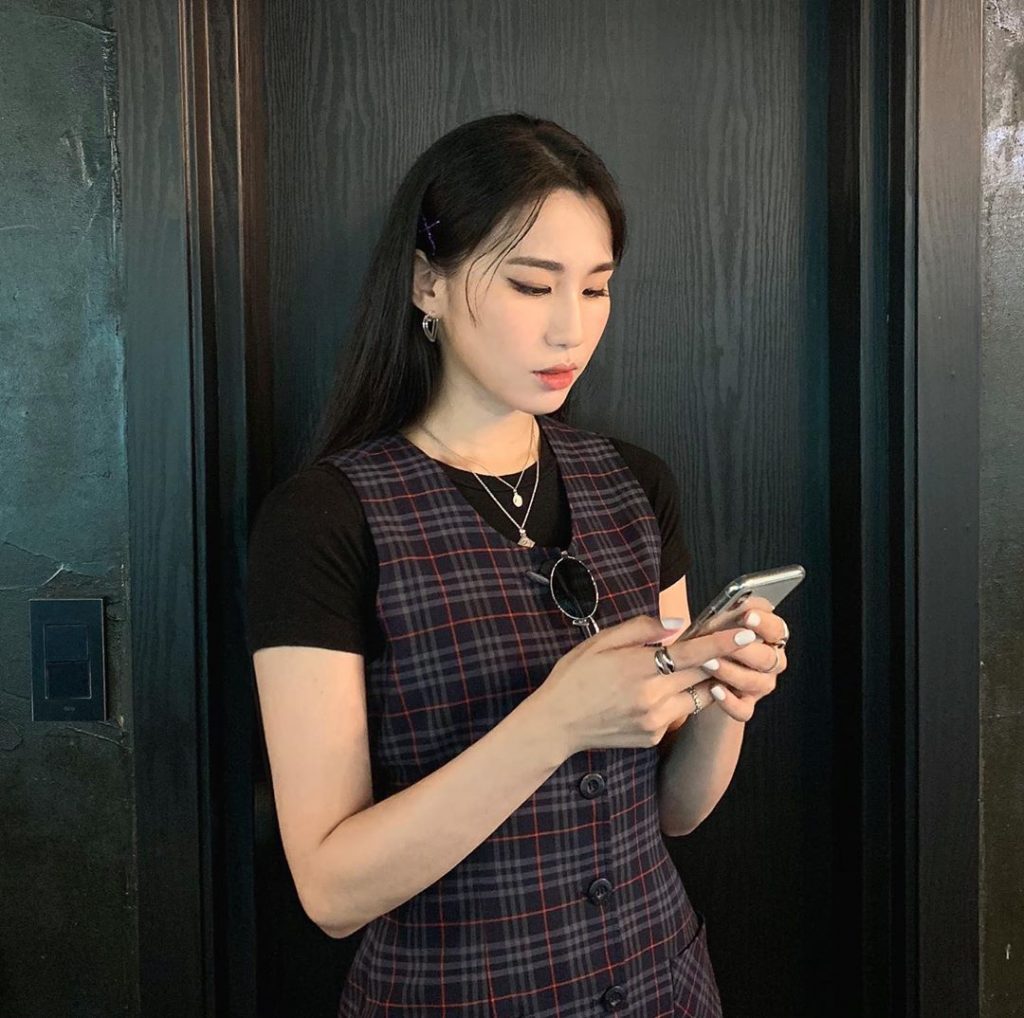 Then in April, they performed in key cities in the US including Chicago, New York, Los Angeles and Las Vegas. Then in the months of July and September, Hoody was seen performing with the crew in two major cities in China, Shanghai and Guangzhou.
Further Success
Digital Releases and Collaborations 2017-2018
Having a taste of what goes on in the mainstream music scene, in 2017 and 2018 Hoody decided to release only digital songs, instead of focusing on EPs or albums.
She released the song "Hanggang" in August 2017, without any rap breakdown and just her distinctive voice. She co-wrote and co-produced the song with popular AOMG record producer Cha Cha Malone, and this time the official MV of the song garnered over 3.4 million views, which is more than half of her first solo MV.
After three months, she released another song entitled "Can't Wait," which she co-wrote and co-produced with Stally. Music critics called it the sleeper jam for the season, and that her voice has more strength in delivering the notes while having the control in dialing back when she has to.
Hoody performed in the 2017 AOMG concert series called "Follow The Movement Tour" in South Korea, and other Asian countries including Macau, Taipei, Singapore and Thailand.
In 2018, Hoody collaborated again with Jay Park and another R&B artist, Crush. The first song was released in the second quarter of the year entitled "Golden", featuring the smooth rapping skills of Jay Park. They both wrote and produced the song along with Slom.
After six months, she released the song "Sunshine," featuring Crush, and an official MV was released in October which garnered over 2.6 million views.
As she was given help in building her career, Hoody doesn't hesitate to lend her voice to indie artists such as in Moon Yirang's "Aphasia" (2017) and Jason Lee's "Sax in the City" (2018). Her voice was also heard in rapper and record producer Symba J's "QMJ" (2018).
First Full Length Album,  AOMG US Tour, and more collaborations in 2019
She started the year performing in key cities in North America with other AOMG artists, in the "Above Ordinary USA & Canada Tour 2019," to sold-out concerts in Toronto, New York, Los Angeles and Vancouver.
After four years with AOMG, Hoody dropped her first full-length album entitled "Departure," which featured label mate Gray, Jclef, and Ugly Duck. It has 11 tracks which were all co-written and co-produced by Hoody – the song "Adios" was the lead track featuring rapper Gray, co-written and co-produced by Cha Cha Malone.  The official MV for Adios garnered over 3.8 million views, making it one of the popular songs in the album. It also received positive reviews from music critics.
Hoody was featured in Haon's song "Noah" that peaked at No. 19 on Gaon Charts, released under H1GHR Music, which is Jay Park's other record label.
2020 Activities
Her activities have been restricted due to the pandemic brought by the COVID19 crisis. However, with Bronze this July she released a new song called "Submarine", and an English version that was also released for non-Korean speakers. She also released two music videos, one for each version, which came out in some sort of home cooking vlog, as she was shown preparing a meal while singing.
Personal Life
There is not much information about Hoody's personal life, as most South Korean artists are quite private. Her Instagram account feed is mostly about her work. Although she isn't a K-Pop idol, and a 'no dating' clause isn't included in her contract, her dating history is still undisclosed.
As of mid-2020, she is believed to still be single, and doesn't have children.
Thank you for watching our Blue Room Live! 💛😊💙
블루룸 라이브 오늘 너무 즐거웠어요 시청해주신분들 모두 감사합니다! https://t.co/Z7SIcFOce1 pic.twitter.com/Ek6vwrr1dE

— Hoody (@Hoodykim) July 10, 2020
Hobbies, favorites, rumors, and interesting facts
She can converse comfortably in the English language.
Her stage name was chosen because when she was told by rapper Ja Mezz that as a hip hop artist she should have a stage name, she was wearing a hoodie, which gave her the idea of using it for a stage name.
After taking the Myers-Briggs Type Indicator personality test, she found out that she belonged to the INFP group, which means that she is more impulsive and likes to do things outside the box, not caring about rules.
Fans were curious if Hoody would resent the inclusion of Lee Hi in the AOMG family this 2020, as she has been the AOMG Princess since 2015. When AOMG formally announced that they acquired Lee Hi, she uploaded a welcome post on her IG account, and even promoted Lee Hi's album when it was released.
In 2016 she was involved in the online beef between Cake Shop Club owner Samuel Swanson, and her boss, Jay Park,. She defended Jay when Samuel made some accusations claiming that Jay jumped on the stage during Boiler Room performance, calling it 'cultural appropriation', when Jay has never played in the club. Videos and photos came out that Jay was invited to go up on stage, and that he has performed in the club several times in the past.
Appearance
She is 5ft 8ins (1.73m) tall and weighs 105lbs (48kgs) with a slim body. She has long black hair and black eyes.
Net worth
Hoody has an estimated net worth of over $1 million, as of August 2020, according to sources.