Oli London is a British social media app celebrity, television personality, and Korean popular (K-Pop) singer, who became popular after being featured in TV documentaries on plastic surgery. He was seen in "Hooked on the Look" aired on Barcroft TV, and "The Beauty Madness of Oli London" aired on the German TV channel Prosieben. He claimed to have spent $100,000 to $150,000 on 15 plastic procedures since 2013, just so that he can look like K-Pop superstar Jimin of boyband BTS. His obsession led him to marry a cardboard cutout of Jimin in a Las Vegas ceremony in 2020, and he later fulfilled his dream of becoming a K-Pop artist with the release of his first single "Perfection," in February 2019.
Just a simple reminder that article is created and owned only by kpopwiki.org. Article cannot be re-published in any other pages or documents. Copyright is protected by DMCA. All found copies will be reported.
Original source: https://kpopwiki.org/meet-british-anime-doll-oli-london-wife-surgeries-wealth/
Early Life and Family
Oli London was born on 14 January 1990, in England. Little is known about his childhood and family except that he would always mention in his interviews that he considered his mom as his role model, and the biggest influence in his life.
Educational Background
There is no information about Oli's educational attainment.
Career
Oli's interest in everything Korean started when in 2013 he found a teaching job on Jeju Island, one of the largest islands in South Korea,. He claimed that after having worked in the US and other parts of the world, such as becoming involved in charity works in Ethiopia, he still wanted to explore more.
He then 'googled' and saw an English language teaching program in Korea. The job application process was a bit arduous, but he was eventually hired. His training lasted for three weeks and he had quite a difficult time as it was winter season and -10° when he arrived on the island. He spent a year in Jeju teaching locals how to speak, read and write the English language.
He said he was always quite fascinated with Asian histories, such as the Japanese and Chinese, that the rich culture of the South Koreans whetted his appetite for more information about the country and its people. He said that it was a charming island, and that the people were so nice and helpful.
Background on his connection with Korean Pop – BTS (2013)
During his one-year stay in Jeju, he was exposed to K-Pop and would watch videos of it all the time.
Oli got hooked on K-Pop music, and liked several groups such as Speed, 4Minute, Bigbang, and Girls Generation. However, he was fascinated with the boyband Bangtan Boys – or BTS – as the boys officially debuted in 2013. He felt that he witnessed their growth, as he saw their debut stages on TV back then.
"Hooked on the Look" TV Documentary (2018)
After his teaching stint in South Korea, he returned to London, and had regular work for six years in various industries, but mostly in the fashion world. Oli was just a regular British guy living in London, before a video about him went viral in 2018. He appeared in the fifth season of the documentary series entitled "Hooked on the Look", in which a short preview of his episode can be streamed on Barcroft TV's official YouTube channel called Truly.
Hold on! LET US TALK ABOUT #OliLondon new look!!! 🤯🤯🤯 He look amazing!!! pic.twitter.com/Se17fQbjSn

— Mayressha Charles (@MayresshaC) June 5, 2020
The video wouldn't be eye-catching if not for the title, "I've Spent $100,000 To Look Like A K-Pop Star." Apparently, the K-Pop star he wanted to look like was Jimin of the biggest K-Pop boyband in the world, BTS. Since K-Pop had gone global and BTS was such a huge boyband in 2018, the video and interest in him spread like a wildfire.
He also made guest appearances in other TV shows in 2018, including "Celebs Go Dating," "Rich Kids Go Skint,", and ITV's "The X Factor Series 15."
Debuted As a K-Pop Artist, German TV Documentary (2019)
After changing most of his features and skin color, similar to Jimin's, he then prepared to become a K-Pop artist. He established his own label, Oli London Entertainment, which not only offered music production but public relations services as well.
It was based in London, and marketed several packages for artists, including the chance to create music as well as distribute it to various music platforms worldwide.
On 3 February 2019, Oli was officially launched as a K-Pop artist with the single "Perfection",  and said to be the first western male solo singer to ever debut with a K-Pop song. It was one of his longtime dreams, and he dedicated the song to BTS' Jimin, which he described as the 'ultimate creation.' The lyrics of the song were about accepting oneself, as everyone is perfect in their own way, which had some people laughing at the irony, considering what he'd done to himself. He said he doesn't encourage people to get plastic surgery; his message was for people to be comfortable if they are different from everyone else around them.
The song peaked at No.31 on the iTunes K-Pop chart, and entered other music charts. The official music video (MV) was posted on the same day that the song was released, and has since gained more than two million views.
Oli was the subject of another documentary produced by Prosieben Red TV in Germany, also aired on the European TV channel 7TV in Austria and Switzerland. It chronicled his plastic surgeries, and his addiction to it along with his journey to becoming a K-Pop artist; his friends became worried about him coming up with new reasons as to why he needed more surgery. He had operations done in South Korea, which he considered as the best he received, with some done in the UK. It also showed that some doctors had refused to touch his face, and discouraged him from undergoing more treatment. Oli wanted to fix his nose again, as he wasn't satisfied with its look even if doctors didn't want to touch it, since his nostrils were already small.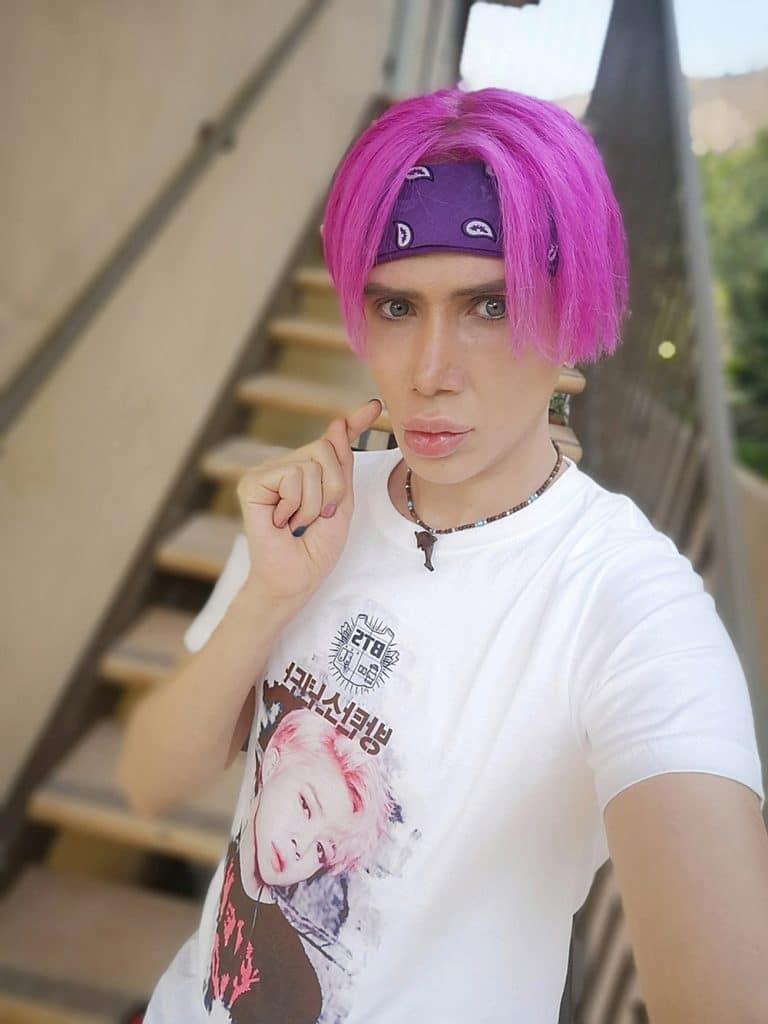 In a world where the social media app is King, his popularity soared, as many shared his story online and more people became interested in his story. He was featured in shows such as "The Today Show" in Australia in November 2018, and he'd become a controversial topic of discussion in popular US TV shows too, such as NBC's "Today," "E! News," and "NBC News."
In South Korea he was much talked about, and made some guest appearances on the Arirang Radio-TV Channel shows, including "When in Korea" and "K-Poppin." In one of the interviews, the host specifically mentioned that it was Oli who first reached out to them and asked to be allowed to share his experience. Not everyone was happy about it, and some even saw him as an obsessed stalker of Jimin, when Oli shared that he used to go to every known favorite place of Jimin, just for a chance to meet him.
Some fans were also in disbelief about him loving the Korean culture, and trying to learn the Korean language. It didn't sit well with them that Oli couldn't properly pronounce the very basic Korean word, "Anyeonghaseyo," which means "hello."
More single releases with music videos and another round of plastic surgeries (2019)
On 18 September 2019, Oli released his second single, "Butterfly," featuring a Korean rapper named Sten. It debuted at No.8 on iTunes K-Pop Chart, and his label claimed that the song was the highest-charting track in history released by a western K-Pop singer. The MV was posted on the same day the song was released, but it didn't have the same effect as his debut song, as it only garnered close to 500,000 views.
Oli was again featured in Bancroft TV's "Hooked on the Look" Season 6, entitled "Caucasian to Asian: My Jaw Bone Surgery to Look Korean."
This time he brought along one of his friends, who was once rumored to be his girlfriend, the reality-TV star Frenchy Morgan, and showed her around Seoul. He also had another round of plastic surgeries done in South Korea – his jaw shaved, nose fixed, and parts of his cheeks removed to achieve a symmetrical V-shaped face he longed for, for quite some time, as he said most K-Pop stars' faces had that kind of shape.
In November, his controversial song "Heart of Korea" was released, but the MV spawned too much negative feedback. K-Pop fans in general felt that Oli was very insincere about loving Korea; apparently, his visual presentation was disrespectful of the culture and history of the people. He wore a top that was more like a Japanese Kimono, and played around holding a Chinese umbrella.
Before 2019 ended, he released a cover version of Wham's classic Christmas song "Last Christmas," with the music video filmed entirely in London.
He said it was his way of thanking everyone in Korea for being so nice to him during his stay there, which had netizens (online users) shaking their heads, as they couldn't figure out the connection of the song to Korea.
"Dr. Phil" Guest Appearance and Controversies (2020)
Oli started the year 2020 by appearing in the popular TV show "Dr. Phil," aired over at Oprah Winfrey TV/CBS in January. By that time, he'd already spent around $150,000 just to make himself look like Jimin and achieve perfection, so they discussed his numerous plastic surgeries.
As a result of his appearance in the show, the interest in his story doubled, and he became a topic of many vloggers. Some felt sad for him as he wouldn't ever be satisfied with his looks, and believed that he was addicted to plastic surgery. Others said that he only used the popularity of K-Pop, especially Jimin for clout and clicks. Several YouTube vloggers posted videos dissecting his lifestyle, his motives, and character; most of them put him in a negative light.
Oli just took it in stride, as he knew that good or bad feedback was still publicity.
Oli was also involved in a controversial dispute with Front Row Records, which formed and managed the European K-Pop group called Kaachi, who debuted in January 2020. He worked with them as a publicist, and helped them gain a footing in the K-Pop industry, which the label allegedly denied later on, when Oli received online hate, mostly from K-Pop fans. Some members of Kaachi allegedly denied knowing him, but when some vloggers took time to gather information about it, it seemed that Oli and the people from Front Row Records were together in some events way back before the girl group debuted. It made Oli very upset, saying that if things get messier, he would reveal his pieces of evidence.
On 1 March 2020, Oli released his fourth single, "Mirror Mirror," which was another fast-paced track along with auto-tuning. The lyrics talked about the hate he received from pursuing his K-Pop dream.
Sometime in June 2020, Oli was embroiled in another controversy, as he was 'exposed' by his friend Frenchy Morgan as a clout chaser and sex worker. Frenchy claimed she wanted everyone to realize the real Oli London, saying that he didn't really care about BTS and advocacies such as Black Lives Matter, but only supported them in posts on social media just to stay relevant. Frenchy even shared recorded conversations she had with Oli to prove her claim. She also said that when Oli flew to the US, he stayed with her as he was quite broke, but was pretending to be living a high lifestyle, while in reality he was a sex worker.
#OLILONDON: HAPPY DWF 2ND ANNIVERSARY 🎉🎉🎉pic.twitter.com/vpDsqwkBft

— อรฐิตา⁷ (@onthita) July 12, 2020
Oli never addressed Frenchy Morgan's allegations, and just released another single entitled "Lockdown City" on 21 June 2020. It was his first hip-hop song, and he again featured Korean rap artist Sten. It peaked at No.24 on the iTunes World K-Pop Chart.
Personal Life
He is currently 'married' to Jimin's cardboard cutout, in a ceremony held in Las Vegas officiated by an Elvis Presley impersonator. Oli even vlogged about it, and showed his marriage certificate. He lives primarily in London, but would fly to South Korea and Las Vegas now and then.
Appearance
He is 5ft 8ins (1.78m) tall, weighs around 145lbs (65kg), and has a lean body. His shoe size is 10 (US). He has blonde hair and grayish-blue eyes. To achieve his Jimin look, he underwent around 15 cosmetic surgeries, including zygoma reduction, alarplasty, mandible angle reduction, and genioplasty with T Osteotomy.
Net Worth
According to authoritative sources, Oli has an estimated net worth of $1.2 million as of March 2021.