Edward is an Asian-American beauty vlogger based in South Korea, who became a YouTube sensation when he started giving make-up tutorials and skincare maintenance using Korean beauty products. His detailed explanations on how to use K-beauty essentials for men attracted more than 1.5 million subscribers. He also recreated many iconic Korean Pop idol looks used by the artists in their music videos, album covers, and live performances.
Just a simple reminder that article is created and owned only by kpopwiki.org. Article cannot be re-published in any other pages or documents. Copyright is protected by DMCA. All found copies will be reported.
Original source: https://kpopwiki.org/edward-avilas-age-gay-boyfriend-sister-ethnicity-surgery/
Early Life and Family
Edward Avila was born on 29 February 1992, on Guam island USA. His parents are Filipino immigrants, his father from Olongapo City and his mother from the province of. A year after he was born, her mother brought him to the Philippines, but later moved back to the US, to settle in San Diego, California. Her mom also gave birth to a baby girl named Abby.
As part of the active-duty personnel in the US Navy, his father moved a lot from one military base to another, but didn't take the family with him.
Everything seemed to be going well until his parents filed for a divorce when Edward was just seven years old. Years passed before his mom remarried someone from the US Army, and gave him two more siblings, Victoria and Ken. This time, his stepfather took his family to live with him at the base wherever he was stationed.
So Edward and his three siblings are military brats – he lived in Germany for four years as he was growing up, and found it boring as they lived in a quiet town. During those years, he had a tense relationship with his stepfather, as he was much stricter than his own biological father, who mostly pampered him. The family went back to the US and settled briefly in El Paso, Texas before moving to South Korea and then back to the US again.
Educational Background
He attended several army-based schools for his primary education, and then matriculated from a public high school in El Paso, Texas. He enrolled into a community college in San Diego, and planned to transfer to a university.
However, he dropped out of college when he decided to stay in South Korea.
Career
Before he became a YouTube vlogger, Edward worked at a Child Care Center at an American military base in South Korea near the North Korean border. During college breaks, he would often visit his parents and siblings in South Korea, where his stepfather was assigned for four years. In 2012, his sister entered the US Air Force, and Edward took the job position at the Child Care Center that she was supposed to fill. For about a year and a half, he took care of the children of military personnel in the base.
His fascination with make-up and love for Korean beauty-related products made him decide to stay in Seoul, even after his family moved back to the US.
First Steps – First Beauty Vlog for Men (2013)
Edward – or Eddy as he's fondly called by family and close friends – became officially a YouTube vlogger in 2013. He created his account back in 2006, and initially posted mostly short videos about his comedic take on life, using 'mrpanda101' as his username, which could be seen in the title of his earlier videos. However, when he took vlogging seriously, it seemed that he cleaned out his self-titled official channel of irrelevant videos. The oldest video posted was in February 2013, entitled "Valentine's Day Look for Guys (Makeup, Hair, and Outfit Ideas)."
He said that when he found out that his subscribers loved his make–up tutorials as much as he enjoyed doing them, he focused more on creating K-beauty-related content. It was one of his comfort zones as he studied Make-Up and Skin Care Maintenance back in high school, because of his acne problem when he hit puberty.
It was his way of making sure he presented a better version of himself even back then.
Vlogs on Cosmetic Enhancements and K-Beauty Products for Men (2014 – 2015)
Most beauty vloggers would focus on giving beauty-related tips for women, but Edward gave a different spin and allotted more time for men in tutorials. His next video was on how to get the same hairstyle as Luhan, a former member of the K-Pop boyband Exo. He also documented his personal experience with Fraxel Laser treatment for his acne. The viewers loved his comprehensive yet honest review of the treatment, down to the amount of money that he paid for it. He also started making reviews on beauty essential products for men, and continued re-creating hairstyles used by popular K-Pop artists.
As K-Pop became more global, his take on the everyday mundane things in South Korea had generated a lot of interest from international fans, which meant more subscribers and views.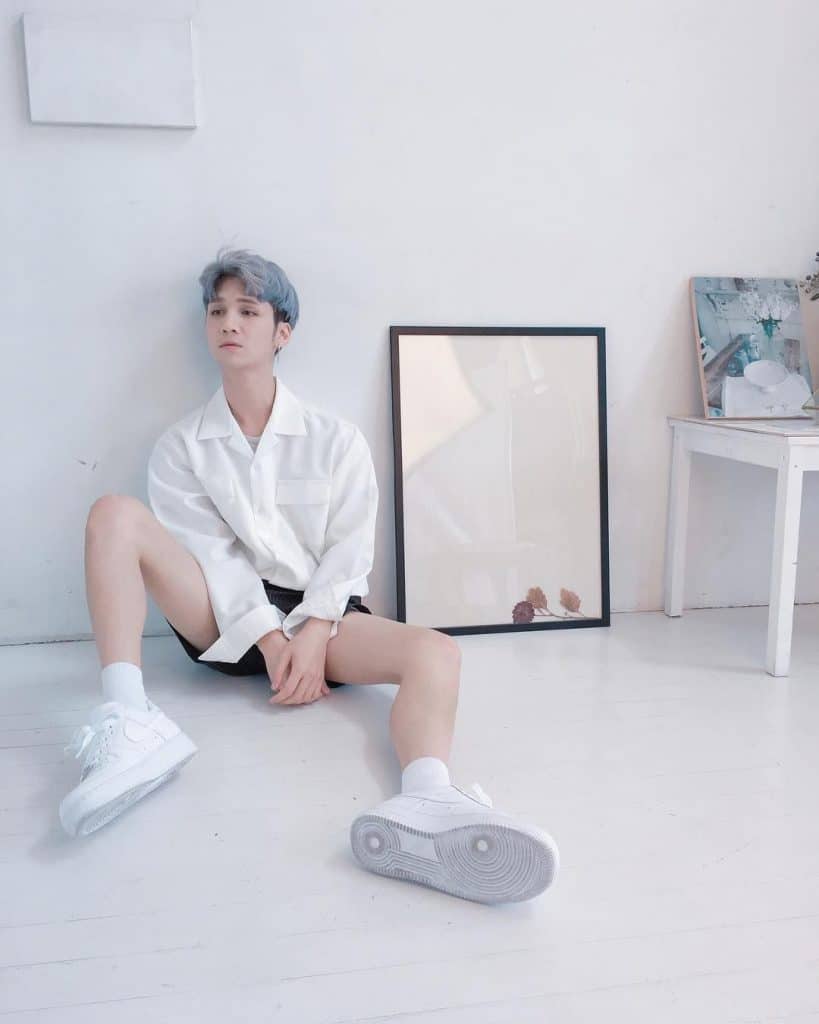 However, his main bread and butter was beauty videos, and in 2015 his most viewed video with over 800,000 views was "My Nose Filler Experience in Korea." Most people were curious about South Korea's different options for cosmetic enhancements and surgeries.
Increasing Content on YouTube (2015)
It was only in March 2015 that he made vlogging a full-time job in South Korea. He had around 70 videos that he posted on his channel in that year, including personal experiences such as moving to another home and things he liked or didn't like while living in Seoul. His fans loved him for his honesty and self-awareness, and he was also consistent in uploading YouTube content. As a result, he not only gained more subscribers, but also became friends with other Korean vloggers, and people connected to the entertainment agency.
It wasn't clear if he still had a daytime job, as he never talked about one – he left the Child Care Center the moment his earnings from his vlogging surpassed his monthly salary.
In the past, he was able to get a visa due to his work at the military base, as well as for having a stepfather in active-duty service, so people were curious how he was able to remain in South Korea.
Rising Popularity, KCON NY, and Released a Single with Trophy Cat (2016 – 2017)
Due to his rising popularity as a beauty expert, in 2016 cosmetic brands started contacting Edward for product reviews and endorsements, as he helped in spreading awareness for men to use beauty products in taking care of their hair and skin.
His reputation for making videos about K-beauty-related products had reached a wider audience, and organizers of the Korean Convention, or KCON invited him to be a mediator or resource speaker in their annual festivities.
In 2017, Edward participated KCON in New York and in Los Angeles, as a member of the panel discussing K-Beauty-related stories and tutorials, as well as to conduct interviews with K-Pop idols.
It became an annual thing for him, and he was given his own segment called "Eddy's Room." At this point, he had been acknowledged as a beauty guru, particularly when it comes to replicating K-Pop idol make-up and hairstyles. "Laneige Two Tone Tint Lip Bars" was his first video that surpassed a million views, and currently has more than 3.4 million views.
Edward surprised many of his fans when he collaborated with Trophy Cat, an EDM production duo comprised of singer-songwriter AOORA and composer-record producer, FRIDAY. They released the song called "Stay" in June 2017, which debuted at No.3 on the K-Pop iTunes Chart. He was surprised by the result, but it eventually fell from the charts when established artists made their own releases.
People knew that Edward had a low register speaking voice, which was a major plus for vloggers, but only a few knew that he could sing too.
People were curious to know if he had shifted careers and would focus more on becoming a full-fledged K-Pop idol, but he told his fans that it was just a side project. His friend AOORA sent him a new song to collaborate with him again, which he did since he liked the song and wanted to support him. They released the single, "Body," on 22 August 2017, along with the music video. AOORA rapped in the track and Edward helped him in writing the lyrics as well as in creating the dance choreography used in the music video. There was supposed to be a third single, but it didn't push through.
Controversies about skin colors, fat-shaming, etc (2017 – 18)
Edward had always been generous in giving opinions and sharing his experiences. However, he got into some controversies including about K-Pop idol Kyla's weight issue, who was a member of the defunct girl group, PRISTIN.
He got into a lot of heat when he talked about the realities of the K-Pop industry,y and the kind of image that entertainment labels wanted for their artists.
In one of his videos, fans accused him of fat-shaming Kyla by advising her to work hard and lose weight, to reach the requirements that are expected of K-Pop idols. Her fans believed that Edward should have supported Kyla, and called out the entertainment executives to change their ways. They said he dehumanized Kyla, but Edward's supporters believed otherwise, as it's the cruel reality in the K-Pop scene. Some fans pointed out that it would all depend on the record label, as YG Entertainment, which is one of the biggest record labels in South Korea, doesn't put so much importance on it.
Edward said he would not be the one to dictate what should or shouldn't be done to trainees or artists by their management.
I TRIED "SPRING LOOK" MAKEUP🌸
Makeup by Edward Avila

Check out the full video on YT👇👇https://t.co/TElK3kIBM1#kevinwoo#edwardavila#kpop #makeup pic.twitter.com/mFl2fpl7b1

— Kevin Woo (@kevinwoo91) April 24, 2020
He said he only reacted to the issue, but wasn't the one who started it. He lost thousands of subscribers during the next five days after the video was posted, but gained more after a month.
He was called out again for another video, entitled "Why Koreans Want to Be White." He knew already from the get-go that he would experience some backlash for it, but still wanted to share his opinion. Edward's take on this issue was based on history, his experience, and his choice on how to deal with it.
According to him, in the past if a man looked pale, it would mean he came from a noble or upper-class family and if he's tanned, it would mean he spent most of his time working in the fields. Generally, people thought less of a tanned-skinned person back then. He compared it with western people, who think having tanned skin meant having the means to go on vacations on tropical islands, and those with lighter skin meant that they spent too much time working in the office.
Due to his personal experience of living in South Korea for five years, he said that it boiled down to personal preference, and that most people he knew didn't care about skin color. However, other people felt disappointed at his words, since the issues about skin color were way deeper than personal preference, and that it shouldn't be taken lightly.
As a musical artist and Top Beauty Influencer for Men in South Korea (2020 – present)
In June 2020, he collaborated with AOORA and other popular YouTubers to release a remix of the song "Your Turn," originally sung by KAACHI. The single was produced by Friday from Trophy Cat.
Edward became even more popular as he continued to promote Korean make-up and skincare essentials for men. His influence had grown, as he was seen collaborating with K-Pop idols on his vlogs, including CLC, Brave Girls, and Jessi. He was included in the list of Top 10 Beauty Influencers from South Korea at No.3, compiled by a lifestyle online magazine. As of March 2021, he had accumulated 1.6 million subscribers.
HAIR ON POINT. MAKE UP ON POINT. #EdwardAvila will be joining us at #KCON17LA!! pic.twitter.com/CTludb58W7

— KCONUSA (@kconusa) July 21, 2017
Personal Life – Is He Gay?
Edward is gay, but doesn't like to advertise it as he felt that some people would reduce him to just being gay. He outed himself to his family way back in high school, which wasn't a surprise since he had always been effeminate as a kid. However, his stepfather and mother were concerned about it being a sin, which he found funny since they were never that religious, even if once in a while they attend Church. After a week they were okay with it, as if nothing happened and supported him all the way.
He once dated whom he thought was a K-Pop idol trainee, but found out that he lied about his true personality. Edward is currently single, as there has been no announcement from him that he is in a relationship. There were known gay bars in Itaewon, but he rarely hangs out there as he doesn't like to go out that much.
Appearance
He is 5ft 9ins (1.75m) tall, weighs 130lbs (58kgs), and has a slim body. He has black hair and dark brown eyes.
Net Worth
According to authoritative sources, Edward has an estimated net worth of $500,000, as of March 2021.