With the ever-evolving concepts of music, and the fickle tastes of the public, it can be difficult for new stars to make their way on to the scene. This is especially difficult when the potential star in question has already failed on a public stage. For Ash Island, this was no obstacle, as despite not winning the reality music show he appeared in, he has had a surprising amount of success in his short tenure as a rapper. Ever compliant with the rapping aesthetic, Ash Island pairs his tattoos and hairstyles with what his fans consider to be the finest sense of fashion.
Just a simple reminder that article is created and owned only by kpopwiki.org. Article cannot be re-published in any other pages or documents. Copyright is protected by DMCA. All found copies will be reported.
Original source: https://kpopwiki.org/ash-island-kpop-rapper-age-height-girlfriend-net-worth/
Early Life and Family, Education
Ash Island was born as Joon Jin-Young on 11 August 1999, in Busan, South Korea. He remained in Busan for his childhood and schooling career, having attended Busan Youngin High School. Being relatively new in the K-pop industry, there is still much unknown about Ash Island, including any knowledge about his parents and family, and general details about his childhood.
Career
"High School Rapper 2"
"High School Rapper 2" was the second addition of a highly popular hip-hop survival show, which pitted high school students against each other in epic rap battles and other competitive tasks.
The show was produced by CJ&M and aired on Mnet, managing to secure enough emerging talent for the competitors to be star-struck upon meeting each other. Ash Island capitalized on his iconic yellow hair, making him easily recognizable by other competitors who had spotted his talent in the shows audition tapes.
The show aired for eight episodes from during February to April 2018, fortunately after the Mnet Vote Manipulation Investigation, reassuring the public that the results of the show were authentic. The show gave the co-ed competitors access to top tier idols in the industry who trained and coached them.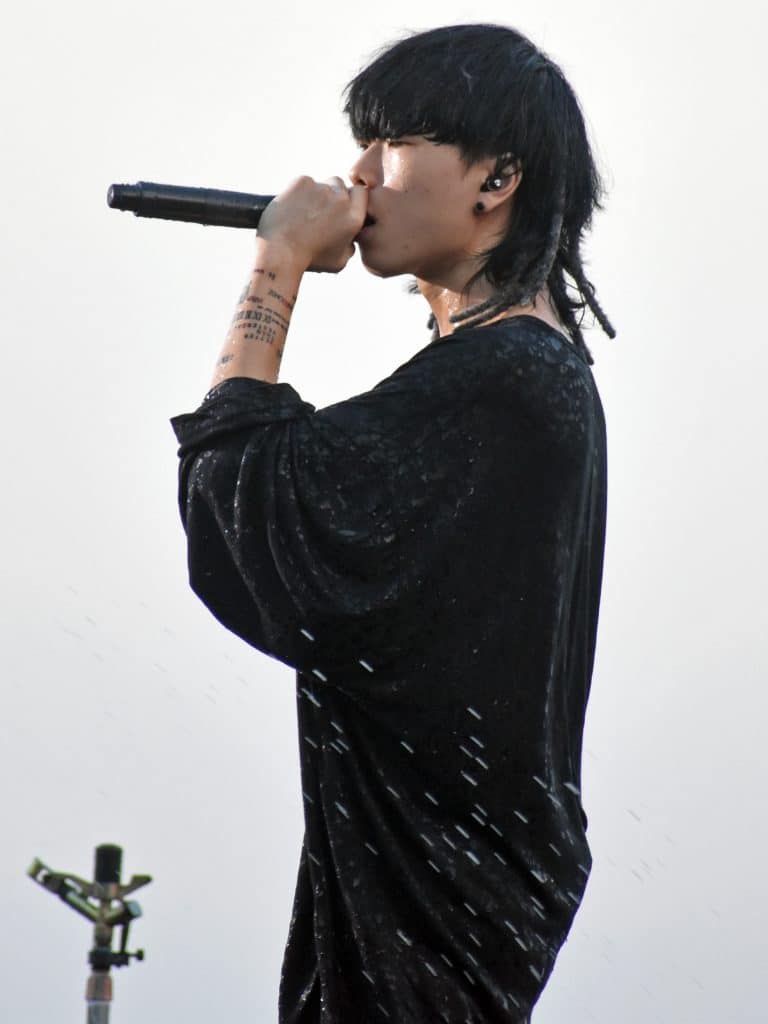 The coaches included Groovyroom – a DJ duo with a name in the K-Pop composition and production industry – and Cheetah, a high school drop-out turned Korean rapping celebrity after winning the survival show "Unpretty Rockstar".
Out of the 32 students, Ash Island was among the sophomores selected for Team Soek-Min. For the duration of the show, Ash Island maintained a steady presence in the top rankings of the competitors, and in episode eight, after making it to the top five, scored 379 out of 500 votes – a total of 75.8% – in round one (where members could vote for multiple competitors), and 105 out of 500 – a total of 21% – in round two (where members could only place a single vote).
He was announced as coming fourth in the competition, after Haon, Ban Yeon-Seo, and Lee Byung-Jae.
Although he did not win the show, he gained a large following and much popularity, fans rallying behind his hairstyle and aesthetic, his massive reserve of talent, and his sense of style. This meant that after the show, he didn't simply fade into the background, but was able to set out on a career of his own as a rapper and subsequent star.
Solo Career
Previously known as Clloud, Ash Island joined Ambition Musik in November 2018, after his exceptional performance on "High School Rapper 2". Ambition Musik is a subsidiary of the production label Illionaire Records, which was established by Quiett in 2011.
Quiett and Dok2 created the label to circumnavigate the major South Korean labels who function on a basis that is not necessarily in the best interests of their artists. Quiett and Dok 6 explain that in major labels, the money made from the hard work of the artists first goes to labels staff members, bosses and managers, before trickling down to the actual artist. The goal of Illionaire Records was to better pay the artists, and not bind them in restrictive contracts.
Ash Island released three singles in 2018 – a remake of "Night Vibe", "How R U", and "Deadstar" with Changmo, before his official debut. This occurred on 22 March 2019 with his album "Ash", which featured two songs entitled "Forgot You" and "Paranoid". He then released an additional three singles, including another collaboration with Changmo.
His latest release was the single "Error" in 2020, accompanied by an emotional and futuristic movie video that featured Loopy.
Ash Island's music is well known for its emotional depth and vivid imagery, which has earned him opportunities to collaborate with iconic K-Pop rappers and singers such as Hash Swan, Leellamarz, and Jungigo on multiple occasions, in songs such as "Beer", "Bition Boyz", and "Pay Day", to name a few.
While he is far from the most popular rapper in the industry, a few of his songs have made it onto the charts in the 40 to 80 range.
Personal Life
While Ash Island is reported to have a girlfriend, her identity and other information are unknown; however, they do appear to be in a loving and happy relationship.
He does have a pet ferret named Hunchu which receives far more media attention, with an Instagram account focused solely on its antics.
Appearance
Ash Island is well known for his plethora of tattoos that are scattered across his back, shoulders, arms and even his neck. He has a few tattoos related to his career, as well as a wolf on the back of his neck, a delicate glyph on the front, and a 99 on his collar bones. While he has not revealed the meaning and significance of all his tattoos, it is known that the writing on his right forearm is the lyrics of a song that he loves, some of which read "Ash doesn't know freedom, I want my dreams to rescue me. I keep my faith strong; I ask the Lord to follow me."
Ash has shaggy shoulder-length hair that he wears either in the iconic yellow blonde that he first appeared in, or in a black, sometimes combining the two or experimenting with other colors such as blue and grey. He is relatively tall at 5ft 9ins (1.57m), and weighs around 180lbs (81kgs).
Net worth and Salary
Being a recent addition to the Korean rap scene, Ash Island has not had much opportunity to gain momentum and make exorbitant amounts of money. However, his music is steadily becoming more popular and he sells themed merchandise and fan items. He has a net worth of estimated at close to $100,000 as of late 2020.