Lee Jung-Shin is a South Korean bassist, singer-rapper, model and actor, who rose to fame in 2010 when he made a successful debut in Korea as a member of the pop-rock band called CNBLUE, under FNC Entertainment. "I'm A Loner," the lead single of their debut Korean extended play ,(EP) became their signature song as it had over three million download sales, and earned them their first music show win just 15 days after they debuted. He ventured into acting in 2012 and received Best New Actor nominations from the KBS Drama Awards and 49th Baeksang Arts Awards, for his performance in a supporting role in the top-rating family drama series, "Seoyoung, My Daughter" (2012-2013).
Just a simple reminder that article is created and owned only by kpopwiki.org. Article cannot be re-published in any other pages or documents. Copyright is protected by DMCA. All found copies will be reported.
Original source: https://kpopwiki.org/the-untold-truth-about-cnblue-member-lee-jung-shin/
Early life and family
Lee Jung-Shin was born on 15 September 1991, in Ilsan, Seoul, South Korea.
He has an older brother named Lee Yong-Shin, who works as a professional photographer, and with whom he featured in InStyle Magazine in 2017. He would also have been a photographer had he not become a singer, as he became interested in it in high school, and considered pursuing it in college.
His dream of collaborating with his brother in holding a photo exhibit came true in June 2018, with "We Blew Away Dandelion Puffs" at the Canon Gallery in Gangnam. The brothers went to Myanmar in February along with AOA's Seolhyun for a vision trip organized by his record label's LOVE FNC Foundation, and they took photos not just of Myanmar's landscape, but also of the children at the YWAM (Youth With A Mission) daycare and LOVE FNC School. Jung-Shin said the exhibit was about 'wishing every single child in the world a blooming dream-like dandelions blooming anywhere.' The proceeds of the sale of photos, posters and postcards went to a scholarship program in Myanmar.
Lee is close to his mother, and sends her money regularly. She knows his schedule, and monitors all the shows that he's part of.
Educational background
He matriculated from Jung Bal High School, and enrolled in Kyunghee Cyber University.
Career
First steps
His interest in music started when he was in middle school, as a friend introduced the American pop-metal band, Mr.Big, to him.
The four-member pop-rock band called CNBLUE was launched in 2009 in Japan, under the Japanese indie record label, Al Entertainment, with the release of the English extended play, "Now or Never," in August after busking on the streets of Japan and performing in clubs earlier that year. The EP failed to enter Japan's Oricon Albums Chart, and the band's bassist, Kwangjin, left the group in September due to musical differences.
Jung-Shin then joined CNBLUE (Code Name BLUE) as its bassist, main rapper and vocalist. Each letter of BLUE represented each member's image with "Burning" for Yonghwa (leader, main vocalist, and guitarist), "Lovely" for Minhyuk (drummer and vocalist), "Untouchable" for Jung-Shin, and "Emotional" for Jonghyun (guitarist and vocalist). His Japanese debut was in November 2009, with the release of the band's second Japanese EP, "Voice."
He debuted in South Korea with the release of their first Korean EP, "Bluetory," on 14 January 2010 under FNC Music, currently known as FNC Entertainment. It claimed the top spot on the Gaon Album Chart, and stayed there for two weeks. It became the 12th best-selling album in the country by the end of the year with over 75,000 copies sold, and had cumulative sales of around 220,000 copies.
The lead single, "I'm A Loner," became their signature song as it was well-received by the Korean public with over 3.1 million download sales, peaking at No.2 on the Gaon Digital Chart. It also had 20,000 downloads in Taiwan, and over 45,000 downloads in Japan. It gave them their first music show trophy, as it became the No.1 Song of the Week in KBS' "Music Bank" on the 29th January, just 15 days after their debut, making it the shortest time a K-Pop act won in a music show after debut. They held that record until August 2014, when YG Entertainment's boyband, Winner, won five days after they debuted. At the Melon Music Awards, it was nominated as Song of the Year, but lost out to 2AM's "Can't Let You Go Even If I Die." The band was one of the Top 10 Artists to make their mark in the K-Pop scene that year, along with Girls' Generation, 2NE1, Lee Seung‑gi, and IU.
Plagiarism controversy
Just a week after its release, knetizens (Korean online users) familiar with the Korean indie band Ynot, noted some similarities between Ynot's digital single, "Bluebird," released in May 2008, and CNBlue's "I'm A Loner." In March 2010, a $50,000 lawsuit was filed by Ynot against composers Lee Sangho and Kim Dohoon, for allegedly plagiarizing their song. According to Sangho and Dohoon, only one bar sounded similar, but the main melody and chord progression were different. In April the following year, the Seoul Central District Court judge ruled in favor of the composers of "I'm A Loner."
Jung-Shin's band released their second Korean EP, "Bluelove" in May 2010, and it peaked at No.3 on the Gaon Album Chart, with over 160,000 copies sold. Its lead track, "Love," was No.2 on the Gaon Digital Chart, with 2.4 million downloads, and won first place in SBS' "Inkigayo" and Mnet's "M Countdown."
Summer Guys EP.7https://t.co/xIMtCCmOND#이정신 #อีจองชิน #LEEJUNGSHIN #CNBLUE#썸머가이즈 #SummerGuys #선우찬 pic.twitter.com/U0Z1tX16Xa

— LeeJungShinThailand (@LeeJungShinTH) April 20, 2021
It also received the Digital Music Bonsang (Main Prize) at the 25th Golden Disc Awards.
CNBlue won the Rookie Award at the Seoul Music Awards, Mnet Asian Music Awards, and Melon Music Awards.
Further success
Jung-Shin's band released Gaon Chart-topping EPs including "First Step" (2011), and its re-packaged version that sold 230,000 copies, as well as "Ear Fun" (2012) with 120,000 copies sold, "Re-Blue" (2013 – 128,000 copies), and "Can't Stop" in 2014 selling 117,000 copies.
Singles that became million-sellers include "Intuition" with 2.2 million download sales, "Still in Love" with 1.3 million downloads and 8.5 million streams, "Hey You" with 1.2 million downloads and 11 million streams, and "I'm Sorry" with 1.2 million downloads.
Jung-Shin and the boys' succeeding Korean releases from 2015 to 2017 charted well, but were not as commercially successful as the previous ones. He contributed to the songwriting process for the first time when he wrote the lyrics of "Control," the ninth track in their second Korean studio album, "2gether" (2015).
Japanese promotions
Right after the successful Korean debut, they released their first Japanese studio album, "Thank U," in March 2010 under Al Entertainment, and it peaked at No.90 on the Oricon Chart with over 10,000 copies sold. Jung-Shin's band then signed with Warner Music Japan in 2011 to promote them in that country. The single, "In My Head" was released in October, and it was certified Gold in November by the Recording Industry Association of Japan (RIAJ), as it sold 100,000 copies; it was used on the soundtrack of "Supernatural: The Animation" as the ending theme song. All six studio albums made it to the top three of the Oricon Chart, with "Code Name Blue" (2012) and "Colors" (2015) topping the chart, as they sold around 58,000 and 36,000, respectively. Jung-Shin was the lyricist and co-composer of "Daisy," the eighth track in the fourth Japanese studio album, "Colors." CNBlue held more than a dozen Japan tours from 2011 to 2017.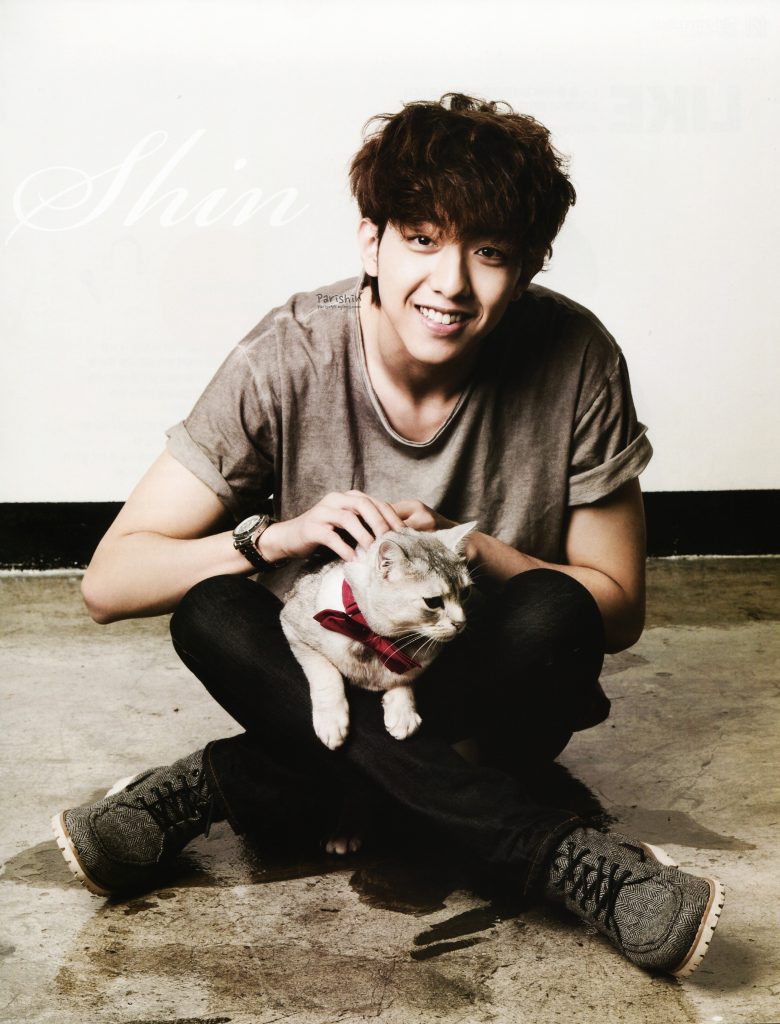 Jung-Shin released his first solo Japanese single entitled "Blue Orion" in July 2019, which he wrote and composed, and was included in his mini-album released in September, along with his solo cover of "Daisy," "Without You," and "Manito."
Military enlistment
He enlisted for mandatory military service in July 2018, and underwent five weeks of basic training before serving as an active-duty soldier of the 32nd Infantry Division in Sejeong City. He was discharged in March 2020.
Contract renewal
He renewed his contract with the record label in October 2020, along with Yonghwa and Minhyuk as they became a three-member band following the departure of Jonghyun from the group, due to the latter's involvement in the Jung Joon-young KakaoTalk group chat room scandal, and the inappropriate messages he sent to a YouTuber.
"Re-Code," the eighth EP and the first without Jonghyun, was released in November 2020. It charted at No.5 on Gaon with 37,000 copies sold. With only three members left, Lee now had more singing parts in the new songs.
Solo activities
As an actor
In 2012, Jung-Shin appeared in a cameo role as himself in the romantic-comedy series "My Husband Got A Family," but his acting debut was in the 50-episode family drama "Seoyoung, My Daughter," which was the highest-rated drama series that year with 47.6% as its peak viewership rating. He played a supporting role, that of the youngest son of a wealthy family named Kang Sungjae, a troublemaker who became infatuated with his private tutor, Seoyoung, played by Lee Boyoung. He received nominations for Best New Actor from the 49th Baeksang Arts Awards, KBS Drama Awards, and 6th Korea Drama Awards.
Lee was cast in several TV series from 2013 to 2018 – most notable were his first historical drama series entitled "The Blade and Petal" (2013) in which he portrayed a master swordsman and a princess' bodyguard; "Cinderella with Four Knights" (2016) as one of the "knights," and he sang "Confession" as part of the official soundtrack; and "My Sassy Girl" (2017) as a police inspector during the Joseon period, which earned him a nomination for Best New Actor at the 25th SBS Drama Awards. Jung-Shin landed his first lead role in OCN's romantic fantasy series entitled "First Love," also known as "Longing Heart" (2018). Most of his TV drama series were aired not just in Korea, but in several other Asian countries as well.
As a model
Jung-Shin participated in the 2010 Seoul Collection and 2011 S/S Seoul Fashion Week for designer Song HyeMyung's fashion show.
She said the idol had excellent aesthetics and was a natural on stage, so there's no need to train him for that. He showed off his charms on the catwalk during the Seoul Fashion Walk for the fashion designer Song Ji-Oh's 2011 F/W Collection.
He was invited by another designer, Song Zio to walk the catwalk for his "SONGZIO Fashion Show" during the 2011-12 F/W Seoul Fashion Week, and again during the 2015 S/S Seoul Fashion Week. According to a representative of Song Zio, Jung-Shin was chosen for his 'babyface, model-like proportions, and attitude.'
As a host
He co-hosted Mnet's music program, "M Countdown," from 19 March 2015 to 3 March 2016.
Personal life
Jung-Shin is 29 and known to be single. He dated during his sophomore year in high school, but none have been disclosed since then. His ideal woman is someone wise, with whom he'd like to be a father of two someday. As to what made his heart flutter, he said that it happened when a woman looked at him for a long time.
He was once rumored to be dating Park Soojin, whom he worked with in "The Blade and Petal" in 2013, as they were both part of the main cast. It was not the first time, as Jung-Shin had a cameo while Soojin had a minor role in "My Husband Got A Family." It was not known exactly when the rumor started, but fans became suspicious of them when Soojin nominated three people whom she loved so much for the ALS Ice Bucket Challenge in 2014, and Jung-Shin was one of them, along with two actresses.
He has been hounded by gay rumors since his debut, which he attributed to sporting long hair at that time and being shy. People around him would often say that he's pretty; it made him sad that even a senior female singer asked him if he liked boys. He said that one of the keywords attached to his name in a search engine was the word "gay." Jonghyun, a former co-member, said that at one point they felt uncomfortable, as they thought the rumors might be true, although it was not clear if he said it in jest or if they really felt that way. Jung-Shin reiterated that he liked women.
Hobbies, favorites, rumors, and interesting facts
In an interview in 2012, Jung-Shin revealed he was once hit by Jonghyun during their Japanese tour, when he talked back to the latter as he was mad for not being allowed to play a particular bass tone that he wanted to try. Right after that, he was asked to go to the restroom by Jonghyun, and before he knew it, he was facing the ground after being hit three times. He said he got his common sense back and felt sorry for talking back to an older member. Age hierarchy is very important in Korea, and one must always be polite and use formal language when talking to someone older, even if it's just a difference of one year. This is why it's customary to ask someone the year they were born during the first meeting, to know the level of speech to use.
He took to social media when he got upset about "sasaeng fans" (obsessive fans) who illegally bought his flight information, and asked them to stop doing this.
He donated photographs he took to be published by "Big Issue" in support of the charity magazine's aim of spreading awareness of the plight of homeless people, and giving financial support.
Jung-Shin donated close to $9,000 for the 2019 Gangwon forest fire victims through the Hope Bridge of the National Disaster Relief Association.
Appearance
He is 6ft 2ins (1.88m) tall, weighs about 145lbs (66kgs), and has a lean build. He has black hair and dark blue eyes.
Net worth
Lee Jung-Shin has an estimated net worth of $5 million as of April 2021, according to sources.