Woozi is a singer-songwriter and music producer from South Korea, who became famous for being a member of the Korean Pop (K-Pop) group, Seventeen (SVT).
Just a simple reminder that article is created and owned only by kpopwiki.org. Article cannot be re-published in any other pages or documents. Copyright is protected by DMCA. All found copies will be reported.
Original source: https://kpopwiki.org/woozi-seventeen-height-age-hair-real-name-dating-wiki/
Early Life and Family
Woozi was born Lee Ji Hoon – also spelled as Ji Hun – on 22 November 1996, in Busan, South Korea. In Korea, the last name comes first followed by the first name, so Ji Hoon is his first name. His interest in music started at a very young age – he devoted much of his growing up years learning to play the clarinet and other orchestral instruments for his classical music training. He also enjoyed playing baseball in school, and loved watching sports.
Education
Woozi attended Suyong Elementary School and then went to Dongsuyoung for middle school in his hometown. He then moved to Seoul and matriculated from Hanlim Multi Art School.
He did not enroll in any college or university, as he was already undergoing training to become a professional singer/dancer at Pledis Entertainment, while he was still studying in middle school.
Career
Woozi underwent training to become a K-Pop idol for five years under one of the reputable Korean entertainment agencies in South Korea, Pledis Entertainment. Most K-pop idol training would only include singing, dancing, acting, and language classes, but Woozi also had music writing and music producing lessons.
First Steps
He was originally in a boy group called Tempest with other Pledis Entertainment talents, but when the agency started promoting them along with another boy group, Nu'est, they weren't as successful in being noticed, so the agency disbanded Tempest even before they debuted.
He never lost hope and continued with his training, and was given another chance with Seventeen.
Prior to his professional debut with his group, his talent agency promoted the trainees via "Seventeen TV," a reality online show which was streamed on a popular American streaming site, "UStream," in 2013, which showcased the boys' training routine and other daily activities. Having 13 members in the group can be difficult at times, and for each member to improve, the group was divided into three sub-units. He was supposed to be included in the Performance Unit, but he was assigned to lead the Vocal Unit instead, because it was clear from the get go that he would be responsible in producing the group's music.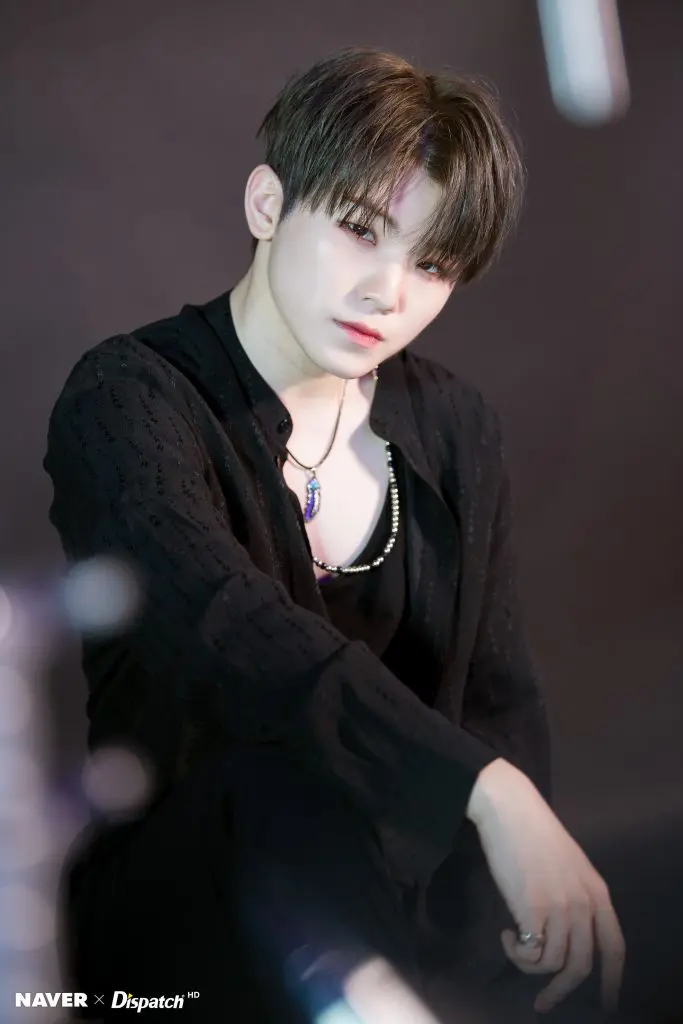 In 2015, Pledis Entertainment's Chief Executive Officer met all the 13 trainees, and told them that they needed to prepare for an hour-long debut showcase that had never been done before by any other talent agencies. To do this, each of them needed to return the SVT ring they received from the CEO which was a symbol of becoming an official member of the group. All of them had to work hard to prove their worth again in another reality TV show called "Seventeen Project: Big Debut Plan", to be included in the debut. It was aired on MBC network for the whole month of May.
Fortunately, he and all his co-trainees passed the test, and they all debuted on 26 May 2015 on MBC, with several performances that lasted for an hour.
The group's debut song, "Shining Diamond," was co-written and produced by Woozi. Three days after their debut, the digital version of the group's first Extended Play (EP) mini album entitled "17 Carat" was released worldwide of which WOOZI also co-wrote and produced four out of the five songs including the lead single, "Adore U."
His hard work paid-off, because by July 2015, their debut album had become the longest charting K-Pop album under the World Albums category, with 11 weeks on the Billboard Charts peaking at Number 8. It was also the only rookie K-POP album to earn a spot on the Billboard's Best K-Pop Album in 2015.
Pledis Entertainment decided to release a sophomore mini album entitled "Boys Be" in September of the same year – Woozi co-wrote all the songs and produced them as well.
It was even more successful, and Billboard included Seventeen in the list of "21 under 21 2015: Music's Hottest Young Stars", the only K-Pop group that made the cut. His group ended their debut year with successful intimate concerts, "Like Seventeen – Boys Wish" held at Yongsan Art Hall for four consecutive days.
Further Success
Woozi continues to play an integral part in his group, as he was able to successfully breakthrough into the mainstream audience not only as a performer but also as a composer and producer. From 2015 to 2020, he co-wrote and co-produced almost all the songs released by Seventeen, including their Japanese single "Happy Ending," which topped the Japanese Oricon Daily Singles Chart, and their Japanese album was awarded a Gold certification by the Recording Industry Association of Japan.
They became more popular, and instead of performing in small venues, their concerts were held at bigger arenas to accommodate the huge number of fans.
His biggest achievement thus far as a songwriter and album producer was when Seventeen's album entitled "An Ode" was critically acclaimed in South Korea. It won Album of the Year in the Asia Artist Awards, and was nominated in the same category at the Golden Disc Awards in 2019. The album sold 700,000 in just one week, which validates the group's soaring popularity not only in South Korea, but in other countries as well.
In June of 2020, Seventeen released "Heng:garae," the group's 7th mini album, and it topped the iTunes Album charts in 27 countries, and reached the top five spot in 36 countries, and is regarded as their most successful album to date.
Music experts estimated that it had over one million stock pre-orders, and according to South Korea's online chart data analyzer, Hanteo Chart, the album sold around 500,000 copies in just two days.
Fans can expect more from Woozi and his group, since Big Hit Entertainment, the one responsible for BTS success, is now a major stockholder of Pledis Entertainment. While Pledis retains its own independent label, the global marketing of Seventeen will be handled by Big Hit.
Collaboration with other Artists
Woozi's songwriting and producing skills were not limited to Seventeen's discography. He's collaborated with other South Korean popular artists, including Ailee, 101, Baekho of NU'EST, and Chanyeol of EXO.
Solo Career Plans
During Seventeen's last album promotions, Woozi was asked if he was going to release solo tracks, but said, 'I don't have any solo tracks. Except for the members' solo songs for the concert, I think about Seventeen's songs all year long.'
Personal Life
There is no information about him dating anyone, as this is a taboo topic in the South Korean entertainment industry. K-Pop fans have a history of being over possessive with their favorite boy groups, and apparently many of them wouldn't tolerate their favorite artists dating anyone.
Woozi is so focused on the success of the group that it was reported that he hasn't dated anyone, and even his friends would confirm that he hasn't had a girlfriend since birth. It was shown in one of the past episodes in the group's reality show early in their career that Woozi was so pressured in producing hit songs for his group, that he broke down in tears. While he was grateful that he was given the opportunity to produce for his group, he had a hard time carrying the responsibility. There was a time when he felt fear that the success and failure of his group would highly depend on his work.
Currently, there is a massive change in his lifestyle. He no longer shares a room in the old group's dormitory provided by the talent agency, but lives on his own now although still in the same building.
Hobbies, favorite things, and interesting facts
His family, friends, and fans would fondly call him several nicknames, including Jihoonie, Mr. Fluorescent Sneakers, Vobo (Vocal Team Boss), and Lord Woozi.
Woozi's favorite food is a combination of two types of Korean noodles. He'd like to mix Jajangmyeon, which is a popular Black Bean Noodle dish, with any brand of Spicy Ramyun Noodles.
His real name – Ji Hoon – means Wisdom of Service or To Know My Service in Korean.
He appeared in other K-Pop music videos during his pre-debut years, including "Venus" by Hello Venus, "Face" by NU'EST, and "My Copycat" by Orange Caramel.
He admires K-Pop singer/JYP Entertainment CEO, Park Jin-Young, American singer Chris Brown, and American actor Hugh Jackman.
There were fans who thought that Woozi is the younger brother of Suga, who is one of the members of K-Pop boy group, BTS. They even look uncannily similar, and can pass off as twins except that Woozi is three years younger than Suga.
190817 SUMMER SONIC#우지 #WOOZI pic.twitter.com/f7iaUJrqgq

— Lovesickness (@Lovesickness_17) August 16, 2020
Appearance
He is 5ft 5in (1.64m) tall, weighs 116lbs (53kgs), and has a physically fit build. He is Asian with black hair and black eyes, but his hair color and hairstyle would often change for his K-Pop promotions.
Net Worth
Authoritative sources estimate that Woozi's net worth is over $2.5 million as of July 2020. A large part of it is from his earnings as a songwriter and record producer.