Jooheon, who goes by the name Joohoney, is a South Korean rapper, songwriter, producer, and a member of the Korean Pop boyband Monsta X, managed by Starship Entertainment. After having multiple Platinum albums in South Korea, his group signed up with Epic Records in the US in 2020, and released their first English album, "All About Luv," which peaked at No.5 on the Billboard 200 chart with around 50,000 units sold. As a solo artist, he's released two mixtapes – "DWTD" (2018) and "Psyche" (2020).
Just a simple reminder that article is created and owned only by kpopwiki.org. Article cannot be re-published in any other pages or documents. Copyright is protected by DMCA. All found copies will be reported.
Original source: https://kpopwiki.org/jooheon-monsta-x-age-height-family-net-worth-profile/
Early Life and Family
Joohoney was born Lee Hoojeon on 6 October 1994, in Daegu, South Korea; his parents later move the family to Seocho, Seoul. He has a younger brother named Lee Seung Heun. During middle school, he legally changed his name twice for undisclosed reasons, firstly to Lee Jihwan, and then to Lee Jooheon.
Educational Background
He attended Seoul Banwon Elementary School and Kyonwon Middle School, before matriculating from Hyundai Senior High School.
Career
In the early part of 2014, Joohoney was part of the project male group under Starship Entertainment called Nu Boyz, along with other trainees Shownu, Wonho, and #Gun. As part of their training, they would sometimes be the opening act for some Starship-produced concerts, and let the boys post their mixtapes on the label's YouTube channel back then. Just before the year ended, his label produced the reality-television survival series entitled "No Mercy", to draw out from their pool of trainees those who were ready for debut. Out of the 13 trainees who participated in the competition, Joohoney along with Wonho, Minhyuk, Kihyun, Hyungwon, Shownu, and I.M. was chosen to be the Starship's new boyband called Monsta X.
First Steps – Debut Year (2015)
Monsta X had a double meaning for them – firstly meaning they were the new monster-idols that would conquer the K-Pop industry, and secondly from the French word, 'Mon,' which means 'My,' and X refers to an unknown variable. Jooheon was designated as the main rapper of the group, with Shownu as the leader.
Jooheon and his group officially debuted on 14 May 2015, with the release of their first extended play (EP) entitled "Trespass." It consisted of seven tracks of which he was credited for composing some of the songs, such as "Steal Your Heart," "One Love," and "Blue Moon." The album charted at No.5 on the South Korean Gaon Album Chart, with close to 40,000 units sold.
Three months later, the boys went around popular TV and radio music shows to promote their second EP, "Rush," released on 7 September 2015. The EP had six tracks and the rap verses were written by Joohoney along with the other rapper in the group, I.M.
The title track was said to be the signature song of the group that best described Monsta X style. The sales of the album did better than its predecessor, peaking at No.3 on the Gaon Album Chart with more than 75,000 units sold.
In the same year, the rookie group was included on the list of performers for the annual Korean Convention held in Los Angeles called "KCON LA 2015." Joohoney and the boys performed in front of a massive crowd in Staples Center.
Before their debut year ended, they received two awards, the 1theK Performance Award from Melon Music Awards, and the Next Generation Asian Artist award from Mnet Asian Music Awards.
The Clan Album Trilogy Series and World Tour (2016 – 2017)
A K-Pop group would normally expect to be active for five to seven years, depending on the popularity they had achieved.
With that in mind, Joohoney and the group decided to participate in the Chinese reality TV survival series, "Heroes of Remix," which was aired in June 2016. While they didn't win anything, and by the ninth episode South Korean artists were no longer featured in the series due to the Terminal High Altitude Area Defense THAAD controversy between China and South Korea, Monsta X was able to show their skills and gained additional fans from the region.
Back in Seoul, the group released the first part of an album trilogy series on 18 May – "The Clan Pt.1 Lost" – with six tracks including the lead track, "All In." Joohoney was credited with all the rap verses in all the songs in the album, and for the music composition of the song, "Sweetheart." It peaked at No.3 on the Gaon Album Chart, No.5 on Billboard's World Album Chart, and No.37 on the Japanese Oricon Album Chart, with close to 95,000 units sold.
The second part of the series was "The Clan Pt.2 Guilty" released in October 2016, which surpassed the sales of the first installment with over 100,000 units sold, and peaked at No.2 in South Korea and No.77 in Japan, and on two Billboard charts, No.3 on the World Albums and No.16 on the Heatseekers Albums.
Instead of just releasing another EP for the third part of the album trilogy, Starship decided to produce the full-length studio album "The Clan Pt.2.5: The Final Chapter," released in March 2017. While it didn't top the Gaon Album Chart and only stayed at No.2, the album entered three Billboard charts, peaking at No.1 on World Albums, No.10 on Heatseekers Albums, and No.31 on Independent Albums. It sold about 150,000 units in South Korea, over 10,000 units in Japan, and more than 1,000 units in the U.S. The lead track, "Beautiful," debuted at No.4 on Billboard's World Digital Song Sales Chart.
This boyfriend look now having a special place in my heart 😩#주헌 #JOOHONEY #JOOHEON pic.twitter.com/wssY9Yp7lp

— Jooheon space ⚡️ (@jooheonspace) March 9, 2021
Finally, in November 2017, they achieved their first No.1 album in South Korea entitled "The Code", with close to 170,000 units sold. The lead track, "Dramarama," charted at No.7 on Billboard's World Digital Song Sales chart.
Joohoney and his group had proven that they were a force to be reckoned with in the K-Pop industry. They embarked on their first world tour, and performed in 10 countries including France, Thailand, Argentina, and the US from June to September 2017.
Mainstream Success, Japanese Promotions, Scandal (2018 – 2019)
From 2018 to 2019, Joohoney and the boys were quite busy, as they continued to successfully release singles, EPs, and studio albums, "Piece" and "Phenomenon", and debuted in Japan. Each album sold more than 55,000 units and peaked at No.3 and No.2, respectively, on the Oricon Album Chart.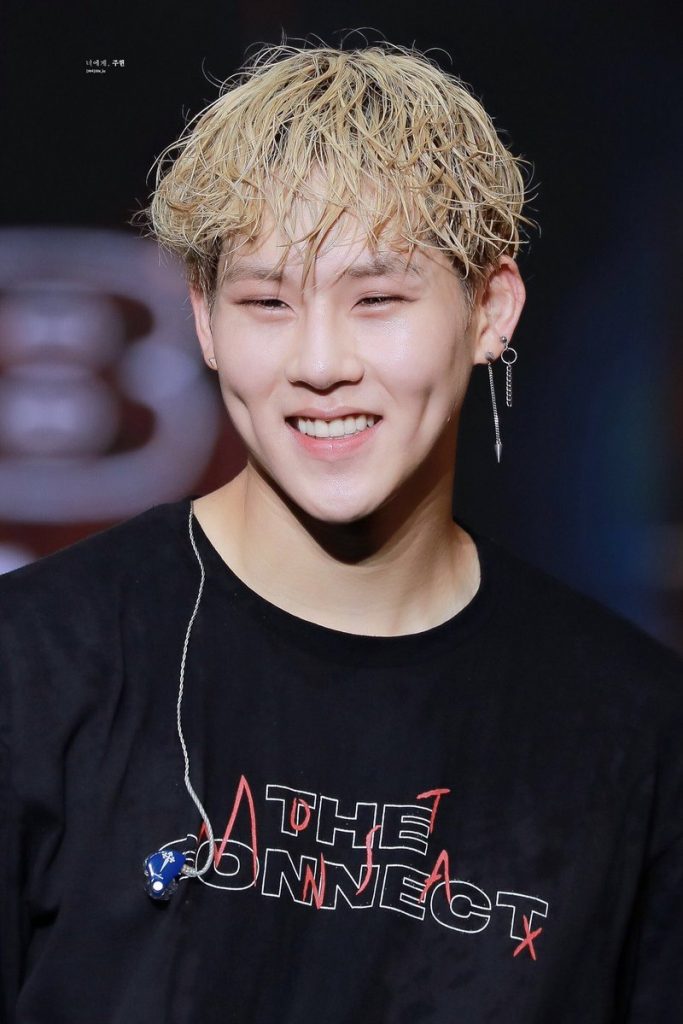 The full-length studio albums they released in 2019, "Take.1 Are You There" with around 240,000 units sold, and "Take.2 We Are Here" with close to 255,000 units, peaked at No.1 on South Korean music charts; the latter was even certified Platinum by the Korea Music Content Association (KMCA).
They embarked on their second and third world tours entitled "The Connect World Tour" in 2018 and "We Are Here World Tour" in 2019, performing in sold-out concerts in several countries spanning four continents  – Asia, Europe, North America and Latin America.
The group suddenly halted their activities when Wonho was involved in a scandal in which he was accused of having a large debt, and smoking marijuana in the past. He voluntarily left the group in October 2019 so as not to disrupt the group's success, much to the dismay of the Monbebe, the group's official fandom.
However, he was later cleared of the drug accusations, and would pursue a solo career under Starship's subsidiary. Starship Entertainment decided to just let Monsta X promote as a six-member boyband.
Solo Activities, Collaborations, and Mental Health Problem (2015 – 2020)
Several months prior to Joohoney's debut in 2015, he had collaboratedwith other K-Pop artists such as rapper San E and Hyolin from Sistar on the song "Coach Me." He also became involved in the official soundtrack albums of Korean drama series, firstly with bandmate Kihyun in the song "Orange Marmalade" for the drama series "Attractable Woman," released in July 2015. then with Junggigo in the song, "Similar," for the drama series "Mask," aired in May 2015.
Joohoney joined as a competitor in the fourth season of the rap reality TV survival series "Show Me The Money" in June 2015, but was eliminated in the third round, but was given a second chance as a wild card later. However, his performance didn't impress the judges and the audience, so he never made it to the Top 12.
In between breaks from his band's activities, he released his own music, in January 2017 the single "Rhythm," and in August 2018 his first mixtape entitled "DWTD", with five tracks including "Red Carpet," "Runaway," "Manito," and "Should I Do"; it charted on the Billboard World Albums at No.8. In the same year, Joohoney and Kihyun joined forces once more for the track "Can't Breathe," the theme song of the drama series "Investigation Couple," which was released in May 2018.
In February 2019, he announced that he'd officially changed his name from Jooheon to Joohoney, and was for the benefit of his international fans. They had a hard time pronouncing his name correctly, and oftentimes would confuse it with Joohyeon.
He also became a rap trainer for a few episodes in the survival TV series "Produce X 101," aired from 3 May to 19 July 2019. He helped in mentoring some of the trainees on how to write their rap verses, and create their own identity.
He hadn't had any rest since his debut, and it took a toll on his mental health. In January of 2020, Starship announced that Joohoney would take a break from his activities to take care of himself. Joohoney even wrote a letter to the fans saying, 'Right now, my mental state is very weak and I'm having a hard time. I am taking medicine and trying to make space to break through.' For a while, fans were worried that he wouldn't rejoin his group, but after just a few months, his label announced that he had recovered and started promoting with his bandmates.
In October 2020, he released his second mixtape, "Psyche," with seven tracks including "DIA," "Dark & Cloudy," "Wingsuit," and the title track.
As of 2020, he had been credited for co-writing the lyrics of around 135 songs and contributing to the music composition of close to 40 songs, most as a solo artist, and produced for other artists as well.
Monsta X: More Certified-Platinum Albums and a Billboard 200 Chart Entry (2020 2021)
Joohoney wasn't actively promoting with his bandmates when they released their first English studio album, "All About Luv," in January 2020, but contributed to the lyrics of a few songs on the album, including "Middle of the Night," "Beside U" featuring Pitbull, and the lead track "Who Do U Love" featuring French Montana. It entered the Billboard 200 chart, peaking at No.5.
He was back with the group in time for the release of their eighth EP, "Fantasia X," on 26 May 2020. As usual, he wrote his rap verses and also contributed to the music composition of some of the songs on the album – it was certified platinum by the KMCA for having close to 265,000 units sold. Before 2020 ended, Joohoney and his group were awarded their third Platinum certification, for the EP "Fatal Love," with over 285,000 units sold. It made it onto several music charts, including No.1 on the Gaon Album Chart, No.16 on the Oricon Album Chart, and No.11 on Billboard's World Albums Chart.
Personal Life
Joohoney is officially single, as there is no recent news of him dating anyone right now. Most K-Pop artists are not allowed to date for the first three to five years after their debut, however, even if the dating ban is no longer in effect, it's quite rare to see an artist in the K-Pop industry openly dating, as K-Pop fans are known to be notoriously possessive of their idols.
With that being said, he's been involved in a couple of dating rumors in the past, linked to Dahyun of Twice in 2016 but they were just friends. Their friendship can be traced long before they officially debuted, as they both go to the same church.
The same thing happened in 2019 as he was said to be dating Exy of Cosmic Girls. There were even articles online saying that his label confirmed their relationship, but this turned out to be fake news, and both parties said that they were just friends. His ideal type is a girl who likes wearing jeans and looks good in them.
He lives with his bandmates in a dormitory provided by his label – his roommates are Hyungwon and Shownu.
2 years since he received this beautiful gift from a monbebe "singer Lee Jooheon" he is the best ❤️#주헌 #JOOHEON #JOOHONEY pic.twitter.com/RNwWlhddok

— Jooheon space ⚡️ (@jooheonspace) March 8, 2021
Hobbies, favorites, rumors, and interesting facts
His favorites: tteobokki or rice cake and dumpling (food), red (color), horror (movie genre), hats (accessory).
Joohoney takes care of his three pets: two tabby cats named Gujji and Yoshi and a dog called Sanche.
His celebrity friends are Got7's Jackson, Exo's Chanyeol, and former co-trainee #GUN.
Joohoney doesn't use any cologne, but does use baby powder, mixed with his favorite scent.
Appearance
H is 5ft 10ins (1.77m) tall, weighs 145lbs (67kgs), with a lean and muscular body. His shoe size is 9 US (265mm). He has black hair and dark brown eyes.
Net Worth
According to authoritative sources, Joohoney has an estimated net worth of close to $1 million, as of February 2021.