Nana is a South Korean actress, model, and idol singer, who first became popular as the visual and face of the Korean Pop (K-Pop) girl group called After School, and its sub-unit Orange Caramel, under Pledis Entertainment – she ranked first on TC Candler's "The 30 Most Beautiful Faces of the Decade." She ventured into acting and starred in the remake of the American television series "The Good Wife," and the hit movie "The Swindlers."
Just a simple reminder that article is created and owned only by kpopwiki.org. Article cannot be re-published in any other pages or documents. Copyright is protected by DMCA. All found copies will be reported.
Original source: https://kpopwiki.org/who-is-kpop-nana-after-school-height-plastic-surgery-wiki/
Early life and family
Nana was born Im Jin Ah on 14 September 1991, in Cheongju, South Korea. She is an only child.
Educational background
She matriculated from Ochang High School in Cheongju, and attended the Seoul Institute of Arts. She is a licensed make-up artist and a member of the Make-up Artists Association.
Rumors of her being a bully in high school started when old photos of her with a beer and a pack of cigarettes on the table were posted on online forums in 2011. Pledis said that there was no truth to the rumor, and that the photos were misleading, while Nana said in an interview that she was free-spirited during that time, but didn't do anything bad.
Career
First steps
Nana joined the Asia-Pacific Supermodel Contest held in June 2009 in North Gyeongsang Province, with participants from Korea, Japan, Thailand, and China,  but didn't win that night. It wasn't revealed if she was already a trainee of Pledis Entertainment at that time, but she was scouted during the show as Son Dambi, a solo artist from Pledis, was there to perform her hit song.
She sang a trot song for her audition at the entertainment company and was accepted to become one of their trainees.
After School was formed by Pledis Entertainment, and their concept was said to have been patterned after the Pussycat Dolls but the company later switched to having a graduation concept, in which members were added and would leave after some time. The girl group was launched in January 2009, but Nana officially debuted in November 2009 as part of the third generation members of After School, with the release of their single album entitled "Because of You."
The title track – composed, written and arranged by the K-Pop hitmaker Brave Brothers – achieved an all-kill status for topping online music charts right after its release. It was said to be the group's highest-selling track, as it's been downloaded four million times.
The Gaon Chart was only established in 2010, so sales information was only made available to the public from then on.
Based on the weekly chart of the first week of January, the single album was at No.15 on the Gaon Album Chart, and the title track was at No.6 on the Gaon Digital Chart, with over 1.5 million download sales.
The song gave Nana and the girls their first music show win, as the No.1 Song of the Week through SBS' "Inkigayo" on 20 December 2009. It also achieved a "Triple Crown" on this show for winning three weeks in a row, which was an indication that the public had embraced the group's more mature and sophisticated concept with this song.
Unsurprisingly, the group won the Best Rookie Award at the Seoul Music Awards.
Further success
For their comeback in 2010, the group went with a marching band concept, with the release of the single album entitled "Bang!"
Nana and her co-members had to practice playing the drums for five months, as this was included in the dance choreography of the intro track, "Let's Do It." They wore sexy marching band ensemble on stage, and the audience loved this new concept. The title track peaked at No.2 on the Gaon Weekly Singles Chart, with almost 2.4 million downloads. The physical album sold around 16,000 copies, and peaked at No.2 on the Gaon Album Chart.
However, their success was not without controversy, as a German choreographer and dancer accused them of plagiarizing the dance choreography that he and his friend did for Black McGrath's "The Night," which was uploaded onto YouTube in February 2010. Pledis Entertainment denied his accusation, saying that a three-second long dance move that looked similar to theirs wasn't what you would call plagiarized.
— Nana pics (@Nanaarchives) January 14, 2021
Nana and the girls released their first studio album entitled "Virgin" in April 2011. It consisted of 13 tracks, including their two previously released hits, and "Funky Man" that Nana and Lizzy recorded, featuring Kyung Min. The lead single, "Shampoo" made it onto the Gaon Digital Chart at No.4, with over 1.6 million downloads. They performed this on music shows, as well as the intro track entitled "Let's Step Up", with which they did a tap dance routine that was much talked about by K-Pop fans. They received praise for continuing to show something new with every comeback.
The group made a cameo appearance and performed "Bang" as the girl group called Pure in the 2011 horror movie, "White: Melody of Death."
In July 2011, Pledis Entertainment created two sub-units – A.S. Red and A.S. Blue – with Nana, Kahi, Uee, and Jungah becoming part of the former.
They released the single "In The Night Sky," which peaked at No.21 on the Gaon Album Chart and sold over 12,000 copies. The title track reached No.9 on the digital chart, with 1.5 million downloads.
After School released their fifth single album, "Flashback" in June 2012, peaking at No.3 on the Gaon Album Chart, and selling more than 16,500 copies; the third track, "Eyeline" was recorded by Nana. The title track reached No.14 on the Gaon Digital Chart with over a million downloads – it was No.10 on the Billboard K-Pop Hot 100, and Billboard ranked it at No.6 on the list of Top 20 K-Pop Songs of 2012.
The group worked with Brave Brothers again in 2014 on "First Love," the title track of their sixth single album. It peaked at No.7 on the Gaon Digital Chart and Billboard K-Pop Hot 100, but was only downloaded close to 600,000 times, with the physical album selling over 13,500 copies. This had been their last Korean release.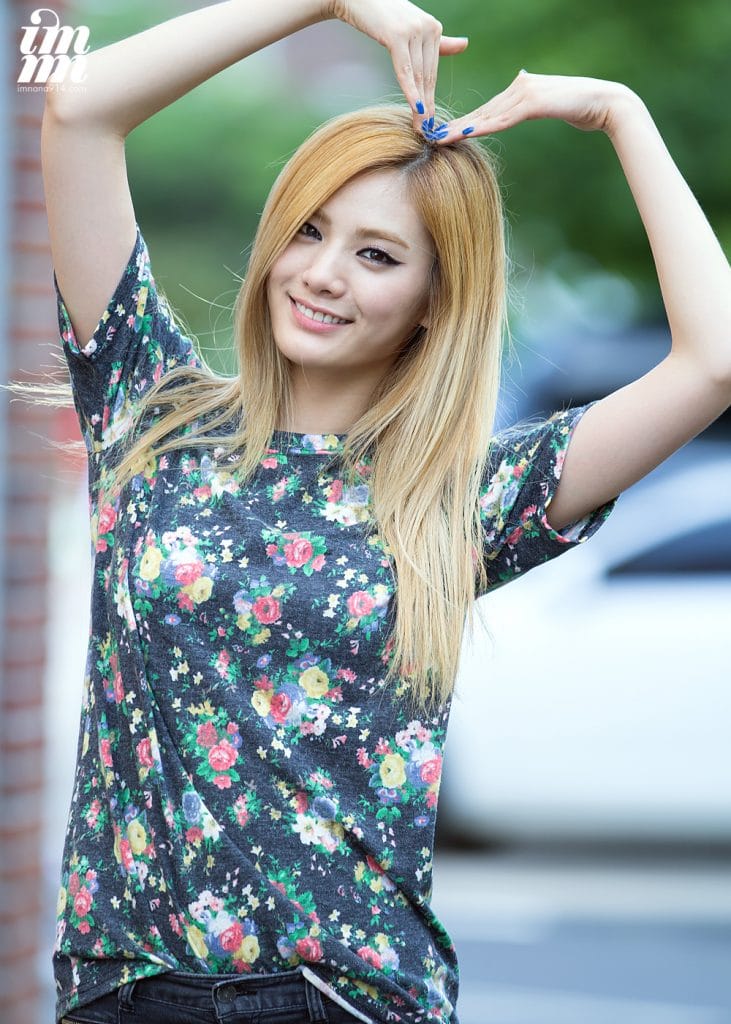 Orange Caramel
In June 2012, Nana along with the latest additions to the group, namely Raina and Lizzy formed the sub-unit called Orange Caramel, with a cute and sweet concept. They released the single entitled "Magic Girl," which reached No.18 on the Gaon Digital Chart, and was included in "The First Mini-Album" released a few days later, which peaked at No.2 on the Gaon Album Chart. Its commercial success has been attributed not just to the catchy tune, but also the quirky and interesting outfits that the trio wore on their live performances. Their concept had become popular, as it was frequently parodied in South Korean variety shows throughout the year.
Their second mini-album released in November 2010 peaked at No.10 on the Gaon Album Chart, and the lead track, "A-ing," reached No.5 on the Gaon Digital Chart, with almost a million downloads.
In September 2012, they released their first studio album, "Lipstick," peaking at No.3 on the Gaon Album Chart. It consisted of 13 tracks with the singles "Bangkok City" and "Shanghai Romance" doing well on the Gaon Digital Chart, selling around 1.7 and 1.6 million downloads, respectively.  The title track charted at No.5 on Gaon, and sold 1.8 million downloads. It also entered the Billboard K-Pop Hot 100, actually peaking at No.2.
"Catallena" released in 2014 peaked at No.5 on the Gaon Album Chart, and No.11 on Billboard's World Albums Chart. The title track, which became their signature song, peaked at No.6 on the Gaon Digital Chart and No.4 on the Billboard K-Pop Hot 100. It was downloaded more than a million times, and became Gaon's 38th best-performing single on the digital chart that year, while Billboard ranked it at No.12 on their "20 Best K-Pop Songs of 2014."
The music video garnered over 30 million views for its fascinating concept of the girls as mermaids and packaged as food, but was banned from airing on KBS, the government-owned network, for portraying humans as sushi.
During their live performances, the girls wore playful and odd outfits with matching headdress, which included kimbap (Korean sushi roll), French fries, and a combination of mackerel-salmon-shrimp.
Orange Caramel went on hiatus after their concert in 2015, and although no disbandment of After School and Orange Caramel was announced, the members left after their contracts expired. Only Nana renewed her contract with Pledis Entertainment, in November 2019.
As a solo artist
Aside from being the main dancer, lead rapper, and vocalist, Nana was also the visual and face of the group, so it was not surprising that she was often featured in magazines, and appeared in commercial films.
She walked the catwalk of fashion shows such as for Tokyo Girls Collection (S/S 2012) and Nylon (2013), and also scored several endorsement deals throughout her career in the entertainment industry. TC Candler ranked her at No.2 in "The 100 Most Beautiful Faces of 2013", then she topped the list in 2014 and '15, and still made it into the top seven from 2015 to 2019.
With her girl group on hiatus, Nana became busy appearing in variety shows such as SBS' "Roommate" as a regular member, OnStyle's "Style Log Season 2" as a co-host, and Shanghai Oriental TV's "Muse Dress" as a contestant, and was runner-up in the finale. While her visuals usually work to her advantage, it became a problem for her when she entered the military in MBC's "Real Men: Female Special;" she was told not to act cute when all she did was look at the squadron leader as she and the other celebrities were being reprimanded for being noisy in their room.
Nana expressed her interest in acting early on in her career, but the company wanted her to focus first on Orange Caramel. However, she continued to receive acting lessons, and went to auditions, and made a cameo appearance in the coming-of-age film "Fashion King" (2014), which was a movie adaptation of a webtoon series by Kian84.
She was cast in a supporting role in the Chinese romantic fantasy TV series "Love Weaves Through a Millennium," which was a remake of the 2012 Korean hit series "Queen and I;" it aired for 24 episodes from February to March in 2015.  That same year, she portrayed the role of Sha Dangdang in the Chinese romantic-comedy movie "Go La La 2," which starred famous Taiwanese actors Vic Zhou, Chen Bolin and Ariel Lin.
With her role as the MJ law firm's investigator named Kim Dan in the Korean drama series "The Good Wife," Nana received nominations for Best New Actress at various award-giving bodies, and won at the 1st Asia Acting Awards.
The series was a remake of the American TV drama series of the same name, and aired six episodes on tvN cable network from July to August 2016. The main leads were the multi-awarded actress Jeon Do-yeon, and established actors Yoo Ji-tae and Yoon Kye-sang.
Her acting was again recognized when she was cast in the 2017 crime film "The Swindlers," which starred Hyun Bin, Park Sung-woong, Bae Seong-woo, and Yoo Ji-tae. The movie topped the box-office for three weeks, and surpassed four million admissions. She was nominated for the Best New Actress category at The Seoul Awards and 54th Baeksang Arts Awards, but only managed to take home the Popular Star Award. Most recently Nana appeared in the 2020 crime thriller "Confession," top-billed by So Ji-Sub and Kim Yunjin.
JUST WOW.. pic.twitter.com/6K76ylFJQO

— Nana pics (@Nanaarchives) December 31, 2020
Nana became one of the main leads in her succeeding TV projects such as OCN's thriller series, "Kill It" (2019); KBS' legal drama series, "Justice" (2019), which earned her the Excellence Award, Actress in a Miniseries at the 2019 KBS Drama Awards; and KBS2's romantic-comedy series, "Memorials" (2020), in which she again won the Excellence Award at the KBS year-end awarding ceremony. She and her leading man in the series, Park Sung-hoon, won the Best Couple Award that night.
Personal life
Back in 2015, she was rumored to be dating the actor Hong Jong-hyun whom she worked with in August 2014 in "Style Log." According to the Women Sense Magazine, the two had been dating for seven months, and were seen together at Christmas at an amusement park in Wolmido, and also near Jong-hyun's home in Gangnam. Then Pledis released a statement that they were 'just close friends and not lovers.'
She was also linked to the prominent actor Kim Soo-hyun. Apparently, the dating rumor started when Soo-hyun chose Orange Caramel as the girl group that he liked, and Nana had been vocal about being a fan of the actor and considered him as her ideal type.
Some netizens believed that Nana's pretty face is a result of plastic surgery. Changes were said to be evident when one looked at her photos through the years. They said that her eyes were much bigger due to double eyelid surgery, and her nose was sharper due to rhinoplasty, but her fans said it was her skills in applying make-up that enhanced those features. What couldn't be refuted, according to some K-pop fans, was her narrower jaw, because only surgery could reshape her square jaw.
Appearance
She is 5ft 6ins (1.71m) tall, weighs 105lbs (48kgs), and has a slim build. She has black hair and black eyes.
Net worth
Nana has an estimated net worth of close to $300,000 as of January 2021, according to sources.