Ji Jinseok is a South Korean singer, who first became known when he participated in the reality survival TV series, "Under Nineteen." He left the show just before the top 19 trainees were announced, and later debuted as a solo singer, with the digital release of "Good Night."
Just a simple reminder that article is created and owned only by kpopwiki.org. Article cannot be re-published in any other pages or documents. Copyright is protected by DMCA. All found copies will be reported.
Original source: https://kpopwiki.org/who-is-ji-jinseok-age-height-net-worth-girlfriend-family/
Early life and family
Ji Jinseok was born on 18 August 1998, in Seoul, South Korea. He developed an interest in singing as a young kid, when he discovered that he could carry a tune. In his 6th grade he knew that he wanted to become a performer, but when he brought it up with his parents, they both strongly opposed the idea. Jinseok let it go but vowed to ask for their permission again when he was a bit older.
When he graduated from middle school, he again talked to his parents and they reluctantly agreed as they saw how serious Jinseok was in pursuing his dream.
From then on, both his parents are supportive of his goals and enrolled him in a music academy to further hone his skills.
Education background
There are no specific details on his educational background, but in interviews Jinseok has said that he attended local schools in Seoul for both his primary and secondary schooling. No one knows if he is currently enrolled into a university.
Career
Due to his unique voice, he was noticed by the CEO of a newly established entertainment company, Black Y Music, who signed him up as their first contract artist. When it was announced that a mainstream South Korean channel would be holding its own survival reality TV series entitled "Under Nineteen," Jinseok's CEO encouraged him to participate.
"Under Nineteen" – Reality Survival TV Show
On 3 November 2018, Jinseok participated in "Under Nineteen," a survival TV show produced by the MBC network in South Korea. Almost 60 aspiring trainees competed to be part of the final nine members of a temporary boyband, 1the9. The winners would be promoted and managed for 12 months by an established entertainment agency, MBK Entertainment, home of successful artists including T-ARA, Davichi, SG Wannabe, and Hong Jin-young.
Jinseok was excited but also apprehensive, since he was the only artist from his company who would join the competition, and because he didn't have much dance training. Despite his misgivings, he welcomed the opportunity to learn more, as the show had some of the most well-known figures in the K-Pop world. The main coaches were Crush and Solji for vocals; Dynamic Duo (Choiza & Gaecko) for rap; and Eunhyuk (Super Junior) and Hwang Sang-hoon for dance.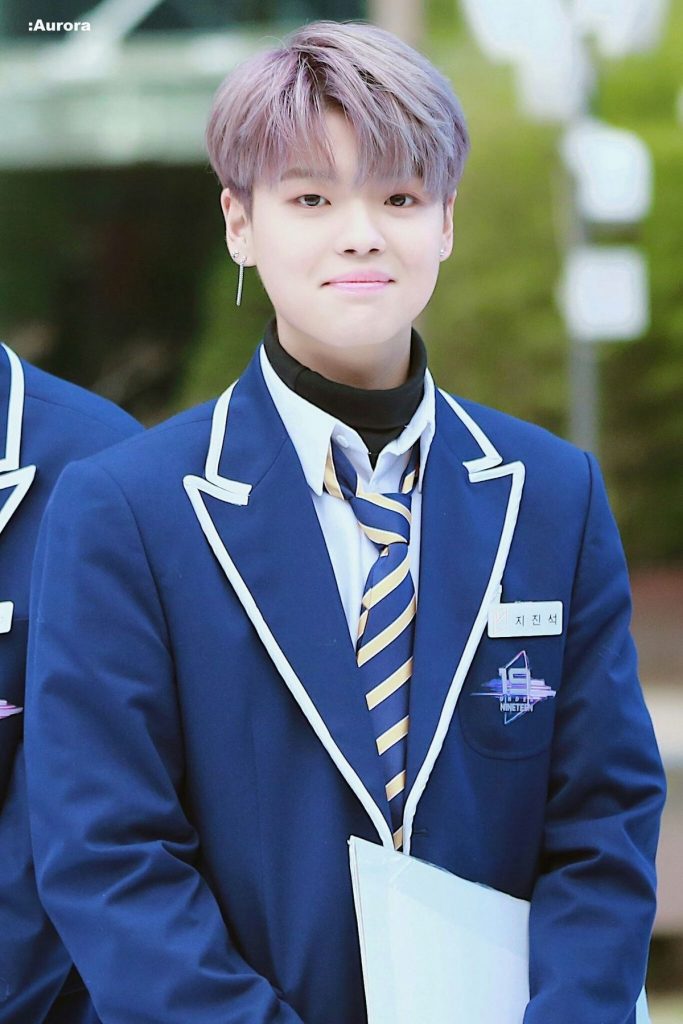 Special coaches were called in to help the contestants, including J-Hope of BTS, Kai of EXO, and Yunho of TVXQ.
He was only 19, but Jinseok was one of the oldest trainees in the reality show, and acted as big brother, as there were competitors as young as 12 years of age. There were four rounds of eliminations and he was able to survive all of them except for the last one. His performances were good and he was doing quite well each episode, however, a week before the final episode and right before the announcement of the top 19 during the semifinal elimination round, the host revealed that he had already left the show for health reasons.
Jiseok was found to be suffering from temporomandibular joint dysfunction, which is a painful jaw condition, and was exacerbated due to the mental stress and physical strain he underwent while competing in the show.
It was a double whammy for Jiseok, as one of the vocal coaches, Crush, who happens to be one of his favorite artists, was supposed to sing with him in the next episode. Jinseok earned the nickname, "Little Crush," in the show, as his voice is quite similar to the vocal coach. He was experiencing so much pain that he couldn't get up on the stage during the recording of the performance. His talent agency and his doctors decided that it would be best for him to give up the show, to take care of his health.
Solo Debut (2019)
It took him several months to recover, after which he started his preparations for his debut. Due to numerous requests from the loyal fanbase he developed during his time with "Under Nineteen," his entertainment agency held mini-fan meetings in South Korea and Japan prior to his debut. He was sorely missed by his fans since he wasn't able to say goodbye to them, but only posted a handwritten letter thanking them for their support during his journey in the reality TV show.
In the first week of May, teasers were posted that Jiseok would be making his debut on 23 May 2019, but for some reason it was delayed for a week, and fans thought that he was suffering from an illness again. Finally, on 3 June 2019, he released his debut single entitled "Good Night", and also made his debut performance in Arirang TV's "Simply K-Pop" on the same day, as well as releasing the official music video of the song, that has accumulated over 820,000 views.
He also participated in another reality TV show entitled "Burn Up: Billboard Challenge", produced by DSP Media and JTBC Studios. It was aired on one of JTBC's YouTube channel, Lululala Music, but it didn't get much attention from the viewing public.
More Digital Songs Released
Two more digital singles were released in 2019 – Jiseok's second digital single album entitled "Tell Me, It's Not True" was released on 9 October 2019 along with another song entitled "My Star," and an instrumental version.
After a month, his third digital single, "Pretend You're All Right" was released on 28 November 2019.
First Mini Album "Half/Half" and No Mainstream Channel Promotional Activities
In the midst of the Covid19 pandemic, Jiseok released his first mini-album entitled, "Half/Half" on 27 May 2020. It has four tracks including the lead track, "Just," along with "Clue," "Impossible" featuring Yisaebom, and the pre-release track, "Here." He wasn't able to promote it fully by performing the songs with a live audience due to Covid19 regulations but was able to go around a few radio stations and made a guest appearance in Arirang TV.
Jiseok hasn't yet promoted on any of the mainstream channels since his solo debut.  As there are many new and established artists releasing or promoting songs every week, it is quite hard to be included in the line-up of performers.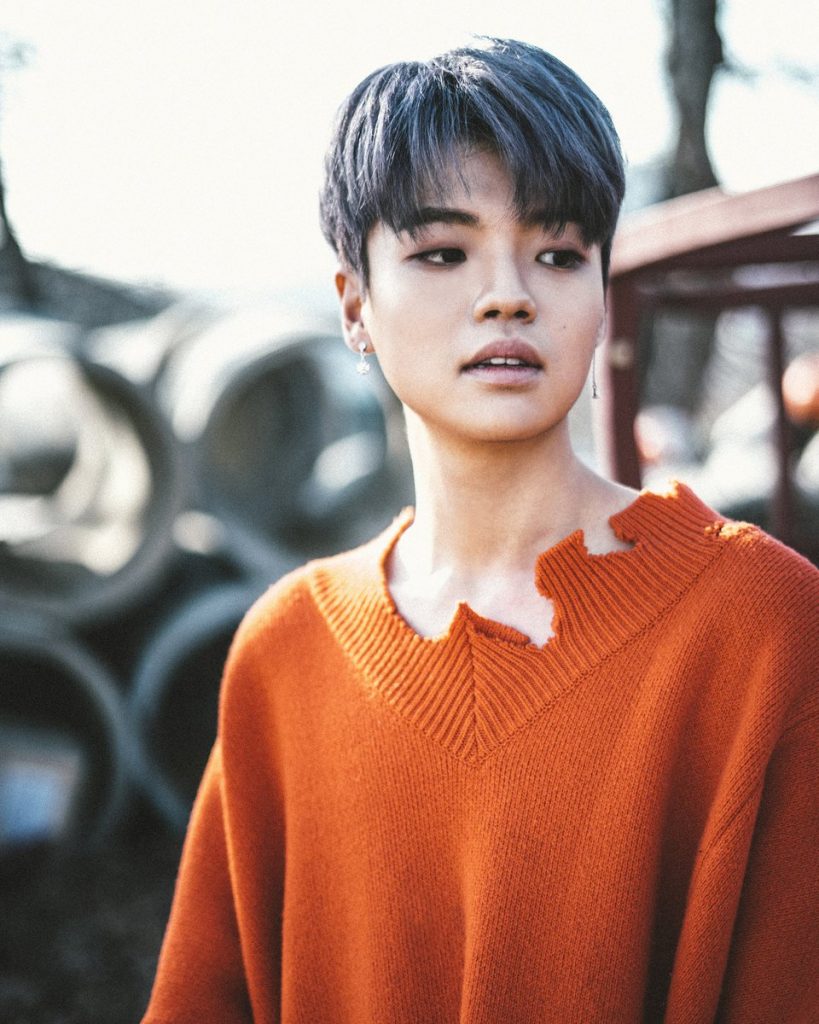 There is a major difference with artists being managed by a small company, as compared to artists under big entertainment agencies such as YG Entertainment, SM Entertainment, JYP Entertainment, and BigHit Entertainment. Every time artists from these companies make a comeback, expect to see them on music shows. Unfortunately, Jinseok is under a newly established company, and Black Y Music doesn't have the clout yet to demand a spot on any popular music show of mainstream TV stations.
Musical Show, "The Stage"
Jinseok along with other K-Pop artists such as Song Jaeho of Madtown, Kim Dongjun, and Kim Yejun took part in a new genre of the musical stage called 'K-Popsical', that a group of musical actors recently developed.
Instead of importing popular Western stage plays and transforming them for local viewers, they created a stage that featured popular K-Pop songs. They've dubbed it "The Stage: K-Pop Idol Challenge", and it will run from 25 August  up to 8 November 2020 at Daehakro Art Theater, SH Art Hall.
Personal Life
There is not much information on his personal life, as most K-Pop artists are not allowed to date in their first five years after debut. This is a common practice in South Korea to avoid distractions or dating scandals of any kind. Since most K-Pop artists start training when very young, the parents or guardians approve of this policy. It is not clear if Jinseok is living in a dormitory provided by his talent agency, or if he lives with his parents as he is a solo artist.
Hobbies, favorites, rumors, and interesting facts
Playing guitar is one of his favorite things to do at home.
He plays badminton and is quite skillful at it. He plays with his close friends, Woorizari, a duo being managed by his talent agency.
During his stint in the reality survival show, "Under Nineteen," he was given two nicknames – Jijin, which is Earthquake in Korean, as well as the aforementioned Little Crush.
His favorite dish is anything that has chicken in it.
He is currently fond of the song "Cold Water" by Major Lazer, featuring Justine Bieber and M0.
Sometimes he is referred to as the "Little Prince of Ballad" due to his fondness for singing ballads.
His favorite local artists aside from Crush are Park Hyoshin and Naul, while his favorite foreign artists are Justin Bieber and Max Schneider.
Dropping out of the reality show "Under Nineteen," was his most difficult obstacle that he was able to overcome. For him, it wasn't only physically excruciating, but mentally draining as well.
While he appreciates the global popularity that K-Pop music has achieved in recent years, he hopes that the international audience would also learn to appreciate other music genres from South Korea, such as ballad and R&B.
Appearance
He is 5ft 8ins (1.73m) tall and weighs 130lbs (59kgs) with a lean body. His natural hair color is black, but has dyed it to a different color each time he has promotional activities, whether it's for TV or a live showcase; he would revert to his natural color once the promotions were done. The same thing happens with his eye color; the natural color is dark brown but he's been seen sporting colored contact lenses when he's on TV or in live events.
Net worth
Ji Jinseok has an estimated net worth of close to $100,000 as of September 2020, according to sources.