Solar is a South Korean singer-songwriter, and leader of the Korean Pop girl group Mamamoo, under RBW Entertainment. They became one of the top idol groups in Korea with their hit songs "Um Oh Ah Yeh," "Decalcomanie," "Yes I Am," and "Hip." She is also a popular vlogger with her YouTube channel, Solarsido, having 2.8 million subscribers and over 160 million views. She debuted as a solo artist with "Spit It Out" in 2020.
Just a simple reminder that article is created and owned only by kpopwiki.org. Article cannot be re-published in any other pages or documents. Copyright is protected by DMCA. All found copies will be reported.
Original source: https://kpopwiki.org/solar-mamamoo-age-height-family-parents-relationships/
Early life and family
Solar was born Kim Yong Sun on 21 February 1991, in the Gangseo District in Seoul, South Korea. She has an older sister named Yanghee.
Once she started earning money, she helped her parents buy a house, and bought her dad a car. She would also give them spending money.
Educational background
She graduated with a major in Tourism from Hanyang Women's University, and attended Modern K Music Academy University.
Career
First steps
At 20, she dreamed of becoming a flight attendant and was undergoing training for it, but signed up for a street performance, just to avail of a free gift. She was then cast by someone from an entertainment company who saw her potential, but she turned down their offer. However, since that day, she kept thinking about singing as a profession, and decided to give it a try. She auditioned at many agencies except for SM Entertainment, as the biggest entertainment company in South Korea was known for launching idols with good looks, and Solar knew she wouldn't meet the visual criteria, so wanted to save herself the trouble.
She failed most of her auditions as she was really shy at first, but later as she became more confident, it helped her pass the one with WA Entertainment (currently known as RBW Entertainment). When they asked her to do freestyle dancing, she danced confidently even though she was lacking in skill.
Solar signed up with them in 2011 and trained for three years. She was in her 20s at that time, and felt bad for continuing to receive an allowance, which wasn't much, from her parents when other people her age were already earning money. She lived with Moonbyul and Hwasa in a rooftop apartment, saying that their living standards were less than ideal. The place was full of cockroaches particularly the bathroom, so she would shower in the dark, so she wouldn't see them.
In early 2014, WA Entertainment introduced their upcoming girl group, Mamamoo to the public, through collaborations with several artists including the R&B singer Bumkey in "Don't Be Happy", and hip-hop duo Geeks in "HeeHeeHaHeHo," which both charted on South Korea's Gaon Digital Chart. They also collaborated with the balladeer K.Will, and featuring artist Wheesung in "Peppermint Chocolate," which had over 600,000 download sales, and reached No.10 on the Gaon Digital Chart.
Solar officially debuted as the leader of Mamamoo in June 2014, along with members Hwasa, Wheein, and Moonbyul. "Hello" was their first extended play released on the 18th of June, and it peaked at No.9 on the Gaon Album Chart with almost 13,000 copies sold. Previously released songs were included in the seven-track EP – the lead single "Mr. Ambiguous" charted at No.19, and had 440,000 downloads.
solar with mamamoo ; a thread pic.twitter.com/hGJnl26aOc

— solar pics (@kimyongsunpics) January 11, 2021
Its music video (MV) featured many popular artists including Baek Jiyoung, who played a prank on the girls at the end of their performance in the video by acting disappointed, and criticizing them for not singing live. The girls were speechless at first, then cried in relief when they realized it was a prank. The MV garnered 9.6 million views.
"Piano Man" was the title track of their second EP released in November, but it didn't fare as well as their debut single at first. However, as the group joined the KBS' music competition program, "Immortal Songs: Singing the Legend," their strong vocals impressed the viewers and gained them the attention they needed to promote their single, which reached over 300,000 download sales.
By the end of the year, Mamamoo ranked No.10 in digital sales and No.19 in album sales among girl groups.
According to Solar, they were under tremendous pressure when they debuted as most people looked down on them for lacking in visuals that were expected in a girl group.
Talvez cuando nos enamoramos solo vamos tras esa persona pero nunca vemos quien va detras de nosotros Atte: Queen Solar 💓💓💓🌈🌟

Posted by Solar Mamamoo on Friday, July 19, 2019
Many believed they would fail, but the girls proved them all wrong. Mamamoo broke the mould of what a typical girl group should be, as their individuality, immense talent and great music led them to become one of the top girl groups in Korea.
Further success
Solar and the girls have released numerous singles that were received well by K-Pop fans. "Um Oh Ah Yeh," the lead track of their third EP "Pink Funky," released in June 2015, was a big hit as it peaked at No.3 on the Gaon Digital Chart, with close to 1.2 million download sales; Solar contributed to the lyrics of the song. The MV had over 40 million views.
"Melting" was the girls' first studio album, released on 26 February 2016 and it reached No.2 on the Gaon Album Chart with 50,000 copies sold, and No.8 on Billboard's World Albums Chart. Billboard ranked it at No.7 on their list of The 25 Greatest K-Pop Albums of the 2010s.
Two pre-release singles, "I Miss You" and "Taller Than You," were included on the album with download sales of 810,000 and 480,000, respectively. Solar took part in the songwriting process of four tracks including the lead single "You're The Best," which peaked at No.3 on Billboard's World Digital Song Sales Chart and topped the Gaon Digital Chart with 1.4 million downloads. It won them their first No.1 Song of the Week trophy in a music show, courtesy of SBS' "Inkigayo." It was also No.2 on the list of The 100 Greatest K-Pop Songs of the 2010s by Billboard.
Solar and the girls' fan meetings, "Moo Party," in Seoul and Los Angeles in 2015 were well-attended, and their first solo concert in 2016 – Mamamoo Concert-Moosical" in Seoul was a success as well, with tickets tallegedly sold out in one minute after they were made available.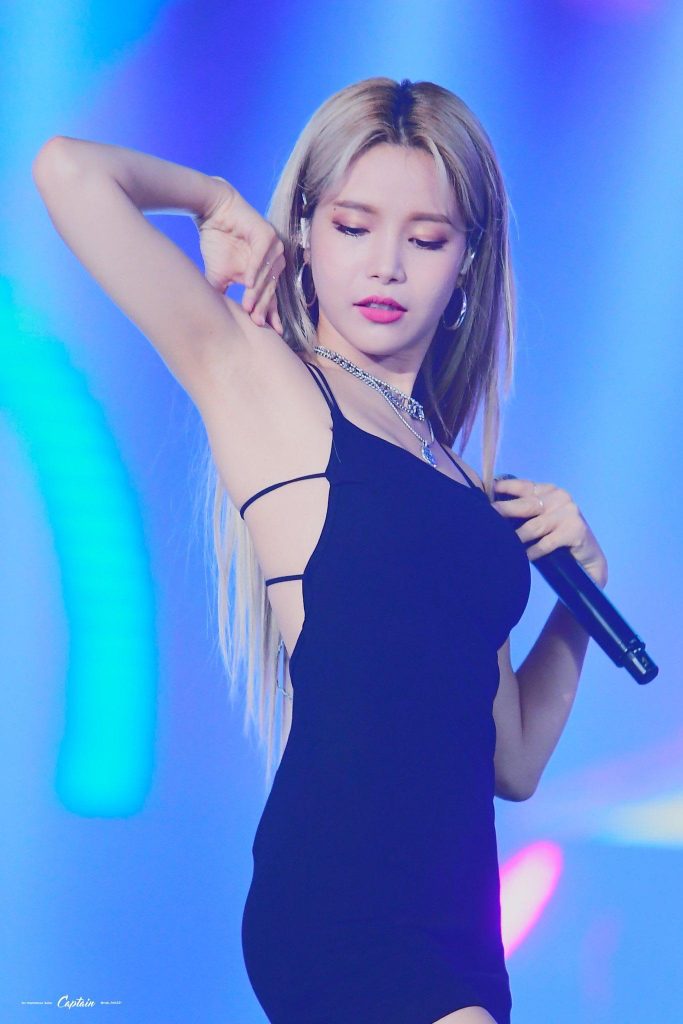 "Decalcomanie," the lead track of their fourth EP "Memory," released in November 2016, was one of their best-selling singles, as it had 2.5 million download sales. Solar co-wrote the lyrics for this song, as well as "Memory" and "I Love You Too." One of the pre-release singles included in the EP was "Angel," performed by Solar and Wheein, the vocal line of the group.
A series of concerts – "2017 Mamamoo Concert Moosical: Curtain Call" – were held in Seoul and Busan. Although successful, their first show became controversial – in a parody video shown at the concert, the girls wore make-up to tone darken their facial skin, as they recreated a scene from the MV of Mark Ronson's "Uptown Funk" featuring Bruno Mars. After receiving so much criticism, the group apologized, and the clip was removed from their succeeding shows.
Their fifth EP "Yes I Am" was released in June 2017, and peaked at No.2 on the Gaon Album Chart with 60,000 copies sold, and No.1 on Billboard's World Albums Chart with 1,000 copies sold.
The title track, which Solar co-wrote, had 1.1 million downloads in Korea, and 1,000 in the US.
In 2018, they launched the 4Seasons 4Colors Project to show more of each member's individuality. "Yellow Flower," their sixth EP released in March 2018, was the first in the series, representing Hwasa, and was their first album to top the Gaon Album Chart. Its lead single, "Starry Night," was certified platinum by the Korea Music Content Association (KMCA) for 100 million streaming and 2.5 million downloads. Two tracks from the EP, "From Winter to Spring" and "Star Wind Flower Sun," were co-written by Solar.
The "Red Moon" EP was focused on Moonbyul." In the MV for the lead single "Egotistic," Solar was seen pole dancing, and some knetizens (Korean online users) shamed her for what they perceived as an 'overtly sexual' performance.
However, this didn't deter her from pole dancing for her solo stage appearance at the Mnet Asian Music Awards in 2018. "Blues" EP was for Solar, and had her solo track "Hello" which she wrote and composed. Completing the series was the "White Wind" EP for Wheein.
During Mamamoo's series of concerts called "4Seasons F/W" in 2019, Solar did BTS' "Fire" cover performance for her solo stage, and ripped her shirt open at the end. She said it was usual for male idols to rip their shirts on stage, and it made her wonder why female idols couldn't do the same thing, so she gave it a try and the audience loved it.
Solar and the girls joined the reality television competition series "Queendom," which aired on Mnet for 10 episodes from August to October 2019.
Other participants were AOA, (G)I-DLE, Lovelyz, Oh My Girl, and the only solo artist, Park Bom (former 2NE1 member); they battled it out through a series of performances, and Mamamoo was declared the winner at the finale, after all the points from every round were tallied. According to the CEO of RBW, being on the show gained them more international fans, and said that it showed in their album sales and YouTube channel subscribers.
The girls released their second studio album "Reality in Black" in November 2019, and it topped the Gaon Album Chart with around 125,000 copies sold, and peaked at No.11 on Billboard's World Albums Chart with 1,000 copies sold in the US. It consisted of 11 tracks including the lead single "Hip," which was certified platinum by the KMCA for 100 million streaming. It topped Billboard's World Digital Song Sales Chart, and had 2,000 download sales in the US.
They usually create their choreography, but some people said that their dance routines were too simple, so they worked with a famous choreographer for this song.
"Travel" was their 10th EP released in November 2020, which sold 101,000 copies that day, and has cumulative sales of 170,000 copies, making it their best-selling album to date.
Solo activities
Solar collaborated with various artists including Eddy Kim in "Coffee & Tea" (2015), Hwang Chiyeul in "Mellow" (2016), and Super Junior's Heechul, Eunhyuk, and Shindong in "Charm of Life" (2017) for an SM Station Project. She also contributed to the soundtrack of the Choi Jiwoo-starrer, "Twenty Again" in 2015, with the song "Star," and the Song Joongki-starrer, "Vincenzo" in 2021, with "Adrenaline" (English version).
In April 2018, she released her first EP entitled "Solar Emotions," with most of the tracks covers of K-Pop songs.
She held a series of concerts in Busan and Seoul called "Emotion Concert Blossom" in April and June that year.
She officially debuted as a solo artist in April 2020 with the single "Spit It Out," which reached No.2 on the Gaon Album Chart as it sold over 85,000 copies. The title track, which she co-wrote, gave Solar her first music show win via SBS MTV's "The Show" on 28 April 2020. In the MV, she was criticized for wearing a transparent outfit that was deemed inappropriate – some felt that she was sexualizing child-like fashion. It was disclosed that she was wearing nude-colored shorts underneath; she also went bald in one scene, but that was received positively by fans.
Variety shows
Solar joined competition shows such as the "King of Masked Singer" disguised as the Single-Hearted Sunflower in 2015, and "Duet Song Festival" in 2016. She was paired with Eric Nam, as they pretended to be a married couple in season four of the reality TV series, "We Got Married." She also became a cast member of JTBC's "Gamsung Camping" and KBS2's "Boss in the Mirror" in 2020.
YouTube channel
She opened her YouTube channel "Solarsido" in January 2019, because she thought it would be something she could do well, and have fun at the same time. It had also become therapeutic for her, as she gets to try new things. She called her subscribers, which were around 2.8 million, "Yongwangnims" (Dragon Kings). Her vlogs had garnered around 167 million views. In 2019, she revealed that the highest she had earned in a month was $100,000, but she still had to deduct the production cost, and divide the profit with her agency.
Solar renewed her contract with RBW in January 2021.
Personal life
She is 30 and known to be single. Solar experienced her first love when she was in high school, telling the guy that she liked him, but was rejected. Instead of giving up, she said she would give him time, so the guy started avoiding her.
she's adorable#SOLAR #솔라 #ソラ @RBW_MAMAMOO pic.twitter.com/mJpsn8WFej

— solar pics (@kimyongsunpics) March 24, 2021
In 2019, she went on a "date" with a guy named Florian from Turkey. They walked around Seoul and had snacks at one of the food stalls. She took him to see the Seoul City Wall, which is a UNESCO World Heritage Site. She surprised him by granting his wish, which was to meet his favorite Mamamoo member, Moonbyul. The so-called date with a foreign fan was actually for her vlog content.
Interesting facts
She was once seen at the airport wearing no make-up, and was bashed for it.
Solar is a certified recreation instructor, and certified laughter therapist.
Appearance
She is 5ft 3ins (1.63m) tall and weighs 100lbs (45kg) with a slim build. She has black hair and dark brown eyes. As an idol, she had tried various hairstyles depending on their album concept, but she most liked her pink shoulder-length hair in "Yes I Am", and long white hair in "Starry Night".
Net worth
Solar has an estimated net worth of $1.5 million as of March 2021, according to sources.