Simon Dominic is a South Korean rapper-songwriter, and was the co-CEO of the hip-hop record label, AOMG, from 2014 until he resigned in 2018. He first gained popularity in 2009, when he was launched as part of the hip-hop duo Supreme Team, under the label Amoeba Culture, and had No.1 hit songs including "Dang Dang Dang," "Why," and "Then Then Then." When it was disbanded in 2013, he pursued a successful solo career with two studio albums and two extended plays in his name, along with hit songs such as "Cheerz," and "Simon Dominic." His six-year relationship with the singer Lady Jane, had been one of the most talked-about in the South Korean entertainment industry, as it was rare for artists to be openly dating.
Just a simple reminder that article is created and owned only by kpopwiki.org. Article cannot be re-published in any other pages or documents. Copyright is protected by DMCA. All found copies will be reported.
Original source: https://kpopwiki.org/what-happened-to-simon-dominic-affairs-with-lady-jane/
Early Life and Family
Simon Dominic was born Jung Kiseok on 9 March 1984, in Geumjeong-gu, Busan, South Korea. His parents came from a poor family and he grew up in a poor household. Nevertheless, his mother tried her best to give him a good education to the point of having him attend after-school classes, just to improve his grades because he wasn't keen on studying; he only pretended to study so he could rap and create music freely. His main interest was rapping, but his parents didn't approve of it and would become annoyed whenever they heard him constantly rapping and beat-boxing at home.
He has a younger brother whom he claimed shares the same personality as him. They are quite close, but used to fight all the time when they were kids.
One time, he was lying down on the bed when his brother stood in front of him and began playing the recorder. He got annoyed and kicked the recorder which went straight to his brother's mouth and blood gushed out. Simon D immediately took his piggy bank from his cabinet and offered it to his brother, pleading with him not to tell what happened to their mother.
Educational Background
He matriculated from Namsam High School in Busan, and graduated from Gyeongju University.
Career
Simon Dominic is also known as Ssam D or Simon D, but he used the stage name K-Outa back in the early 2000s, when he was just starting as an underground rapper. His parents kept nagging him about his underground rapping, until there was a whole-page article about the Busan hip-hop scene in the Busan Times, and his photo was right in the middle of it. He woke up in the morning and found that his mother had bought 10 copies of the newspaper.
First Steps – Supreme Team Debut, Best New Male Group (2009 – 2010)
He slowly built his name in the hip-hop scene, and then moved to Seoul to pursue a mainstream music career. He signed up with the hip-hop record label Amoeba Culture, home to successful hip-hop artists such as Dynamic Duo, Primary, and Rhythm Power. He debuted as half of the duo called Supreme Team with E-Sens, on 14 July 2009, and he used the new stage name Simon Dominic. His name was a combination of his baptismal name Dominic, and Wesley Snipes' character Simon Phoenix in the movie "Demolition Man." They released their first extended play (EP) entitled "Supreme Team Guide to Excellent Adventure." It consisted of eight tracks including "Unknowingly," "Maladjustment" featuring Dok2, "Aritaum" featuring Dynamic Duo, and the lead track "Supermagic." While it was reportedly successful, the South Korean Gaon Chart was established only in 2010, so no chart rankings were available at that time.
They impressed many in the music industry, particularly the hip-hop community, and at the end of their debut year, they took home the Best New Male Group award from the 11th Mnet Asian Music Awards, beating K-Pop boybands including Beast and MBLAQ.
Simon D made numerous guest appearances in variety, talk, and music shows in South Korea to promote their music. Viewers were charmed by his wit, which helped them gain a footing on the mainstream market. Encouraged by the success of their debut year, the duo released three albums in 2010; on 18 March 2010 "Supremier," was released, consisting of 14 tracks. Six popular hip-hop artists were featured in the album, including Tablo of Epik High, Gaeko and Choiza of Dynamic Duo, Beenzino, and Kim Sinyoung.
It was followed up by the EP entitled "Spin-Off" released on 3 June 2010, which had six tracks including "Shinobi" featuring Tablo, and "Super Lady."
It peaked at No.6 on the Gaon Album Chart, and the lead track, "Dang Dang Dang" charted at No.12 on the Gaon Digital Chart, with close to two million downloads.
In the last quarter of 2010, the duo collaborated with Youngjun of Brown Eyed Soul to release the EP "Ames Room," which charted at No.4 on Gaon. It consisted of five tracks and spawned the hit song entitled "Then Then Then," which dominated the charts with 2.1 million downloads. Another song entitled "Why" also peaked at No.1, with over 1.6 million downloads.
The year 2010 was quite successful for Simon D and E-Sens, as they were included on the list of the 20 Most Influential Stars at the Mnet 20's Choice Awards. They also took home the Hip-Hop Award from the 25th Golden Disk Awards.
𝐒𝐈𝐌𝐎𝐍 𝐃𝐎𝐌𝐈𝐍𝐈𝐂 – 𝐏𝐀𝐑𝐓𝐘 𝐅𝐎𝐑𝐄𝐕𝐄𝐑

🗓 [210309]
🎧 𝗦𝗣𝗢𝗧𝗜𝗙𝗬: https://t.co/ql9o0bRjR8
🎧 PARTY FOREVER on all streaming platforms: https://t.co/wiGQshtjwO

📺: 𝗟𝗜𝗩𝗘 𝗖𝗟𝗜𝗣: https://t.co/04YWS5HsA6#SimonDominic #사이먼도미닉  #Party4ever pic.twitter.com/P2Eatt0KD0

— Simon Dominic 🇵🇭 PH (@SimonDominicPH) March 14, 2021
Solo Album, E-Sens Marijuana Scandal (2011 – 2012)
Supreme Team collaborated with Gaeko, and released the digital single, "I Was Full", which ranked at No.5 on the Gaon Digital Charts with close to one million views. Everything was going well for Simon D until E-Sens became involved in a marijuana scandal – he was booked for marijuana use in February 2012. He had been under investigation since July 2011, and it was found during police interrogation that he had been using the prohibited substance since 2009. The duo then went on hiatus.
Simon D released his first solo studio album, "Simon Dominic Presents SNL League Begins," on 7 October 2011, consisting of 10 tracks with six featuring artists including Jonggigo, Dynamic Duo, and DJ Friz.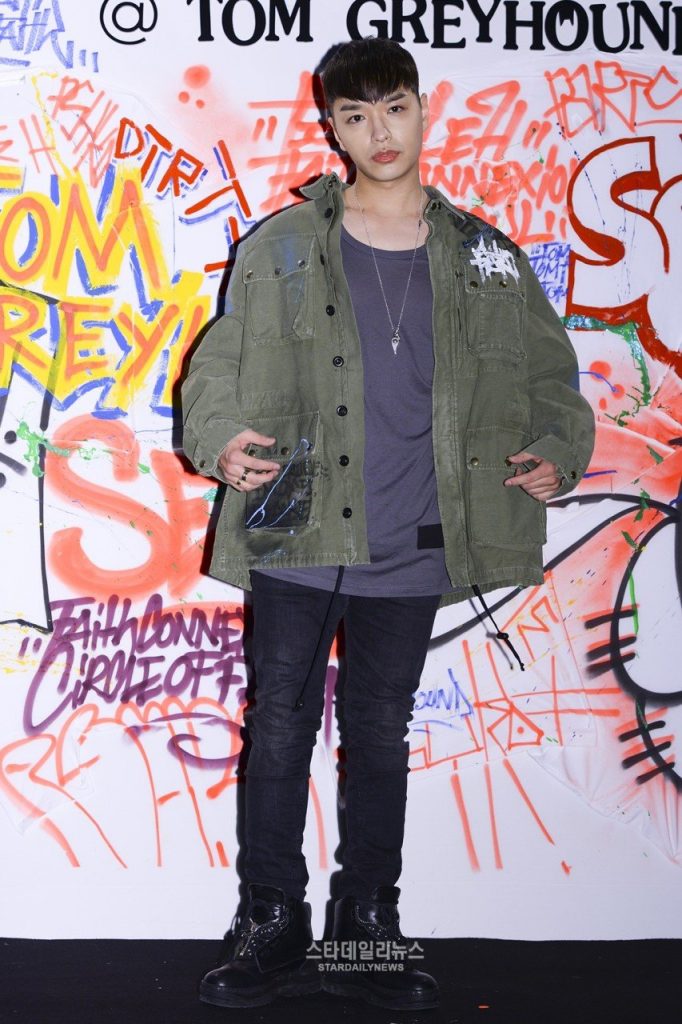 The album spawned his first solo hit song entitled "Cheerz," which peaked at No.10 on the Gaon Digital Chart with close to 1.2 million downloads. Two more tracks made it to the charts – "Stay Cool" featuring Zion T. with more than 400,000 downloads, and "Hero" with about 300,000 downloads. The album charted high at No.2, making his solo debut a commercial success.
Supreme Team Comeback Album and Disbandment (2013)
After two years of hiatus, the duo made a comeback with the release of the single album called "Thanks 4 The Wait" in March 2013. However, three months after that, Amoeba Culture announced the disbandment of the duo to pursue solo careers. Simon D stayed with the label, but E-Sens canceled his contract with them.
New Label, Co-CEO of AOMG, "Show Me The Money" Judge (2014 – 2017)
Simon D also left Amoeba Culture in 2014, and several months later was convinced by Gray and DJ Pumpkin to join another hip-hop record label, AOMG, founded by Jay Park, who was previously an original member of the popular boyband 2PM.
Simon D was appointed as co-CEO by Jay and for the next four years, he helped in producing quality music for the label as well as managing their artists.
On 21 August 2015, he released his first EP under AOMG entitled "Won & Only ((₩ & Only)." It gave Simon D another hit song, and his best-charting track to date as "Simon Dominic" peaked at No.2 on the Gaon Digital Chart with close to 800,000 downloads. It became his signature song, and whenever he appeared in any television show, it would be used as background music.
In 2016 he was invited to be one of the judges for season five of the reality-TV rap survival series, "Show Me The Money"; Simon D along with Gray represented AOMG, as they chose and mentored contestants throughout the series.
He released three songs used in the series – "Comfortable" with Gray and One, which ruled the Gaon Digital Charts with 750,000 downloads; "I'm Not The Person You Used To Know," which charted at No.2; and "XamBaqJa" at No.29.
Resignation as co-CEO, Depression, "Darkroom: Roommates Only" (2018 – present)
Due to his managerial duties, Simon D was unable to focus on making music for himself. Later on, fans were curious as to why he was conspicuously absent from shows, and even on social media. They all thought he was busy managing the artists, but in reality he underwent treatment for depression. In 2018, he resigned from his position, but chose to remain a rapper under the label. At first fans thought that he had fought with Jay, especially when he composed the song "Me No Jay Park," one of the tracks on his second full-length studio album, "Darkroom: Roommates Only."
[210314] Simon Dominic's congratulatory message for SHUIT's 5TH anniversary 🎉

📸: https://t.co/9rTItCQNg5#SimonDominic #SimonD #AOMG #쌈디 #사이먼도미닉 pic.twitter.com/uFjew8r37N

— Simon Dominic 🇵🇭 PH (@SimonDominicPH) March 14, 2021
The lyrics of the song explained why he needed to resign, and that he cringed each time he heard the word CEO, as he believed he wasn't as good as Jay in that position. He released the album in June 2018 just before he tendered his resignation. All the tracks might have been about his inner demons, insecurities, and anxieties, but music analysts said that nowhere in the album indicated he sounded unsure, as it was well-crafted.
After being absent from TV for two years, Simon D became active again in shows such as MBC's "I Live Alone" as one of the regular members, MBN's hip-hop survival show called "Sign Here" with his AOMG labelmates in 2019, and the reality-TV music-producing show called "DingoxDamoim" with other hip-hop artists in 2020.
On 3 September 2019, Simon D dropped another EP entitled "No Open Flames", with seven tracks including "Make Her Dance," "GOTT," and "DAx4." He said he would keep on releasing music as long as he could.
In 2021, he was one of the mentors in the reality-TV survival series, "High School Rapper: Season 4", along with Jay Park, Loco, The Quiett, and pH-1. It would be aired from February to April 2021.
Personal Life
Simon D is currently single, as there has been no news that he has a girlfriend right now. He was once in a six-year relationship with a singer who goes by the name Lady Jane. They were openly dating, and people could ask about their relationship as they never tried to hide it from the public. They met through a common friend when he was still a struggling artist. Lady Jane said that Simon D was openly staring at her when they first met at an after-party, and confronted him about it. He said that it was because he couldn't help himself as he was a fan, and that he liked her that much.
Naturally she freaked out, and immediately left the place. He later contacted her online, and she agreed to meet him since she felt his sincerity. They became friends, then started dating in 2007 after she asked him about what it would be like to have a boyfriend.
They became one of the most loved celebrity couples at that time. Fans found it cute when Simon D would publicly declare his love for her, however, the relationship overshadowed Lady Jane's career. Most people only knew her because of her involvement with Simon D, and while it was an unfortunate consequence, their love endured for six years. It was one big shock to fans that on 17 June 2013, Amoeba Culture, Simon D's label at that time, announced that the two had broken-up, saying that they drifted apart due to their careers.
There were no third parties, money problems, or abuse that ended the relationship, and they remained friends.
They didn't give any details about the break-up until 2014, when Lady Jane was on a TV show called "I Need More Romance", and was asked about being friends with her ex-boyfriend. She said the breakup was a mutual decision; at that time they were both 29 years old, and she felt that she wanted to get married when she reached her 30s but Simon D had a different view on that.  She decided then that it would be better to break up while they were still in a good place emotionally.
In 2019, while he was promoting his newly-released album in a TV show, it was mentioned that Lady Jane signed up with another label. Simon D was speechless, and some observed that he was still visibly affected by the mere mention of her name.
Hobbies, favorites, rumors, and interesting facts
He has trouble sleeping, so he works hard to get his body and mind exhausted.
Simon D wanted to be fluent in English so he can perform more on global stages, but he's too lazy to study. He considers Jay Park as his English teacher.
He writes the lyrics first before the beats.
Simon D's everyday bag is the Soft Trunk from Louis Vuitton.
He can't leave his home without his AirPods, Nintendo Switch, wet wipes, his credit card wallet, Oliver Peoples cologne by Byredo, a hobo tool that could be likened to a Swiss knife, and an OVO accessory by Drake.
Simon D has a driving license, but doesn't like to drive and is more comfortable being driven around.
His favorite wristwatch brands are Patek Philippe, Richard Mille, and Audemars Piguet.
Appearance
He is 5ft 7ins (1.70m) tall and weighs around 125lbs (57kgs). He has black hair and dark brown eyes.
Net Worth
According to authoritative sources, Simon Dominic has an estimated net worth of over $5 million as of March 2021.