Umji (GFriend) Wiki
Kim Ye Won was born in Incheon, South Korea, on 19 August 1998 – her zodiac sign is Leo and she holds South Korean nationality. She is a singer, rapper and a dancer, best known for being a member of the girl group GFriend.
Just a simple reminder that article is created and owned only by kpopwiki.org. Article cannot be re-published in any other pages or documents. Copyright is protected by DMCA. All found copies will be reported.
Original source: https://kpopwiki.org/umji-gfriend-age-weight-loss-height-plastic-surgery-wiki/
Childhood and education
Umji was raised alongside her older brother Kim Bogeun, who is a Marine Sergeant, and her older sister Kim Jiwon in Incheon, by their wealthy father who is the Chief Executive Officer (CEO) of the Moa Dentist Group, and their mother who is a housewife. Umji started learning English language at a very early age, and attended an English Preschool before enrolling at Shinsong Middle School, at which one of her teacher noticed that Umji was a talented singer, while she also showed she was a talented actress when preparing for a school play.
She continued her education at the School of Performing Arts Seoul's theatre department, and it was while attending it that she launched her singing career – she was walking home from a class when she was noticed by the CEO of Source Music, who invited her to attend her first audition. Upon matriculation in 2016, Umji focused on becoming a famous singer, rather than enrolling at a college.
Career as a singer and the band GFriend
In November 2014, it was announced by Source Music that it would be launching a six-member girl group – "GFriend" – in January 2015, and that it would be made up of Umji, Sowon, Yuju, Eunha, Yerin and SinB. The girls released their debut extended play (EP) "Season of Glass" on 15 January, made up of five songs with the song "Glass Bead" written by Iggy and Seo Yong-bae as its lead single.
The EP peaked at #12 on Gaon Weekly Chart, and just a day after it was released, the girls performed in the music show "Music Bank". On 28 January, the American entertainment media brand Billboard, named GFriend one of five top K-pop groups to listen to in 2015.
The girls' second EP – "Flower Bud" – came out on 23 July 2015, with "Me Gustas Tu" as its lead single; on the same day, they performed in the popular South Korean music program "M Countdown". What helped GFriend become popular all around Asia was the video taken by a fan while they were performing on an extremely slippery stage in September 2015 – the girls continued to sing their song "Me Gustas Tu", and were later praised for being so professional and being able to continue in those circumstances.
During the performance, Yuju fell five times, and ended up having a twisted finger. On 17 September, GFriend was nominated for a Best Korean Act Award at the 2015 MTV Europe Music Awards, and by the end of the year, "Me Gustas Tu" had become the 38th best-selling track of 2015.
The girls' third EP, "Snowflake" was released on 25 January 2016, with "Rough" as its lead single – the EP peaked at #10 on Billboard World Album Chart, while "Rough" became the third most watched K-pop video of January 2016. GFriend went on to compete in over 20 music shows, winning 15 awards including crowns in "M Countdown", "Inkigayo" and "Music Bank, second by the number of wins, right behind Apink who had gathered 17 awards.
On 11 July 2016, GFriend released their debut full-length studio album, "LOL" (standing both for "Lots of Love" and "Laugh Out Loud"), and the song "Navillera" was its lead single. In December 2016, YouTube revealed the ten most watched K-pop videos, with "Rough" and "Navillera" holding second and tenth places respectively, while the magazine and internet portal "Bugs" ranked the two songs #2 and #11 in their 2016 list Bugs Year-End Top 100. "Rough" holds first place as the most downloaded song that year, and the girls marked the end of 2016 with their performance at 2016 KBS Song Festival.
On 6 March 2017, GFriend released their fourth EP, "The Awakening" with the song "Fingertip" as its lead single, and the EP peaked at #5 on Billboard World Album Chart.
In April, GFriend's fans held their first meeting called "Dear Buddy", while on 1 August, the girls released their new EP "Parallel", and the song" Love Whisper" served as its lead single. In September 2017, their repackaged album "Rainbow" came out with "Summer Rain" as the lead single.
On three days starting from 6 January 2018, the girls held their debut solo concert "Season of GFriend", before signing a new contract with King Records. They released their sixth EP "Time for the Moon Night" on 30 April, topping several charts including Gaon, while its eponymous lead single won 'all the prizes in musical programs'. On 23 May, their Japanese compilation album was released, entitled "Kyō Kara Watashitachi wa ~ GFriend 1st Best ~", reaching #10 on Oricon Weekly Album Chart.
Their new summer EP "Sunny Summer" came out on 19 July, and on 10 October the girls' Japanese single album came out called "Memoria (Time for the moon night)" – it ranked #5 on the Billboard Japan Weekly Top Single Chart, and #6 on the Oricon Weekly Single Chart.
GFriend's second full-length album, "Time for Us" was released on 14 January 2019, with the song "Sunrise" as its lead single, and became the girls' best-selling South Korean album. Their second Japanese album came out in January 2019 – called "Sunrise (JP ver.)/La Pam Pam" – and was followed by their third Japanese album on 13 March, called "Flower/Beautiful". On 1 July, their new EP "Fever Season" was released, with "Fever" as its lead single, while on 13 November, GFriend released their debut full-length Japanese album, "Fallin' Light".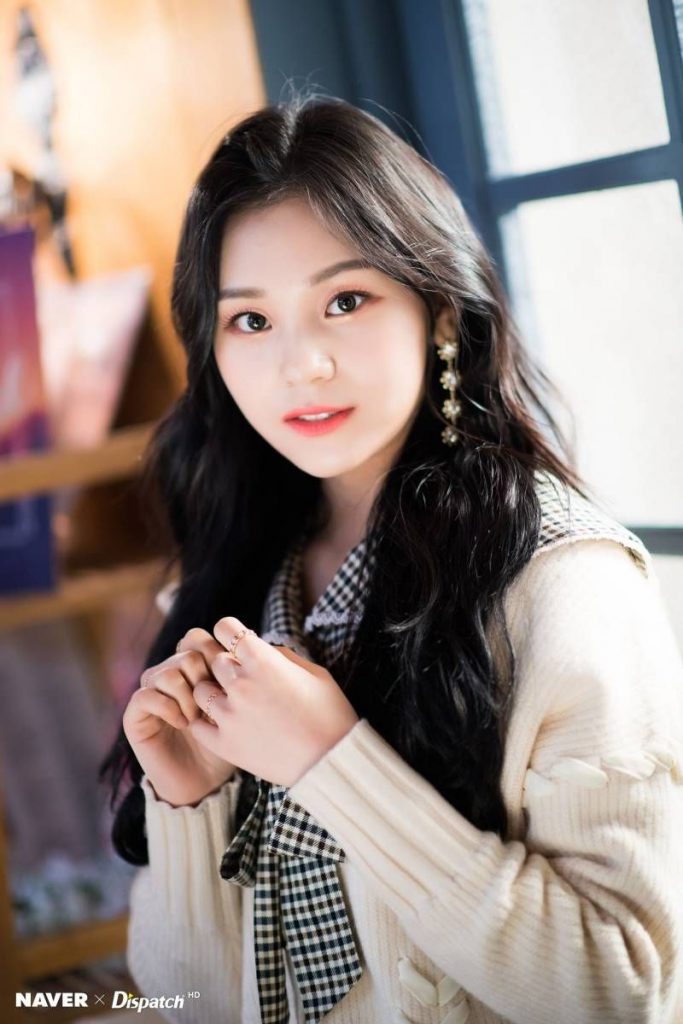 Their eighth EP, "Labyrinth" came out on 3 February 2020, with the song "Crossroads" as its lead single. Most recently, their ninth EP "Song of the Sirens" was released on 13 July 2020, with "Apple" as its lead single.
Love life and relationships
Umji doesn't have a boyfriend as of July 2020, and although none of the 12 girls have talked about it, it's believed by many that their agency doesn't allow them to date, because of how it might affect the band's popularity. Umji has, however, talked about her ideal type of a man, and has stated that she would like to find someone who is similar to Cha Tae Hyun, a South Korean actor and singer who is 22 years older than she is. Her statement has been criticized by many of her fans because of her and Cha's age difference, but she's explained how she wouldn't date him but would like to find someone younger with the similar mindset and skills.
There are rumors circulating the internet that Umji was once in a relationship with her high school sweetheart in 2014, but that the two broke up after nearly a year together.
Hobbies and other interests
Umji likes to watch Disney movies in her spare time, and being a big fan of Disney as she is, her dream is to visit Disneyland Park in Anaheim, California USA – her favorite Disney film is "The Little Mermaid", and she loves to sing Disney songs. She is a collector of cosmetic products, but which she rarely uses. One of Umji's favorite hobbies is to lay down and look at the sky in the morning without really doing anything, and her second favorite hobby is cooking – she also likes to walk in her garden alone.
#UMJI: ummmmm_j.i has posted on instagram pic.twitter.com/RmhK1DrBKa

— umji loops (@umjiloops) August 17, 2020
She is keen on giving people advice, which is why her friends from GFriend are calling her 'the Consultant' because they are always asking her what to do when they have a problem.
Her role model is the South Korean singer and songwriter Sunmi, who is perhaps best known for having been a member of the South Korean girl group Wonder Girl, which she left in January 2010 to focus on studying.
Some of the things Umji dislikes are bugs, dust, and sports.
Weight loss and plastic surgery
Since her debut days, Umji has lost around 20lbs (9kgs) and has talked about how she was able to do this.
She was encouraged by her friends and family not to give up on working out at the gym, and during her workouts, Umji was mostly focused on working on her abs which are the favorite part of her body, and she was also working on her waist so that it would 'create a pretty body line'.
There are rumors circulating the internet about Umji having undergone plastic surgery, however, it is widely known that agencies of K-pop groups don't allow their artists to undergo this kind of surgery.
Age and height
Umji is 21 years old. She has long brown hair and brown eyes, while her height is 5ft 5ins (1.65m), and she weighs around 106lbs (48kgs). As of July 2020, Umji's net worth is estimated at over $100,000, growing steadily with the success of GFriend.