Joshua Hong is the Korean-American lead vocalist and visual of Pledis Entertainment's group Seventeen, that went on to become one of the most successful Korean Pop (K-Pop) idol groups with million-selling albums certified by the Korea Music Content Association (KMCA), such as "Heng:garae" and "Semicolon."
Just a simple reminder that article is created and owned only by kpopwiki.org. Article cannot be re-published in any other pages or documents. Copyright is protected by DMCA. All found copies will be reported.
Original source: https://kpopwiki.org/the-untold-truth-about-seventeen-member-joshua-hong/
Early life and family
Joshua Hong was born on 30 December 1995, in Los Angeles, California USA. He was raised Catholic by his Korean parents, whom he considers as his role models. He enjoyed performing in front of people, as he sang and played an acoustic guitar as a member of the Praise Team in his church.
He spoke Korean at home and English at school.
Educational background
Joshua attended Downtown Magnets High School in L.A.
Career
First steps
He was 18 when he was street-cast at the Korean-LA Festival by a manager from Pledis Entertainment, home to NU'EST and After School. He was invited to go to South Korea and train for a month so the company could properly assess his potential to become a K-Pop idol. Proving that he had the star quality and talent for it, they officially signed him up as a trainee in 2013. When he moved to Korea, his parents remained in L.A., and his mom, who has been very supportive of what he wanted to do, would just visit him from time to time.
He was first called by his Korean name Jisoo, before the company decided to use Joshua as his stage name. He once got a little irritated at the other trainees for calling him "Hong Josa" when they were playing basketball. Apparently, some of them – particularly Seungkwan – found it difficult to call him by his English name, and had to shorten it.
He was scolded by the group's vocal coach when he couldn't hide his dislike when called by that nickname, and asked him if he couldn't control his facial expression after he debuted. Joshua apologized, explained why he reacted that way to clear up any misunderstanding, and heeded the advice of his coach.
Before his debut, he appeared in the music video of "My Copycat" by Orange Caramel, which was a sub-unit of the K-Pop girl group, After School in 2014.
Pledis Entertainment produced the reality television show, "Seventeen TV" (2013-2014), that was broadcast live featuring their trainees, to launch the boyband Seventeen. Joshua first appeared in season two, and was paired with Seungkwan to perform "4 Minutes" by Madonna, featuring Justin Timberlake, and "Yeah 3x" by Chris Brown in their first concert, "Like Seventeen." Trainees come and go in seasons three through five as those remaining carried out missions that culminated in a concert each season.
[17'S 도겸] 정말 소중하고 자랑스러운 우리 캐럿들♥️
고마워요👍 pic.twitter.com/efeFVwvXiY

— 세븐틴(SEVENTEEN) (@pledis_17) January 10, 2021
Thirteen trainees officially became members of Seventeen in January 2015, and they were given rings engraved with "SEVENTEEN" and their names. They were grouped according to specialization, such as the Vocal Unit (Joshua, Jeonghan, DK, Seungkwan, and Woozi as the leader), Performance Unit (The8, Dino, Jun, and Hoshi as the leader), and Hip-Hop Unit (Vernon, Mingyu, Wonwoo, and S.Coups as the unit and group leader). As they were many in the group, they have a talk session almost every night, so that they can talk about their concerns and issues they need to resolve, to keep on improving their teamwork.
The boys were promised something that had never been done by any other boyband, and that was an hour-long debut showcase that would be aired live on MBC, should they successfully carry out the missions given to them. The CEO of Pledis Entertainment took their customized rings to further challenge them to work hard in getting them back.
Their journey toward a grand debut was documented in the reality TV show "Seventeen Project: Big Debut Plan." The boys' parents including Joshua's mother who flew in from L.A. came as a surprise from Pledis to personally return their rings after they accomplished their final mission.
On 26 May 2015, they officially debuted and performed the tracks included in their first extended play, "17 Carat," in their debut showcase. The five-track EP with "Adore U" as the lead single was released on the 29th of May, and peaked at No.8 on Billboard's World Albums Chart, and was included in their list of "10 Best K-Pop Albums of 2015." It entered South Korea's Gaon Album Chart at No.4 with over 52,000 copies sold that year.
"Boys Be" with the lead song "Mansae" ("long live" or "hurrah"), released in September, performed even better on the music charts as it topped the Billboard World Albums Chart, and peaked at No.2 on the Gaon Album Chart, selling more than 125,000 copies, and becoming the best-selling album for a rookie group that year.
They ended 2015 with a four-day concert called "Like Seventeen: Boys Wish" at Yongsan Art Hall in Seoul, with 3,200 in attendance. They held a two-day encore concert in February 2018 at the SK Olympic Handball Gymnasium with 7,000 attendees.
Joshua and the boys won the Best New Artist Award from Seoul Music Awards and Golden Disc Awards, and Billboard included them on their list of "21 Under 21 2015: Music's Hottest Young Stars."
Further success
The years that followed showed their steady rise to becoming one of the top K-Pop groups in the world. "Pretty You," the lead single from their 10-track studio album entitled "Love & Letter" (2016), had download sales of over 388,000 and gave them their first music show win through MBC Music's "Show Champion." Winning the No.1 Song of the Week trophy is a big deal as it validates the song as well as the group's popularity, considering both established and new artists compete for it with their latest singles every week during the promotion period.
Each music program has its own criteria that include album sales, digital streaming and downloads, broadcast score, SNS, and various voting systems.
"Teen, Age" released in November 2017 claimed the top spot on both the Billboard World Albums Chart and Gaon Album Chart, with cumulative sales of almost 400,000 copies. "Going Seventeen" (2016) and "Al1" (2017) also charted high on Billboard and Gaon, with each selling over 300,000 copies.
KMCA awarded music recording certifications to albums and songs released starting in January 2018, with remarkable sales based on the Gaon Music Chart, and five of Seventeen's releases earned this distinction.
A Platinum certification was given to albums that sold 250,000 copies, and Joshua and the boys' fifth EP entitled "You Make My Day" reached that mark two months after it was released in July 2018, and has sold over 425,000 copies to date.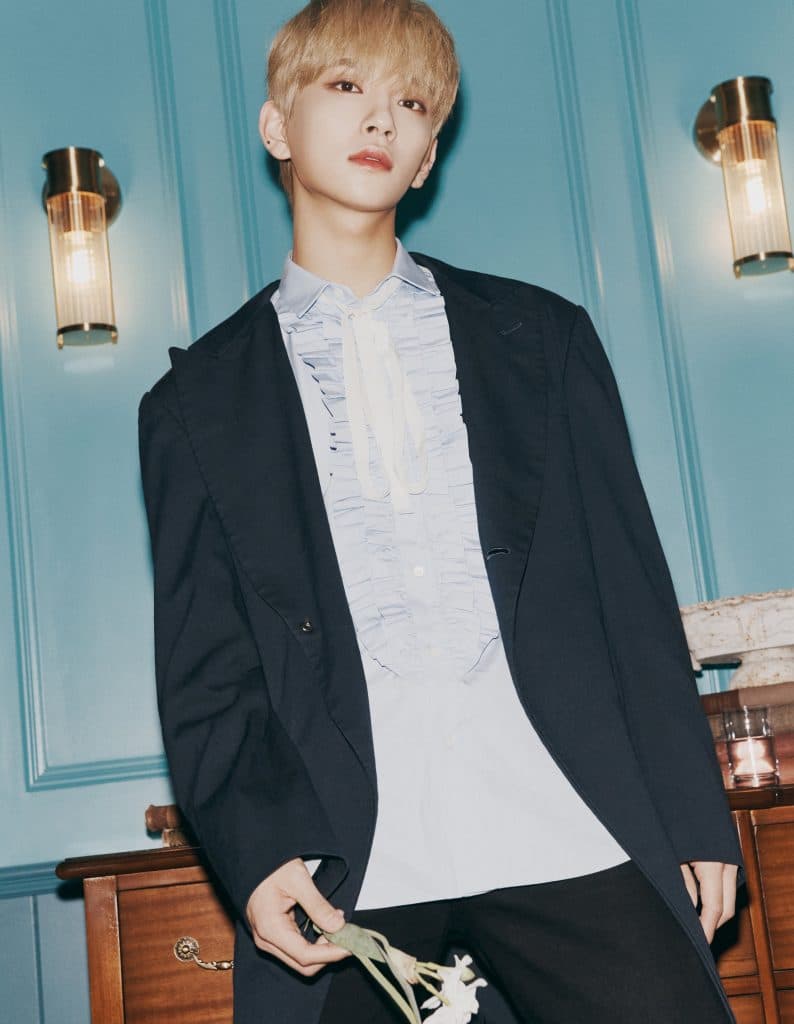 "You Made My Dawn," their sixth EP, was certified Platinum in less than two months after it was released in January 2019, and awarded Double Platinum in October 2020. Its lead single, "Home," earned them their first "triple crown," which means the song won first place for three consecutive weeks in one music show. It also gave them their first grand slam for winning in all weekly music shows.
"An Ode" received Triple Platinum certification from KMCA for selling close to a million copies, making it the second highest-selling K-Pop album in 2019 after BTS' "Map of the Soul: Persona." According to the United World Chart, it has already reached the one million mark in album sales, and Billboard ranked it as No.1 on their list of "The 25 Best K-Pop Albums of 2019." Joshua and the boys won their first "Daesang" (Grand Prize) for Album of the Year at the 2019 Asia Artist Awards held in Vietnam.
"Heng:garae," which means "tossing someone up in the air in celebration," was certified Million by KMCA. According to the Hanteo Chart, which is a music chart that keeps track of album sales in real-time, the seventh EP had sold over a million copies within a week of its release on 22 June 2020, with Seventeen becoming the second K-Pop act after BTS to achieve this. The album topped the Gaon Album Chart and the iTunes Albums Chart in 27 countries.
Following the success of their 7th EP, they released "Semicolon" as a special album in October 2020, and it was certified Million by KMCA which was achieved in 16 days. It joined "Heng:garae" in the Top 10 Best-Selling K-Pop Albums in 2020.
Solo Activities
Joshua made a cameo appearance in the 2019 web series, "A-Teen 2," which was aired on Naver TV Cast. He along with some of his co-members recorded the original soundtrack for this drama, as well as for the first season of "A-Teen" (2018).  He also sang "Sweetest Thing," which was included in the soundtrack for the JTBC drama, "Chocolate" (2019-2020).
He was cast as a special MC for various music shows including "M Countdown" (2016-2019), KCON Japan and KCON LA (2018), and KCON NY and SBS Super Concert in Hong Kong (2019). KCON or Korean Convention is a music festival held overseas in which several popular K-Pop groups performed for international K-Pop fans.
In Seventeen's VLive Channel, he started his own segment called "Joshua's Wine and Cheese" in January 2020, while his group was on the "Ode To You" World Tour. Fans expected to see him drink wine, but during his first two live broadcasts, he was too tired to do it as it was after their concerts in Newark and Chicago. The main concept for the segment is to recommend songs from his playlist; he communicates with fans who are watching his live broadcast, and talks about his day or whatever he feels like sharing at that moment. He said it was his dream since he was a little kid to travel around the globe, and was happy to do that through the world tour.
He did his first solo photo shoot for the April 2020 issue of "1st Look Magazine", and surprised his fans by shedding his usual "innocent vibe", as he tried to be a little sexier for his solo feature.
As a songwriter
Seventeen is known as a self-producing group, with the members participating in the songwriting process, and creating dance choreographies since they debuted.
Joshua co-wrote the lyrics for the song "Rocket," which he and Vernon recorded for the second studio album, "Teen, Age" – it reached No.16 on the K-Pop Hot 100 with over 20,000 download sales. When the album was re-released in February 2018 as the "Director's Cut," he contributed to the lyrics and music of the fourth track, "Falling For U," which he sang with Jeonghan. In "Semicolon," he was the co-lyricist for the fifth track, "Ah! Love," which he recorded with S.Coups and Jeonghan. It reached No.140 on the Gaon Digital Chart.
Personal life
He is 25 years old and single. Reportedly, Pledis Entertainment did not ban their artists from dating according to a label mate from the boyband NU'EST, however, there has been no news of Joshua dating since he debuted. Dating is regarded as a scandal in the K-Pop industry, so idols prefer to date in secret to avoid unwanted attention to their partner.
When he was asked about his ideal type, he said he wanted someone kind, honest, and cute. He hopes to meet someone affectionate and nurturing like his mother.
He has his own room in the dormitory he shares with his co-members. He once shared a room with Seungkwan, and started to take care of his health such as drinking vitamins because of him.
Hobbies, favorites, rumors, and interesting facts
His nicknames include American prince, American hyung (older brother), Josh, and Shua.
Joshua has been called the gentleman of the group, as he's soft-spoken and has good manners. He said that he doesn't get angry but speaks his mind. He has overcome his shyness after living with his co-members, and has become someone with a bright personality who makes people laugh.
Favorites: blue and pink (colors), rabbit (animal), soccer (sport), kiwi (ice cream flavor), Usher and Chris Brown (singers), Tupac and Eminem (rappers), "Rooftop Prince" (Korean drama)
His hobbies include playing the guitar, reading, and watching horror films.
He enjoys watching anime – "Bleach," "One Piece," and "Naruto" are his favorites.
He is a fan of the Korean boyband EXO.
During a fan meeting in October 2015, one of Joshua's Chinese fansite administrators threw the sign sheet and album on the table when it was her turn to talk to Joshua and get his autograph. The manager was quick to intervene and the fan left the event after that. Apparently, she found his face or facial expression to be unpleasant because of the sty on Joshua's left lower eyelid. She later apologized to Joshua on social media after arguing with fans about her behavior. She left the fandom and closed down the fansite.
Some fans speculated that he had a nose filler to make his nose bridge higher or sharper. With regard to his eyes, there were times when the fat on his lower eyelid would be more prominent, and times when it's hardly there at all.
Appearance
He is 5ft 8ins (1.78m) tall, weighs 130lbs (60kg), and has a lean build. He has black hair and dark brown eyes.
Net worth
Joshua has an estimated net worth of $2.5 million as of January 2021, according to sources.