Honda Hitomi is a Japanese pop singer and actress, who first gained public attention in Japan when she became a member of Japanese idol group AKB48 and later became popular in South Korea as one of the members of the girl group, Iz*One, after competing in the survival series, "Produce 48."
Just a simple reminder that article is created and owned only by kpopwiki.org. Article cannot be re-published in any other pages or documents. Copyright is protected by DMCA. All found copies will be reported.
Original source: https://kpopwiki.org/honda-hitomi-izone-akb48-age-height-family-dating-wiki/
Early life and family
Honda Hitomi was born on 6 October 2001 in Utsunomiya, Tochigi Prefecture, Japan. She along with her older sister Honda Eri and older brother Honda Mitsuyoshi were raised in a modest household. At a very young age, Hitomi already expressed her passion for music and sports. Her parents, Honda Noriko and Honda Masakatsu are quite supportive of Hitomi's chosen career, and her family would accompany her during talent competitions on television when she was growing up, and would watch her school performances.
Educational Background
There is no information about her educational background, but she went to school and matriculated prior to her professional debut as in AKB48 in Japan.
Career
AKB48 is a Japanese pop idol group composed of 48 girls divided into three teams, who performed in their own theater. Each year, more members are accepted through auditions and some become understudies for the group or trainees. They could be removed from the group if they misbehaved or graduate when they reach a certain age.
Audition and Training
The management of AKB48 decided to add Team 8, this time comprising one member from each of the 47 Prefectures in Japan, and Hitomi went representing Tochigi Prefecture. At age 12, she was accepted into the group and started her training.
AKB48 also has a successful marketing strategy in which fans are allowed to vote who they want to be included in the line-up that would feature in songs and albums. Although they call it general elections, not everyone can vote as the fans can only do that if they buy a copy of a single or album previously released. The girl with the most votes gets to be the center during the performances. This is also the reason why millions of copies of most AKB48 single and album releases were sold; fans would buy multiple copies just to be able to vote for their favorite member.
Unfortunately for Hitomi, she never ranked during the first four years. She only entered the tally board during the 10th general elections in 2018, ranking at No. 82 with 17,656 votes.
"Produce 48" Reality Survival Series in South Korea
Mnet Cable Network in South Korea and Yasushi Akimoto co-produced a reality survival series called "Produce 48."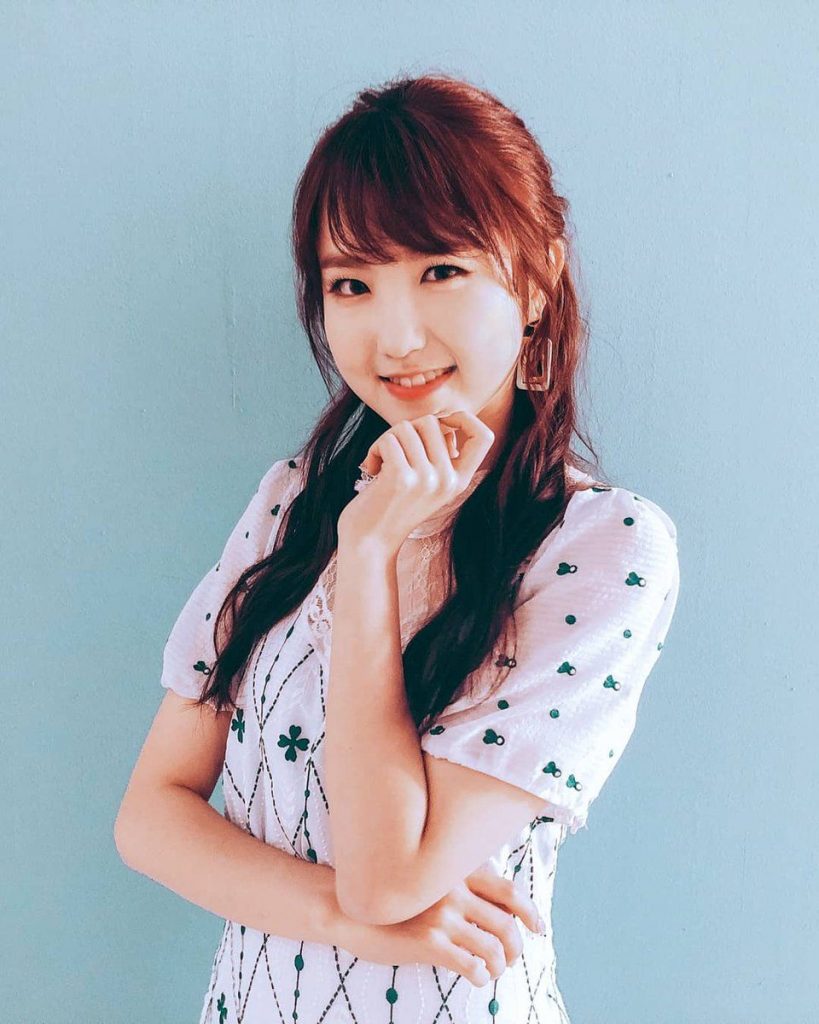 It accepted 96 trainees from several South Korean and Japanese talent agencies to compete for a spot in a 12-member girl group. Each member would be chosen through a voting system in South Korea, and the girl group would be under contract to release and promote songs for two and a half years.
Hitomi was one of the 39 Japanese trainees who were accepted to participate in the series. The girls were grouped into several classes to undergo training and perform each week, and the studio audience was asked to vote to determine each of their ranks. The votes received each week were added to choose the final 12 members in the final episode regardless of nationality, then there are further elimination rounds to challenge the girls.
During the 12 weeks of voting, Hitomi ranked 9th during the first week but did not make it to the Top 12 in the next two weeks. Her name showed up again in the fourth week and from then on never left the Top 12 list up to the final week, when she was announced to be the 9th member of the new girl group.
Debut as Iz*One member
On 29 October 2018, Hitomi with two other Japanese girls and nine South Korean girls debuted as members of Iz*One, with the release of the group's first extended play entitled "Color*Iz", and performed the lead track, "La Vie en Rose," during their debut live showcase, "Color*Iz Show-Con," held at the Olympic Hall in Seoul, and streamed live on both YouTube and Facebook.
For marketing purposes, two physical versions of the EP were released with the same content but with different covers – most K-Pop artists practice the same strategy to sell more units. The physical version also has eight songs including "Pick Me," the theme song of the reality TV program, while the digital version only has seven songs. It peaked at No. 2 on the South Korean Gaon Charts in its first week of release, No. 9 on Billboard World Album Chart, and reached the No. 1 position on the Japanese Oricon Charts including the Weekly Album Chart and Digital Chart.
It also topped the iTunes charts in about 10 countries. The lead track charted great as well, peaking at No. 14 on Gaon Digital Chart and ranking No. 6 on Billboard World Digital Song Sales Chart. The Korea Music Content Association (KMCA) gave the group a Platinum certification for having sold over 250,000 units.
Fastest to Achieve a Music Show Win
Iz*One made history in South Korea for being the girl group to win in a music show in the shortest time after debut.
A music show win is highly regarded in the local music scene, as the top three songs in the music industry would compete for the No. 1 song of the week. The official MV of their debut song garnered over 132 million views, and counting.
Monster Rookies in 2018
Hitomi and the girls had a phenomenal year, and their hard work paid off with the awards they received before the year ended.
Iz*One took home the New Artist of the Year award from several award-giving bodies, including Mnet Asian Music, Gaon Chart Music, Golden Disc and Seoul Music Awards.
Further Success
After having a great year in South Korea, in 2019 Hitomi and the girls embarked on a journey to conquer the Japanese market. In February they also held a debut showcase in Tokyo Dome City Hall in time for the release of their Japanese song entitled "Suki to Iwasetai" (Tell Me You Love Me). As predicted, it did well in the charts as it entered Billboard Japan Hot 100 and peaked at No. 2 after selling over 300,000 units in its first week alone. It also surpassed the first-day sales record of the popular girl group, "Twice," with 193,469 physical units sold, and peaked at No. 2 position on the weekly Japanese Oricon Singles chart. The group also received its first platinum certification from the Recording Industry Association of Japan (RIAJ) for having sold over 250,000 units.
:¨·.·¨:
`·. welcome to hitomi pics
https://t.co/DatqlRzuC5 pic.twitter.com/LQlJEJGVrA

— honda hitomi pics (@hitomipics) May 22, 2019
Sophomore EP, Certified Platinum
After their Japanese promotions, they went back to Seoul to prepare their second EP, which immediately after the announcement, the EP entitled "Heart*Iz,," attracted over 200,000 pre-orders. Upon the release of the EP in April, the group ruled both South Korean and Japanese charts with over 130,000 units sold after a week. It also peaked at No. 6 on Billboard World Album Chart, so Iz*One received another Platinum certification from KMCA.
The EP was released with two versions but with one lead track, "Violeta." It entered the Billboard K-Pop Hot 100, peaking at No. 5, while reaching the No. 18 position on Gaon Digital Chart. The song also gave the group another music show win on SBS MTV's "The Show."
Asian Concert Tour and KCON New York Participation
With the massive sales of their EPs, there was a demand for a concert, and they didn't disappoint the fans.
Initially, they were just going to hold a two-day concert, but after the tickets were sold out, requests for a third daywere answered by the producers, and a third day was added to the series, "Eyes on Me," held at the Jamsil Indoor Stadium in Seoul. The girls also visited four other countries in Asia, including Hong Kong, Japan, Taiwan and Thailand attracting around 80,000 fans.
Hitomi and the girls were included in the artists' line-up for the yearly Korean Concert in New York, dubbed as KCon NY, which was held in Madison Square Garden.
Japanese Singles Released
To accommodate the Japanese fans, the group released two singles – "Buenos Aires" in June and "Vampire" in September. Both songs entered the Billboard Japan Hot 100 on their date of release – the only subsequent difference is that the former was certified Platinum and the latter Gold by RIAJ.
Through the massively successful sales result, Iz*One became the best-selling new artist in the first half of the year, according to Oricon Digital Sales Chart.
Vote Manipulation Scandal in Produce 48 Reality TV Series
A huge scandal rocked the K-Pop industry with cases filed by concerned viewers on the alleged vote manipulation of the reality survival series, "Produce 48." During the investigation, it was found that the main producer, Ahn Joon-young rigged the results for the chosen 12 trainees. Apparently, just before the final episode was aired, the producer himself chose the final 12 trainees from the Top 20 trainees, instead of following the result of the voting.
As a result of the scandal, the scheduled release of the group's first studio album was postponed indefinitely, along with other promotional activities.
Even registrations for new fan membership were canceled, and organizers refunded membership fees. The producer was arrested, and when questioned admitted that he rigged not only one show but four other reality survival series under the Mnet network. Mnet's parent company decided to compensate eliminated trainees from the show.
Comeback in 2020 with the release of the Full-Length Album
After everything was settled and the perpetrator was jailed, it was agreed that Iz*One should continue with its promotional activities. In February of 2020, the group released its full-length album entitled "Bloom*Iz", and broke the sales record for a girl group with over 350,000 units sold in a week, making history by being the first South Korean girl group to do that.
Iz*One Reality Series
The group's journey after being chosen to debut as Iz*One was documented through a reality series entitled "Iz*One Chu", which started back in 2018.
The first season showed Hitomi visiting her family in Japan accompanied by four other members; the audience was introduced to Hitomi's parents and older siblings, where she lived and her never-before-seen childhood photos. The third season was aired on 12 May 2020.
AKB48 and Iz*One Status
Currently, Hitomi is still under AKB48 management but is under temporary hiatus due to her contract with Iz*One. The agreement was that she would be able to freely promote in South Korea until April of 2021, and after that will return to her promotional activities with AKB48.
Personal Life
There is not much information about Hitomi's personal life, as she is not allowed to date anyone under AKB48 and Iz*One management contracts. She is currently staying with the other members of Iz*One in a dormitory located in Seoul, and provided by management.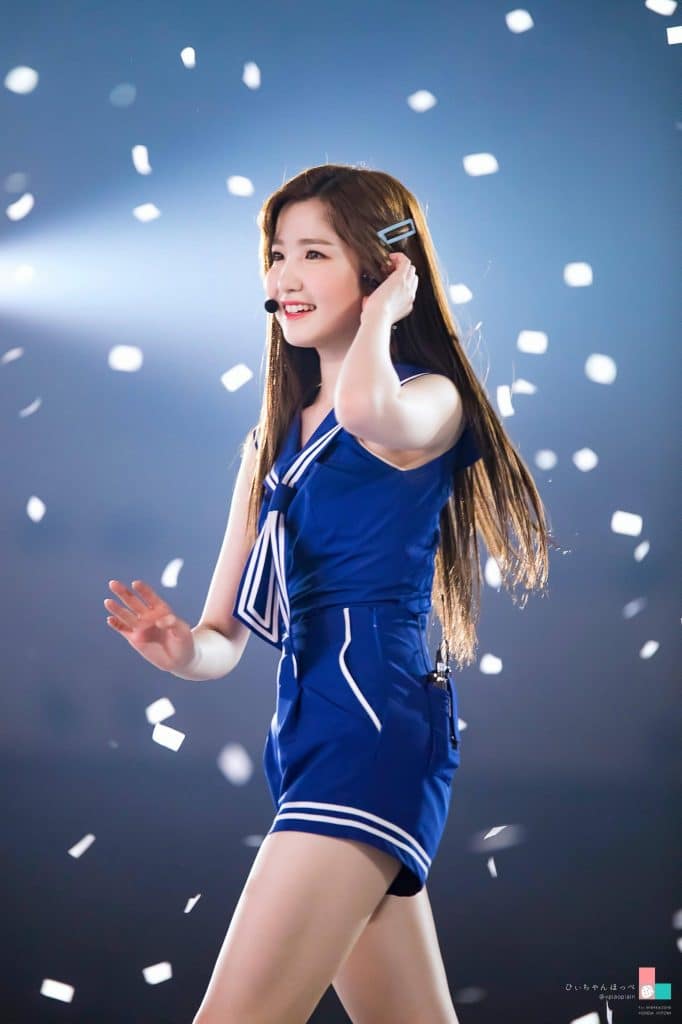 Hobbies, favorites, rumors, and interesting things
Her nickname is Hiichan.
Her role model is AKB48, HKT48, and STU48 theater manager Sashihara Rino, who is also a former member of the idol group HKT48.
Cheerleading was one of her passion when she was still a student, and which she was involved in for four years.
Her favorites: strawberries (fruit), gyoza (Japanese dish), stir-fry chicken (Korean Dish)
She loves to watch cooking shows
She plays basketball during her free time.
Her official individual fandom color is peach.
Appearance
She is 5ft 2ins (1.6m) tall and weighs 100lbs (45kgs). She has dark brown hair and brown eyes, with chubby rounded cheeks. Due to her regular Pilates workout, she now has a svelte body and toned abs.
Net worth
Hitomi has been working since she was 12, and her net worth is estimated by authoritative sources at close to $1 million, as of August 2020.