Yoo Kihyun is a South Korean singer-songwriter, dancer, and record producer, who became known as the main vocalist of the Korean Pop (K-Pop) boyband Monsta X, managed by Starship Entertainment. Since their debut in 2015, his group had released eight studio albums, eight extended plays (EP), and 33 singles. They made history in 2020 in South Korea, as one of the very few boybands who released an album that debuted in the top five on the US Billboard 200 chart. Their English album, "All About Luv," entered music charts in 14 countries, including Japan, Canada, Spain, and the UK. As a solo artist, Kihyun became known as Monsta X's OST King, lending his powerful vocals to several popular drama series, including 2015's "She Was Pretty," 2017's "Suspicious Partners," 2018's "Partners for Justice," and 2019' "What's Wrong With Secretary Kim."
Just a simple reminder that article is created and owned only by kpopwiki.org. Article cannot be re-published in any other pages or documents. Copyright is protected by DMCA. All found copies will be reported.
Original source: https://kpopwiki.org/the-untold-truth-about-monsta-x-%e2%80%8bmember-yoo-kihyun/
Early Life and Family
Yoon Kihyun was born on 22 November 1993, in Goyang, South Korea. His parents raised him and his older brother in a middle-class lifestyle, and would often travel abroad since his father owns a travel agency. As he was growing up, it was his older brother who was into music, but it later sparked an interest in Kihyun, and he was taught to play the piano and guitar.
Educational Background
From kindergarten to high school Kihyun was educated in Goyang. He attended Goyang Sinil Elementary School, Shinil Middle School, and Angok High School. He graduated with a bachelor's degree from Dong-ah Institute of Media and Arts in Seoul.
Career
First Steps – No Mercy Survival Series and Debut (2015)
A reality-television survival series, "No Mercy," was produced by Starship Entertainment to figure out who among their pool of trainees would debut in the seven-member boyband called Monsta X; the name means Monsters that would conquer the K-Pop music industry.
Kihyun was among the 13 trainees chosen to participate in the 10-episode series. They competed in several missions, with the weakest link eliminated starting from the fifth episode. During the final episode, nine people battled fiercely, and Kihyun made it into the magic seven, finishing at No.3.
He along with Wonho, IM, Showny, Jooheon, Minhyuk, and Hyungwon debuted on 14 May 2015 as Monsta X. They held their first live TV performance in Mnet's "M Countdown" with the title track of their debut extended play, "Trespass." The EP debuted at No.5 on the South Korean Gaon Album Chart with more than 40,000 units sold, and the title track had about 25,000 downloads. It also entered the Billboard's World Digital Song Sales chart at No.14, which was quite an achievement for a K-Pop rookie boyband.
K-Pop insiders saw their potential, and included them in the line-up of performers for the annual Korean Convention in Los Angeles (KCON LA) in 2015.
The boys were surprised by this, and little did they know that it was just the start of something great for the group. They received positive feedback from the audience, and Billboard magazine described it as something close to what BTS had received the year before with their stage performance.
Chinese-Korean Survival Series, Album Trilogy Series (2016)
With K-Pop gaining more fans globally, the competition became even tougher. In 2016 Monsta X joined another reality-TV survival series in China called "Heroes of Remix", to reach a wider audience. Other K-Pop boybands also joined the series, including iKon of YG Entertainment and Vixx of Jellyfish Entertainment, with K-Pop superstar PSY as one of the resident mentors on the show. It created a lot of buzz online, but unfortunately the Korean artists were edited out from the last two episodes of the show. Viewers speculated it might have something to do with the Terminal High Altitude Area Defense (THAAD) dispute between South Korea and China.
Kihyun's group released the Clan album trilogy series, the first installment the EP "The Clan Pt.1 – Lost," released on the 18th of May. Two songs entered the US Billboard World Digital Songs Sales chart, the lead track "All In" at No.6, and "Stuck" at No.11. The EP ranked No.3 on the Gaon Album Chart, with close to 95,000 units sold, and it also peaked at No.5 on the US Billboard World Albums chart.
Due to its success, Monsta X held a successful two-night concert in July, entitled "The First Live X-Clan Origins" in Seoul. Allegedly tickets were sold in just two minutes, with fans scrambling to get their hands on them.
On the 4th of October, the second installment, "The Clan Pt.2 – Guilty" was released, and it charted higher than its predecessor, with over 100,000 units sold in South Korea. It peaked at No.2 on the Gaon Chart, and debuted at No.3 on Billboard's World Album Chart.
Kihyun traveled overseas before the year ended for their first Asian fan-meeting events. They promoted their albums and met their fans in several Asian countries, including Indonesia, Thailand, Singapore and the Philippines,
First Full-Length Studio Album, Japan Debut, World Tour, (2017 – 2018)
The final installment for the Clan Series was released on 21 March 2017, entitled "The Clan Pt. 2.5 – The Final Chapter." It had the most sales in the album series, with about 150,000 units sold in South Korea, peaking at No.2 on the Gaon Chart, and selling around 1,000 units in the US, topping Billboard's World Albums Chart. The lead track, "Beautiful," debuted at No.4 on the US Billboard World Digital Song Sales chart, and as a result of its commercial success, in June 2017 a repackaged album was released entitled "Shine Forever".
In May, Monsta X made their Japanese debut with the release of their Japanese single album, "Hero." It made history that year, as it was the only foreign single album in 2017 that entered the top two on three major music charts in Japan at the same time – the single was No.1 on the Tower Records chart, No.2 on the Oricon Single Chart, and No.2 on Billboard's Japan weekly chart. Three months later, they released the Japanese version of their Korean hit song, "Beautiful," and it topped the Oricon Daily Chart.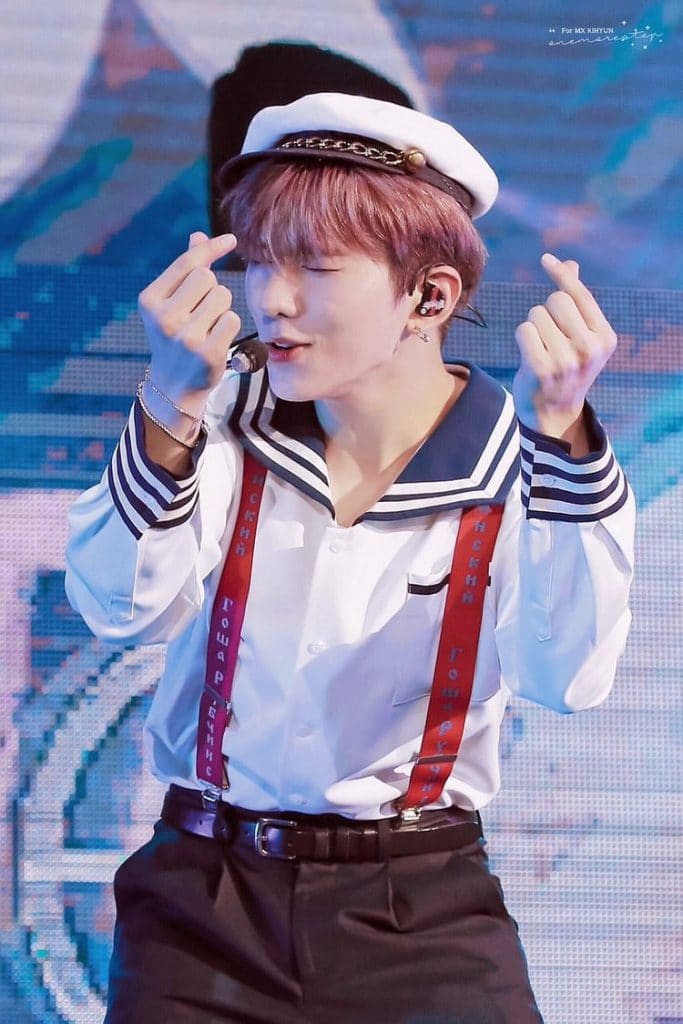 The K-Pop boyband's first world tour, "Monsta X World Tour: Beautiful," was held from June to September 2017. It started at the Olympic Hall of the Seoul Olympic Park and concluded at the Auditorio Blackberry in Monterey, Mexico. Kihyun and his bandmates performed in 16 shows on four continents, including four in Asia, six in North America, 3 in South America, and 3 in Europe.
In November, Kihyun and the boys finally received their first music show trophy, from SBS MTV's "The Show" for the track, "Dramarama," from their fifth EP, "The Code." It was their first No.1 album, and it also charted at No.2 on Billboard's World Albums Chart. While the title track only peaked at No.7 on Billboard's World Digital Song, the fourth track, "From Zero," topped it.
Their second world tour, "Monsta X World Tour: The Connect," began on 26 May 2018 at Jangchung Arena in Seoul, and ended on 10 October 2018 in Osaka, Japan. Again, they went on to perform 20 shows on four continents.
Scandals, Global Expansion, Billboard 200 Entry (2019 – 2020)
Everything was going great for the group, as they released one successful album after the other until they were hit by back-to-back scandals in 2019, about cheating, debts, illegal drug use, and juvenile delinquent records. Wonho was accused by an actress of unpaid debts, marijuana use, and being a juvenile delinquent in the past. It ended with Wonho's decision to leave the group immediately, so that it wouldn't negatively affect the group's popularity. He continued as a solo artist under the same label, as he was cleared of many of the allegations, including drug use. When Wonho's case was settled, Kihyun and the rest of the boys thought they could set their fears aside, and continue with their regular promotions.
However, Monsta X's leader Shownu, was reported for having an affair with a married woman, and the husband supposedly posted something about it.
Their label conducted their own investigations and contacted the husband, since Shownu was adamant it wasn't true as he didn't know she was married at the time he went out with her; so either she wasn't married at that time or that she lied to him about it. He was cleared of the charges, and the group continued with its promotional activities.  They all thought it was the end of Monsta X, although some fans felt that the boys were targeted due to their increasing popularity.
In 2020 they released their first English album, "All About Luv," and many were surprised when it entered the Billboard 200 chart at No.5, with more than 50,000 units sold. Only a few K‑Pop acts made it to the top five, such as BTS, Blackpink, SuperM, and NCT127. The title track, "You Can't Hold My Heart," also entered at No.40 on Billboard's Mainstream Top 40 in the US.
Solo Activities, Monsta X's OST King (2015 – present)
With the busy schedule that Monsta X had been keeping since their debut, Kihyun only pursued solo activities whenever they were given breaks from the group's activities.
Although he had powerful vocals, not everyone was aware of this, as the songs they sing in Monsta X were arranged and produced for a group.
When he was tapped to sing the official soundtrack of the 2015 KBS TV drama series, "Orange Marmalade," called "Attractive Woman," people took notice that his voice was perfect for soundtracks. Later that year, he sang another theme song called "One More Step" used in the workplace drama series "She Was Pretty," starring Park Seo Joon and Hwang Jung Eum.
Each member of Monsta X decided to make guest appearances in popular TV shows, to increase visibility for the group, and in January 2016, Kihyun joined the celebrity singing competition "King of Masked Singer." He won the first round but lost with a difference of three votes in the next round. While he spent a brief time on the show, it was enough for viewers to realize he had a great voice.
Later that yea, he sang "The Tiger Moth," the original sound track, or OST, of the romantic comedy series "Shopping King Louie," which aired from September to November. In June 2017, he was included in the soundtrack album of Ji Chang Wook's crime drama series, "Suspicious Partner," for the song "I've Got A Feeling."
In 2018, Kihyun was tapped to sing the soundtrack for two popular drama series – "Can't Breathe" for the medical-forensic series, "Partners for Justice" starring Jeong Yumi and Jung Jae Young, and the second one a duet with Seola of WSJN entitled "Love Virus" for the Park Seo Joon's rom-com series, "What's Wrong with Secretary Kim." He then earned the title, Monsta X's King of OSTs.
Due to the scandals involving his bandmates, Kihyun didn't participate in any OST recording, but when everything died down, he was chosen again to sing theme songs for two TV drama series in 2020; one was for the fantasy series "Welcome," with the song "Again Spring," released in April.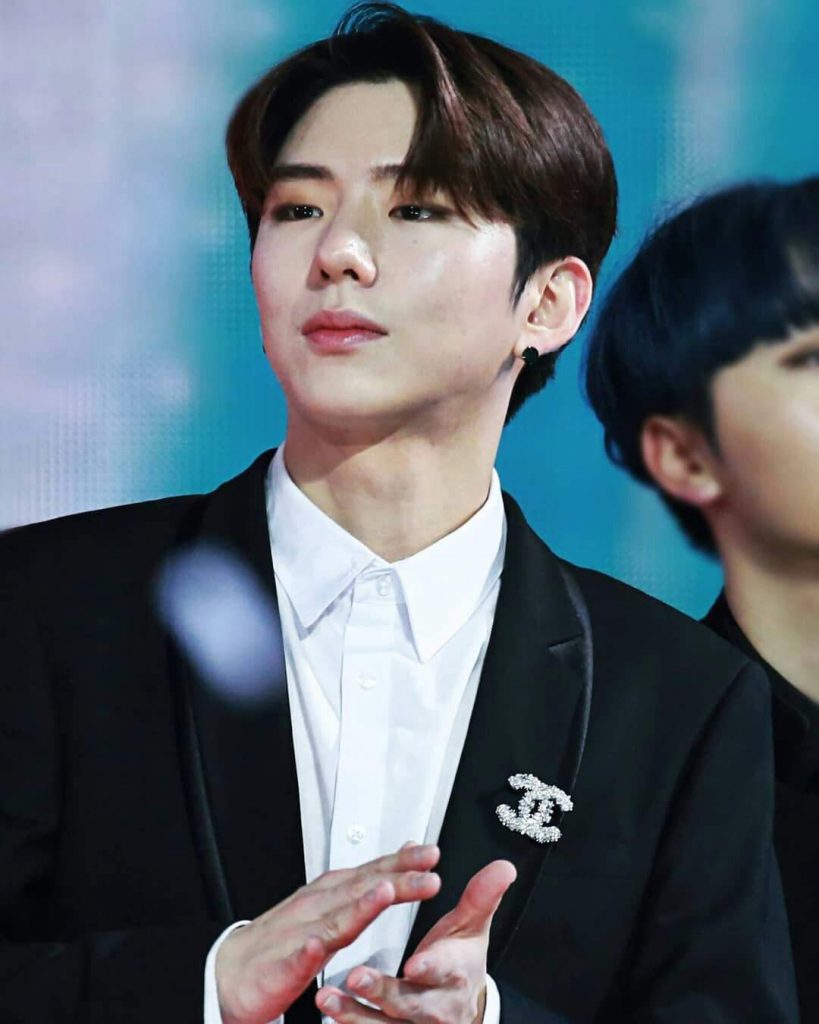 He was part of the soundtrack album for the rom-com series, "Do Do Sol Sol La La Sol," as he sang "To Be With You," which was released in October.
On the web serie, "Replay: The Moment," fans were pleasantly surprised to hear Kihyun's voice again in the OST entitled "O.M.O.M", released in February 2021.
Bullying Scandal (2021)
In February 2021, he made headlines when a former middle school classmate came out and revealed that he was physically and mentally bullied by Kihyun. The accuser even shared pictures that Kihyun belonged to a group that would drink alcohol and smoke cigarettes during those times.
Starship Entertainment conducted their own investigation about the matter, and apparently, the accuser was the same person who made false bullying accusations back in 2015.
The agency let it pass without legal action as the accuser asked for forgiveness. This time, however, they decided to take it to court as the accuser also defamed the agency. They also went to Kihyun's middle school to investigate, and the school records showed Kihyun was a diligent student and earned positive feedback from his former teachers. There were no reports of bullying incidents by him at his former school.
Nevertheless, Kihyun wrote a personal apology if he had offended anyone due to his immature actions in the past, as he wasn't faithful to his studies and also apologized to the fans who were disappointed with him.
Personal Life
Kihyun is officially single as he isn't dating anyone right now. With all the great things happening in his career, he said that he's more focused on work now more than ever. He donated around 10 million won to his favorite charity, Good Neighbors, an organization focused on helping low-income families in South Korea. He still lives with his bandmates in the company dormitory.
Hobbies, favorites, rumors, and interesting facts
Kihyun's dream job when he was growing up was to be President, pastor, or a scientist until his interest shifted to music.
His first unforgettable concert was with label mate K.Will's solo concert.
Kihyun's favorites: Michael Jackson and Kim Gun Mo (artists), "Family Picture" (movie OST), "Limitless" (movie), "Merry-Go-Round" by Joe Hisaishi (song), blue (color) chicken (food)
He can't eat fish because of the smell, and doesn't like cranberries.
Appearance
Kihyun is 5ft 9ins (1.75m) tall, weighs 140lbs (63kg), and has a lean body. His shoe size is 9 US (265mm). He has black hair and dark brown eyes.
Net Worth
According to authoritative sources, Kihyun has an estimated net worth of $2.5 million, as of March 2021.