Woojin is a South Korean singer-songwriter, rapper and dancer, who was first seen on the talent show "Superstar K 2" in 2010, but failed to pass the audition round. He rose to prominence in 2017, when he won a spot in the popular reality television survival series, "Produce 101 Season 2," and became one of the members of the highly successful project group, "Wanna One." After finishing his contract with them in 2019, he debuted as a member of the boyband AB6IX, formed and managed by Brand New Music.
Just a simple reminder that article is created and owned only by kpopwiki.org. Article cannot be re-published in any other pages or documents. Copyright is protected by DMCA. All found copies will be reported.
Original source: https://kpopwiki.org/who-is-ab6ix-member-park-woojin-profile-biography-2021/
Early Life and Family
Woojin was born on 2 November 1999, in Sahagu, Busan, South Korea. He has a younger sister named Park Yerim. His parents have always been supportive of his interests including a music career.
Educational Background
He attended Dadae Elementary School, Jeonpo Elementary School, and Busan Dong Middle School. He started his high school education in Busan International Film High School, but matriculated from Korean Art High School located in Seoul in 2018. Woojin is currently enrolled at Global Cyber University.
Career
Woojin started his foray into the entertainment business when 11 years old, when he appeared on national television auditioning in the talent competition series, "Superstar K Season 2." Unfortunately he failed to make it past the audition round, but was noticed for having the same hairstyle and overall look as Bigbang's T.O.P at that time. He went back to Busan to focus on his studies, then after five years he was accepted as a trainee in JYP Entertainment, but later moved to Brand New Music. He was trained for about a year and a couple of months before his agency told him to participate in a talent competition.
First Steps – Produce 101 Season 2 (2017)
In 2017, he joined the reality TV survival series "Produce 101 Season 2," along with his label mates, and danced to the song "Hollywood," which he choreographed for the evaluation ranking. It was a talent competition show in which the viewers were tasked to choose 11 trainees out of the 101 hopefuls, and so produce a project boyband through a voting system. The temporary boyband would get to promote and release music for two years, backed by a professional entertainment company. Many trainees flocked to audition, as it has been proven to be an effective way of building a loyal fandom for each winning contestant. The group would disband after two years, and the boys would go back to their agencies, which would then debut them either as solo artists or part of a group.
Woojin wasn't included in the Top 11 trainees in the early rounds of voting, but he was consistently in the Top 35 out of the 101 trainees, only making it into the Top 11 on the last few voting rounds.
There was a time when he was rushed to the emergency room with a high fever and body pain, and was diagnosed with shingles. When he felt a little better and the fever had died down, he went back to the show to join his team and performed. However, his symptoms worsened and he had to be hospitalized for treatment and rest. Still, due to his determination to recover, he was able to return to the show after five days.
After several rounds of voting, Woojin finished at No.6 with over 930,000 votes, while his label mate Lee Daewhi finished at No.2.
Wanna One Debut, Million-Seller, and Best New Artist (2017)
Woojin debuted as one of the members of the temporary boyband Wanna One, on 7 August 2017. He and the other 10 boys were co-managed by CJ E&M and Swing Entertainment, for the duration of the two-year contract agreement with all their respective agencies.
𝙢𝙮 𝙥𝙪𝙥𝙥𝙮#우진 #박우진 #woojin #PARKWOOJIN #朴佑鎭 #우진아_덕분이다 pic.twitter.com/FhsjqDEi7H

— 𝐏𝐚𝐫𝐚𝐝𝐢𝐬𝐞 (@paradisewoojin) February 2, 2021
Their debut grand showcase entitled "Wanna One Premier Show" was held at the Gocoheok Sky Dome in Seoul, and they released their first extended play (EP), "1×1=2 (To Be One)," the day after their debut. It had seven tracks in the physical version and five tracks in the digital edition. The pre-orders were over 600,000 units, which at that time was the highest number in the history of K-Pop debut albums pre-orders. It topped the South Korean Gaon Album Chart, and peaked at No.4 on the Japanese Oricon Album Chart and No. 3 on Billboard's World Albums Chart.
The lead track, "Energetic," was chosen by the fans through voting, and peaked at No.1 on the Gaon Digital Chart with over 2.5 million downloads, and was streamed for over 100 million times. It also gave Woojin and the boys 15 music show win trophies from six music TV shows, as a result of dominating the charts in August.
After a few months, they released the repackaged album entitled "1-1=0 (Nothing Without You)", which topped the Gaon Album Chart, and peaked at No.8 on the Oricon Album Chart, and No.12 on Billboard's World Albums Chart. Woojin became one of the few million-seller K-Pop artists, as the two albums sold close to 1.5 million units in South Korea, 80,000 units in Japan, 230,000 units in China, and 3,000 units in the US. The group was also the third South Korean group to ever sell over a million units, which hadn't been done since the iconic Seo Taiji and the Boys did it in 1992.
They capped their debut year by taking home the Best New Artist Award trophy from major music awards shows, including Mnet Asian Music Awards (MAMA), Golden Disc Awards (GDA), Melon Music Awards, and Gaon Chart Music Awards.
Wanna One Double Platinum Certifications, Commercial Success and Disbandment (2018)
Woojin and his group managed to stay on top for the remaining time on their contract. They released one album after the other, and continued to dominate the charts.
On 19 March 2018, the second EP, "0+1=1 (I Promise You)," was released and it had over 700,000 pre-orders so breaking their previous record. It achieved a real-time all-kill status on the Instiz Chart, which means it topped the major online music chart sites in South Korea, including Bugs, Genie, Melon, and Soribada charts. The album topped the Gaon Album Chart with close to 800,000 units sold in South Korea, peaked at No.2 on the Oricon Chart with around 55,000 units sold, and No.10 on Billboard's World Albums Chart. The lead track, "I Promise You," peaked at No.5 on the Gaon Digital Chart.
Giving out record certifications by the Korea Music Content Association (KMCA) only started in 2018, and Wanna One wasn't awarded for their million sales achievement because of this. However, they qualified with their second EP, and received a double-platinum certification for it.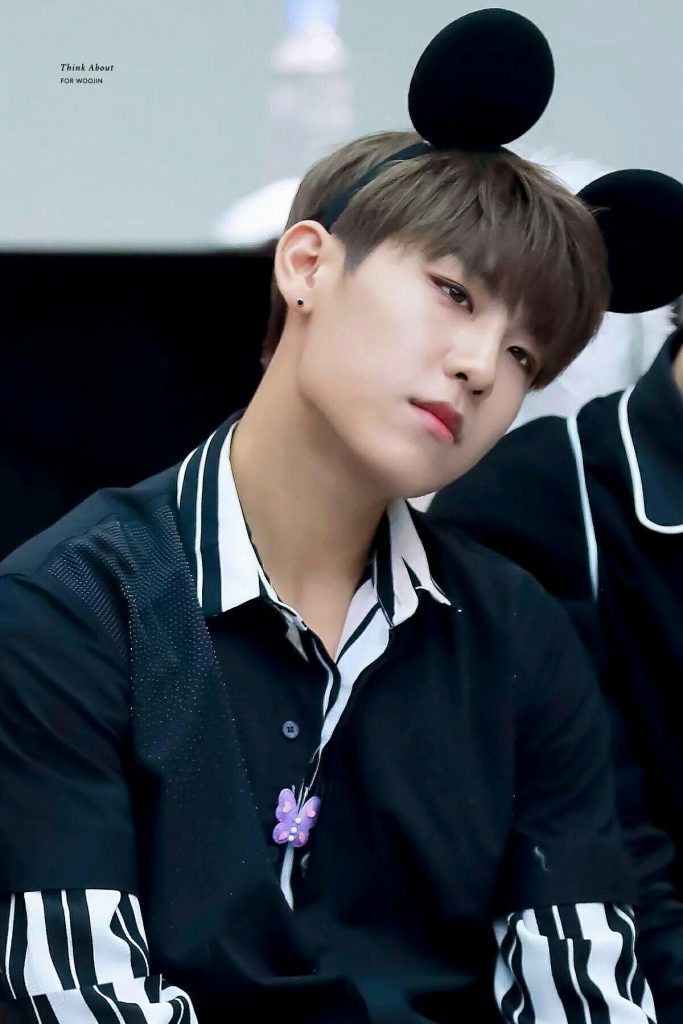 For their third EP, "1 ÷ x = 1 (Undivided)," which was released in April 2018, the boys were divided into four units, and collaborated with other K-Pop artists. Woojin was included in the Dynamic Duo produced track "Number 1," and was credited as one of the lyricists of the song. It peaked at No.1 on the Gaon Album Chart with close to 650,000 units sold in South Korea, and No.8 on Billboard's World Albums Chart. It also charted at No.2 on the Oricon Album Chart with over 70,000 units sold in Japan. The album was certified double platinum by the KMCA. The lead track peaked at No.2 on the Gaon Digital Chart and No.3 on Billboard Korea Hot 100. Woojin along with his unit bagged the "Best Unit Award" during the 2018 MAMA Awards.
In the last quarter of the year, Woojin got busy again with the promotions of their first full-length studio album, "1¹¹=1 (Power of Destiny)."
It had 11 songs, and he was credited again as one of the lyricists for the song "Awake!" The album was certified double-platinum by the KMCA for having sold close to 750,000 units in South Korea. Woojin then embarked on a world tour with his group entitled, "One: The World."
For two years, Wanna One achieved many things that had them included on the list of Forbes Korea Power Celebrity in 2017 and 2018, ranking at No.2 and No.3, respectively. The group also topped the Brand Reputation rankings for boy groups for four months given by the Korean Corporate Reputation Research Institute. They also landed 16 product endorsements, which was an amazing feat for newbies.
To adhere to the contract agreements with all the agencies of the members, Wanna One disbanded on 18 December 2018, and held a final concert at the Gocheok Sky Dome in Seoul on the last day of 2018.
Debuted with AB6IX, First Music Show Win and Fan Meeting (2019)
After the stint with Wanna One, Woojin went back to Brand New Music, and on 22 May 2019 debuted as one of the members of the boyband AB6IX (Absolute Six or Above Brand New Six) along with Daewhi, Donhyunm, Youngmin, and Woong, becoming the main rapper and main dancer of the group. They released their first EP, "B:Complete," which had seven tracks including "Shining Stars," "Light Me Up," "Hollywood," and the lead track, "Breathe." Woojin contributed to the lyrics of six songs in the album.
The EP peaked at No.2 on the Gaon Album Chart, with more than 170,000 units sold in South Korea, and No.10 on Billboard's World Albums Chart. After two weeks of performing in popular music shows, they achieved their first music show win in SBS MTV's "The Show" on the 4th of June, followed the next day by another win, courtesy of MBC's "Show Champion".
With the success of their first EP, they followed it up with the release of their first full-length studio album, "6ixense," on 7 October 2019. It consisted of 11 songs including the lead track, "Blind for Love," along with "Love Air," "Deep Inside," and "Be There." Most of the boys were involved in composing the songs, including Woojin who was credited as one of the lyricists in the album. The album peaked at No.2 on the Gaon Album Chart with close to 150,000 units sold, and No.25 on Japan's Oricon Album Chart with over 5,000 units sold. The lead track gave them four music show trophies in October 2019, courtesy of Mnet's "M Countdown," MBC's "Show Champion," and SBS MTV's "The Show".
More successful EP Releases and Product Endorsements (2020-present)
2020 became the year of social distancing and no public gatherings, which limited the activities of everyone in the music industry, including AB6IX. However, Woojin continued to reach his fans via online apps.
His group also released new songs to stay relevant, amidst the restrictions due to the Covid19 pandemic.
Eventually on 29 June 2020, their second EP was released, with six tracks including the lead track "Vivid." Youngmin was involved in a DUI incident, and left the group on 8 June 2020, the day when they were supposed to release the EP. The boys re-recorded the songs. since they would promote as a four-member band from then on.
The sales of the second EP broke their previous record for the first week of sales, and peaked at No.3 on the Gaon Album Chart, with more than 140,000 units sold. The lead track, "Answer," gave them one music win, courtesy of SBS MTV's "The Show."
Their fans were treated to an online concert entitled "So Vivid" held on 12 September 2020, and before the year ended, AB6IX released another EP, entitled "Salute", which peaked at No.5 on the Gaon Album Chart with close to 110,000 units sold.
[ IG STORY UPDATE- #WOOJIN ]
210130

🔗https://t.co/55U0bxaPqk@TMB_TheManBLK #THEMANBLK pic.twitter.com/LImSnvoqnI

— TheManBLK_Team (@TheManBLK_Team) January 30, 2021
Woojin was once again credited as one of the lyricists of the album.
AB6IX started 2021 with the release of the repackaged album "Salute: A New Hope," on the 18th of January. Woojin collaborated with Soyou of Sistar in the song "Puzzle," used as the soundtrack for the Korean drama series, "Mr. Queen."  It was released on 9 January 2021, after the drama premiered in December 2020.
Personal Life
Woojin is officially single – there is no news or rumors of him being in a romantic relationship with anyone, which isn't surprising as he's forbidden to date as stated in his contract with his agency. The 'no dating' policy lasts for about three to five years depending on the management's decision. This is to ensure that the artist devotes his time to building his career.
He currently lives in the dorm provided by the agency, sharing with the other group members.
Hobbies, favorites, rumors, and interesting facts
One of Woojin's hidden talents is that he can easily bend his thumb backward.
Hawaii is his dream destination.
He and Jihoon are called the Pink Sausage duo, as they were seen wearing matching pink activewear during their "Produce 101" stint. They also both love to tease and bully the older members of the group.
He met Jimin of BTS and Daniel Kang when they were still young, in a dance competition called 2011 Busan City Kids Vol.2.
Appearance
Woojin is 5ft 9ins (1.76m) tall and weighs 130lbs (60kg) with a well-toned body and chocolate abs. His snaggletooth smile has become the signature look his fans love about him. He has black hair and dark brown eyes.
Net Worth
According to authoritative sources, Woojin has an estimated net worth of close to $1 million as of January 2021.