Sorn is a Thai singer and dancer, who gained instant fame in South Korea after winning the first season of the reality television talent competition show, "K-Pop Star Hunt," in 2011. She later debuted as a member of the Korean pop (K-Pop) group CLC, short for Crystal Clear, managed by Cube Entertainment. Her group has achieved six Top 10 songs on Billboard's World Digital Song Sales chart, including "Hobgoblin," their best-selling single to date with 9,000 units sold in the US. In 2019, she officially became a vlogger, and uploads two to three videos a month on her YouTube channel called Produsorn.
Just a simple reminder that article is created and owned only by kpopwiki.org. Article cannot be re-published in any other pages or documents. Copyright is protected by DMCA. All found copies will be reported.
Original source: https://kpopwiki.org/sorn-clc-age-plastic-surgery-weight-loss-parents-wiki/
Early Life and Family
Sorn was born Chonnasorn Sajakul on 18 November 1996, in Bangkok, Thailand, into a wealthy family; her mother, Supatra Sajakul, is a homemaker, while her father, Wanasthana Sajakul, is a former actor and former member of parliament, and was once the Chief Secretary to the Prime Minister of Thailand.
He was also the manager of the Thailand national football team for three years. She has two brothers, Teerapat Sajakul, a popular singer-actor in Bangkok, and Kritsada Sajakul.
Growing up, she was quite busy with studying so never showed any interest in performing until she reached the age of 14. She had formal vocal lessons to prepare herself, as she aimed to pursue a singing career.
Educational Background
She matriculated from the Korean Kent Foreign School located in Seoul, South Korea.
Career
Sorn started her singing career when she auditioned in Thailand for the first season of the regional reality TV talent competition in 2011 called "K-Pop Star Hunt," that was aired all over Southeast Asia. The winner was given an exclusive contract and a chance to enter the training program of Cube Entertainment Inc. for three years. It's one of the successful entertainment companies in South Korea, and has launched several popular K-Pop groups such as Beast, 4Minute, Pentagon, and (G)I-dle.
She passed rounds of auditions, and went on to win the competition in Seoul.
However, instead of taking the prize immediately, she took a year off to go back to Thailand and finish the school year. Sorn then convinced her parents to let her sign an exclusive contract with Cube, at just 15 years old.
First Steps – Debut Year (2015)
Sorn had a difficult time as a trainee; apart from the fact that she couldn't speak the language, she didn't have any dancing experience, so she trained doubly hard for it. She was tutored in singing, dancing, acting and public speaking, and was given foreign, Korean language lessons. At first, she couldn't understand the strictness in implementing rigid training rules, and why the coaches were nitpicking everything she did, but later on she was grateful for it.
After two years of training, on 19 March 2015, Sorn and four other trainees Yujin, Yeeun, Seungyeon, and Seunghee were launched as the girl group CLC, which means Crystal Clear.
They released their first extended play (EP) "First Love," with five tracks, were given a grand live showcase at the Acts Hotel in Seoul, and later made their TV debut in Mnet's "M Countdown." They performed the lead track, "Pepe," which was partly choreographed by Rain, one of the first few artists who paved the way for K-Pop's global popularity. The album peaked at No.9 on the South Korean Gaon Album Chart with close to 5,500 units sold, while the lead track charted at No.143 on the Gaon Digital Chart, with 35,000 downloads.
Sorn and her group continued producing retro music by releasing the digital single "Eighteen" on 16 April 2015, which was a blend of the Motown sound of the '70s and synthpop of the '80s. Unfortunately, it didn't enter the chart, and just had over 8,000 downloads.
The girls were invited to perform at the annual Dream Concert held at the World Cup Stadium in Seoul, in which 30 K-Pop artists participated to celebrate K-Pop music.
Can yall be honest and tell me honestly if this is a vibe or not?! 😁 SO MUCH EFFORT TO DRESS UP 😢 pic.twitter.com/k5aUtwkohq

— Sorn Sajakul (@sssorn_clc) October 10, 2020
It was the only time in a year that fans were able to see a smorgasbord of K-Pop artists from newbies to superstars perform on one huge stage.
By May 28th, CLC started promoting again with the release of their second EP – "Question." It consisted of five tracks including the lead track "Curious (Like)," which entered the Gaon Digital chart at No.173 and was downloaded more than 20,000 times, while the album peaked at No.9 on the Gaon Album Chart.
Before their debut year ended, CLC held their first international concert in Malaysia, entitled "First Love Promo Tour in Malaysia," at the Berjaya Times Square for two nights in October.
CLC's Additional Members and Japanese Debut
It was considered by many as a lackluster debut year, so Cube Entertainment decided to add new members to the group, Eunbin and Elkie. When they announced it, Eunbin was still a contestant in the reality TV series, "Produce 101," but they felt that the news would help boost the popularity of the group.
In February they released their third EP, "Refresh", peaking at No.6 on the local charts but went down immediately, and only sold close to 3,000 units.
Sorn and the girls then tried to penetrate the Japanese market by releasing their first Japanese EP, "High Heels," consisting of all the Japanese versions of the lead tracks of their Korean Eps, along with a cover of a Kylie Minogue song. However, the album only peaked at No.23 on the Japanese Oricon Album Chart, with just about 2,600 units sold.
They went back to Seoul and released their fourth EP, "Nu Clear," on 30 May 2016, having six tracks including the lead track, "No Oh Oh." It was the first time CLC recorded and promoted the album complete with all the seven girls. However, even with the inclusion of Eunbin whom they hoped would bring more attention to the group, the album only had over 4,500 units sold. Nothing changed from the low trajectory that they had in their debut year.
Due to many disappointments such as not winning any trophies from music shows, at the end of the year Sorn posted an apology letter to their fandom, known as Cheshire. It didn't help that her agency was rumored to be experiencing difficulties, as their best-selling groups such as 4Minute and Beast were disbanding. No one renewed their contracts to pursue solo careers except for Hyuna, which reportedly placed the company in a tough spot financially.
Commercial Success with Hobgoblin (2017)
Sorn and her group needed to make a drastic change in their concept and image, so in January 2017 they rebranded with the help of Hyuna (4Minute) for the release of their fifth EP entitled "Crystyle". Sorn was credited as one of the lyricists of the lead track, "Hobgoblin," which was a blend of EDM and trap beats. Hyuna even helped in transforming the girls from the bright, cute, bubbly concept, to the dark, fiercer, hip hop image, and it worked.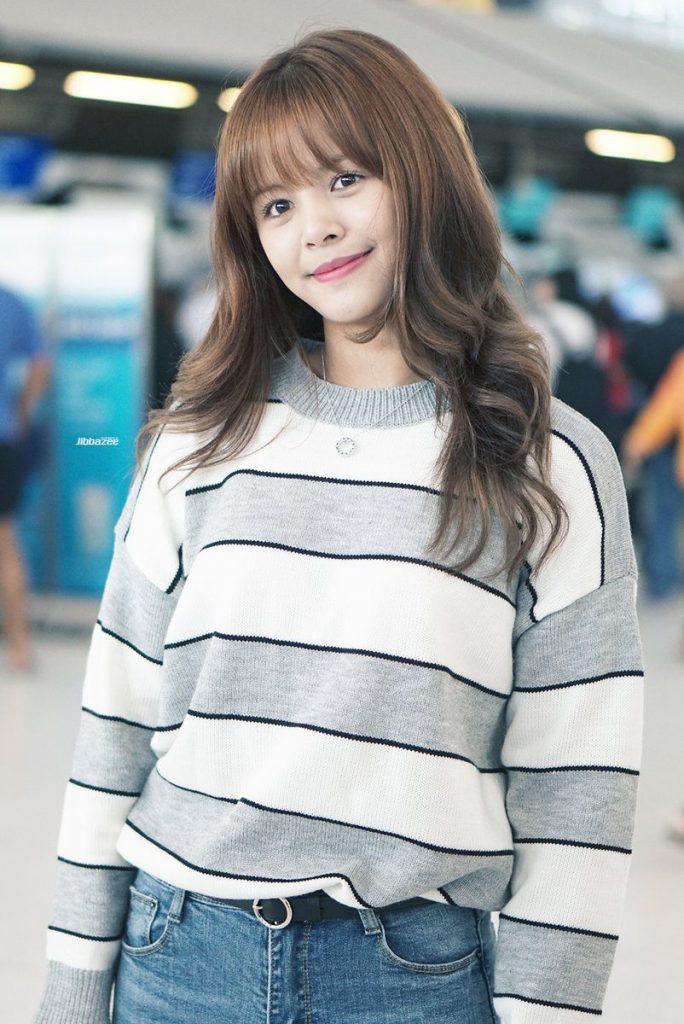 The album entered the Top 10 on the Gaon Album Chart with almost 6,000 units sold, and for the first time entered Billboard's World Albums Chart, at No.5. The lead track might not have entered the local digital chart, but it peaked at No.4 on Billboard's World Digital Song Sales Chart, with around 9,000 units sold in the US. The official music video has more than 33 million views to date, which is a far cry from the 1.3 million views of the previously released single, "No Oh Oh." Hyuna was also involved in conceptualizing the make-up and style the girls used in the MV.
First Music Show Win, Sense of Identity and Rising Popularity in the US (2018-2019)
Most music insiders gave CLC positive feedback, as the girls continued to nail down their sense of identity as a girl group even if it was three years late. Their sales were increasing locally, albeit slowly, and they were consistently gaining loyal fans internationally, particularly in the US.
In February 2018, Sorn and the girls released their seventh EP, "Black Dress," which had five tracks including the title track, boasting beats similar to the music genre of their major hit, "Hobgoblin." It peaked at No.12 on the Gaon Album Chart with more than 8,000 units sold, and No.7 on Billboard's World Albums Chart, with the lead track charting at No.6 on Billboard's World Digital Song Sales chart. They even held two concerts that year, including a charity-themed concert for the Diabetes Association, at which fans who attended were asked to donate. The other was held overseas, entitled "CLC Live Show In Hong Kong 2018 – Black Dress", in July at the Macpherson Stadium in Hong Kong.
In 2019, their eighth EP, "No.1," was released with five tracks including the lead track, "No," in which label mate Soyeon of girl group (G)I-dle was credited as one of the lyricists, composers and producers.
Everything seemed to be going right for the group, as the album peaked at No.4 on the Gaon Album Chart with over 15,000 units sold. It also mtoade it on three Billboard charts – at No.5 on World Albums, No.19 on Heatseekers Albums, and No.49 on Independent Albums.
The lead track charted high at No.4 on Billboard's World Digital Songs Sales Chart, with more than 1000 units sold in the US. Not all K-Pop artists can take risks with unusual topics for women and survive unscathed but for CLC it was worth the risk. Their song was very similar to 2NE1's "Ugly," which paved the way for the women empowerment concept. The song "No" was about rejecting all the typical qualities of what is considered beautiful, and saying no to all the luxury material possessions that most girls love, such as shoes, bags and make-up. While it didn't match the commercial success of the iconic 2NE1 song, it gave Sorn and the girls their first taste of a music show win for having the top song of the week, courtesy of SBS' "The Show."
Encouraged by the sales result, two digital songs were released in 2019, the first in May with the song "Me", and the second in September with the song "Devil." Both songs charted high on Billboard's World Digital Songs Sales chart at No.5 and No.7, respectively, and both had more than 1,000 units sold in the US. It was reported that in March 2020, sales increased and the single "Me" was even regarded as the second best-selling song for a week, with "Black Swan" of BTS dominating the charts.
Jewelry Collection, Ms. Trot Reality TV Series, and Rumors of Disbandment (2020-present)
There was an internal power struggle in Cube Entertainment, in which the chairman Hong Seung Sung left the company he has helped build. It took almost a year for Sorn and the girls to make a comeback, then in August 2020 they released the single album "Helicopter." It sold as many as 13,000 physical units on its first week, way over any other previously released album. It also charted highly, even topping the iTunes Songs Chart in 11 countries, including Brazil, Chile, Hong Kong and New Zealand.
The song peaked at No.87 on Billboard's K-Pop Hot 100, and No.6 on Billboard's World Digital Song Sales chart, becoming the group's sixth Top 10 song on the chart. The MV on YouTube had 10 million views within 36 hours, and has accumulated over 41 million views to date.
By October, Sorn was busy with her solo activities, such as her collaboration with Kapsul Collective for her first jewelry collection called Rise, which was made available to the public that year. She also joined another reality TV talent competition show, "Miss Trot 2," aired in December, but was unfortunately eliminated immediately after the first round.
There are rumors of impending disbanding of the group, since one of the members, Elkie, left the group in December 2020, and sued the agency for non-payment and non-disclosure of income statements since her debut.
Personal Life
Sorn is officially single, and apparently hasn't been dating anyone. Only a few K-Pop artists were brave enough to openly date, as most of them avoid the backlash as South Korean fans are known to be quite possessive of their idols.
She still lives in the dorm provided by her agency, and shares the biggest room with Seunghee and Yeeun.
Hobbies, favorites, rumors, and interesting facts
Sorn can easily converse in four languages: English, Korean, Chinese as well as Thai.
She's adept at playing the flute and guitar.
Sorn has a great relationship with other Thai K-Pop artists such as Blackpink's Lisa, Got7's Bambam, and (G)I-dle's Minnie, often communicating through an online group chat.
Her role model is her father, and her ideal type is Lee Kwang Soo.
Appearance
She is 5ft 5ins (1.64m) tall and weighs 105lbs (48kg), with black hair and dark brown eyes. During her debut year, she was often ridiculed by some fans and called overweight as her thighs were a bit larger than her Korean groupmates. However, she went on a diet and weight loss program to achieve a more appropriately-shaped and toned body. Some fans thought she had plastic surgery done on her, but her face changed only due to weight loss and maturity.
Net Worth
According to authoritative sources, Sorn has an estimated net worth of over $200,000, as of January 2021.