Seo Yuna is a South Korean singer-songwriter and actress. She became known when she debuted in 2012 with the Korean Pop (K-Pop) girl group, AOA, which stands for Ace of Angels, managed by FNC Entertainment.
Just a simple reminder that article is created and owned only by kpopwiki.org. Article cannot be re-published in any other pages or documents. Copyright is protected by DMCA. All found copies will be reported.
Original source: https://kpopwiki.org/seo-yuna-aoa-age-plastic-surgery-sister-parents-height/
Early Life and Family
Seo Yuna was born on 30 December 1992, in Busan, South Korea. Her love for music started at the young age of seven, when her parents enrolled her in piano lessons. When she reached 11th grade, she already knew that she wanted to become a K-Pop star.
Educational Background
She attended Yangun Middle School in Haeundae-gu, Busan, and matriculated from Kyunggi Girls High School in Gangnam-gu, Seoul.
Career
After turning 18, Yuna was granted permission by her parents to pursue her dream of joining the K-Pop industry as long as she continuds to study in school. To join open auditions in entertainment agencies, she switched schools and lived with her uncle's family in Seoul. After singing Kelly Clarkson's "If No One," she was accepted by FNC Entertainment, an established talent agency and record label in South Korea, home to successful K-Pop bands, namely F.T. Island and CNBLUE.
Debut Promotions (2012)
On 30 July 2012, Yuna and seven other girls (Chanmi, Choa, Hyejeong, Jimin, Mina, Seolhyun, and Youkyung) debuted as members of the K-Pop girl group, AOA. Their label decided to adopt a different concept for the girls – instead of just singing and dancing like most K‑Pop groups, they would also promote as a band called AOA Black. While there are eight girls in the group, it's only during band performances that fans get to see Youkyung.
Basically, AOA has two sub‑units with five members during band stages, and seven members for dance stages. Yuna's included in both sub-units, and plays keyboards for the band unit.
They released the single album, "Angel's Story," with three tracks including the lead single "Elvis," "Temptation," and "Love is Only You," which was composed by CNBLUE's leader, Jung Yong Hwa. FNC Entertainment produced a grand debut live showcase held at AX Korea, with the girls performing the songs from the single album. It was followed by a staged flash mob on 7 August 2012, with 50 selected fans wearing AOA shirts and wings, held in various hip places in Seoul, performing their debut song.
AOA's television debut performance was held on 9 August 2012 in the popular cable TV network music show, "M Countdown," from which they performed both the band and dance versions of their lead track.
my pretty girl…………….. 😘 https://t.co/pJyotjUA6R

— Yuna, Seo (@yn_s_3012) December 1, 2020
The single album peaked at No. 8 on the South Korean Gaon Album Chart in the week it was released, but dropped to 85th place after a month. Despite extensive promotions, it garnered minimal success, with digital sales of 45,000 and physical sales of 3,000.
On 28 September 2012, they released another single album, "Wanna Be," with three songs including the lead track, "Get Out," promoted with the girls playing strong movie female characters. Yuna chose the Lara Croft character from "Tomb Raider" and the concept gained widespread attention. The lead track was well-received as compared to its predecessor, with digital sales of 53,000 and 4,500 physical sales, peaking at No. 5 on the Gaon Album Chart.
As a Member of AOA Black
K-Pop fans were confused about AOA's concept as a group, and wondered why FNC Entertainment didn't debut AOA Black separately from the dance group concept.
Music insiders believed it was because they wanted to have a fall-back in case the band concept didn't work out.
In the group's sophomore year, AOA Black promoted first, and Yuna continued to shine with her piano playing skills.  They released the single album called "Moya", which peaked at No. 9 on the Gaon Chart and 21st on Billboard's K-Pop Hot 100, with over 170,000 units sold digitally; it was the last time the sub-unit released a song.
Career Progress and Mainstream Success (2014)
Yuna's first taste of success was in January of 2014, when the group released its fifth single album, "Miniskirt," with four songs including the title track, and its instrumental version along with "Under The Street Light" and "Gonna Get Your Heart." It was produced by one of the most successful music producers in South Korea, known as Brave Brothers.
The title track was their first Top 20 song on the Gaon Digital Chart, peaking at No.11 and on Billboard's K-Pop Hot 100 at No. 8. The song became their first major hit, with over 1.3 million digital sales, and gave AOA its first music show award courtesy of SBS' "Inkigayo." Due to its huge success, Yuna and the girls started with their Japanese promotions by releasing a Japanese version of the single album, along with an official music video on 7 September 2014.
Her record label capitalized on its success by releasing the group's first extended play, "Short Hair," consisting of seven songs including the title track. It was again produced by Brave Brothers, and peaked at No. 4 on the Gaon Album Chart. The song "Short Hair" peaked at No. 5 on the Gaon Digital Chart, and No. 4 on Billboard's K-Pop Hot 100 with over 1.2 million digital sales.
Encouraged by their debut EP's success, AOA followed it up with another EP, "Like A Cat," released on 11 November 2014. It was just as successful as its predecessor, peaking at No.4 on the Gaon Chart, with the title track at No. 5 on the Gaon Digital Chart with over 1.3 million digital sales.
Most Successful EP "Heart Attack," KCON Appearance, and Japan Promotions (2015)
Yuna the girls headed to Japan again, and released the Japanese version of the hit song "Like a Cat." It peaked at No. 6 on the Japanese Oricon Chart, and No. 1 on Tower Records, making it a successful entry into the Japanese market.
Back in South Korea, the girls starred in their own reality TV series called "Open Up! AOA", with 10 episodes aired weekly in February 2015. After a few months, they followed it up with another reality TV show, "AOA One Fine Day," filmed in Nanwan Monkey Island, Hainan, China.
These shows helped boost their rising popularity in time for the release of another EP.
By June, Yuna and the girls were busy promoting the release of their third EP, "Heart Attack." It consists of six songs including "Come To Me," "Luv Me," "Really Really," and the title track, with most of the songs composed and produced by Brave Brothers. It is by far the group's most successful EP to date, having sold 48,000 units and peaking at No. 2 on the Gaon Album Chart, as well as making their first entry on Billboard's World Album Chart at No. 5.
The title track became AOA's most popular song, with 1.7 million copies sold, peaking at No. 2 on the Gaon Digital Chart, and placing 7th on Billboard's World Digital Song Sales Chart. Due to its success, Japanese and Chinese versions of the EP were also released, and the girls became endorsers of the popular Korean mobile RPG, "Fantasy Hero."
At the end of 2015, Yuna and the girls were included in the line-up of performers in the annual Korean Convention (KCON) concerts in Los Angeles and New York, which solidified their position on the K-Pop music scene as one of the top girl groups during that time.
Sub-Unit AOA Cream
To capitalize on their soaring popularity, some of the members completed solo projects. Yuna formed a sub-unit called AOA Cream with Hyejeong and Chanmi, and they released their debut single, "I'm Jelly Baby," which peaked at No. 26 on the Gaon Digital Chart with over 190,000 units sold. Yuna made rounds in popular music and variety shows to promote their single.
EP and Studio Album Release, Line Up Changes, Queendom (2016-19)
For various reasons, two members left the group – the main vocalist, Choa, retired from the entertainment industry for health reasons, and the resident drummer of AOA Black left after choosing not to renew her contract.
Yuna and the remaining members continued with their scheduled activities, and released another EP, "Good Luck," in May of 2016.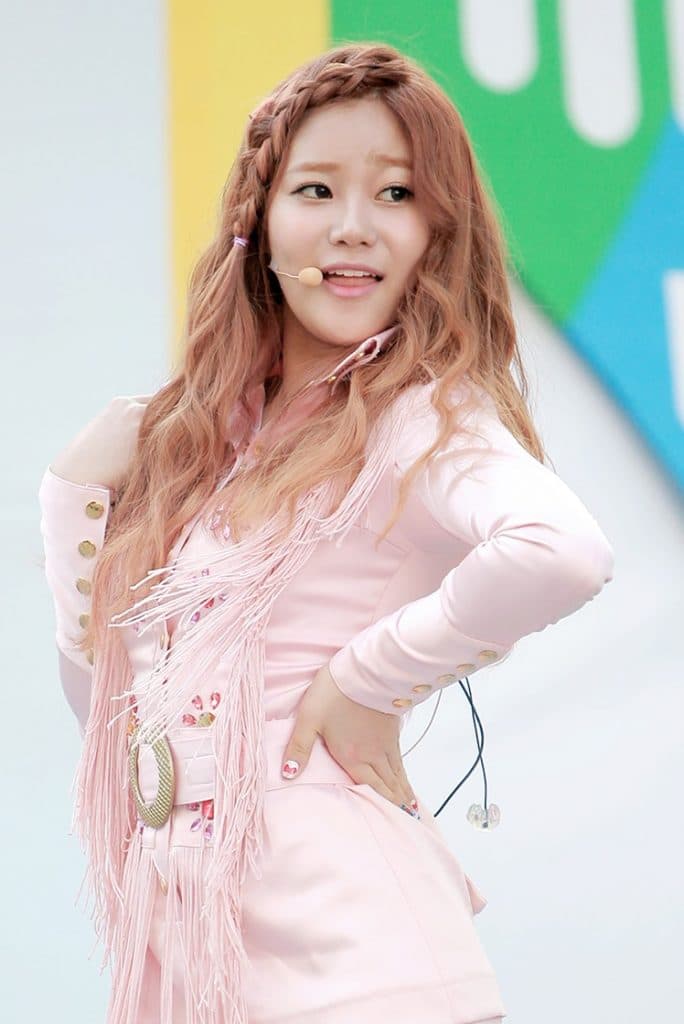 It was also a commercial success with over 40,000 units sold, peaking at No. 2 on the Gaon Album Chart and 7th on Billboard's World Album Chart. However, the title track was no longer a million-seller, but still with over 670,000 units sold.
In May of 2018, they released another EP entitled "Bingle Bangle," with six tracks. While it peaked at No. 3 on the Gaon Album Chart and 10th on Billboard's World Album Chart, sales were down by half with only 21,000 units sold; music insiders speculated that fans missed the distinctive voice of former member, Choa, in the songs.
They continue releasing new songs, but sales continued to decline, and they never went back to being million-sellers again. The EP "New Moon," released in 2019, might have peaked at No. 3 on the Gaon Album Chart but it only sold over 15,000 units, and the title track, "Come See Me," charted at No. 51 on the Gaon Digital Chart and 29th on the K-Pop Hot 100.
AOA participated in the reality TV show called "Queendom" to help them regain the popularity they once had. By this time, another member, Mina, decided not to renew her contract with the agency, and left the group. The five remaining girls battled it out with five other K-Pop artists including Mamamoo, Lovelyz, G-IDLE, and former 2NE1 member, Park Bom. While some of their performances trended and garnered positive reviews, the group ended up in fourth place.
Bullying Controversy (2020)
A bullying scandal erupted in the K-Pop industry, with former member Mina spilling the beans via her Instagram account. Apparently, she was bullied for many years by Jimin, the leader of the group. The emotional abuse took a toll on her, and was the main reason she left the group. More troubling stories came out, with Jimin ending-up quitting the group and retiring permanently from the entertainment industry, while Mina was treated for depression.
As An Actress and OST releases
In between breaks from her AOA activities, Yuna dabbled in acting. In 2013, she took on a lead role in the musical entitled "Summer Snow" in Japan. Two years later, she was part of the main cast of the web drama series, "Hot and Sweet," playing opposite label mate, Choi Min Hwan of F.T. Island. She also became part of another web drama series, entitled "My Old Friend", with five episodes streamed via Naver TV Cast in 2016.
A year after that, Yuna was included in the romantic-comedy drama series "Single Wife," aired every Wednesday and Thursday over at cable network, DramaX. It ran for 12 episodes with her playing a supporting role to Uhm Hyun Kung and Kwang Hee Sung.
Yuna was chosen to sing the official soundtracks of South Korean drama series such as the songs "I'm OK" for KBS' "Marry Him If You Dare" (2013), "Another You" for Netflix' "My Only Love Song" (2017), and "If You Were Me" for tvN's "A Korean Odyssey" (2018).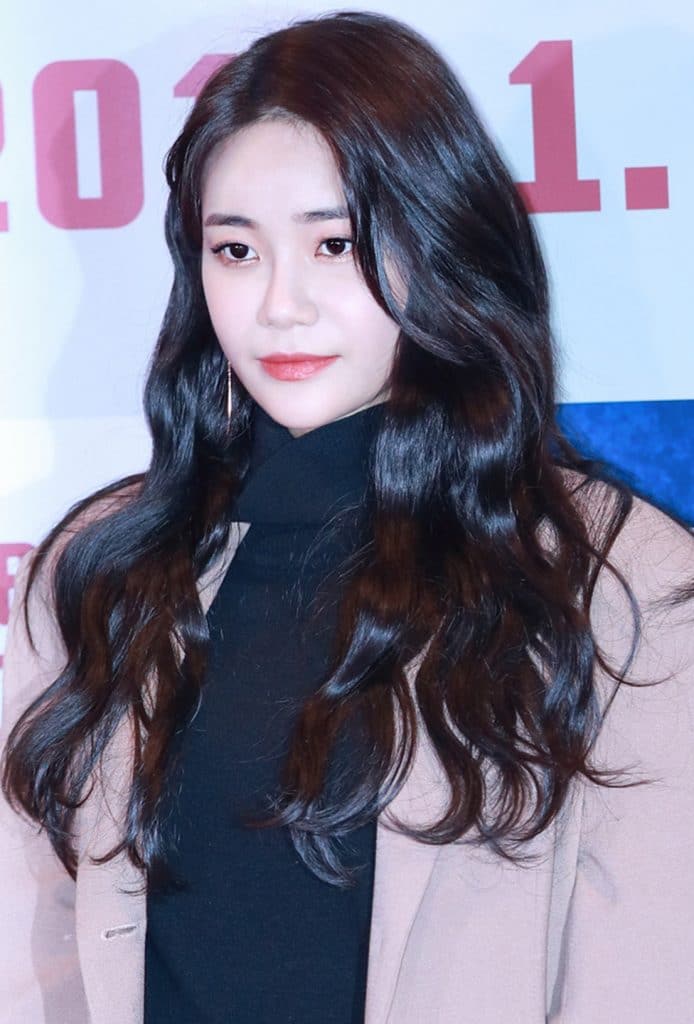 As a Songwriter
Fans were surprised that Yuna helped in the creative process of writing some of the popular songs sung by other K-Pop artists including "Heartshaker" by Twice, "Alright" by Apink, "Becoming The Wind" (Mr. Sunshine OST) by Ha Hyun Sang, and "The Star" (Catch The Ghost OST) by Juniel. She has five songs credited under the name of E.NA in the database of the Korea Music Copyright Association.
Personal Life
Yuna is currently single. While she is no longer banned from romantic relationships as she's past the five years' "no-dating policy" after debut, she's not involved in any dating news in South Korea. Most K-Pop artists would date privately, and only a handful of them are brave enough to date publicly. Most of the time, fans would only be aware of any relationship when the artist announced his or her engagement.
Hobbies, favorites, rumors, and interesting facts
Yuna has been given many nicknames by her fans and colleagues, including Yunaria, Jigglypuff, Chikorita, and Lion; the most unforgettable was the one she got in high school which was Rudolph, as her nose turns red in cold weather.
Her three favorite dishes are sushi, ramen, and grilled meat.
While AOA's music genre is considered upbeat, Yuna's favorite genre is ballad.
She is not the only K-Pop artist in the family, as her sister, Seoyul, debuted as a member of the girl group, Berry Good.
Yuna's ideal type is close to the character of Yung Woo Sung in the drama series, "Padam Padam" (2011) – a quiet and tough person who will only show his warm side to her.
Appearance
Yuna is 5ft 4ins (1.63m) tall, weighs around 100lbs (45kg), and her vital statistics are 34-26-39. Her shoe size is 7 inches (230mm). She has black hair and dark brown eyes.
Net Worth
According to authoritative sources, Yuna has an estimated net worth of close to $500,000 as of November 2020.