Renjun is a Chinese singer and dancer from South Korea, who became famous when he debuted as a member of the Korean Pop (K-Pop) boy group, NCT (Neo Culture Technology).
Just a simple reminder that article is created and owned only by kpopwiki.org. Article cannot be re-published in any other pages or documents. Copyright is protected by DMCA. All found copies will be reported.
Original source: https://kpopwiki.org/renjun-nct-age-height-teeth-hair-dating-parents-wiki/
Early Life an Family
Renjun was born Huang Ren Jun on 23 March 2000 in Jilin, People's Republic of China. His family is Chinese but their ethnicity is said to be Korean, as they lived in the eastern part of Jilin province near the North Korean border, where a large concentration of the minority population is Chinese-Korean. Their ancestors can be traced back to those who fled the Great Famine and settled in the Chinese province.  He grew up in a bilingual community where both Mandarin and Korean languages are used, and even Korean culture and traditions are taught and practiced by the residents. His Korean name is Hwang In Joon.
Education
Renjun matriculated from the Jilin Korean Ethnic Middle School. Instead of attending senior high school and preparing for college acceptance just like other regular students, he wanted to become a professional singer and dancer at a young age.
Career
After learning about auditions conducted by SM Entertainment, the largest entertainment company in South Korea, he sent an application. He was about to give up on his dreams after receiving no reply for quite some time, but he was eventually given a spot in the 2015 SM Global Audition. When he was chosen to become a trainee, he explained it to his parents, and was given permission to travel to South Korea.
First Steps
Renjun trained for a year in various aspects of entertainment, including singing, dancing, acting, and was also given language lessons.
In 2016, SM Entertainment decided to debut him and other trainees one sub unit at a time under one umbrella group called NCT, which stands for Neo Culture Technology. The company wanted to employ a different strategy in which they would promote around 20 or more trainees, divided into sub-units based on age, concept, music genre, hometowns, etc.
Debut
Renjun is included on the third unit, "NCT Dream," which is based on age. The average age of the members is 15.6 years old, and a member will graduate from the group when they reach the Korean age of 20 (19 in international age – in South Korea, on the day you are born, you are considered a year old.) With him in the unit are Mark Lee, Na Jaemin, Lee Jeno, Park Jisung, Zhong Chenle and Lee Haechan. His group debuted on 25 August 2016 with the single "Chewing Gum" on the "M Countdown" TV music show.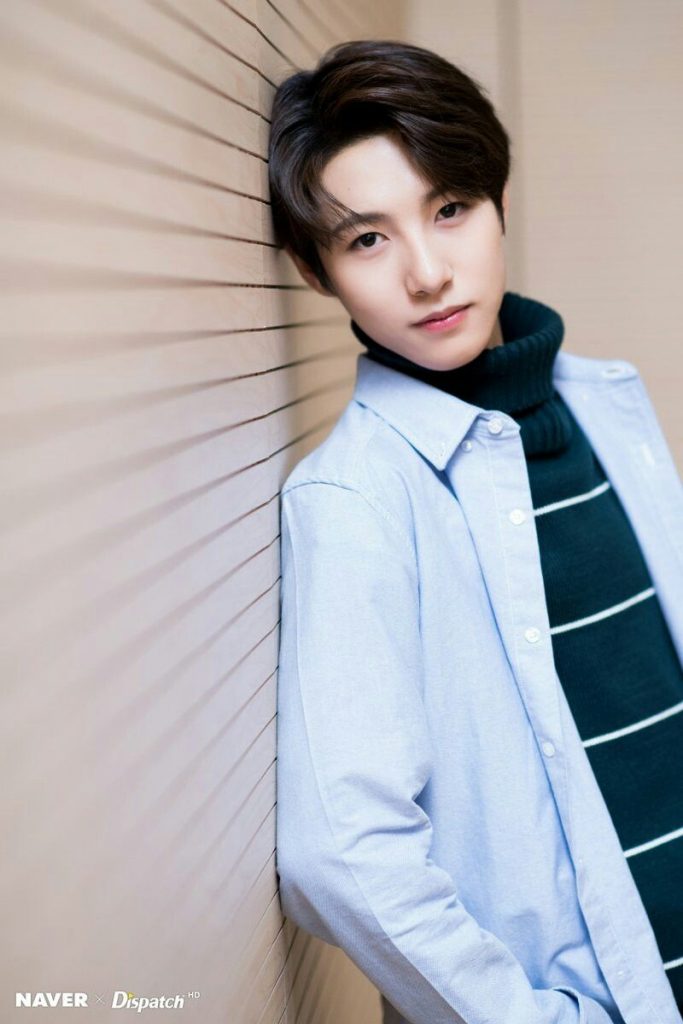 Their debut song reached Number 2 spot on the Billboard World Digital Songs sales chart, and it also charted at number 23 on Spotify Viral 50.
In 2017, the group released an album, "The First," with the title track, "My First and Last", which was commercially successful as it reached the Number 1 spot on the Gaon Chart upon its release. NCT Dream also became the first unit from NCT to win first place in weekly music shows in South Korea. K-Pop groups who release new songs often compete regularly on music shows, and the winner is determined by streaming, downloading, and sales data for the week. A follow-up extended play (EP) was released entitled "We Young", and it reached Number 3 on the Billboard World Digital Songs sales chart.
Because of NCT Dream's rising popularity, the organizers of the FIFA U-20 World Cup in 2017 appointed them as official ambassadors of the international sports event which South Korea hosted; they sang the official song, "Trigger the Fever," during the opening ceremony of the tournament.
Further Success
Renjun is assigned as the lead vocalist of the group, and he continues to promote solely with NCT Dream while some of his co-members in the unit are also members of other units such as NCT127 and NCT U. However, starting in 2018, the three units were tasked to perform as one group along with other new trainees under the name NCT 2018. When NCT Dream released the single "Go," the talent management included it on NCT 2018's first album, "NCT 2018 Empathy."
By August of 2018, Renjun was a bit dejected because SM Entertainment announced that one of the members, Mark would be leaving the group by the end of the year, as he reached the graduating age. He is used to Mark leading the group, but it reminded him that he will also exit the group in 2020.
Billboard and TIME Magazine List
They released another EP, "We Go Up," which charted at Number 5 on the Billboard World Album Chart, and reached Number 7 on Heatseekers Album Chart. It also reached the Number 1 spot on iTunes Album Chart in 15 countries, making it the best-selling album of NCT Dream at that time. Due to its success, all the members earned a spot in TIME magazine's 25 Most Influential Teens in 2018, and were also the only Asian artists included in the list of Billboard's 21 Under 21 2018: Music's Next Generation.
Collaboration with other Artists, Music Awards and Asian Tour
As the group continue to gain international recognition in 2019, Renjun along with the other members of the unit started collaborating with other artists, including English singer and dancer HRVY, whose real name is Harvey Leigh Cantwell, and released a single with him entitled "Don't Need Your Love." NCT Dream was also featured in "Up To You," a single by American-Canadian boy band, Pretty Much.
Renjun experienced how to be a global ambassador for the second time, when the World Scout Foundation chose NCT Dream to help in promoting and soliciting funds for the group. They released an English song, "Fireflies," and all the proceeds from the sale of the song would fund Scouting activities in impoverished countries.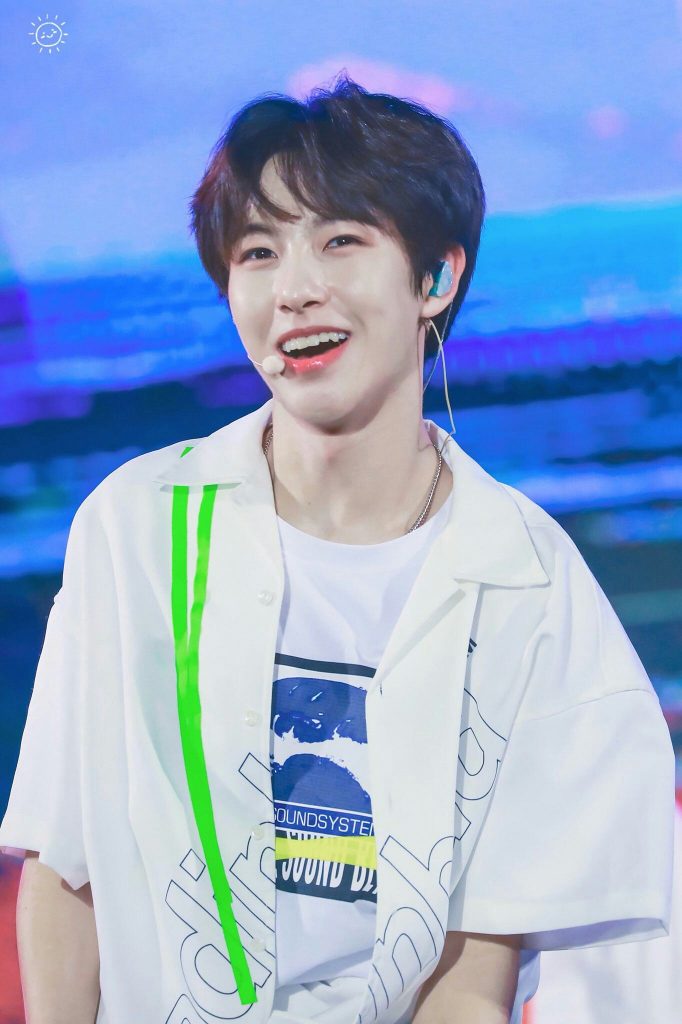 Their stint as ambassadors culminated in West Virginia, USA, where they performed at the 24th World Scout Jamboree.
The group released their third EP entitled "We Boom", and promoted its lead single, "Boom"; it became the group's best-selling physical album in South Korea, which earned them one of the ten main awards from the 2020 Seoul Music Awards and the 34th Golden Disc Awards. The album also peaked at Number 3 on the Billboard Social 50 chart, and reached Number 7 on the World Album chart. NCT Dream was also included for the second time on Billboard's Under 21 2019: Music's Next Generation. The year ended with the group performing in various major cities in Asia, to kick off their world tour, "The Dream Show."
Before the Covid19 pandemic crisis blew up in 2020, the group started their Japanese promotion, and released an album which peaked at Number 1 at the Oricon Album Chart. They also continued with their world tour, but unfortunately were only able to perform in arenas in Japan and some Southeast Asian countries before it was cancelled due to the Covid19 global crisis.
NCT Dream as a Fixed Group
The year 2020 would have been Renjun's last year with the group but changes in the system meant that SM Entertainment abolished the graduation system. They would no longer change members, as fans begged talent management to change their policy – they would just adopt different concepts for the group.
After the release and promotion of the fourth album, "Reload," Mark will be returning to the unit, and NCT Dream will be a fixed group.
Two weeks after announcing that the group will be releasing its fourth album, half a million pre-orders were made, and when it was finally released in April it became NCT Dream's best-selling album to date. It not only topped the iTunes album charts in 49 countries including the US, but the single track, "Ridin," also topped the Melon Chart, which is the biggest music site in South Korea. It is historic for NCT Dream as no other NCT unit was able to reach number one on this chart. The album also topped the QQ digital album chart which is China's biggest music site, and Billboard's Emerging Artists chart.
Renjun's Hobbies, favorite things, rumors and interesting facts
In the early part of his career, international fans were quite confused as to his nationality and ethnicity. He was even rumored to be a North Korean.
He received harsh words from Korean netizens in social media for calling Baekdu Mountain its Chinese equivalent name, as it was what they were taught in school back in China. It is one of the highly disputed issues between the two countries, along with other land areas.
His video performing Taeyang's "Ringa Linga" in one of the festivals of his school prior to his debut went viral, and fans were amazed at how great a dancer he was. It was a surprise to many that he also has a great voice, and for him to be given the position of lead vocalist of NCT Dream.
He has a talent for drawing and painting, but downplays it as he feels it is unexceptional.
Winwin is his closest friend in the whole NCT group, as they are both Chinese but he belonged to another unit.
happy boy >‿<#RENJUN #런쥔 pic.twitter.com/HOJeeWS2Sv

— renjun pics 🦊 #RESONANCE (@renjunpictures) August 18, 2020
Appearance
He is 5ft 7ins (1.70m) tall and weighs 115lbs (52kgs), with a lean build. He is Chinese with black hair and black eyes. His hair color would often change depending on the concept that will be given to him on his K-Pop promotions. It's normal for K-Pop artists to change hair color and hairstyle regularly. He has a small dimple and has a distinguishing birthmark on the back of his hand which looks similar to a bruise. He has perfect-looking teeth now due to lingual braces correction, as he used to have a snaggletooth.
Net Worth
Authoritative sources estimated Renjun's net worth to be over $100,000 as of July 2020.