Lee Mi-joo – also known as Mijoo – is a South Korean singer, dancer, model and TV host, born on 23 September 1994, in North Chungcheong, South Korea. She's known for being one of the members of girl pop group Lovelyz.
Just a simple reminder that article is created and owned only by kpopwiki.org. Article cannot be re-published in any other pages or documents. Copyright is protected by DMCA. All found copies will be reported.
Original source: https://kpopwiki.org/the-untold-truth-of-lovelyz-member-lee-mijoo/
Early Life
Not much is known about Mijoo's early life, except that she grew up in Okcheon County, and has an older sister named Lee Young Joo.
Mijoo attended Okchon Commercial High School, from where she presumably matriculated in 2012. From a very early age she was interested in music, dance and singing, and so entered a private academy in her teens, where she improved her artistic abilities, which led her to be signed by Woollim Entertainment as a trainee in 2012.
Career with Lovelyz
Debut
With the release of their first digital single entitled "Good Night Like Yesterday", on 5 November 2014 Mijoo officially debuted as the main dancer and sub-vocalist of Woollim Entertainment's first girl group Lovelyz.
The band – integrating eight girls – had their debut presentation at the Olympic Park's Hall K-ART on 12 November, which was followed by their first TV performance in "M Countdown" of Mnet.
Officially released on 17 November, Lovelyz first album – "Girl's Invasion" – was produced by the noted songwriter and former bassist Yoon Sang, who previously collaborated with other successful artists in the K-pop industry, such as TVXQ and BoA.
Making sure the group was easily recognizable from others, Sang tried to give Lovelyz' songs a distinguishable sound and lyrics: 'There are so many ballads in the world to make them common, but I worked hard to express the emotions felt during a first separation for young girls like Lovelyz.'
The album took ninth position in Taiwan's Five Music Korea-Japan list, and topped Japan's Tower Records chart. The single "Candy Jelly Love" – performed by the group in music shows during the promotion tour – ultimately charted on Gaon's 48th position.
In February 2015, a re-package of "Girl's Invasion" with two new songs was released; the single "Hi~" peaked on the Weekly Album chart of Gaon in 4th position.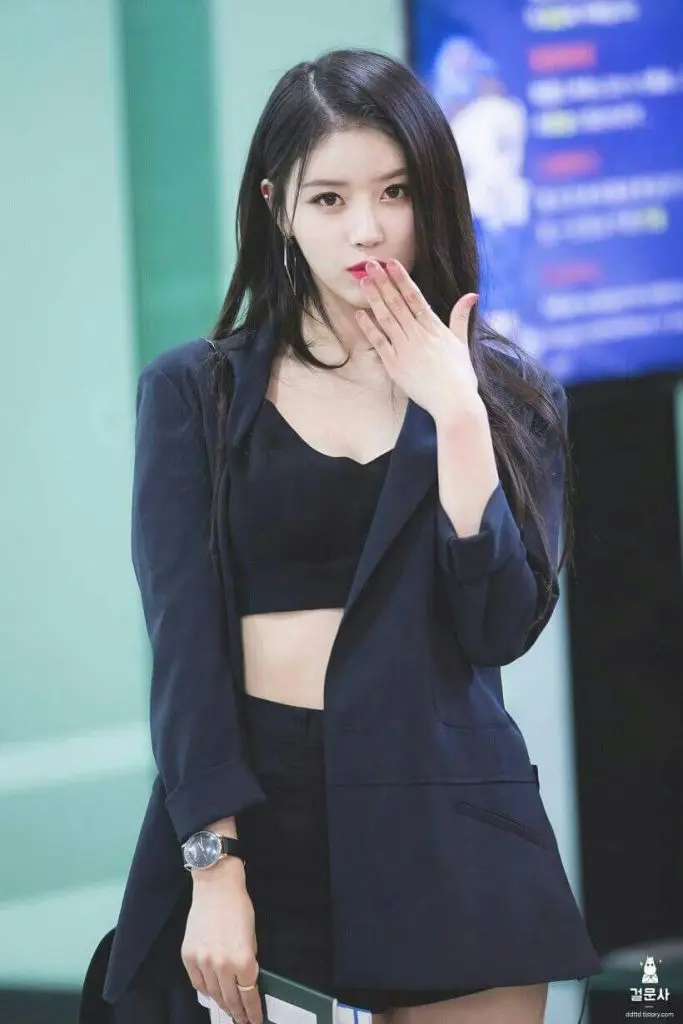 During the promotions of the song "Amusement Park" in April that year – also part of their album – Lovelyz performed in Japan Countdown's KCON for an audience of 15,000, marking their first overseas show. This was followed by a presentation in the World Cup Stadium in Seoul on 23 May.
Second & Third Album
Lovelyz took a few months to prepare their next extended play (EP) entitled "Lovelyz8" -released in early October 2015 – which showcased seven tracks and maintained the same style of their previous album, and ultimately peaked in Gaon's second position.
"Lovelyz8" lead single entitled "Ah-Choo" gained the group national recognition, as it charted on the country's principal music lists, Michal Jackson's a cappella performance of "Beat It" by Lovelyz in late October, also took the attention of international fans, earning favorable critiques from major media platforms such as Fox News and Billboard.
This led Lovelyz to win their first Korea Culture & Entertainment Award.
In December 2015, Lovelyz' first fan meeting took place, which was followed by a mini concert – sold out in a few minutes – in Ax Korea. This event marked the end of promotions for their second album, as their next work, "Lovelinus" was released on 7 December.
The single album was named after their fan club, and contained three tracks, including the main single "For You".
Reality Show and Other Works
In 2016 Lovelyz started airing their first reality show entitled "Lovelyz in Wonderland". However, this wasn't going to be Mijoo's only appearance in TV as she also made a brief cameo in family series "The Gentlemen of Wolgyesu Tailor Shop" that year.
Mijoo also participated in the dance show contest "Hit the Stage", but was unfortunately eliminated in the eighth episode.
A second EPm "A New Trilogy" was released by Lovelyz in April 2016. "Destiny" – the lead single – charted in Gaon's seven position, and gained afavorable review of famous from producer Brent Fischer, who congratulated their work for its 'world-class grooves and current arrangements'.
Late that year, Lovelyz announced that they would be performing their first headlining show in January 2017. During the concert held at Blue Square Samsung Card Hall, the girl-group announced they would release a new album entitled "R U Ready?" in February.
Regarding this work, Mijoo told Melon: 'It's an album that only Lovelyz can show the bouncy charm!'.
Although a technical problem removed the lead single "WoW" from Melon's chart, the album finally charted at number two on Gaon and reached 44th position in the Japanese list Oricon. The album was re-released in May that year as "Now, We", containing a re-package with two new additional songs. This work earned Lovelyz their first number one position in Gaon's list.
In November that year, the girl-group released a new EP, "Fall in Lovelyz" which reached number four in Gaon's album list. Their next EP entitled "Heal" would be released in April 2018, and was promptly followed by the digital single "Wag-Zak".
"Muse in Music" – released on 11 September – became the group's first compilation work and the first instrumental album released by a female band in K-pop's history.
In May 2019 Lovelyz released the EP "Once Upon a Time" and its lead single "Beautiful Days". Afterwards the group took a short hiatus to prepare their next work, "Unforgettable", an EP set to be released in September 2020.
Solo Career
Model
Mijoo's striking and eccentric poses have caught the attention of the media, and has become her trademark. When asked about it by The Star Magazine, she said: 'Usually, all of the article titles are the same like 'Pretty Mijoo' or 'Mijoo is as bright as always.' But I wanted to live every day differently. I asked myself, 'I'm going to be active for years, do I really have to do the same poses for that long?''
Her style has also made her distinguishable among other singers, which is the reason she was chosen to be The Star's first celebrity editor: 'When I heard (about it) I was amazed and couldn't believe it, I often strike unusual poses on my way to work, and the reason I started doing that was because I wanted to pose for magazine shoots more often. Now, those photos of me on my way to work have become one of my strengths.'
TV Host
Mijoo has appeared as a host in various variety and music shows, including "Inkigayo", along other K-pop celebrities. In 2019 she became one of the hosts of "My Mad Beauty", TV show centered on beauty trends, in which she shares many of her self-care secrets: 'I mainly focus on my skin. While filming the program, I learned a lot from (fellow hosts) Han Hye Jin and Park Na Rae, who were on the show with me, and they told me that the ingredients are what's most important. I look for ingredients that are organic and are well-suited to my skin.'
Web Show
In June 2020 it was announced a web variety show entitled "Mijoo Picchu" would be aired on YouTube, with Mijoo as its principal host: 'It's such an honor to be in charge of a variety program with my name on it for the first time. When I saw that it's a variety with my name on it, I was excited and nervous, but I can see myself enjoying myself while filming. I think I enjoy doing it now.'
Personal Life
Lee Mijoo prefers to keep her personal life out of the spotlight, which is the reason there's no information about her romantic life.
In the early stages of her career she received nasty comments from people on the internet, which criticized her appearance and work. Although she admitted it affected her deeply in the past, she recently declared that she's worked on improving her self confidence: 'In the past, they used to hurt my feelings, but now that there are so many more people who like me, I don't worry about them too much. I don't want to change myself because of those kinds of people'.
Net Worth
As of late-2020, Lee Mijoo has an estimated net worth of over $100,000, which is the result of her career as a dancer and singer in the girl-band Lovelyz.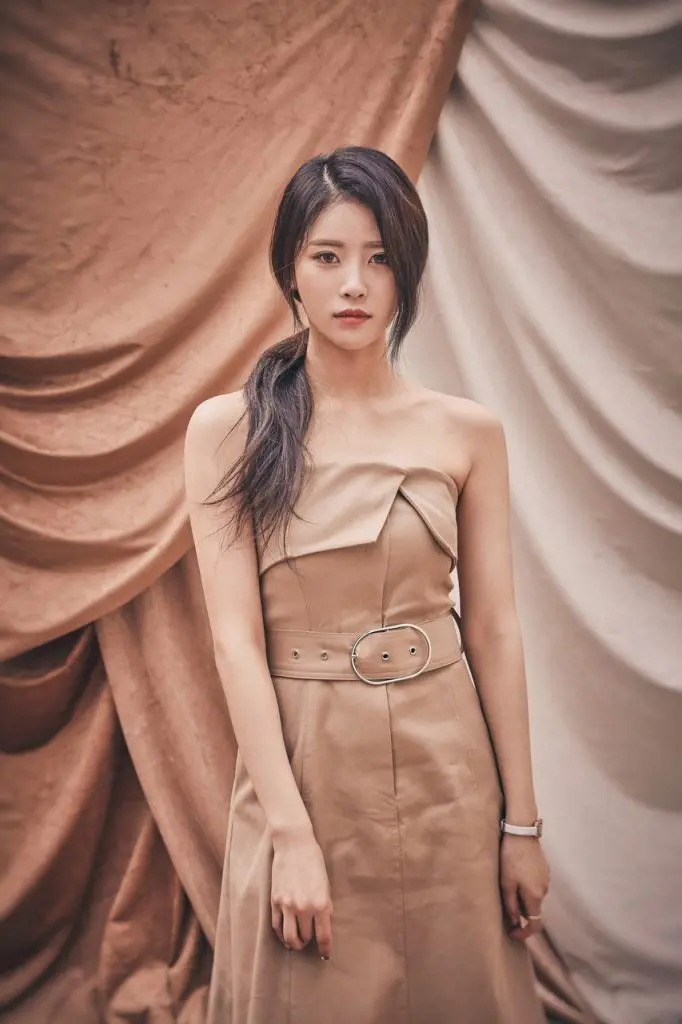 Physical Appearance
Lee Mijoo is a gorgeous woman, who weighs around 105lbs (47kgs) and is 5fts 4ins (1.65m) tall.
Curiosities
She appeared as a model in INFINITE's music video "Last Romeo".
In 2019 she set a goal to work hard to buy her father his dream car.
She wants to get a driver license, and learn to cook.
She takes especial care of her skin: 'On days when I wear makeup, I make sure to use a face mask before I go to bed, and on days when I don't wear makeup, I put on sunscreen.'
She's not interested on pursuing an acting career yet, and instead wants to improve her skills as a TV host.