Park Sojin debuted as the leader and lead vocalist of the Korean Pop (K-Pop) girl group called Girl's Day under Dream T Entertainment, and rose to fame with the release of their hit singles "Twinkle Twinkle," "Expect," and "Female President." She then signed with Noon Company in 2019 to focus on her acting career, and was cast in the highly-anticipated series' "Hot Stove League" and "The King: Eternal Monarch."
Just a simple reminder that article is created and owned only by kpopwiki.org. Article cannot be re-published in any other pages or documents. Copyright is protected by DMCA. All found copies will be reported.
Original source: https://kpopwiki.org/park-sojin-girls-day-biography-age-height-husband-wiki/
Early life and family
Park Sojin was born on 21 May 1986, in Daegu, South Korea. She has a brother who's 13 years younger than her, and despite the age gap, she would fight with him over the use of their home computer.
Her childhood dream was to become a pianist, however, she had to give it up that idea due to financial difficulties. She started earning money by posting flyers for a Chinese restaurant in apartment complexes while she was still in middle school, and saved-up to buy clothes that she liked.
During summer, she and the other kids in the neighborhood would run after the fumigator truck, until the fumes blinded them and she was scalded.
Educational background
She attended Lee Hyun Elementary School and Seojin Middle School, before matriculating from Kyungduk Girls High School; her grades were high and she belonged to the upper ranks of her class. Also many recognized her singing ability when she joined her school choir.
Sojin graduated from Yeungnam University with a major in mechanical engineering, choosing this major because of her father, who operates an automobile factory, so she grew-up looking at mechanical blueprints.
Career
First steps
Her love for singing distracted her from her studies, as she would go to Seoul on weekends when she was a senior in high school. She eventually auditioned for an entertainment agency, and was accepted.
The people from the company said she had to pay $2,000 for the cost of training for six months and promised to launch her as a singer after that, however, she was only there for a month or two before the director ran off with the money he'd taken from kids like her. The "training" involved sitting together with all the other trainees to learn a song; she said it was more like a singing class, and the only song she learned was "Wildflower" by the band Skylark.
Her parents were so shocked to learn they'd been scammed that they didn't talk to her for a month. They disliked her singing anyway, but her love for it hadn't waned, even when she went to college. She eventually moved to Seoul, writing on a sticky note and putting it in her father's shoes to let her parents know that she was leaving, and would come back in a few years if she failed to make it as a singer!
She struggled a lot to support herself, taking on several part-time jobs to pay for her academy fees as well as living expenses.
shes so cute showing off her earrings <3
cr. Dear My Cherry
————————-#Mystyle #해시태그 #소진 #Sojin pic.twitter.com/bUN6YOxeKn

— нαѕнταg ριϲѕ| IA (@hashtag_pics) March 29, 2020
There was one time she fainted on the job, as she felt dizzy putting size stickers on socks on a conveyor belt that was moving fast, for five hours straight.
Sojin kept a tight schedule, as she would start her work as early as six in the morning, attend her classes at the academy in the afternoon, and practice at night until 10 or 11, then work again – she did this for five years.
Her parents went to see her for the first time three years after she left home, to watch her performance at the academy, and her mother told her to just come home when she turned 24 if things didn't work out. In January 2010, she met the people of Dream T Entertainment, and in March started preparing for her debut.
She officially debuted on 7 July 2010 at the age of 24 as a member of Girl's Day, with the release of the single "Tilt My Head," which she performed along with Mina, Jihae, Jiin and Jisun on KBS' "Music Bank." It peaked at No.83 on the Gaon Digital Chart, and was included in their first extended play (EP) "Girl's Day Party 1" which was released two days later, peaking at No.12 on the Gaon Album Chart.
Hyeri and Yura joined Girl's Day when Jiin and Jisun left the group two months after their debut. According to some music insiders, it was difficult for Girl's Day to make headway in the K-Pop scene, as the group's name and concept were similar to that of Girls Generation, which was hugely popular at that time.
With their releases not selling well, they had to think of ways to promote the group, such as giving free concerts on the streets of Seoul. They also starred in Mnet's reality show "M!Pick with Girl's Day" (2011), to show off their charm, as they took a break from practicing and grant each other's wishes.
Rising popularity and breakthrough hit
The public must have warmed up to them, as when they released the single "Twinkle Twinkle" in March 2011, it peaked at No.5 with over two million downloads. The girls were included in the line-up of performers for the concert organized by the Korea Tourism Organization, held in Taiwan in May.
Their second EP, "Everyday," was released in July 2011, and it peaked at No.4 on the Gaon Album Chart, with over 7,000 units sold. Although the album didn't sell that well, its lead single, "Hug Me Once," had digital downloads of more than 1.4 million. The song "Don't Flirt" was released in September, and had download sales of over 950,000, charting at No.11.
Dream T Entertainment announced in October that Girl's Day would be promoting as a four-member group, as Jihae decided to leave them for personal reasons. "Don't Forget Me" was the first song they released as a quartet. Sojin and the girls' EPs and studio albums might not be commercially successful, but the sales of their digital singles had proven their rising popularity in South Korea.
It was the song "Expect" that became their breakthrough hit – it peaked at No.9 on the Gaon Digital Chart, and No.36 on its year-end chart, with over 1.1 million download sales. It also charted at No.9 on the Billboard K-Pop Hot 100 and No.15 on Billboard's World Digital Song Sales Chart.
Its official music video garnered over 45 million views, and the dance version video was viewed 30 million times. The switch from girly to a mature and sexy concept worked for them; their dance choreography was much talked about, and they were in demand to appear not just in music shows, but also in variety shows.
The Gaon Chart Music Awards recognized the song as the "Music Steady Seller of 2013," which was the lead single of their first studio album, "Expectation," released in March 2013, peaking at No.4 on the Gaon Album Chart. It consisted of 14 tracks, with previously released singles. Sojin and her co-members released the repackaged version, "Female President," in June 2013, with the title track peaking at No.5 on the Gaon Digital Chart, and No.79 on the year-end chart, with download sales of more than 800,000. The song reached No.7 on Billboard's World Digital Song Sales Chart, and Billboard ranked it No.13 on the "20 Best K-Pop Songs of 2013: K-Town Picks."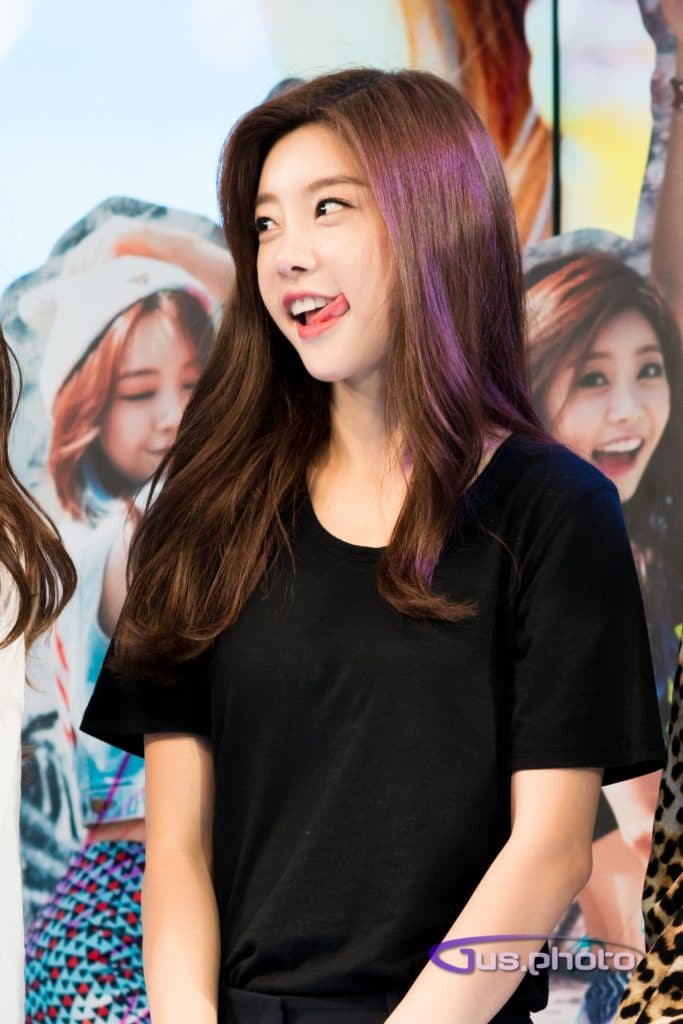 It gave them their first music show win as the No.1 Song of the Week on SBS' "Inkigayo" on 7 July, three years after their debut, however, it wasn't aired due to news coverage of the Asiana Airlines Flight 214 crash that happened the day before. Sojin and the girls received their first trophy during "Inkigayo's Mid-year Special the following week.
"Girl's Day Everyday #3" was their fourth EP, released in January 2014, which peaked at No.3 on the Gaon Weekly Digital Chart with 23,000 copies sold that year. The lead single, "Something," reached No.2 on the Gaon Digital Chart and Billboard K-Pop Hot 100, and No.9 on Billboard's World Digital Song Sales Chart. It had the most number of music show wins in their discography, and received several nominations from award-giving bodies. It won Song of the Year (January) at the Gaon Chart Music Awards, Best Dance Performance by a Female Group at the Mnet Asian Music Awards, and the Digital Bonsang (Main Prize) at the Seoul Music Awards and Golden Disc Awards.
They continued to release hit singles, including "Darling" (2014), which topped the Gaon Digital Chart and peaked at No.5 on Billboard's World Digital Song Sales Chart; "Ring My Bell" (2015); and "I'll Be Yours" (2017).
Sojin's didn't renew her contract with Dream T Entertainment when it expired in February 2019. Although the rest of the girls left the agency as well, the group didn't officially disband. In March 2019, Sojin signed with Noon Company to pursue her acting career.
Solo activities
Sojin was tasked to sing the original soundtrack of various television drama series, including "Our Love Like This" for MBC's "Flames of Desire" (2011), "I Want to Turn Back Time" for SBS' "Passionate Love" (2013), "It Hurts" with Zico for SBS' "Mask" (2015), and "Everyday with You" for tvN's "Reply 1988" (2015). She also participated in the songwriting process of some of their tracks, including "Telepathy," "Come by Here," "Don't Be Shy," and "Let's Go."
In MBC's reality show, "Living Together In An Empty Room" (2017), she along with the actor Kim Minjung became tenants of her co-member Yura for a few days. She was one of the main hosts in three seasons of "My Daughter's Men", in which celebrity fathers watched their daughters on their dates with their boyfriends, and which aired on the cable E Channel from 2017 to 2019. Other variety shows she's appeared in include "Problematic Men," "King of Masked Singer," "Law of the Jungle in Papua New Guinea," and "Life Bar."
As an actress
She made a cameo appearance in the MBC family drama series, "I Trusted Him" (2011), and was then cast in minor roles in TV Chosun's "The Greatest Marriage" (2014) and SBS' "The Family is Coming" (2015). Sojin landed her first leading role in 2017, as Seo Yeon Hee in the fantasy romantic drama "Hong Ik Super" – also known as "Humanitarian Supermarket", which aired on Naver TV Cast for 16 episodes. In OnStyle's fantasy comedy series, "Oh! Dear Half-Basement Goddesses" (2017), she played the role of Metis, one of the Greek goddesses living in a half-basement apartment in Seoul.
Sojin appeared in a supporting role as a sports announcer in SBS' "Hot Stove League" (2019-2020), which won the Best Drama Award at the 56th Baeksang Arts Awards and the Outstanding Korean Drama at the 15th Seoul International Drama Awards. She played the role of a psychiatrist in the highly popular romantic fantasy series "The King: Eternal Monarch" (2020), and in the same year she earned a Best New Actress nomination at the 39th MBC Drama Awards for her portrayal of Bae Doo-rae, the best friend and business partner of Yoo In-na's character in "The Spies Who Loved Me".
Her film debut was in "Zombie Crush in Heyri", released in December 2020, in which her character was one of the women who protected an art village from zombies.
Personal life
Sojin is 34 and single. Although no dating ban was imposed on her by her agency during the early years of her career as an idol, she still didn't date, and just focused on her work.
She did reveal though that she fell in love for the first time when she was 22, but didn't start seeing anyone until she moved to Seoul after college.
In June 2017, Dream T Entertainment confirmed that Sojin and the singer-songwriter Eddy Kim were dating. The two reportedly became close when they worked together in season 3 of Channel CGV's variety show "I'm A Movie Director Too: Youth Movie" (2016). The dating rumor was initially denied to protect the couple, however, both their agencies issued a statement in December 2017 that the two had broken up because of their busy schedules.
Her ideal type is someone nice but a little stubborn. Physical appearance doesn't really matter to her, but she likes a guy with a big mouth and she usually looks at his eyes. She said she's not attracted to men older than her as they felt more like a senior colleague or older brother. However, when it comes to younger men, the 'cute baby-style' doesn't appeal to her either. Because of this, she was rumored to be dating Exo's D.O. in 2015, as some fans thought that she was describing him.
Hobbies, favorites, rumors, and interesting facts
Browsing YouTube videos, cleaning, and shopping are some of her hobbies.
Calligraphy is one of her special skills.
Sometimes her co-members called her mom as she is six to eight years older than them. She realized that she was getting "too old" to be an idol whenever the concept was cute or lovely, and had some difficulty blending in with the rest of the girls, but no problems keeping up with the girls when it comes to dancing, as she had the stamina for it.
Sojin accidentally exposed a small part of her behind as she was wearing short shorts, and the reporters were taking pictures from down below the stage. Her agency said they would be more careful with the outfits they chose for the girls.
Appearance
She is 5ft 5ins (1.67m) tall and weighs 110lbs (50kgs) with a slim build. She has black hair and black eyes.
Net worth
Sojin has a net worth estimated at $1 million as of January 2021, according to sources.