Dokyeom, also known as DK, is a South Korean singer-songwriter, dancer, and actor, whose ticket to fame was his inclusion in the 13-member Korean Pop (K-Pop) group, Seventeen. Time Magazine and Billboard have hailed them as one of the best K-Pop groups in the music scene of this generation.
Just a simple reminder that article is created and owned only by kpopwiki.org. Article cannot be re-published in any other pages or documents. Copyright is protected by DMCA. All found copies will be reported.
Original source: https://kpopwiki.org/dokyeom-dk-seventeen-age-height-real-name-surgery/
Early Life and Family
DK was born Lee Seokmin on 18 February 1997 in Suji-gu, Yongin-si, Gyeonggi-do, South Korea – his name Seokmin means big (Seok) and precious stone (Min). He and his older sister were raised in a modest household in the town of Suji-gu just a mere 20-minute drive away from Seoul. His parents were fully supportive of his dreams of becoming a K-Pop artist.
Educational Background
He went to Shinli Kindergarten for his primary education, and then matriculated from Seoul High School of Performing Arts in 2016; he also trained at YP Music Academy.
Career
Singing professionally was far from DK's mind when he was growing up – while he loves singing and had taken voice lessons to develop his talent, he didn't dream of becoming a K-Pop idol. Nonetheless, he mentioned during one of his recent interviews, 'I couldn't imagine myself being something other than a singer right now.'
First Steps – Audition and Training
DK has a good voice so his friend informed him about auditions being held in Pledis Entertainment. He was just plain curious as to how far he would be able to go, if he actually passed the audition, but was selected after casually singing "This Is The Moment" from the musical, "Jekyll & Hyde." He only became seriously ambitious and determined when he was already an official trainee of the agency. The idol training was tough, as it included singing, dancing, acting and learning languages.
He spent two years and seven months in training with other boys, who were all documented on a reality TV show entitled "Seventeen TV" before being selected to become one of the main vocalists of the 13-member group called "Seventeen."
Debut and First Two Mini Albums
Pledis Entertainment planned a different strategy in officially introducing the group to the public. Instead of just having the boys perform their debut song on a music show, they participated in a survival series, "Seventeen Project: Big Debut Plan," which lasted for a month and culminated in an hour-long debut showcase on 26 May 2015. It worked for them. as seen with the positive result on the sales of their first mini-album, "17 Carat," with the lead single "Adore U," which was released immediately after their TV debut. The album became the longest-charting K‑Pop album on the Billboard World Album chart, staying there for 11 weeks.
[SEVENTEEN Project ep.5]
C team #mingyu #dokyeom #jun 'Hello' pic.twitter.com/Hw90y43aC6

— woozi(bot) (@Woozi_PD) August 17, 2020
A few months after that, their second album, "Boys Be" was released, and as predicted by music insiders, it surpassed the success of the previous one, plus the group ended up on the list of "21 under 21 2015: Billboard Music's Hottest Young Stars." DK and the boys were overwhelmed with the success of their rookie year, that ended with four consecutive days of sold-out concerts called "Like Seventeen – Boys Wish," held at Yongsan Art Hall in Seoul.
"King of Mask Singer" – 3rd Round
DK participated in a singing competition in episodes 69 and 70 disguised as Baby Goblin on "King of Mask Singer", beating Jihyo of Twice in Round One and Son Ho Young in Round Two, but was eliminated in Round Three.
Full-Length Studio Albums, Concert Tours
Seventeen has been recognized by Korean music experts as a self-producing K-Pop group, which means most of the members are involved in the whole creative process, including songwriting, dance choreography, and directing music videos.
DK continued to participate in the songwriting process of their albums and Eps, including the group's full-length studio albums, "Love & Letter" (2016) and "Teen Age" (2017).
Following the success of their albums and EPs, the group went on its first Asian concert tour in 2016, entitled "1st Asia Tour Shining Diamonds," performing in several countries including Taiwan, Japan, Singapore and China – the group also had a chance to visit Australia and New Zealand. The demand for the group continued in 2017, and this time, they added key cities in their first world tour, "Seventeen 1st World Tour, Diamond Edge." It kicked off with a three days of concerts in Seoul, and then from July to October they performed in sold-out concerts in major cities around the world, including New York, Chicago, Toronto, and Santiago in Chile.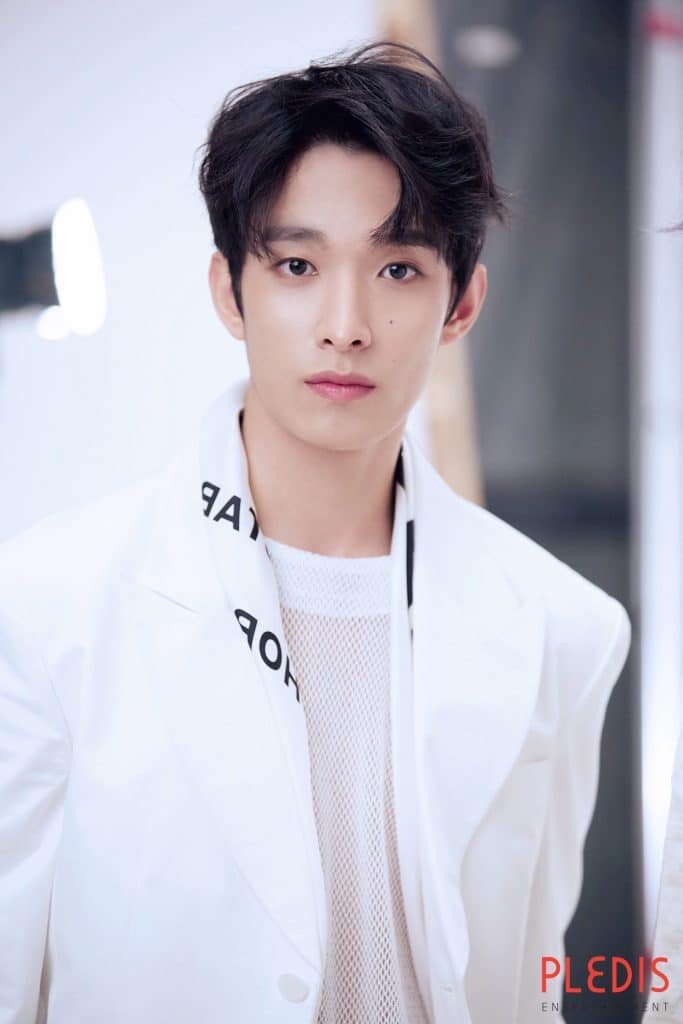 2018 Japanese Debut, EP Gold Certification
K-Pop artists always have separate debut promotions in Japan, including an EP exclusively for the Japanese fans, and Seventeen did that successfully. The Japanese EP, "We Make You," was certified Gold by the Recording Industry of Japan, for having sold more than 100,000 units.
BSS, Sub-Unit Debut
DK, Hoshi, and Seungkwan debuted as a sub-unit called BSS, which stands for Boo SeokSoon and is a play on their nicknames. They released "Just Do It" as a debut song, and gained more than four million views on YouTube.
OST for "The Great Seducer"
He was chosen to sing one of the soundtracks for the Korean drama series "The Great Seducer" in 2018 – also known as "The Tempted" – entitled "I'm First."
Certified Platinums and Time Magazine Feature
Seventeen released the Director's Cut version of the "Teen Age" album in 2018, which sold around 600,000 units and was certified platinum by the Korea Music Content Association (KMCA).
The album's lead track, "Thanks," topped iTunes charts in 29 countries around the world. They then released their fifth EP, "You Make My Day," which was also certified Platinum by the KMCA. All these achievements for the year led them to be included in Time Magazine's list of Best K-Pop groups.
Triple Crowns and Grand Slam Wins in Music Shows
The group released its sixth EP, "You Made My Dawn," in January of 2019, which topped the South Korean Gaon Album Chart and the Japanese Oricon Charts, and was certified Gold by the Recording Industry Association of Japan (RIAJ), and Platinum by KMCA. The track single, "Home," went on to win triple crowns in two music shows – KBS's "Music Bank" and Mnet's "M Countdown " – a triple crown pertains to three consecutive wins in a weekly music show top song competition.
The song was also won an award from all five South Korean weekly music shows during its promotions, which led to a grand slam win. The album peaked at No. 4 on the Billboard World Album Chart.
2019 Album of the Year, International Accolades
In August 2019, Seventeen released its third studio album, "An Ode," which became a commercial and critical success for the group. More than 800,000 units were sold in South Korea alone, and it was certified 3x Platinum by KCMA. It also topped the Japanese Oricon Album chart, and sold more than 220,000 copies with Gold certification from RIAJ. The boys ended the year on a positive note when they won their first Album of the Year at the 2019 Asia Artist Awards, and a Disc Bonsang Award at the 2020 Golden Disc Awards. On the international music scene, Billboard included the album in the 25 Best K-Pop Albums of 2019, and the title track, "Fear," was included in the list of Top 10 songs for 2019 by BuzzFeed, Rolling Stone India, CelebMix, and SBSPopAsia.
2020 – Million Seller Group
Despite the pandemic outbreak brought on by Covid19, Seventeen released its 8th EP, "Heng:garae," on 22 June 2020, and it led Seventeen to be called million-seller K-Pop as over 1.2 million copies were sold.
As a musical actor, "Xcalibur"
DK has been chosen to play the lead actor in the musical play, "Xcalibur," starting August 2020 held at the Sejong Center for the Performing Arts in Seoul. He would take the role of King Arthur, and had vocal lessons for a year to prepare for this musical journey.
Personal Life
Just like most K-Pop artists, there is not much information about their personal lives, and DK is no exception. There is no dating news, and fans believed he is currently single. When asked about his dating preference, he prefers someone older because he wants to be taken care of. He still shares a room in the group's dormitory provided by their talent agency; most K-Pop groups would only be allowed to choose their living arrangements five to seven years after debut. Some prefer to stay together, and some happily move out the moment they were allowed to do so.
Hobbies, favorite things, and interesting facts
His stage name, DK, was originally given to another member, Kim Mingyu, and was addressed by this name for a short time during their trainee days. DK was supposed to be called The8. For some unknown reason, it was officially given to him when they finally decided to adopt their individual stage names, with Mingyu preferring to be called by his real name, and Wonwoo ended up with The8.
One of his favorite hobbies is singing in Karaoke bars with his friends, who complimented his voice. He is a huge fan of rock bands, and formed his own rock band when he was in middle school.
Koreans love giving nicknames, and DK has several including Rockstar, Mr. Hat, Soonseok Talk, and Internal voice, which pertains to him being noisy, as he likes to talk and would always vocalize wherever he goes.
His co-members would tease him and call him the Hyung Collector, because he has many friends who are mostly senior male colleagues in the music industry. Hyung means older brother in Korean.
He shares the same birthday with Vernon, one of the rappers of Seventeen.
He is regarded as the Happy Virus of the group which makes him the mood maker and the funniest among all 13 boys. However, sometimes it gets out of hand.
His role models are rock singer/musician Yoon DoHyun, and R&B singer Moon Myungjin.
Favorites: number 17, color black, and doenjang jiggae (Korean soybean paste stew dish)
He is good friends with other K-Pop artists born in 1997, including BTS's Jungkook; GOT7's Yugyeom & Bambam; Seventeen's The8 and Mingyu; and NCT's Jaehyun. All of them belong to a group chat.
Appearance
DK is 5ft 10ins (1.79m) tall, weighs 145lbs (66kgs), and has a lean build. He is Asian with black hair and black eyes. Due to his K-Pop group's promotional activities, his hair color and hairstyle would change as dictated by the concept of the group during TV promotions and concert tours. His shoe size is 10 ins (280mm).
Net worth
With Seventeen's successful album sales and sold out concert tours, sources estimated DK's net worth at $2.5 million as of August 2020.