Ahn Hyo-jin -known by her stage name LE- is a South Korean singer, rapper, dancer and songwriter, born on 10 December 1991 in Cheonan, South Korea. She's known for being a member of successful Korean pop (K-Pop) girl group EXID.
Just a simple reminder that article is created and owned only by kpopwiki.org. Article cannot be re-published in any other pages or documents. Copyright is protected by DMCA. All found copies will be reported.
Original source: https://kpopwiki.org/le-kpop-exid-rapper-age-relationships-net-worth-family/
Early Life
Not many details are known about LE's early life, education and hobbies, except that she has a younger sister, and loved to play with Lego during her childhood.
Career
Jiggy Fellaz
Under the name of Elly, she formed part of the underground rap group Jiggy Fellaz. Although the exact time she joined is undisclosed, it's known she was the only female member of it.
Although Jiggy Fellaz was well known on the underground music scene of South Korea, by 2012 it had become inactive. The last song released by the group was entitled "La Familia".
Pre Debut & EXID
LE trained under the management of Cube Entertainment, though it's unknown when exactly she joined the company, and how many years she stayed with them.
In 2011 she was contacted by producer Shinsadong Tiger, who along with the agency AB Entertainment, was forming a new girl group. By the time LE joined the producer's project, four other girls were already part of it. The group was officially named WT after the addition of Dami -the sixth and last member-, though later the name was changed to EXID.
LE was featured in "Whenever You Play That Song" by Huh Gak at the end of 2011 – the single obtained huge success in the country, and entered various music charts, however, shortly after the release of the song, LE suffered an injury while dancing, which delayed EXID's debut, initially set for January 2012.
After a quick recovery, in February LE was ready to debut with the other members of EXID, with the release of "Whoz That Girl". Although the single only gained modest success – it charted at Gaon's list as number 36 – the group continued their activities, and released their first digital álbum, "Holla", and appeared in various TV shows such as "M! Countdown", "Inkigayo" and "Music Core".
After members Dami, Yuki and Haeryeong left the group and were replaced by Hyelis and Solji in August, EXID released the extended play (EP) "Hippity Hop" in August that year. The group also released "Every Night", a re-recorded and modified version of the song originally written by LE entitled "Phone Call". EXID also held their first concert in Seoul that year.
Up & Down
Released in August 2014, EXID's single "Up & Down" achieved modest sales, but didn't chart in Gaon's lists. However, despite its lack of success. the members of the group and the agency had various ideas on how to promote the single further, as LE said in an interview: 'We had divided opinions whether we start to promote it on music programs.
The company also gave the idea to do guerilla performances. I think those ideas are well combined, and we got a good results.'
The song actually gained popularity only months after its reléase, the result of a viral video of member Hani dancing to it. "Up & Down" slowly climbed the charts, topping Gaon's list at the end of the year, giving EXID their first wins at a music show in January 2015. When asked about her opinion of the song's huge comercial, and unexpected success, LE declared: 'Without 'Up & Down' I think I'll be back to my ordinary life and find a new job'.
Ah Yeah & More
The EP "Ah Yeah" was released in April 2015, giving the group various music show wins, as well as peaking at number five in Gaon's list.
In an interview in June that year, during the group's first US' show in Los Angeles, LE declared EXID wanted to surpass people's expectations: 'There was a lot of burden, to be honest. We had a lot of discussion with Shinsadong Tiger, a lot of thinking, before the thought came up that we wanted to show everyone an upgrade to what they saw with "Up & Down. "Ah Yeah" is intentionally an extension of "Up & Down". We're so relieved about the great response and are working to do even better.'
In November that year, EXID won a Melon Award in the category Music Star, and signed with the Chinese agency Banana Project – which later merged with Yedang Entertainment to form Banana Culture- in an effort to extend their activities in China.
After their first fan meeting in Shanghai in June that year, EXID released "Street", their first studio album, which showcased various songs written by LE and also produced by her. When asked if the role was difficult for her, she declared: 'Not really. The members followed along so well, and because they're so talented, I'm always so thankful. Since it took four years for our first full album, we want to make sure that it's the best that we can provide for our fans. We'll work hard in our promotions, and we hope our fans will love the outcome.'
EXID's first single in China was entitled "Cream", followed by the second version of "Up & Down" as a continuation of the group's activities in the country.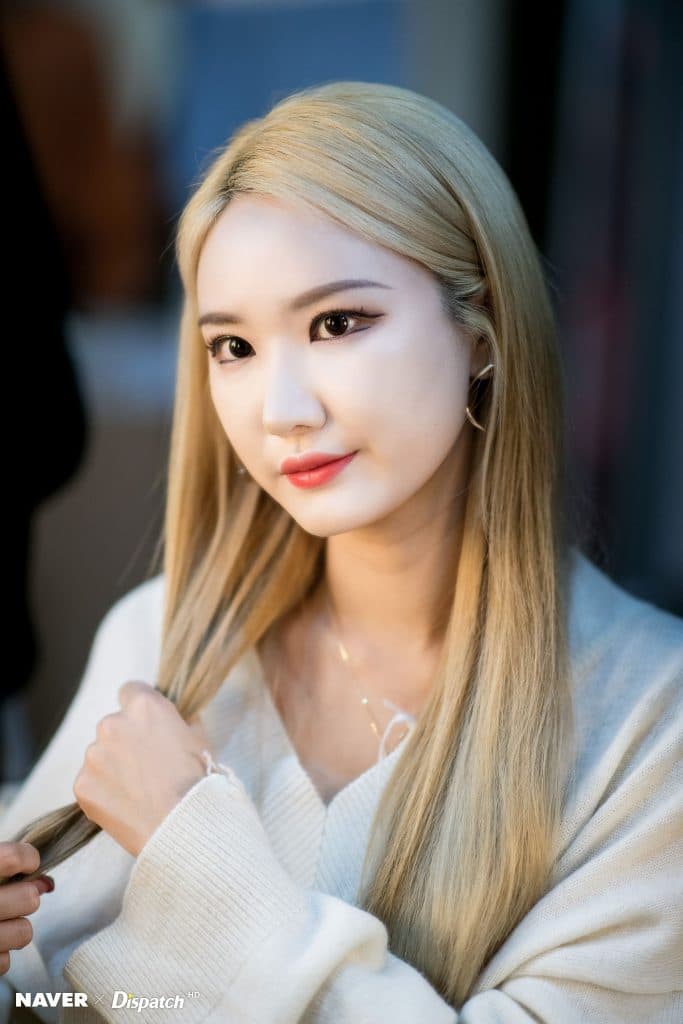 2017: Eclipse
In 2017 EXID obtained their second number one position with the release of the EP "Eclipse", which topped Billboard lists for album. After a tour in Asia, the group released the EP "Full Moon".
Then in 2018 EXID released "Lady" a single álbum, with the leading single of the same name. When asked about the promotions for this work, LE affirmed she liked it as it was different from previous concepts presented by the group: 'I'm satisfied. Whether it was singing the song or wearing the clothes, it was a lot of fun. The clothes [from our previous performances] were all skinny jeans or things we could wear normally, but this time, we got to wear things we could only wear on stage.'
Also in 2018, EXID made their debut in Japan with the third release of "Up & Down", and with several concerts. The album "I Love You" was released in November that year, followed by the single "Trouble" in 2019.
Recently members of EXID announced they wouldn't renew their contracts with Banana Culture, thus their activities in South Korea and China would stop after the promotions of the EP "WE" – released in May 2019 – ended. However, it was announced the group's activities in Japan would continue until 2020.
Solo Career
Besides her career as a member of EXID, LE also has an outstanding career as a solo artist and songwriter. One of her first solo collaborations occurred in 2012, when she was featured in the song "Don't Call Me" by Gavy NJ.
In 2013 she released a collaboration single with B2ST, and in July 2014 she was featured on the album "A Talk" by Hyuna, which LE also helped to compose.
Personal Life
Relationships
LE is a very private person, thus she doesn't share details about her romantic partners. The only information in this regard comes from the song "Call" by EXID which was written by her, and it's said was inspired by one of her past relationships.
Net Worth
LE has an estimated net worth of over $200,00,  the result of her work as a member of EXID, and her solo collaborations as a songwriter, singer and producer.
Goddess 💗@ahn__ellybaby#EXID #LEexid pic.twitter.com/221NYGd6WD

— Hani Étoile (@hani_etoile) April 11, 2020
Physical Appearance
LE is a woman of gorgeous features, who weighs 120lbs (54kgs) and is 5ft 6ins (1.68m) tall.
Interesting Facts
Her blood type is AB.
She has been featured in songs by MBLAQ's and T-ara.
She has six tattoos, one of which is in honor of Frida Kahlo.
Her dog's name is Wooyoo.
Her fellow EXID bandmates affirm she's the most femenine member.
She speaks English at an intermediate level.
She said she wanted to explore Legoland when she visited the US.
Her favorite singers/rappers are Lil Mama and Nicki Minaj.
Although she tried to audition for the agency JYP Entertainment, she was rejected.
LE appeared in the movie entitled "Idol".