Chou Tzuyu is a Taiwanese vocalist and dancer, whose visuals captivated the Korean audience when she joined JYP Entertainment's reality television survival series, "Sixteen," and eventually debuted as part of the 9-member Korean Pop (K-Pop) girl group called Twice. Her group was included in Forbes Korea's Top 40 Most Powerful Celebrities in the country in 2017, just a little over a year after they launched.
Just a simple reminder that article is created and owned only by kpopwiki.org. Article cannot be re-published in any other pages or documents. Copyright is protected by DMCA. All found copies will be reported.
Original source: https://kpopwiki.org/chou-tzuyu-twice-height-age-plastic-surgery-boyfriend/
Early life and family
Chou Tzuyu was born on 14 June 1999, in Tainan, Taiwan. Her English name is Sally Chou and her Korean name is Joohee. She and her brother, who is seven years older than her, were born into a wealthy family – her parents were self-made entrepreneurs who started with a night market business, and have now invested close to $2 million into three hospitals in Taiwan. They also own and manage coffee shops.
Education background
Tzuyu attended Tainan Municipal Fusing Junior High School in 2016 in Taiwan, but matriculated from Hanlim Multi Art School in South Korea in 2019.
Career
First steps
A video of Tzuyu's dance recital in 2012 at the MUSE Performing Arts Workshop in her hometown in Taiwan was uploaded onto YouTube, and it caught the attention of the casting team of JYP Entertainment (JYPE) in South Korea.  The agency sent an associate to assess her personality and talent in person, and she didn't disappoint. After seeing more of her dance performance videos, the head office signed her up as a trainee. She then moved to Korea in November 2012 for her training. She said it was difficult as she had to leave for school early in the morning, and then had to practice in the studio until late at night. It took her a year or two before she started talking to the other trainees, as she was very shy, but then became close to them while preparing for their monthly evaluation.
"Sixteen" survival series
She joined the reality program called "Sixteen", which was co-produced by the agency and aired on the Mnet Cable Network from 5 May to 7 July 2015. This 10-episode survival series aimed to launch a seven-member girl group out of the 16 trainees from the agency. Tzuyu gained the early notice of viewers due to her outstanding looks, but artistically failed to make it to the top seven.
With an unexpected twist in the finale, it was announced that two more members, namely Tzuyu and Momo would be added to the line-up. This development became controversial as some fans felt it was unfair to the other participants to include Momo who was eliminated early in the series. Park Jin-Young (JYP), the company founder, apologized and explained in detail that the first seven girls went through the selection process set by the show; however, they felt they needed to add two more to complete the group. Tzuyu was chosen due to her popularity based on online voting, and Momo was chosen by JYP himself for her exceptional dancing skills.
Although Tzuyu was once criticized during the show for lacking in charm, she worked doubly hard to redeem herself. JYP said her skills improved the most, which showed how passionate she was in proving her worth, and this was why he gave her a chance to debut with the group.
Twice debut
Tzuyu debuted at the age of 16 as the lead dancer, sub-vocalist, and visual of the K-Pop group called Twice. JYP chose that name stating 'the group would move people's heart twice – once through the ears and once through the eyes.' The official fandom of Twice is called "Once", as they said that 'If you love us even once, we will repay it with twice with our love."
Tzuyu is the youngest among the members, who include Jihyo (leader and main vocalist), Jeongyeon (lead vocalist), Sana (sub-vocalist), Nayeon (center), Chaeyoung (main rapper), Dahyun (lead rapper), and Momo and Mina (main dancers).
The group's first extended play (EP), "The Story Begins," which was released on 20 October 2015, ranked No. 3 on the South Korean Gaon Album Chart, No. 15 on Billboard's World Album Chart, and No. 43 on the Japanese Oricon Chart. The lead track, "Like Ooh-Aah," reached No. 10 on the Gaon Digital Chart, No. 6 on Billboard's World Digital Song Sales Chart, and No. 27 on Billboard's Japan Hot 100. Its official music video with a zombie theme has garnered more than 380 million views, with 2.5 million 'likes'.
Six months later on 25 April 2016, they released their second EP, "Page Two," and it peaked at No. 2 on Gaon, No. 6 on Billboard World Albums Chart, and No. 16 on the Oricon Chart. The lead single, "Cheer Up," made it to the top spot on the weekly and year-end digital charts of Gaon, making it to No. 3 on the World Digital Song Sales Chart and No. 23 on Billboard Japan Hot 100.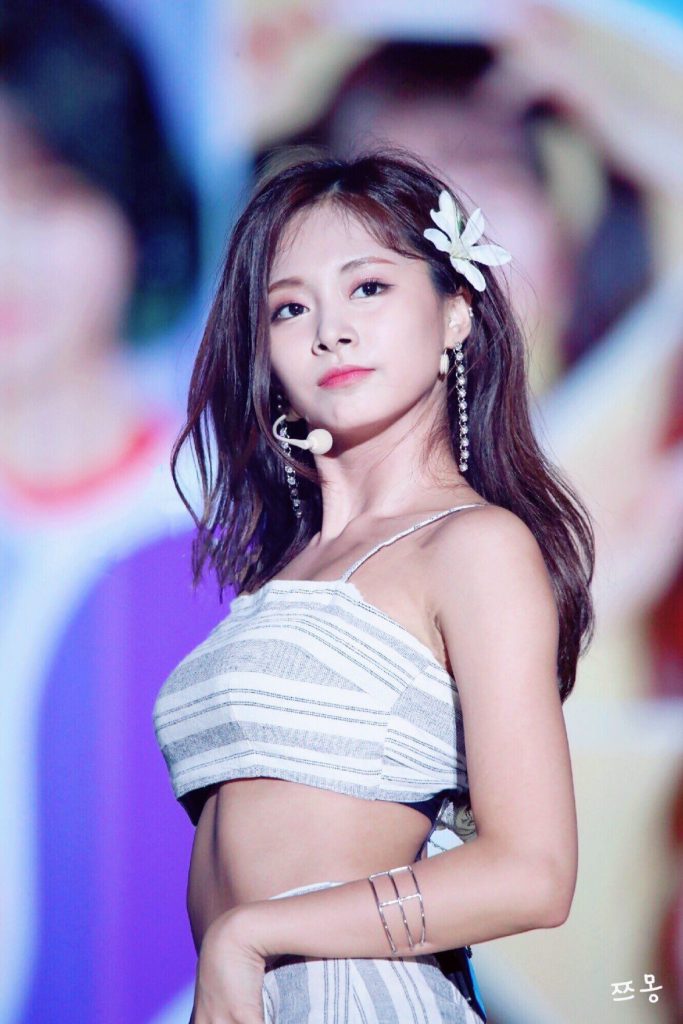 It also gave them their first music show win through Mnet's "M Countdown", and went on to win 10 more from various music programs, which was a testament to their popularity as it involved both sales and voting. The official MV in which members portrayed the female leads in popular movies – such as Tzuyu playing the Holly Golightly character from "Breakfast at Tiffany's" – has attracted over 400 million views.
The release of their third EP in October of that year – "Twicecoaster: Lane 1" – further solidified their position in the K‑Pop scene, as it topped the Gaon Chart as well as peaking at No.3 on the World Albums Chart and No.10 on the Oricon Chart. The lead track, "TT," which refers to the crying emotion, claimed top position on the Gaon Digital Chart, No.2 on Billboard World Digital Song Sales Chart, and was certified gold by the Recording Industry Association of Japan (RIAJ) for surpassing 100,000 unit sales.
In Gallup Korea's nationwide survey, Twice placed second in the Top 10 Artists list, while Tzuyu was in third place among the Top 20 Idols. The year ended with the girls winning the Rookie of the Year Award from several award-giving bodies.
A 16-year-old Tzuyu apologized to China for waving the Republic of China (Taiwan) flag on a Korean variety show called "My Little Television", in which all Twice members had to wave their national flags. She received a backlash from mainland Chinese netizens, who said it was an act of promoting the Taiwanese independence movement. She was then banned from appearing on Chinese television shows, and pulled out of Chinese endorsement deals. Conversely, her apology caused outrage among pro-independence supporters in Taiwan, as they felt the K-Pop star was forced to do it when there was no need for it. JYPE said that the video apology was made with her parents' consent, as she was still a minor.
THE CUTESTTTTT #TZUYU pic.twitter.com/RwUrf1LGmL

— 🌱 (@ImEeeveyoda) December 1, 2020
Waving the Taiwan flag is said to be acceptable to Chinese policy, according to China's official state media.
Further success
In 2017, Forbes Korea ranked Twice in third place on their list of Top 40 Powerful Celebrities, which was not surprising given their immense popularity not just in South Korea, but also in neighboring countries, particularly in Japan. Their three-day concert in February held at the SK Olympic Handball Gymnasium in Seoul called "Twice 1st Tour: Twiceland – The Opening" was sold out with 15,000 in attendance. Their encore two-day concert held at the Jamsil Indoor Stadium four months later was also successful, with a total of 22,000 attendees.
Tzuyu and the girls dominated the music charts with "Twicecoaster: Lane 2," "Signal," and "Twicetagram" which all topped the Gaon Album Charts.
Their first Japanese studio album, "#Twice," which is a compilation of their hit Korean songs and their Japanese versions, claimed the top spot on the Oricon Chart, and was certified platinum by the RIAJ for selling over 250,000 units, and earned them the Best Album of the Year Award (Asia) at the 32nd Japan Gold Disc Award. Their debut showcase in Japan was well attended, with 15,000 fans cheering them on.
There was no stopping Twice in 2018, in becoming the top K-Pop girl group as their fifth EP entitled "What is Love?" sold over 335,000 copies in the month of its release, making them the first female artists to receive platinum certification from the Korea Music Content Association (KMCA). Their Japanese single, "Wake Me Up," was certified double platinum by RIAJ, making them the first foreign female artist(s) to have a physical single that achieved that feat.
Tzuyu and the girls held "Twice 2nd Tour: Twiceland Zone 2 – Fantasy Park" that started in South Korea, followed by Japan, Singapore, Thailand and Indonesia, with a total of 116,000 attendees.
In 2019, they held a successful dome tour in Japan, entitled "#Dreamday" with 220,000 in attendance. The Korean and Japanese albums such as "Yes or Yes," "Fancy You," "Feel Special," and "&Twice" that they released that year performed well on various music charts, leaving no doubt that they have a solid fan base in both countries.
In February 2020, Tzuyu and the girls signed with Republic Records, an American record label owned by the Universal Music Group, for their US promotions. Twice's ninth EP entitled "More & More" was released in June 2020, and became their best‑selling album, with more than 550,000 units sold. It marked their first entry into the Billboard 200, as they ranked at No.200, and on the Billboard Artist 100 at No.96.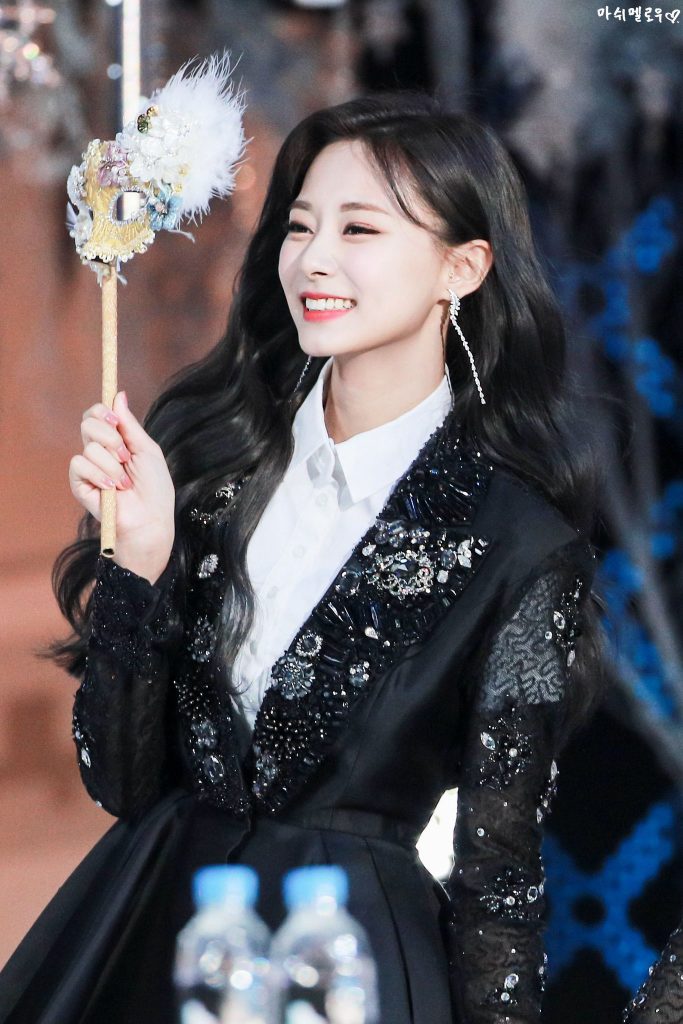 They released their second studio album, "Eyes Wide Open," in September 2020. Its lead track, "I Can't Stop Me," topped the Billboard World Digital Song Sales Chart, reached No.31 on Billboard Global 200, and peaked at No.10 on the Gaon Digital Chart.
On 28 April 2020, Tzuyu released her first photo book in two versions, namely Blue and Peach, entitled "Yes, I am Tzuyu", with 250 pages.
Personal life
Tzuyu is 21 years old and single. Her ideal type of boyfriend is someone who would love her more than she loves him. She also wants the guy to love her family, friends, fans and even puppies.
There were rumors of her dating BTS' Jungkook or V, but it just turned out to be fans who wanted to ship her with either of the two. To ship someone to another in K-Pop means you want your favorite idols to be together. Fans of this shipping gave their own meaning to the Instagram photos and captions that were posted to substantiate their claims of their idols' dating or being in a relationship.
Hobbies, favorites, rumors, and interesting facts
Her nicknames are Yoda (due to her big eyes and pointy ears), chewy, and chocolate (due to her skin tone and preference for drinking chocolate milk).
Her family's pet dog is called Gucci, named after the luxury brand by her mother's friend.
Favorites: kimbap (Korean seaweed rice roll with various fillings) and tonkatsu (Japanese deep-fried breaded pork cutlet) (food)'; spring (weather); indigo and navy blue (color); green tea and cookies 'n' cream (Baskin-Robbins ice cream flavor); Hyorin of Sistar (K-Pop artist); and pineapple tart from Taiwan (dessert)
Her hobbies include eating delicious food and watching stage performances.
She once learned to play the gayageum, a traditional Korean musical instrument similar to a zither, but has now lost that talent.
Her co-members claimed that Tzuyu sleeps with her eyes open.
Although she considers her eyes and chin as part of her charm, it was her back that netizens (online users) raved about, as she has been voted to have the best back among girl group members.
Moving her ears at will is a special talent of hers.
She surprised her co-members when she cried saying goodbye to the rabbits she played with while filming the group's MV. They said Tzuyu is not the type to cry easily especially in front of many people, with the exception of crying during a TV guesting when she talked about missing her mom, and another was during a concert.
Motto: "Hard work never betrays." saying that if you don't give up you will be rewarded.
She made it on TC Candler's list of "100 Most Beautiful Faces of 2015" at No.15. and has been included in the list every year since then, finally ranking first in 2019.
Tzuyu topped the list of the most wanted faces by plastic surgery patients in Japan.
She was dubbed as the "sold-out queen" for her selling power, as luxury items and even trash cans were sold out the moment netizens saw her wearing or using them.
She's a motorcycle rider.
Tzuyu donated $41,600 to the Community Chest of Korea to help those affected by the COVID-19 pandemic. Some Chinese netizens criticized her for not doing the same thing for China. However, it was revealed that she donated $42,900 to China, but it was delayed due to money transfer issues.
Appearance
She is 5ft 7ins (1.7 m) tall, weighs 105lbs (48kgs), and has a slim build. Her natural hair color is black, and her eyes are black too.
Net worth
As a member of a highly successful K-Pop group, according to sources Chou Tzuyu has an estimated net worth of close to $2 million as of November 2020.