Kim Doyoung (NCT) Wiki
Kim Dong Young was born in Gury, Gyenoggi, South Korea on 1 February 1996 – his zodiac sign is Aquarius and he holds South Korean nationality. He is a K-pop singer, probaly best known for being a member of the boy group NCT.
Just a simple reminder that article is created and owned only by kpopwiki.org. Article cannot be re-published in any other pages or documents. Copyright is protected by DMCA. All found copies will be reported.
Original source: https://kpopwiki.org/kim-doyoung-nct-wiki-brother-age-height-dating-wealth/
Early life, brother and education
Doyoung was raised in Gury alongside his older brother Gong Myung, by their father who was an actor in his 20s and 30s, and their mother who is teaching at a local high school. Gong is also a singer and rapper, currently a member of the band 5URPRISE, as well as an actor.
Doyoung became interested in music at the age of six. and was thus enrolled by his mother at a school for the performing arts, which his brother also attended – Doyoung focused on singing while Gong was focused on acting. Upon enrolling at Topyeong High School, Doyoung and his friends founded a boy group called Heart Attack, which played at a local bar where the students often spent time, however, the group disbanded after only several months.
Doyoung matriculated from high school in 2014, and then focused on his singing career rather than enrolling at college.
Career as a singer, and the boy group NCT
It was announced in January 2016 by Lee Soo-man, founder of SM Entertainment, that the agency would be launching a new boy group, made up of several sub-units which would also work together.
He announced the name of the group – NCT – and explained that the 16 NCT boys had already been chosen, as most of them had been SM Rookies since December 2013.
On 9 April 2016, the first sub-unit – NCT U – debuted with their digital single "The 7th Sense", and a day later their second song came out -"Without You". The group was initially made up of Doyoung, Taeyong, Taeil, Jaehyun, Mark and Ten. Not long after, the boys performed at "V Live", hosted by Kim Hee-chul who is a member of the boy group Super Junior, and then NCT U sang at the 16th Music Feng Yun Bang Awards held in China. They made their debut show performance on 15 April in the South Korean music show "Music Bank", and then decided to launch their own reality TV series, "NCT Life".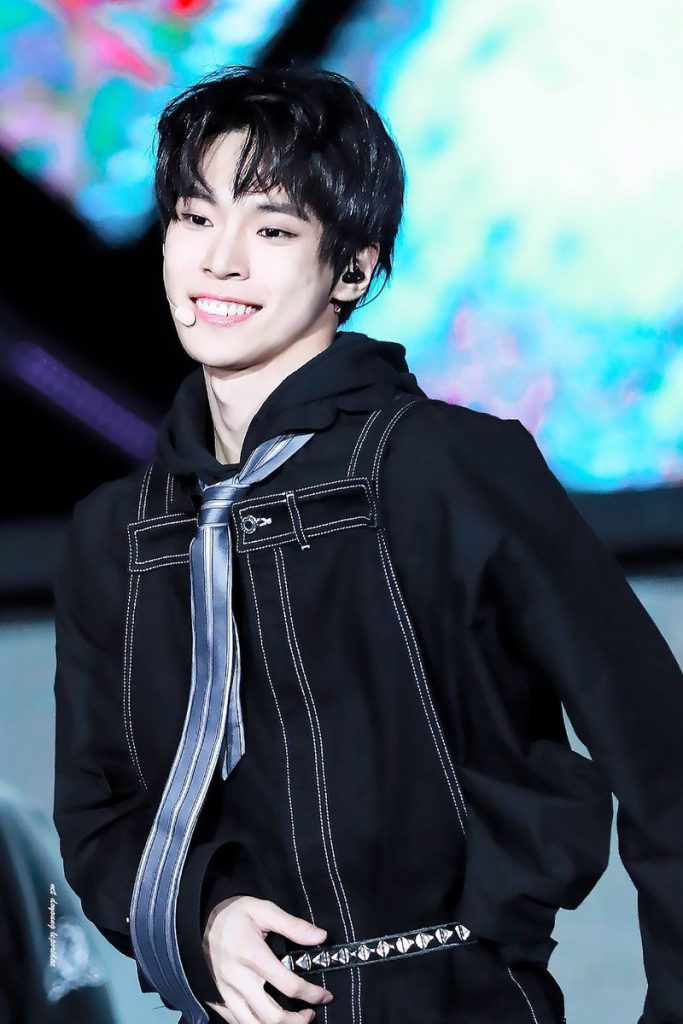 NCT's second sub-unit, NCT 127 debuted on 7 July, when its members Haechan, Mark, Jaehyun, Winwin, Yuta, Taeyong and Taeil performed their two debut songs "Fire Truck" and "Once Again" in the South Korean music show "M Countdown". On 10 July, NCT 127 released their debut self-titles extended play (EP), followed by the release of their song "Taste the Feeling", created in collaboration with Coca-Cola – the boys promoted their EP and the new song in shows such as "Inkigayo", "Show Champion" and "Music Bank".
On 24 August 2016, the third sub-unit, NCT Dream debuted when their single entitled "Chewing Gum" came out – the following day saw the seven members performing in "M Countdown".
NCT 127 ended the year 2016 with the release of their special dance song "Good Thing". On 6 January 2017, they released their second EP entitled "Limitless", and it became a hit as it topped the Billboard World Albums Chart, while the magazine "Dazed" ranked the title track among the best K-pop songs of 2017.
On 9 February, NCT Dream's debut physical single "The First" came out, and the boys promoted the song in the show "M Countdown". NCT Dream went on to compete in "The Show" on 14 February, winning it thus marking the first show victory for NCT – they also announced that they were chosen as the 2017 FIFA U-20 World Cup's official ambassadors and thus the boys released the tournament's song "Trigger the Fever" in March.
NCT 127's third EP came out on 14 June entitled "Cherry Bomb", which they then promoted in "M Countdown" while the title track was later named by both Billboard and Idolator among the best K-pop songs of 2017.
NCT Dream released their debut EP on 17 August called "We Young" while they ended the year 2017 with the release of their Christmas song "Joy".
It was announced by SM Entertainment in January 2018 that the boys from all sub-units would join in to work on the project NCT 2018 – on 14 March, all 16 together released their debut studio album "NCT 2018 Empathy" made up of six songs, and the album topped the Billboard Emerging Artists Chart. Sub-units continued their separate works and NCT 127 released their debut studio album "Regular-Irregular" on 12 October, while its repackaged version "Regulate" came out on 23 November.
NCT Dream ended the year 2018 with the release of their song "Candle Light" on 28 December.
On 17 January 2019, NCT's fourth sub-unit called WayV debuted with their Chinese version of the song "Regular" (NCT 127) – their first single album "The Vision" followed shortly after.
NCT 127 started their concert tour on 26 January called "Neo City – The Origin" and the boys performed at several locations in Europe, North America, Japan and Korea. On 17 April, they released their debut full-length studio album "Awaken" followed by their new EP "Superhuman" on 24 May with the eponymous lead track. WayV's debut EP came out on 9 May entitled "Take Off", while NCT Dream released their new EP "We Boom" on 26 July.
WayV released another EP on 29 October called "Take Over the Moon" with the song "Moonwalk" as the lead single, while NCT U ended 2019 on 13 December with the release of their song "Coming Home".
On 6 March 2020, NCT 127 released their second full-length album "Neo Zone", with the song "Kick It" as the lead track, while the repackaged version of the album – "Neo Zone: The Final Round" – came out on 19 May.
NCT Dream's new EP "Reload" came out on 14 April with the song "Ridin" as the lead track, after which with the outbreak of the coronavirus, the boys of each sub-unit decided to hold online concerts using the streaming service Beyond LIVE. WayV held their concert on 3 May, NCT Dream on 10 May, while NCT 127 performed on 17 May.
Most recently on 9 June, WayV's debut studio album "Awaken the World" was released, with the lead track "Turn Back Time".
Dating
Doyoung hasn't commented on his love life, and it is widely believed that he has put dating aside since the launch of his singing career. It is also known that SM Entertainment doesn't allow its rookie artists to have boyfriends or girlfriends, and breaking this rule would most likely end the contract of the rule-breaker with the agency. Although Doyoung is either single or is keeping his relationship a secret as some rumors claim, NCT's Taeyeon has been caught up in a dating rumor after a girl uploaded a picture with him, writing as its caption 'Boyfriend Pic' – SM Entertainment was quick to deny the rumors, and state that Taeyeon is single.
As of August 2020, Doyoung is single, hasn't married and doesn't have children.
Hobbies and other interests
Doyoung is planning to learn to play several instruments – he can already play the bass and the flute. He is keen on listening to both American and South Korean music and his favorite performer is Eric Benet.
He is very good at memorizing things, which is why high school was not as hard for him as it was for some of his peers.
Doyoung's favorite season is spring because he likes its colors, especially when he can find all colors of leaves in the streets.
He enjoys watching superhero movies in his spare time, and some of his favorite films are Marvels' "Spider-Man", "Avengers" and "Thor", and his favorite superhero has been Spiderman since he was seven years old – his favorite actor is Lee Na Young.
도영 셔츠 정부

200821 Vlive Between Close Friends 💚

Doyoung is wearing Ordinary People Vertical Striped Shirt#ncstyle_doyoung #김도영 #NCT127 #nctfashion #nctstyle #nctoutfit #NCT #nct도영 #kfashionstyle #ootd #kpopstyle #엔시티127 #도영 #nct패션 #엔시티패션 pic.twitter.com/w6xHLeqvIZ

— Doyoung Style (@doyoung_style) August 21, 2020
Doyoung likes to eat various foods, and some of his favorites are watermelon, cream cheese, bread and popcorn, and his favorite drink is caramel coffee. He doesn't like cucumbers.
Doyoung is afraid of animals, and hasn't had any pets in his life.
He is not always interested in the company of the other people, which is why he spends most of his free time in his dorm.
Age, height and wealth
Doyoung's age is 24. His hair is black and he has brown eyes, while his height is 5ft 10ins (1.78m) and he weighs around 132lbs (60kgs).
As of August 2020, Doyoung's wealth has been estimated at over $300,000.