Xiumin is a South Korean singer and actor, who rose to prominence through his inclusion in the 12-member Korean Pop (K-Pop) boyband called EXO in 2012, under SM Entertainment. His group went on to become one of the most popular K-Pop boybands in the world, with hit songs such as "Growl," "Overdose," "Call Me Baby," and "Monster." Their first full-length studio album, "XOXO," sold more than a million units in South Korea., and received the Album of the Year award for five consecutive years from 2013 to 2017 at the Mnet Asian Music Awards (MAMA). He debuted as an actor in 2016 in the historical movie, "Seondal: The Man Who Sells the River."
Just a simple reminder that article is created and owned only by kpopwiki.org. Article cannot be re-published in any other pages or documents. Copyright is protected by DMCA. All found copies will be reported.
Original source: https://kpopwiki.org/all-about-xiumin-from-exo-aka-kim-min-seok-bio-military-age/
Early Life and Family
Xiumin was born Kim Minseok on 26 March 1990, in Guri, Gyeonggi Province, South Korea. He has a sister, and would occasionally mention her in broadcasts, but promised his mother that he'd never reveal her identity.
Growing up, he never had any dreams or plans to enter the K-Pop industry, as singing was just a hobby for him. After high school, he prepared for the college entrance exam as he wanted to pursue a Physical Education degree. However, a friend insisted that he join a singing contest, which led to him being discovered by SM Entertainment.
Educational Background
He attended Maseog Elementary School, and then transferred to Dongggu Middle School in Gyeonggi. He matriculated from Inchang High School in Seoul, and later graduated with a bachelor's degree from the Catholic Kwandong University.
Career
In 2008, Xiumin joined the singing contest "S.M. Everysing Contest" organized by SM Entertainment, one of the biggest entertainment companies in South Korea.
He won second place by singing "Footsteps" by Emerald Castle, and was given $1,000 as a prize. When the company later held an audition, he and his friends went, but he was the only one among them who passed. It's interesting to note that Xiumin first went to JYP Entertainment's second Open Audition that same year, but was rejected by the company.
First Steps – Debut Year (2012)
Training for three years wasn't so difficult for him, but losing weight was hard as he loved to eat. Weight management was an integral part of K-Pop training, as visual presentation could make or break someone's chance to debut, especially in SM Entertainment as they were known for launching good-looking idols. Eventually, he reached the required weight in time for his debut.
On 8 April 2012, he along with Chen, D.O., Kai, Baekhyun, Sehun, Suho, Lay, Chanyeo, Luhan, Kris, and Tao debuted as the boyband Exo, with the release of the song "Mama," from their debut album with the same title.
At first, Exo was divided into two sub-units – Exo-M (Mandarin) and Exo-K (Korean) in which Xiumin was included. The former focused on their promotional activities in China, with the Mandarin version of the album, while the latter stayed in South Korea promoting the Korean version. Xiumin found himself performing their debut song in Shenzhen, China at the Top Chinese Music Awards, while the other unit performed in Seoul on the music show, "The Music Trend," on the same day that the album was released. Both versions did well commercially, topping the South Korean Gaon Album and Chinese Sina Album charts. They also made it onto the US Billboard World Albums chart, with the Korean version at No.8 and the Mandarin version at No.12; to date, the combined sales total over 500,000 units.
Rising Popularity, More No.1 Albums, Concert Tour (2013 – 2014)
The K-Pop industry felt the impact of Exo, as Xiumin and the boys continued to reap commercial success in the albums they released over the next three years.
In June 2013, the group released their first studio album, "XOXO," in two languages just like their debut album. While both were commercially successful, it was "XOXO" that became such a huge hit. The album consisted of 12 tracks with the song "Wolf" as the lead track. A repackaged version was released after two months, and it became even more successful than the original. While both versions topped the Gaon Chart and the Billboard World Albums chart, the lead track of the new version, "Growl," made a huge difference with its two million downloads as compared to the 500,000 downloads for "Wolf." The former also gave Xiumin and the boys 14 music show trophies, while the latter just had four. As of 2018, the combined sales of the albums reached around two million units. Exo also took home the award for Album of the Year from MAMA and the Golden Disc Awards (GDA). "Growl" was awarded Song of the Year by Melon Music Awards (MMA).
In May 2014, the group's third EP, "Overdose" was released, having around 650,000 pre-orders, which was unprecedented for EPs in South Korea. It peaked at No.1 in South Korea with close to 700,000 units sold, and entered the Billboard 200 chart at No.129, which made them the highest-charting Korean boyband at that time. It gave the group their second Album of the Year awards from MAMA and GDA, while earning their first from MMA. This was the last album separately recorded by the sub-units.
Kris, the leader of Exo-M, filed a case against their label for contract nullification in May 2014, which caused such a huge controversy in the K-Pop scene after citing human rights violations as one of the reasons.
one event with 4 different looks of xiumin #XiuweetTimeWithYou #XIUMIN pic.twitter.com/qQru3pxxtI

— فلاامنغوٓ👩🏻‍🎓 (@blueOt9) March 27, 2021
However, fan loyalty meant that the success of the group didn't falter.
Xiumin and his group embarked on their first concert tour, "Exo from Exoplanet #1 – The Lonely Planet," which was originally just a two-night concert in Seoul, but because there was a huge demand for live performances from international fans, SM Entertainment included other parts of Asia, such as Japan, Singapore, Thailand, and China in their tour. The boys held 30 shows in eight countries from May to December 2014.
Another Chinese member, Luhan, filed a lawsuit against their label in October 2014, citing the same reasons as Kris. He didn't participate in the concert tour starting October, as he'd left the group by that time.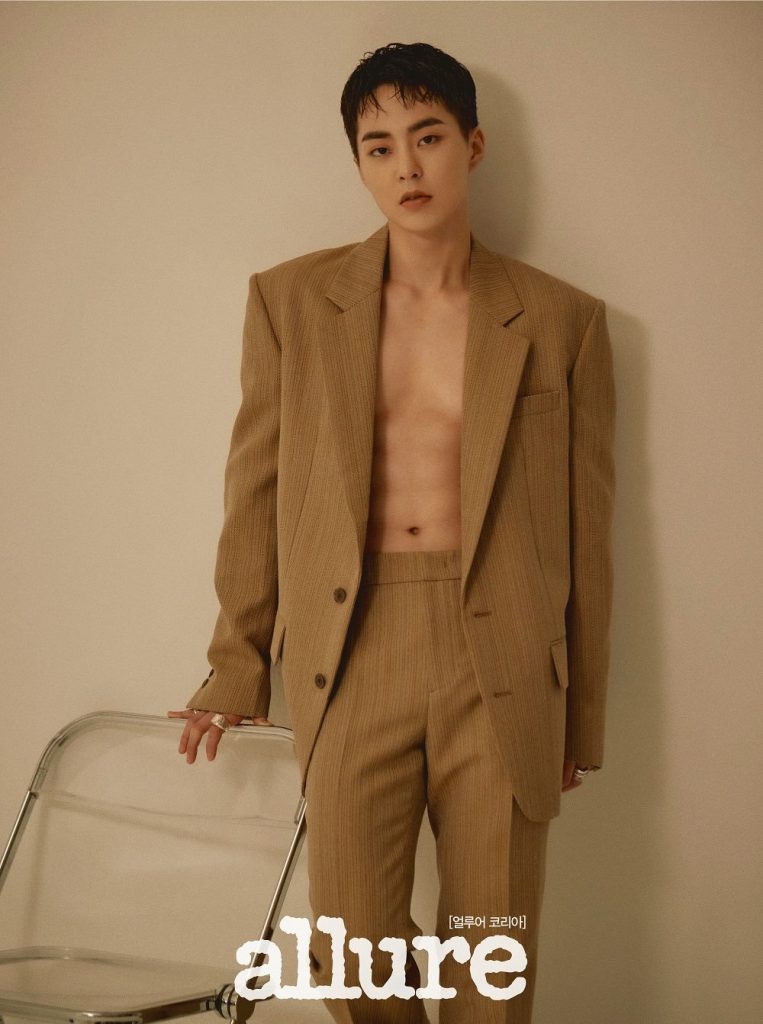 Platinum and Million Certifications, World Tour (2015 – 2019)
In August 2015, another Chinese member, Tao, filed a lawsuit against SM Entertainment and left the group. Despite the controversies, Exo's career continued to flourish, and eventually, the cases filed by Luhan and Kris were settled. It was only with Tao that they had an ongoing case, after Tao's legal representation appealed the verdict of the case which the label won.
Over the next five years, the group released five full-length studio albums and three EPs. All of them peaked at No.1 on the Gaon Albums Chart and were commercially successful. Most of the studio albums had sales of more than a million units, such as "Exodus (2015)," "Ex'Act (2016)," and "The War (2017)" but were never certified as million-sellers since the Korean Music Content Association (KMCA) only started giving out music recording certifications for songs and albums released in or after January 2018.
However, these albums won Album of the Year awards from major award-giving bodies in South Korea, and spawned their monster hits such as "Love Me Right," "Call Me Baby," "Monster," and "Ko Ko Bop."
Xiumin had become a certified million-seller in January 2019, courtesy of the album "Don't Mess Up My Tempo," which was released in November 2018. Its repackaged version, "Love Shot," released in December 2018, was certified double-platinum by the KMCA in February 2019, for having sold more than 500,000 units. Their sixth studio album, "Obsession," released in November 2019, was certified triple-platinum by the KMCA in January 2020 for selling 750,000 units.
Exo was the most visible boyband on the concert scene around the world. From 2015 up to 2019, they held four world tours and performed over 150 shows in several cities in Asia, Canada and the US.
Solo and EXO-CBX Unit Activities, Military Enlistment (2015 – 2018)
Xiumin debuted as an actor in January 2015, in the musical, "School of Oz," along with labelmates Luna (Fx), Changmin (TVXQ), Seulgi (Red Velvet), and bandmate Suho. After attracting positive feedback for his acting, he bravely accepted the co-starring role opposite actress Kim So Eun in the web drama series entitled "Falling For Challenge," which was made available online in October 2015. He also released the official soundtrack of the series, "You Are the One." The web series made history in South Korea as the most-watched online series at that time, as it had about 20 million views after just two weeks.
In 2016, Xiumin made his widescreen acting debut via the historical drama movie "Seondal: The Man Who Sells the River," credited his real name Kim Min Seok. He played a supporting role to popular actor Yoo Seung Ho, and the movie enjoyed moderate success.
Xiumin, Chen, and Baekhyun formed the sub-unit EXO-CBX, which was derived from their initials, and debuted on 31 October 2016. They released their first EP entitled "Hey Mama" with five tracks including "The One," "Rhythm After Summer," "Cherish," and the title track. It was commercially successful with close to 300,000 units sold, as it peaked at No.1 on both the Gaon Album Chart and Billboard World Albums Chart. As a sub-unit, they received their first music show win, courtesy of SBS MTV's "The Show" on 15 November 2016.
After their album promotions, Xiumin and his unit went on to release a remake of "Crush U," the theme song of the popular online role-playing game, "Blade & Soul." They performed it on the N-Pop Showcase Concert during the World Championship Tournament in November 2016.
They stopped activities as a unit for a year until 24 May 2017, when they released their first Japanese EP called "Girls." It had seven tracks including the Japanese version of their hit Korean song, "Hey Mama," "Girl Problems," and the lead track, "Ka-Ching." It peaked at No.2 on both the Japanese Oricon Chart and Billboard Japan Hot Albums, with more than 70,000 units sold.
By April 2018, Xiumin became even busier in Japan, as the sub-unit released their second EP entitled "Blooming Days", consisting of seven tracks including the lead track, "Blooming Day." Aside from peaking at No.1 on South Korean music charts, it also entered charts in four countries – No.30 in France, No.5 in Japan, No.40 in the UK, and No.2 on the US Billboard World Albums. It was certified Platinum by the KMCA for having sold more than 250,000 units in South Korea, and it also did pretty well in China with around 310,000 units sold, and Japan with 200,000 sales.
my serenity 🥺#xiumin #시우민 pic.twitter.com/BPIC5szMUt

— xiumin pics (@minseokpics) April 1, 2021
Due to the success of their second EP, their label decided to release their first full-length studio album, "Magic," on 9 May 2018. It had 11 tracks, with each member having a solo track along with the title track "Horololo." It debuted at No.3, but eventually peaked at No.1 on the Japanese Oricon Albums chart, with almost 65,000 units sold.
They ended their Japanese promotions with the Japanese Arena Tour entitled "Magical Circus" with eight shows in May and June, which were held in four key Japanese cities – Osaka, Fukuoka, Nagoya and Yokohama.
Military Enlistment and Discharge (2019 – 2020)
Due to South Korea's military enlistment law which was implemented in 1957, all males who are 19 and above are required to subject themselves to a physical examination to determine if they are eligible for compulsory military service for 18 months. It's also a must for them to enlist before they turn 28.
As the oldest in his group, Xiumin was the first to enlist in the military on 7 May 2019; two days after his enlistment, SM Entertainment released his first solo track, "You," as a gift for his fans. During his mandatory military service, he was tapped to be part of the musical army production, "Return: The Promise of the Day," which was a way of honoring the brave soldiers who fought to protect their country during the Korean War. However, it was postponed indefinitely due to the resurgence of COVID-19 cases. He completed his 18 months of service as an active soldier, and was discharged on 6 December 2020.
Personal Life
Xiumin is officially single as there isn't any news that he's in a relationship right now. Among all the members of EXO, he was the last to be rumored dating anyone. The rumor started in December 2019 when he was spotted in a coffee shop located in Namhae, and someone took a photo and posted it online.
Soon after that, Soojin, a musical actress and the sister of his labelmate Sooyoung (SNSD) posted on her Instagram account that she's in the same coffee shop. Fans quickly concluded they were dating in the café, as they worked together in the military musical at that time. It wasn't confirmed nor denied, since there wasn't another sighting.
Appearance
Xiumin is 5ft 8ins (1.72m) tall, and weighs 150lbs (67kg). He used to be as heavy as 170lbs (76kgs) during his pre-debut days, as he had a difficult time with yo-yo dieting, because he used to eat nothing and over-exercise if he wanted to lose weight, but it quickly returned when he started eating again. In 2016, Xiumin followed a proper diet and work-out plan so he was successful in losing the excess fat properly and healthily. He has black hair and dark brown eyes.
Net Worth
According to authoritative sources, Xiumin has an estimated net worth of close to $1 million, as of March 2021.