Jvcki Wai is a South Korean rapper-songwriter, who was first noticed in the Korean hip-hop scene with her Emo-Trap style of music, when she debuted with her extended play, "Exposure" in 2016. She eventually found her place in the mainstream hip-hop industry in 2018 with her first full-length studio album "Enchanted Propaganda," which entered at No.63 on the Gaon Album Chart, and its title track was nominated for Hip Hop Track of the Year in the 2019 Korean Hip-Hop Awards. Her rising popularity led to notable collaborations with several popular rapper-producers including Simon Dominic's "GOTT," Giriboy's "Tiger Cave," and Zico's "Daredevil."
Just a simple reminder that article is created and owned only by kpopwiki.org. Article cannot be re-published in any other pages or documents. Copyright is protected by DMCA. All found copies will be reported.
Original source: https://kpopwiki.org/jvcki-wai-profile-age-height-family-net-worth-boyfriend/
Early Life and Family
Jvcki was born Hong Ye Eun on 5 July 1996, in Suwon, South Korea. Not much is known about her family and early years, as she rarely talks about anything personal.
Educational Background
There isn't much information about her educational attainment either, except that she mentioned in one of her interviews that she attended the Korea Art School, but soon dropped out as she wasn't a good student.
Career
She was more into rock 'n' roll before she became interested in hip-hop. When she was in high school, she joined the rap competition for female rappers called #GALMIGHTY, which was produced by FANA's The Ugly Junction in 2013, impressing the judges so much that she won the competition.
First Steps – Debut and First Extended Play (2016)
As part of Jvcki's reward for winning the #GALMIGHTY rap competition, she was given the opportunity to release her own music, and on 2 November 2016 she officially debuted with the release of her first extended play (EP) entitled "Exposure."
Aside from the title track, it also had five tracks including "Out of Frame," "Lo-Fi," "Back to What," and "A Signal/Analyzer", with the entire album was arranged and produced by Graye. It didn't enter the chart but some hip-hop enthusiasts were able to get a glimpse of what she had to offer. Music reviewers gave positive feedback, saying that her style of mixing hard drum beats with layered samples was just right, as it didn't drown out her voice. Most of them said that it was a strong calling card, and that hip-hop lovers would definitely hear from her again.
New Label with Another Extended Play Released and a Mixtape (2017)
Jvcki signed up with another label, Stoneship, which was a new music label founded in 2014 by Seok Chan Woo, who goes by the stage name Ddolbae. Halfway through 2017, she dropped the mixtape called "Goodbye World" with 10 tracks without any featuring artists, writing, arranging and producing all tracks in the album.
It was just her and her music, including "Ravit Coke," "Killwaves," "Panic Disorder" and "Ghost World." The rest of the tracks were demo versions of her previously released tracks from her first EP.
Her second EP, "Neo Eve," was released on 20 December 2017, and gave free to the public to listen to via SoundCloud. It consisted of five tracks including "No Maria But A Human," "To Lordfxxker," "Every Breath," and the lead track, "Anarchy", produced by Ian Purp and Laptopboyboy. Some were amazed that she released it free, when some would willingly buy her music. However, it was her music label's marketing strategy, as free music had always been the easiest way to get more people to discover new music. Most new artists would do this, especially if they weren't signed up with a big label.
Jvcki's name started to make some noise in the hip-hop community, and she was included in the 51 hip-hop artists who participated in the track "119 Remix," produced by popular rapper-producer Gray of AOMG.
This was an indication that her talent for rapping and making music had been acknowledged by successful rappers including Jay Park, Simon Dominic, and Loco.
Dingo Music and First Studio Album Released (2018)
After her contract expired with Stoneship in 2018, she easily found a new label to represent her – Indigo Music, which was a relatively new label founded by rapper-producer Swings just a year before she signed up.
On 6 July 2018, Jvcki released her first full-length studio album entitled "Enchanted Propaganda", consisting of 10 tracks including "Life Disorder," "War is Ready," "Capitalism," and the title track. On the titles alone, she was making social commentaries on her own style with catchy auto-tune melodies. Again, she didn't feature any other artist on the album, but opted to collaborate with trap-producers such as Xindoel, Eddy Pauer, along with Ian Purp and Laptoboyboy, who previously worked with her second EP. The album generated much noise, and entered South Korea's Gaon Album Chart at No.63.
Jvcki Wai's New Album
[Enchanted Propaganda] OUT NOW pic.twitter.com/CA1EbnpxNP

— Jvcki Wai (@Jvcki_Wai) July 6, 2018
Collaboration, Featuring, and Concert (2018 – 2019)
From 2018 to 2019, Jvcki collaborated with various artists including her label mates for their hip-hop tracks. Some of the most notable were with Kid Milli for "KOCEAN" from the album "Maiden Voyage III", and with NO:EL, Young B, Kid Milli, and Swings for "Work Out" from the album "IM", both released in 2018. She also released the digital single "Dding," which peaked at No.3 on the Gaon Digital Chart, with Osshun, Han Yo Han, and Young B.
For many years, it had only been Yoon Mirae as the go-to featured female rapper in South Korea. Most hip-hop artists and fans considered her the Grandmother of Female Rappers, and no one could be like her as the standards she set were so high. However, times had changed and rappers today no longer required the clearest diction. Using auto-tunes was a no-no in the past if you wanted to be considered a true rap artist, but Jvcki was accepted into the mainstream hip-hop community with her style of rap using that technique.
In 2018, she was featured in close to 15 songs by other artists, including "Liquor" by Zene The Zilla, "DJ Light, DJ Wegun (Girls Around the World Mix)" by Kirin, "#All4MySelf" by Lil Cherry, and "Finish Line" by Jay Park.
Her success can be likened to another rapper from Japan, Elle Teresa. Instead of mimicking the male rappers by being so tough, they both used the power of being a woman while flexing their rapping skills.
More artists continuously asked her to feature in their songs; in 2019, she was featured in Jinbo's "Sunday Sinners," the official theme song of the Korean drama series "Hip Hop King – Nassna Street," aired in SBS. She was in Simon Dominic's "GOTT" from his album, "No Open Flames," Giriboy's digital single "Tiger's Den," and Zico's "Daredevil" from his album "Thinking Part 1." All three tracks entered the Gaon Digital Chart at No.88, No.45, and No.20, respectively.
It was also in 2019 when Jcvki was invited to many music festivals and concerts in South Korea and abroad.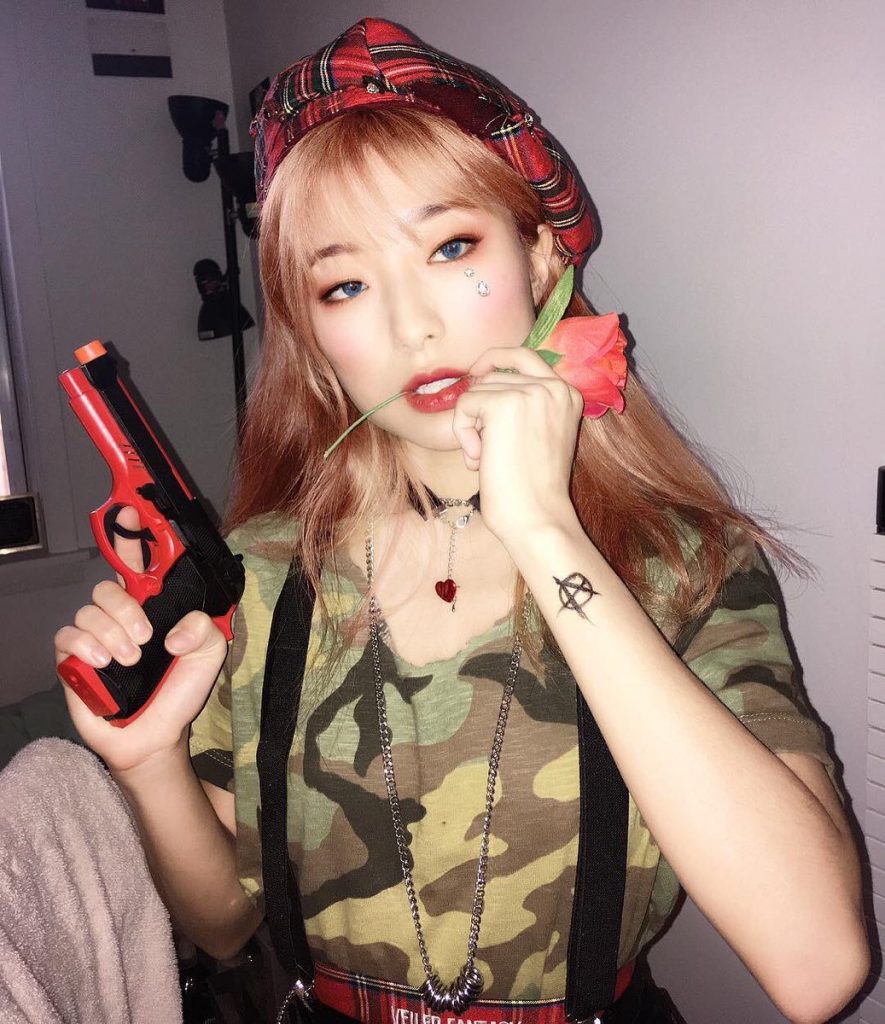 She performed at Hiphopplaya Music Festival held in Seoul Nanji Hanggang Park in April 2019, along with some of the best in the South Korean hip-hop scene. She was seen in the Genie Music Festival held at SK Olympic Handball Gymnasium in June 2019, with 25 well-known rappers including Simon Dominic, Swings, Gray, and E Sens.
Jvcki embarked on a European concert tour with Giriboy, DJ SQ, and Kid Milli in the last week of June 2019, performing in sold-out concerts at Le Trabendo in Paris and the Oval Space in London.
On 25 October 2019, her exclusive contract with Indigo Music was terminated, a mutual decision of both parties.
Goes Independent (2020)
Jvcki decided to manage her career for now,  but due to the pandemic caused by the Covid-19 virus, public activities were banned.
She wasn't very active on her social media account on Instagram – there were only three posts in 2020, two in May about the release of the digital song, "Fadeaway," and its music video, collaborating with rappers Paloalto, Coogie, and Bassagong, produced by Stone Music Entertainment. The last Instagram post was for her birthday in July.
Personal Life
Jvcki is officially single right now, as there is no news that says otherwise. She might have a wild, punk, and rebel image in the entertainment industry but she's quite private about her personal life.
Hobbies, favorites, rumors, and interesting facts
She was rumored to have mocked the K-Pop superstars BTS, by editing their photo during their United Nations speech, and instead of the "Love Yourself" message that the boyband promotes, it was changed to "Kill Yourself." This was back in 2019 and the photo had since been deleted along with the conversations she had with the boyband's fandom, Army, which blasted her, telling her to stop using the boys for noise marketing.
Jvcki also became involved in public drama on Instagram with Swervy, another rapper, along with Swervy's former boyfriend named Dohxx and current lover Sui. Dohxx, being bitter about the break-up, leaked conversations about Jvcki being badmouthed by Swervy. When Jvcki learned about it, she instructed her then label, Indigo Music, to inform Sui who manages Suifilm to take down her music videos from their channel. Sui and Swervy then tried to fix the misunderstanding with Jvcki, because allegedly Dohxx edited the leaked conversations. However, Jvcki didn't believe them, saying that if Swervy's better than her at rapping, why not come at her upfront and battle it out through verses. She also told them that this was the kind of thing that made people turn their backs on the two, and that she isn't an idiot.
She actually studied jazz music.
Jvcki can converse in three languages – Korea, English and Spanish.
One of her guilty pleasures is eating unhealthy food. She can't say no to meat dishes and spaghetti, and likes pineapple on her pizza
She spends much of her free time playing Cube Escape on her computer.
Jvcki has a thing for scented candles and her favorite scent is Black Cherrie.
She can hold her liquor quite well, and she prefers whisky and soju over wine.
Her favorite fruits are oranges, strawberries, and cherries.
Jvcki's not into watching movies or animes, but loves Disney's "Hunchback of Notre Dame". Whenever she find time, Jvcki binge-watches on Netflix's "Hip Hop Evolution."
She liked Lil Yachty when she met him.
If teleportation is possible, Hawaii is going to be her first destination.
Appearance
She is 5ft 1in (1.55m) tall and weighs 97lbs (44kg) with a slender body, and a tattoo. She has black hair and dark brown eyes.
Net Worth
According to authoritative sources, Jcvki has an estimated net worth of $2.5 million as of February 2021.