Yuju is a South Korean singer, dancer and songwriter, who became popular when part of the six-member Korean popular (K-Pop) girl group, GFriend. The group was formed and managed by Source Music, which was acquired by Hybe Corporation, home to BTS in 2019. Her group made international headlines in 2015 when a video taken by a fan went viral. It showed how the girls displayed their professionalism as they continued performing their single, "Me Gustas Tu," even if some of the members fell due to a slippery stage. Yuju suffered a twisted finger after falling five times during their performance. The video gave the girl group a major popularity boost, and the song went on to have more than 2.5 million downloads and 100 million streams. Since then, they've released more chart-topping songs, and become one of the top K-Pop girl groups in South Korea. As a solo artist, she became known for releasing theme songs for popular TV series.
Just a simple reminder that article is created and owned only by kpopwiki.org. Article cannot be re-published in any other pages or documents. Copyright is protected by DMCA. All found copies will be reported.
Original source: https://kpopwiki.org/the-untold-truth-about-gfriend-member-yuju/
Early Life and Family
Yuju was born Choi Yu Na on 4 October 1997, in the Ilsan district of Goyang, Gyeonggi-do, South Korea. Her father gave her the name, Yu Na which means 'You' and 'I'. She was raised Catholic by her parents, and was given the Christian name, Angela.
She has always been interested in music and performing on stage. In her early teens, she would join singing contests in her hometown, and started to dream of becoming a K-Pop artist.
Educational Background
She attended Oma Elementary School and Oma Middle School in their hometown of Ilsan. She went to Juyeop High School, but moved to Seoul for her training, and so matriculated from the School of Performing Arts Seoul. Yuju enrolled at Sungshin Women's University, and is currently pursuing a bachelor's degree in Contemporary Practical Music.
Career
In 2011, Yuju joined the first season of the reality-television talent survival series "K-Pop Star." However, she didn't pass the audition round – one of the judges, Park Jin Young, the founder of JYP Entertainment, told her that her voice was quite plain.
She became a trainee of Cube Entertainment for a year before transferring to LOEN Entertainment, where she stayed for two years. She finally got into Source Music Entertainment in 2014, and trained with five other girls – Eunha, SinB, Sowon, Umji, and Yerin, as they prepared to become the record label's second girl group. Source Music's first girl group, GLAM, disbanded in 2014 due to a blackmailing scandal involving one of the members and popular actor, Lee Byung Hun.
First Steps – Debut Year, Viral Video, "Me Gustas Tu." (2015)
Yuju debuted as part of the six-member girl group GFriend on 15 January 2015, with the release of their debut extended play (EP)  "Season of Glass," which charted at No.9.
The album had five tracks including the lead track "Glass Bead," which debuted at No.89 on the local music chart, with just about 18,000 downloads but made a jump in the second week and peaked at No.25. It was considered by music insiders as a lukewarm debut, however, by the end of the year, the song had close to 700,000 downloads and about 30 million streams, the result of a video that went viral during the promotion of their second EP.
In September 2015, around eight months after they debuted, GFriend made international headlines because of a video of them performing their song, "Me Gustas Tu." Viewers were amazed at their professionalism, as they continued on to finish their performance even when some of the members found themselves falling due to the slippery stage. Apparently, it rained before the show started, causing the girls to slip several times including Yuju – five times – resulting in a twisted finger. They trended on social media, and their music benefited from it.
When the group's second EP entitled "Flower Bud" was released in July 2015, the title track, "Me Gustas Tu" generated only about 70,000 downloads, and peaked at No.27 on the Gaon Digital Chart. However, after they trended due to the video, it boosted the popularity of the song, and by the end of 2015, it had accumulated more than a million downloads and 66 million streams. By 2017, it had been downloaded over 2.5 million times, and had more than 100 million streams. It had become their signature song, with music critics comparing them to the quintessential K-Pop girl group, Girls Generation. Both girl groups employed a refreshing, pure, and youthful concept from their music down to their fashion style, and dance choreography.
Later on, they received a Best Korean Act nomination from the 2015 MTV Europe Music Awards, and while they didn't win, it made news again since they were the only Korean female artist nominated for the category.
Their debut year ended quite nicely, as Yuju and her group won the Best New Female Artist award from Gaon Chart Music Awards, Golden Disc Awards, and Seoul Music Awards.
First Music Show Win, Billboard Chart Entry, Most Downloaded Song (2016 – 2017)
In January 2016 they released the song called "Rough", and went on to rule the South Korean music charts. It was from their third EP entitled "Snowflake," which entered Billboard's World Albums Chart at No.10. It also gave Yuju and the girls their first taste of a music show win, for having the No.1 song of the week courtesy of SBS MTV music show, "The Show."  They won a total of 15 music show trophies, including triple crowns from SBS' "Inkigayo," KBS' "Music Bank," Mnet's "M Countdown," and MBC's "Show Champion." It was such a huge hit, that by 2018, the song had over 2.5 million downloads, and was streamed more than 100 million times.
Halfway through 2016, Yuju and her group released their first full-length studio album, entitled "LOL," which had around 60,000 pre-ordered units. It consisted of 10 songs including the lead track, "Navillera," which peaked at No.1 for two consecutive weeks on the Gaon Digital Chart. They scored 14 music show trophies for the song, with triple crowns from the music shows, "Inkigayo," "Show Champion," and "M Countdown"; by the end of the year, it had more than a million downloads. GFriend also started promoting internationally, and held a grand showcase for their recent album in Taiwan at the Taipei International Convention Center in October 2016. The album had close to 80,000 units sold, and went to rank at No.3 on the Gaon Album Chart, and No.7 on the Billboard World Albums Chart.
In 2017 they released two more EPs, "The Awakening" and "Parallel," which peaked at No.1 and No.3 on Gaon Albums Chart, respectively.
210425 HYBE宣传片拍摄花絮#YUJU #유주 cut 中字
📹 https://t.co/PnUDVCz9jO pic.twitter.com/AfvNknVFu2

— Almighty Yuju (@Almighty_Yuju) April 28, 2021
They also entered the Billboard World Albums Chart, with the former at No.5 and the latter at No.10. While their lead tracks, "Fingertip" and "Love Whisper" didn't surpass their previous records, they both had more than 500,000 downloads.
Solo Concert and Japanese Promotions (2018 – 2019)
After three years in the business, Yuju and her group held their first solo concert in January 2018, for three nights entitled "Season of GFriend" at the Olympic Hall. Six thousand tickets were allegedly sold out within three minutes. Due to fans' request, they embarked on an Asian Tour which started on 28 February 2018 and ended on 9 September 2018, performing in Taiwan, Hong Kong, the Philippines and Japan.
The group released another EP, "Time for the Moon Night," which debuted at No.1 on the music chart, and won them 10 music show trophies for having the title track as the top song of the week.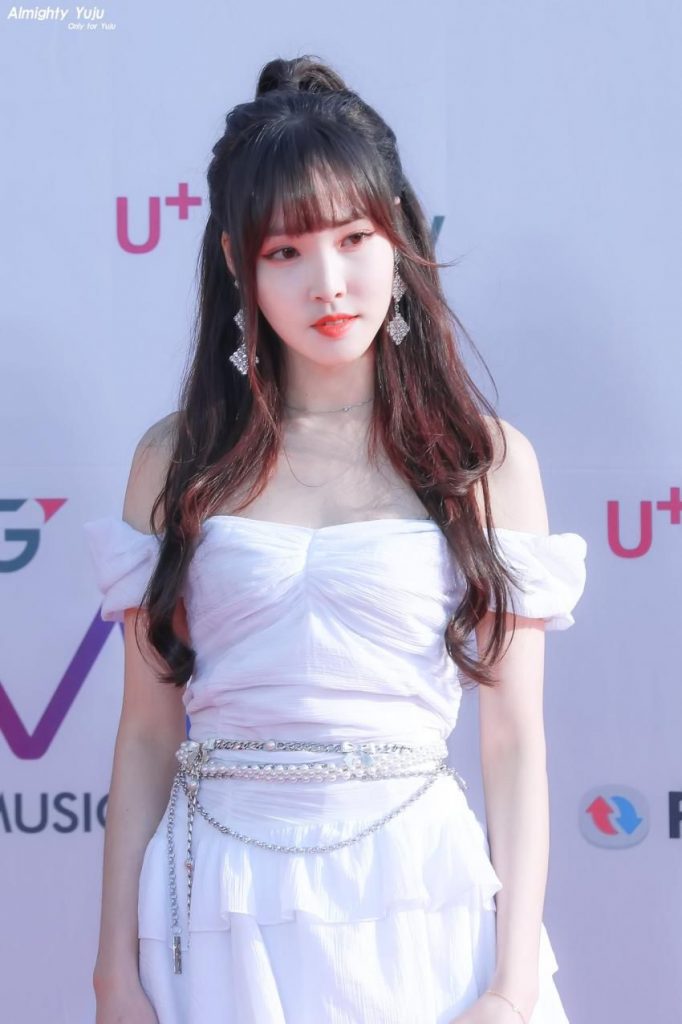 They then headed to Japan, and released their Japanese album "Kyō Kara Watashitachi wa – GFriend 1st Best," on 23 May 2018, a compilation of the Japanese version of their Korean hit songs, and which peaked at No.10 on the Japanese Oricon Album chart. They released their Japanese single album in October 2018 called "Memoria", and it peaked at No.6 on the Oricon Singles chart. GFriend was commercially successful in Japan, so in July 2019, they collaborated with the Japanese group Sonar Pocket, and released the single "Oh Difficult – Sonar Pocket×GFriend." They also released their first Japanese studio album, "Fallin' Light" later that year.
Back in Seoul, Yuju's group released their seventh EP, "Fever Season," which topped the Gaon Album Chart, and ranked at No.10 on Billboard's World Albums Chart. They also received six music show trophies from popular music shows, as the lead track, "Fever," became the No.1 Song of the Week.
At that time, they tied with Girls' Generation for the number of albums that entered the Billboard World Albums Chart Top 10 list.
Image Transformation with The "回" series (2020–present)
After HYBE Corporation – previously known as Big Hit Entertainment and home to BTS – acquired Source Music in 2019, GFriend had some image re-branding for their 2020 comeback. HYBE founder, Bang Shi Hyuk, was hands-on during the music production and concept brainstorming.
In February 2020, Yuju and her group released their eighth EP, entitled "Labyrinth," which was the first installment of their "回" album series that they planned to release that year. The album coincided with the group's fifth anniversary, and the songs were all about their journey from their struggling years as rookies to becoming one of the most successful K-Pop groups. It entered the local chart at No.1, and the lead track, "Crossroads," also peaked at No.1. The girls took home seven music show trophies for being chosen the No.1 Song of the Week from the four TV networks.
By July 2020, their ninth EP, "Song of the Sirens" was released, and this time Yuju unleashed her songwriting and producing skills by participating in the creative process of the album. She was credited as composer, lyricist, and arranger for three songs, including the lead track, "Apple," "Tarot Cards," and "Eye of the Storm." The album peaked at No.3 on the Gaon Album Chart, and the lead track won three music show trophies.
The third and last part of their "回" album series was "Walpurgis Night," released in November 2020. It came in the form of the group's fourth full-length studio album with 11 tracks, and while the sales result wasn't as great as their previous album releases, it was critically praised. Time Magazine included it in their list of Albums That Defined K-Pop's Monumental Year in 2020, and was also included in Billboard's and Medium's lists of 20 Best K-Pop Songs of 2020. Yuju was credited as lyricist, composer and arranger of two songs in the album, the lead track, "Mago," and "Night Drive."
OST Solo Featuring (2015 – present)
With her vocal skills, Yuju has been collaborating with other K-Pop singers and releasing non-album singles since her debut, but it was her participation in official soundtracks (OST) that gained more attention from the listening public.
Her first soundtrack was in 2015, when she released the second track of the OST album of the drama series "The Girl Who Sees Smells," featuring rapper Loco. The song "Spring is Gone By Chance" had more than 2.5 million downloads, and won at the Melon Music Awards for Best OST. In 2018, Yuju was included in two OST albums such as "Let's Eat" with the track "Just This Song," and "My Strange Hero" with the song, "Snowflake Love."
By 2020, she lent her voice to several TV drama series soundtrack albums. In March, her voice could be heard in the Eric Moon and Go Won Hee's drama series "Eccentric Chef Moon," in the song "This Way That Way." In September, she sang the track "First Day" for the series "Was It Love?", starring Song Ji Hyo and Son Ho Jun.
210427 BAZZAR花絮#YUJU #유주 cut 中字
📹 https://t.co/AClzh7ACmI pic.twitter.com/aqLbYbsZ1q

— Almighty Yuju (@Almighty_Yuju) April 28, 2021
In August, Yuju sang "Secret," one of the theme songs for the time-traveling sci-fi series, "Alice," starring Joo Won and Kim Hee Sun. By December, she released the second track, "I'm In the Mood for Dancing," in the soundtrack album for the drama series, "True Beauty."
While her group is currently not active in releasing new music, Yuju was busy in the early part of 2021 as she released another single in January entitled "Falling" for the drama series "Run On," which aired from December 2020 to February 2021.
Personal Life
Based on her social media accounts and official news outlets, Yuju is officially single right now. Most K-Pop artists are quite private with their personal lives, and would only admit that they are in a relationship when they are about to get married, or when they had been caught by the media. She was once involved in a dating rumor with BTS main vocalist Jeon Jungkook, but they weren't true; some fans just like to ship them together. Her ideal type in a man would be someone with no double eyelid, and who looked more attractive when smiling. Yuju currently lives in a dorm provided by their label, with the other members of her group.
Hobbies, favorites, rumors, and interesting facts
Yuju wore prescription glasses or contact lenses from the time she was 10 years old up until 2018, when she had Lasik eye surgery.
She's very much into sports such as figure skating and rhythmic gymnastics, and is quite good at pole dancing
Yuju could hit high notes easily.
Her favorite food is mostly Korean dishes – she can't live without rice and sweet potatoes.
Appearance
Yuju is 5ft 7ins (1.70m) tall, weighs about 110lbs (50kgs), and has a slim body frame. She has long black hair and dark brown eyes. Her shoe size is 7 US (240mm).
Net Worth
According to authoritative sources, Yuju has an estimated net worth of $2.5 million, as of April 2021.